Meet PEN Center USA Executive Director Adam Somers
---
Why is PEN In The Classroom (PITC) an important part of PEN's programming? How does it fit into PEN's mission statement?
There are two main tracks of programming at International PEN and at the centers: freedom of expression and, in one way or another, supporting the literary community. Individual centers may emphasize one of these tracks over the other, but, almost without exception, all PEN centers are involved in both tracks of programming.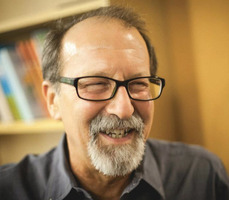 PITC is often taken for granted as being an outreach literacy program, because it usually takes place over twelve weeks in a middle or high school, but from my perspective it is a pure freedom of expression program. The idea being that if you go through high school and you are never made aware of the idea that you have a voice or given a chance to explore your voice, then, perhaps, your freedom of expression has been encroached upon as much as any writer imprisoned for peacefully expressing themselves.
Some people have accused me of being melodramatic by describing PITC in terms of freedom of expression, but I believe the description is correct. Seen from this perspective, PITC is positioned within freedom of expression and, therefore, within our mission statement.
Read the rest of the interview
here
.