PRESIDENTIAL ELECTION 2012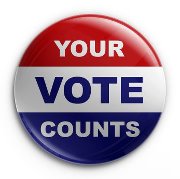 Whether it is HUSA, HUAA, or Alumni Trustee... Bison have always exercised their right to vote...


THIS Election Day, I know it does not need to be said, but I'm saying it BISON let the nation FEEL THE MIGHT OF THE BLUE and WHITE


~ ROCK YOUR VOTE ~

---
Message from the HUAA President
GIVING THANKS TO
HOWARD UNIVERSITY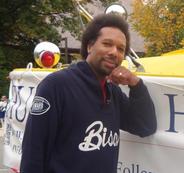 What are you thankful for? As the seasons change, this becomes the question of the moment. So I ask my fellow Alumni: what are you thankful for?
For me, that answer always includes two words – HOWARD UNIVERSITY. Now I didn't say it was my only answer, just part of it. Let me explain.
Thank you, Howard University for taking me in and helping to raise me up. Thank you for the core group of friends that I met during Freshman Week, who still are on my speed dial. Thank you for providing a radio station where I found my voice. Thank You for allowing me to be the conduit that helped keep soul mates connected, so they could produce the next generation of Bison.
Thank you for providing a safe place for my son to be born. Thank you for introducing me to my other half. Thank you for the friends who weren't friends during school but became friends afterwards because of you. Thank you for that first internship, that first job, and that first chance to entertain millions. And yes, thank you for the registration lines, because even there, were made memories of a lifetime.
Thank you for the confidence and the foundation, and for providing this worldwide network of resources. Thank you for allowing me this opportunity to lead our fellow Alumni down The Long Walk.
Thank you for providing a way out, a different perspective, and for standing up to and for our country. Thank you for a mission of leadership and a legacy to inspire.
Here's another question: without Alma Mater, where would we be? So thank you Howard, for letting me be me!
What are you thankful for?
Chris Washington, President
HUAA
---
ELECTION NIGHT WATCH PARTY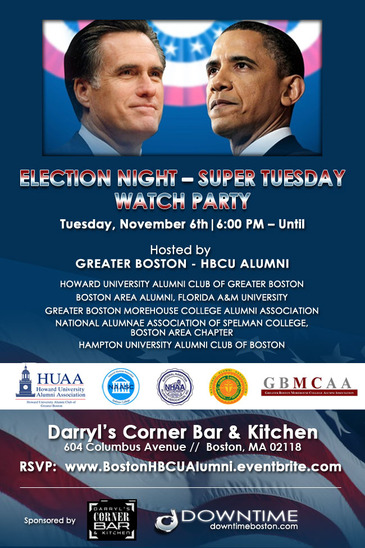 ---
Service to Our Country ... Service to Our Alma Mater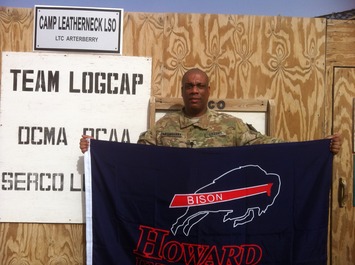 Region II Chair, Lt. Col. George Arterberry
---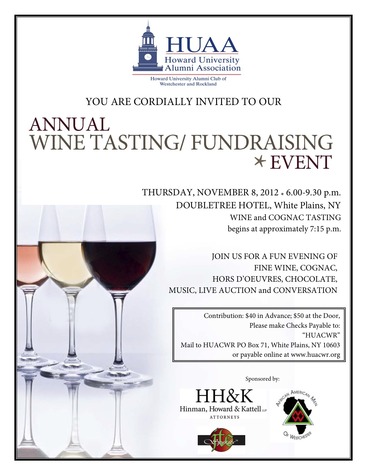 Thursday, November 8, 2012
Stay Connected! • Join the HUACWR Facebook group •
Visit

www.huacwr.org
---
VERY PRESIDENTIAL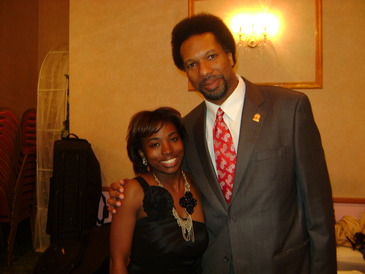 From the Howard University Alumni Club of Chicago Who's Who Gala HUAC C President, Danielle James and HUAA President Chris Washington.
---
Howard University Gospel Choir Comes to Charlotte
The
Howard University Gospel Choir
is coming to Charlotte.
Please join us! Any questions?
Contact them at
huaccharlotte@thehuaa.org
November 11th, 2012

10:30am-2pm

New Covenant Bibleway Church
1321 Capps Hills Mine Road
Charlotte, NC 28216
---
~~~ Bison Style ~~~
Talking Turkey: Q&A With Jive Turkey Owner Aricka Westbrooks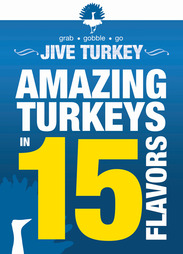 For many of us, Thanksgiving is the only time we'll take on the tireless task of serving a turkey—basting a 20-pound bird hour after hour in hopes of achieving the elusively moist breast meat. With all the passing trends in turkey preparation, what's the best way to serve a delectable, healthful meal?
We went to the expert: Aricka Westbrooks, the owner of Jive Turkey, a leader in retailing specialty foods, in fact Jive Turkey is the only one in the United States engaged in the branding and marketing of deep fried turkey. Jive Turkey sells delicious, moist and juicy deep fried turkeys in 15 different flavors to customers all over the United States since 2003. She received her BS from Howard in 1992. Here's what she had to say:
Q: Consumers might be overwhelmed by all the options for cooking turkeys. What is the best way to achieve delicious results?
Westbrooks: The best, most delicious way to prepare a turkey is to deep fry it. It sounds incongruous, but the result is a juicy moist bird and a crispy golden skin. Fried at a much higher temperature, the turkey does not absorb the oil the way fried chicken or french fries does because it is not cut up. It I also not breaded or battered so the flash frying effect absorbs very little oil while the high temperature produces a very tender turkey.
Q: Some attempt to fry a turkey at home. Is that really safe?
Westbrooks: It is an extremely dangerous proposition to fry a turkey because of the hazards and risk of fire. With traditional equipment it's not a good idea to fry at home outdoors and with table top fryers for indoor use it is just as hazardous. You must your wits about you at all times so you don't burn down your house, which is why I created a business that does it for you.
Q: What about gravy or stuffing?
Westbrooks: You can't stuff a fried turkey, but we simply suggest that you bake the stuffing separately, we call it dressing. At Jive Turkey we make a delicious gravy using a turkey stock as a base for flavor instead of pan drippings and thicken it with a roux.
Q: What about brining or marinating a turkey overnight in a salted water solution? Wouldn't that seal in seasonings and lock in moisture?
Westbrooks: When you take it out, you've seasoned the bird inside out, but you've also incorporated a lot of salt and flavor that you just really don't need. We impart the 15 different flavors, yes 15! into our turkeys with some wet marinades, dry rubs and herbed or seasoned butters under and over the skin everything from peach bourbon, to lemon pepper to honey pecan. One of our bestsellers is the Fresh Herb made with fresh rosemary, thyme and sage. When you pay for a turkey you want to taste the turkey and not be overpowered by the seasonings.
Q: Do you recommend a frozen or fresh bird?
Westbrooks: [If you're hosting] a lot of kids or other people who aren't gourmet diners, then you'll do well with both flavor and price using a frozen bird from the supermarket. Heritage birds and fresh birds are about $10 per pound, so a 20lb turkey is $200, for many that is not realistic price if they still have the cooking to do. We ship the turkeys nationwide but they have not been frozen, all of our turkeys are shipped refrigerated so that the flavor and moisture are consistent when the turkey is served.
Q: How about a turducken? Deboned duck inside of deboned chicken inside of deboned turkey—that sounds like an interesting mix of flavors.
Westbrooks: To me, you have a turkey, you have a chicken, you have a duck. When you make turducken, all of them are overcooked. For our family Thanksgiving meal I do a basic deep fried turkey seasoned with salt, garlic powder and pepper, we call it the Jive Turkey on the menu. If I'm serving a top-notch turkey, I want to taste the turkey.
ABOUT JIVE TURKEY
Jive Turkey was founded in 2001 by Aricka Westbrooks when she began frying turkey in her Brooklyn, New York backyard. In 2003, Jive Turkey opened a retail store in Brooklyn, New York offering customers a menu of sandwiches, entrees and salads featuring the delicious and juicy meat of a whole fried turkey. In 2005 Jive Turkey began to manufacture and ship turkeys nationwide. In 2012 the company relocated from New York to Chicago.
Jive Turkey has been featured on the Food Network and Travel Channel and national television, news programs, national magazines and local newspapers. Visit their website to learn how you can purchase a turkey at www.jiveturkey.com or visit their Facebook page and like the business of a Howard Alumna www.facebook.com Jive-Turkey.
---
Team Bison
Leffall Helps Howard Overpower Hampton
Terrence Leffall rushed for a career-high 182 yards and two touchdowns to lead Howard University to a 20-10 win over Hampton University in a Mid-Eastern Athletic Conference game at Greene Stadium. The win improves the Bison's record to 6-3 and 5-2 in the
MEAC Sports Fan Page
while the Pirates fall to 2-6 and 2-4 in the MEAC.
Read More at
Howard-Bison.com
2012-13 MEN'S BASKETBALL SCHEDULE
Howard University announces its 2012-13 men's basketball schedule. The Bison, who recorded double-digit wins in a season for the first time since the 2002-03 season, open the season at home against Lincoln University.


Howard will be playing in the Cancun Invitational, starting with road games at the University of Iowa and at Wichita State University on Thursday, Nov. 15 and Saturday, Nov. 17 before going to Cancun for two games Tuesday, Nov. 20 and Thursday, Nov. 22.
Lady Bison
2012-13 Schedule

In her fifth season at the helm of the Howard University women's basketball team, head coach Niki Reid Geckeler announces the 2012-13 basketball schedule.
This season, the Lady Bison will welcome 12 teams to Burr Gymnasium on the Howard University campus, while venturing to 16 Division I institutions. Of the 28 contests, HU will face 12 non-conference opponents, along with facing 15 Mid-Eastern Athletic Conference foes.
---
HOWARD HOMECOMING LEGENDARY 2012 RECAP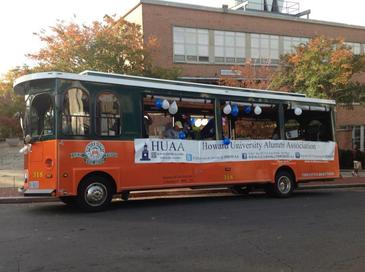 Thank you to all who participated in the Howard Homecoming Alumni activities. It was truly a LEGENDARY weekend and we hope all had a great time. Here are some photos to recap the 2012 Legendary Howard Homecoming experience.

Hurricane Sandy 2012: REBUILD AND RECOVER

In the wake of Hurricane Sandy, we express our deepest sympathy for all those affected. There are many areas that were devastated by the hurricane and we have provided some support information for anyone who would like to donate all that they can. Also, please check your local areas to see about volunteer opportunities. Please see below ...

The NJ Urban League is accepting
food donations, such as canned goods, cereal, milk, sandwiches, dry goods, diapers, etc.
financial contributions to help us continue our work
volunteers who can help deliver and distribute food
Contact us at 973-624-9535 or info@ulec.org or drop off your food and check donations at 508 Central Avenue, Newark, NJ 07107.


****
The New York Urban League will take donations and distribute them to Hurricane Sandy victims.

Here's the list of requested items:


Lightly worn clothing and shoes
Baby and adult diaper
Deodorant
Water
Batteries
Socks

Drop off Location:
New York Urban League
204 West 136th Street
Bet. Adam Clayton Powell Blvd. and Frederick Douglass Blvd.
New York, NY 10030

Drop off schedule:
-Saturday 9:00 am - 12:00 noon
-Monday - Friday 9:00 am - 5:00 pm
****
With the sudden onset of cold weather, New York Cares is kicking off our Coat Drive early, starting Tuesday, November 6th, to immediately aid those in need from Hurricane Sandy. We urge you to help us keep fellow New Yorkers warm this week and this winter by collecting coats now for the New York Cares Coat Drive.
If your company has been a Coat Drive collection site in the past, please start early and collect for us again this year. If your company has never collected coats, we need your help this year more than ever. Our goal has doubled - we hope to collect 200,000 coats for our fellow New Yorkers by December 31st and we need 50,000 coats this week alone that we will immediately distribute to Hurricane Sandy victims.
Setting up a coat drive collection site at your office is easy. Click here to register your site, and we'll send you promotional posters and instructions to help make your drive a success. You may access these materials now in our resource library.
Once registered, place a box in your lobby, cafeteria, or other highly trafficked area, and spread the word to your coworkers, friends and family about the need for new or gently used, warm winter coats. Please deliver all donated coats this week to our warehouse to help us reach our goal of 50,000 coats by Friday, November 9th. Additional coats can be delivered to our warehouse by December 31st. Our warehouse is located at 157 West 31st Street between 6th and 7th Avenue.

Hours of operation: Monday through Friday. 9:00 a.m. to 4:00 p.m.

If you have additional questions, please contact Lia Papazoglou at lia.papazoglou@newyorkcares.org.
****
Make the Road NY is accepting food, warm clothing, blankets, flashlights,
batteries, diapers, baby formula -- anything useful for families in the areas
hardest hit by the storm at the following offices:
479 Port Richmond Avenue, Port Richmond, Staten Island,
(718) 727-1222


1090 Suffolk Avenue, Brentwood, Long Island
(631) 231-2220

****


The Brigantine Community Center is the place to go if you got wiped out and need clothes, and necessities!
They are accumulating lots of donations in the back gymnasium, but need volunteers every day between the ours of 9am-9pm.

****

****


Call 211 for all local area information such as shelters, power outage updates and school and business closings.

American Red Cross
www.redcross.org
1-800-REDCROSS
(1-800-733-2767)

Federal Emergecy Management Agency (FEMA)
1-800-621-FEMA
(1-800-621-3362)
---
THE TIME IS NOW!
Become a member of HUAA
Click here
to join today!
MEMBERSHIP HAS ITS BENEFITS!
Join HUAA and receive discounts to a wide array of businesses including restaurants, retailers and sports clubs.
Click Here to visit the HUAA Membership Benefits page to view a complete list of benefits.


Click here
for information on other HU Alumni Clubs & Associations
FOLLOW US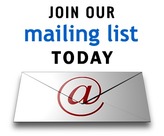 ---
Upcoming Alumni Events
The HUAC Greater Hartford will host an Open House for Adoption Month Awareness for prospective families on November 8th, 2012 at Metropolitan AME Zion Church.

The HUAC of Charlotte will be hold a College Application Week during the week of Monday, November 12th, 2012. Volunteers are needed to help high school seniors fill out college applications. If you are available between 7:15 a.m.-2:15 p.m., please contact huaccharlotte@thehuaa.org with days and times of availability. Males encouraged to participate.

The next general body meeting for the HUAC of Atlanta will be held on Tuesday, November 13th, 2012 at Apres Diem Cafe Bistro, 931 Monroe Drive NE, Atlanta, GA, 6:30-8:30 p.m. Free parking.

The next general membership meeting for the
HUAC Montgomery County
will be held on Wednesday, November 28th, 2012 at Mid County Community Recreation Center, 2004 Queensguard Rd., Silver Springs, MD, 20906 at 7 p.m.
The
HUAC of Greater Memhis
will be participating in the family friendly walk for St. Jude's Give Thanks Walk on Saturday, November 17th, 2012 at 8:30 a.m. To join Team Lead Miracle Meeks or to help reach their fundraising goal,
click here
. On Monday, November 26th, 2012 at 6 p.m., HUACGM will be creating care packages to encourage the TN Club members during exams. Meet at the Assisi Foundation of Memphis 515 Erin Drive, Memphis, TN 38117. To see the list of donations needed, contact Jan L. Mitchell or Ashlee Edwards Hale at memphishowardalumni@gmail.com.
The
HUAC of New Jersey
will hold a Holiday Party on December 6th, 2012 from 5-8:30 p.m.
The
HUAC Westchester Rockland
will hold its annual holiday party and toy drive on December 7th, 2012.
---
Howard University's Career Services presents the workshop:
"Starting Your Own Business: A Guide for Prospective Business Owners"
November 14, 2012 from 12:30 to 2:00 pm at the
Carnegie Building, Conference Room A.
This workshop will be conducted by Director, Alisa Balwant of the DC Small Business Development Center.
---