MESSAGE FROM THE PRESIDENT

'TIS THE SEASON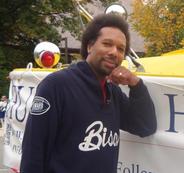 Tis The Season when we are all in the Bison spirit of giving. Before the spirit leaves us, this is a not-so-subtle reminder that giving to the University in the form of a donation or HUAA Membership is totally acceptable. In fact, without alumni contributions to HUAA and the University, the fact is, it will become increasingly difficult for Alma Mater to keep the gates on Sixth Ave and Howard Place open. Talk about Scrooge.
Giving back is part of the Howard Family DNA. We exemplify this through working with at risk youth, organizing clothing drives, serving food at shelters, and other acts of volunteerism during alternative Spring Break. Sadly, as we go about our routine of good deeds, we often overlook doing a good deed for Howard University.
This year, make Santa Bison's NICE list by giving the gift of membership during the 2012 HUAA Holiday Membership Sale. Buy One (1) Founders (One-Year) or Clock Tower (Three-Years) Level Membership and HUAA will give you a FREE Clock-Tower Membership to give as a gift to your favorite Howard alum. (See the flyer in this newsletter).
'Tis The season for goodwill towards all men, women and Bison. Whether you say Merry Christmas, Happy Chanukah, Happy Kwanzaa or Feliz Navidad, when you are a Howard Alumnus, it's always a Wonderful Life.
Happy Holidays and A Very Bison New Year from the Howard University Alumni Association.
Chris Washington, President
HUAA
---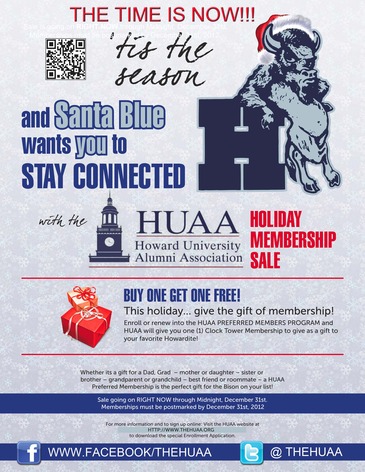 TREAT YOURSELF TO A GIFT OF MEMBERSHIP

By: Margo Bouchet, VP Membership, HUAA
The Howard University Alumni Association (HUAA) is the chartered representative and liaison to Alma Mater and the Alumni.. HUAA has at least two members on the University's Board of Trustees and at least four members on the Alumni Board. Chris Washington is at HUAA's helm for the 2012-2014 term. The HUAA Office is located on the campus in the office of the Department of Alumni Relations (DAR) at 2225 Georgia Avenue, N.W., Washington D.C.

In becoming members of HUAA, alumni do their part to ensure HUAA will provide professional and reliable representation of our concerns before University officials and the Alumni Board. Membership in HUAA is one way to maintain a lifelong connection to Alma Mater, while helping to strengthen Howard's position as a world premier institution of higher learning.

Membership dues also support the ongoing scholarships offered by HUAA to deserving and needy students; recruitment of future students, and financial support to the university. Efforts to advance the unique interests of alumni, for activities such as Bison on The Vineyard, Homecoming, Alumni Classic, scholarship and mentoring programs, and Library renovation, are funded by dues revenue.

All graduates and honorary degree recipients of Howard University are eligible for membership to HUAA. Former students who completed at least one year of studies at the university — must have withdrawn in good standing — are also eligible for membership. Faculty and staff of Howard University, as well as, spouses of alums are eligible to become Associate Members.

The HUAA annual dues are $35.00, with a current 2 for 1 holiday rate available. There is also a 3 year membership price of $105. Benefits of this membership now includes a partnership with Working Advantage, which offers discounts on gifts, travel, theatre shows and more.

HUAA still faces many obstacles in its efforts to provide significant scholarships to needy students. Our strength lies in our membership. Together, we can ensure that education is the number one priority of the organization. The result will be more scholarships, improved networking opportunities and expanded communication of job opportunities.

---
Digicel 5K Night Run; Team Bison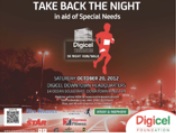 A little over three weeks ago, members of the club participated in the first 5K run in Jamaica to be held at night. The event was organized by the Digicel Foundation and proceeds was in aid of The Jamaica Association for the Deaf, the Jamaica Association on Intellectual Disabilities, the Jamaica Society for the Blind, the Jamaica Autism Support Association, the STEP Centre, the Mustard Seed Communities, the NAZ Children's Centre and the Randolph Lopez School of Hope.
Thousands of runners and walkers filled the streets of downtown Kingston under the theme "Take back the night." By hosting the event at night, the company wanted to change the public's outlook on the downtown area. In this regard, there was a lively party like atmosphere along the entire 5k route … cars booming music were strategically placed along the streets as well as live performances by student cheerleaders and bands. "it's a step in the right direction to restore downtown's former glory, a great initiative and I'm looking forward to it again next year" commented club member Ano Miller. At the end of the walk, Digicel hosted an after party with more live performances and prizes.
Team Bison registered 20 participants and thus contributed a total of J$20,000.00 to this effort under the Howard University Alumni Club of Jamaica banner. As is our mandate, the club is committed to engaging alums not only in networking and social events but also in areas of community development.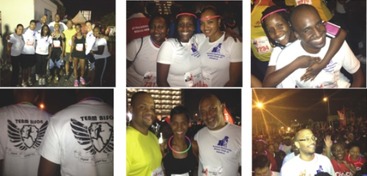 ---

Join the Howard University Alumni Club of New Jersey and make someone's Christmas brighter!
Two ways to donate:
Bring a gift card or *gift to an HUACNJ event (December Holiday Mixer, 12/7/12, at the Home of the HUACNJ President)
Make a monetary donation towards food baskets. (Make checks payable to HUACNJ)
Donations For:
Isaiah House
Community for Families and Youth

and/or

Second Baptist Church (Faith First Ministries)
Love Tree Program - Honoring Seniors
*Gift Suggestions: Robes, Slippers, Scarves, Hats, Gloves, Pajamas, Socks, and/or bedding
For more information and/or to donate no later than December 13:
HUACNJ, P.O. Box 8051, Piscataway, NY 08855
www.njbison.org

---
HUAC GWDC Holiday Party Set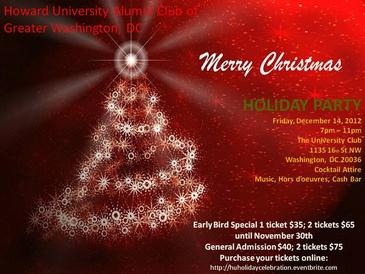 Please join HUAC GWDC at their holiday party

Friday, December 14th, 2012
7-11 p.m.
---
News from Prince George's County Alumni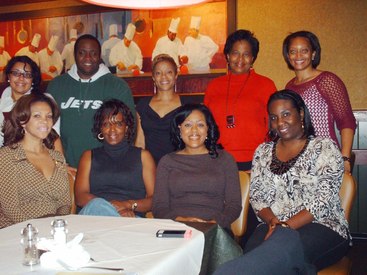 The Howard University Alumni Club of Prince George's County participated in a "Bison Salon" roundtable discussion and luncheon at the Ruby Tuesday's in Largo, Maryland hosted by the Interactivity Foundation and moderated by HUAA Region 2 representative, Erin Horne Montgomery. The discussion, which focused on the state of K-12 education, was both lively and informative, and all in attendance expressed looking forward to participating again in the future.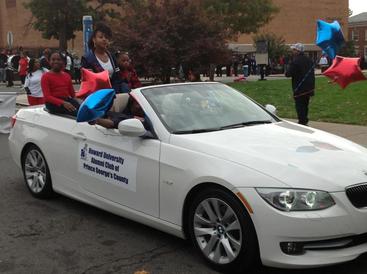 The Howard University Alumni Club of Prince George's County again took part in this year's Homecoming parade, in which one of the club's 2012-2013 scholarship recipients, Lexiss Golden, participated. The club also congratulates its second scholarship recipient, Maleke Glee, who was unable to participate.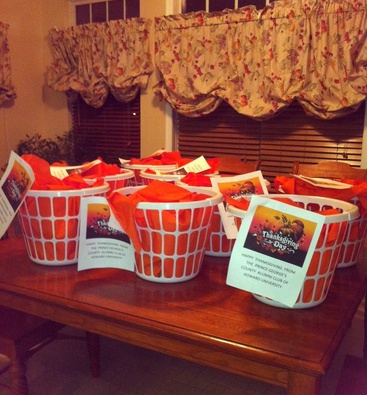 The Howard University Alumni Club of Prince George's County once again provided Thanksgiving baskets to County families in need as identified by the Mission of Love Charities, founded by Howard alum, Dr. Douglas E. Edwards. Deborah Walker, special events chair for the HUAC-PGC, once again prepared eight wonderful baskets that were delivered in time for the Thanksgiving holiday by HUAC-PGC member, Marc Ellington, and sons, Miles and Adrian.
---
HUAC-GWDC Gives Back During Thanksgiving Holiday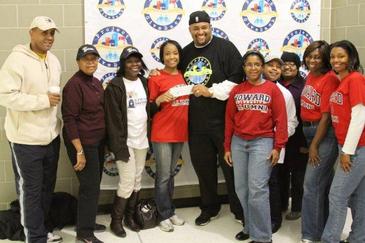 On Saturday, November 17, members of the Howard University Alumni Club of Greater Washington DC (HUAC-GWDC) participated in the 18th annual Project GiveBack Thanksgiving community outreach program.
From 6- 9 A.M., members packed boxes of food for nearly 1000 needy families in the Washington, DC metro area. Club members walked through an assembly line in pairs with a cardboard box while other volunteers packed them full of various fruits, meats and vegetables including a frozen turkey, chickens, ground beef, pasta, rice, stuffing, white and sweet potatoes, onions, carrots, and apples. Children under 10 participated in an arts and craft project where they created Thanksgiving cards that were inserted into each box.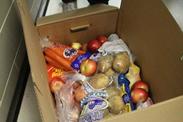 The Project GiveBack Community Service Organization began as a food drive in the offices of Thompson, Cobb, Bazilio and Associates. Ransom Miller, III, a 1992 graduate of Howard University and member of Omega Psi Phi, collected cash donations and canned goods and distributed food baskets to 6 families and one homeless shelter the week of Thanksgiving. The support Mr. Miller received was extremely positive and inspired him to make this food drive an annual event. Through its annual Thanksgiving Food Distribution, Project GiveBack has been able to assist over 3,400 families in the Metropolitan Washington, DC Area.
Volunteer members included: President Natalie Rance, Hazel Robinson, Jenifer Golson, Joy James, Nicole Goldman, Andrew Harris, Addie Lewis, Shana Ervin, and Marsha Moore. We were joined by many other Howard University undergraduate organizations, Omega Psi Phi, several other Black Greek organizations, Jack & Jill of America Inc., Girls Scouts, and many families from around the community.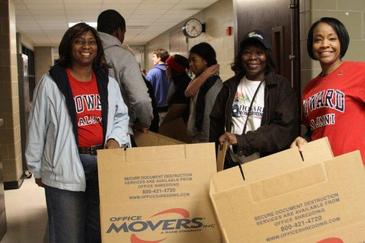 ---
Creating Families for Baby Bison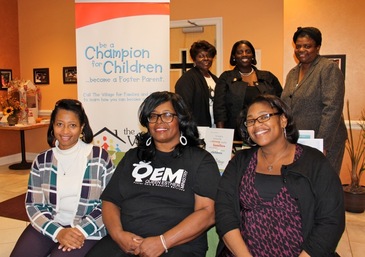 Pictured: (seated l-r) HU Alum Rolanda Stone; Mattie Hammer of the Queen Esther Ministries; HU Alum and event chair Jane Pertillar Smith of DCF (standing l-r) Dorothy of the Queen Esther Ministries; HUACGH President Kristen M. Clark and Darlene Reed both of the Village for Families & Children, Inc
The Howard University Alumni Club of Greater Hartford developed and implemented an Adoption Month Awareness campaign as part of their Bison in Action Initiative. Throughout November 2012, the club used daily social media messaging to debunk myths around adoption and alum Jane Pertillar Smith spearheaded a collaborative Open House event.
The collaboration with the state of Connecticut's Department of Children and Families, the Village for Families and Children, Inc and the Queen Esther Ministries allowed perspective parents to learn the details of providing "Forever Homes" for children waiting to b adopted. This awareness campaign falls in line with the Region I Bison in Action efforts for each club to develop public services and advocacy activities...from Awareness to Action!
---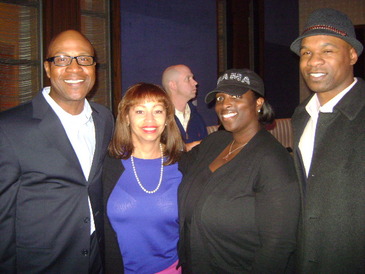 The Howard University Alumni Club of Greater Hartford

developed a Voter Registration, Education and Mobilization campaign as part of their Bison in Action Initiative. The campaign culminated with alum volunteering on election day and celebrating at various parties around the city: Alum Pictured (l-r):
Wil
Jacques
,
Angela Phillips-Arrington
, HUAC GH President
Kristen M. Clark
and
Sheldon Smith
.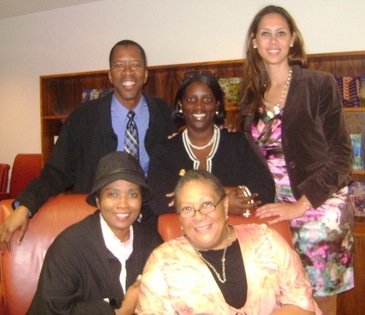 The Howard University Alumni Club of
Greater Hartford
partnered with the Hartford Public Library(HPL) for their One
Book One Hartford
initiative. The month long activities included poetry slams, children's story hours, community panels, black history movies and much more. The club provided alumni to facilitate a variety of the events which occurred at all HPL branches throughout the city. At the final event, alum greeted the author
of
A Wreath for Emmett Till to Hartford
. Marilyn Nelson, M.A.,
Ph.D at a VIP reception for the event partners. Pictured:(standing L to R)
Tyrone Walker
, HUAC GH VP;
Kristen M. Clark
, HUAC GH President;
Thea
Montanez
, HPL Board Chair; (seated l-r) HU alum
Dr. Ann Marie Adams
and author
Marilyn Nelson
.
SURVIVING SUPERSTORM SANDY

As many parts of the Northeast are STILL recovering from Superstorm Sandy, The Howard University Alumni Association wants to extend our condolences to all members of the Bison Community that were affected. We also wanted to let you know that HUAA and Howard University is available to assist any way we can with your rebuilding efforts. So if you were personally affected or know of an alum or student that needs additional support, please contact us at info@thehuaa.org and let us know your needs. Bison Helping Bison it's the Howard way.
New York Cares is accepting donations for their annual Coat Drive. We urge you to help keep fellow New Yorkers warm this week and this winter by collecting coats now for the New York Cares Coat Drive.
If your company has been a Coat Drive collection site in the past, please start early and collect for us again this year. If your company has never collected coats, we need your help this year more than ever. Our goal has doubled - we hope to collect 200,000 coats for our fellow New Yorkers by December 31st.
Setting up a coat drive collection site at your office is easy. Click here to register your site, and we'll send you promotional posters and instructions to help make your drive a success. You may access these materials now in our resource library.
Once registered, place a box in your lobby, cafeteria, or other highly trafficked area, and spread the word to your coworkers, friends and family about the need for new or gently used, warm winter coats. Please deliver all donated coats to our warehouse by December 31st. Our warehouse is located at 157 West 31st Street between 6th and 7th Avenue.

Hours of operation: Monday through Friday. 9:00 a.m. to 4:00 p.m.

If you have additional questions, please contact Lia Papazoglou at lia.papazoglou@newyorkcares.org.
****


Call 211 for all local area information such as shelters, power outage updates and school and business closings.

American Red Cross
www.redcross.org
1-800-REDCROSS
(1-800-733-2767)

Federal Emergecy Management Agency (FEMA)
1-800-621-FEMA
(1-800-621-3362)
---
THE TIME IS NOW!
Become a member of HUAA
Click here
to join today!
MEMBERSHIP HAS ITS BENEFITS!
Join HUAA and receive discounts to a wide array of businesses including restaurants, retailers and sports clubs. HUAA is now partnered with Working Advantage, which offers discounts on gifts, travel, theatre shows, etc.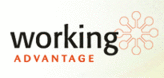 Click Here to visit the HUAA Membership Benefits page to view a complete list of benefits.


Click here
for more information on the HUAA Constituent Units.
FOLLOW US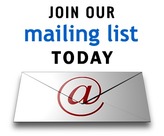 ---
HUAC-GWDC Members Give Back at Columbia Heights Educational Campus

On Saturday, November 17th, several of our members came out, from 6 - 9:30 a.m., to volunteer with our community, to pack boxes of food for 1,000+ needy families in the Washington, DC metro area. Project GIVEBACK is one of our special community outreach projects which has become an annual event. We were joined by many Howard University undergrads, local chapters of several Black Greek organizations*, and many families along with their children, who volunteered as well. Club alums proceeded through a special set up of various donated foods, with a large box. The foods included: a frozen turkey, chickens, ground beef, pasta, rice, stuffing, white and sweet potatoes, onions, carrots, and apples.

It was a very humbling, yet rewarding experience, to see that our efforts are greatly appreciated. The chairperson/coordinator of the activity is also a Howard alum. Our volunteer members included: Club President - Natalie Rance, Hazel Robinson, Jenifer Golston, Joy, Andrew Harris, Addie Lewis, Shana Ervin, and Marsha Moore.

*Delta Sigma Theta Sorority, Alpha Kappa Alpha Sorority, Sigma Gamma Rho Sorority, Omega Psi Phi Fraternity
---

HOWARD UNIVERSITY ALUMNI CLUB
OF INDIANAPOLIS
CHARITY HOLIDAY CELEBRATION
Date: Saturday, Dec. 15, 2012
4:30 p.m.
Location: Home of

Dr. Charlene (Twigi) Walton
5865 Winding Way Lane
Indianapolis, IN 46220
(317) 255-5887
Please bring a can good(s) or unwrapped children's gift.
RSVP by December 10, 2012 to Dr. Charlene Walton or Jenice Golson-Dunlap at (317) 263-3580.
---
Upcoming Alumni Events
The
HUAC of New Jersey
will hold a Holiday Party on December 6th, 2012 from 5-8:30 p.m.
HUAC-PGC General Body Meeting
Thursday, December 6th, 2012 from 7 – 8 p.m.
NGEN, LLC, 1101 Mercantile Lane, Suite 100
Largo , MD 20774
For more information: hupgbison@gmail.com

The HUAC Westchester Rockland will hold its annual holiday party and toy drive on December 7th, 2012.
Join the Howard University Alumni Club of the San Francisco Bay Area at their next General Body meeting on Saturday, December 8th, 2012, from 1-3 p.m. at Slottman L12 Channing Way, Berkeley, CA.

HUAC-PGC NFL/Holiday Mixer Sunday, December 9th, 2012 from Noon – 4 p.m.
National Pastime Sports Bar & Grill, Gaylord National Resort & Convention Center
201 Waterfront St
National Harbor , MD 20745. Wear your team jersey and bring a toy for a tot! For more information: hupgbison@gmail.com

Howard University Alumni Club of Greater Los Angeles Christmas party on Wednesday,
December 12th, 2012 from 6-9 p.m. at
POST & BEAM, 3767 Santa Rosalia Drive 90008. Please bring an unwrapped toy.

Wednesday, December 12th, 2012- HUAC Greater Hartford Black Male Initiative College Readiness Workshop- PSAT/SAT/ACT tips. Study, Schedule for Success and Charting Your Course- Urban League Greater Hartford, 5:30 - 7:30 PM. Contact: nyemapinkney@comcast.net for more information.
HUAC-PGC Day of Service Saturday, December 15th, 2012
from 9 a.m. – Noon. Mission of Love Charities Inc., 6180 Old Central Avenue, Capitol Heights, MD 20743. For more information: hupgbison@gmail.com
Saturday, December 15th, 2012: The Howard University Alumni Club of the San Francisco Bay Area will be having it's holiday community service project at the Alameda County Food Bank from 9am to 12noon. The address is 7900 Edgewater Rd. in Oakland. If you have any questions, please email huacsfba@gmail.com
Sunday, December 16th, 2012 - HUACC will hold its General Body Meeting at 3 p.m. held at the Chicago Defender office.
Tuesday, December 18th, 2012- HUAC GH- Campus Connection — Holiday Homecoming, Alumni/Student Mixer at TGI Fridays, Berlin Turnpike, Newington, CT 5 - 9 p.m. Club is accepting elementary school aged book donations for the club's Read Across America program.
Wednesday, December 19th, 2012 -
HUAC GH
Black Male Initiative — College Readiness Workshop - Getting Paid to Learn: Scholarships
Searching and Requirements, Work Study, Letters of Recommendations - Urban League Greater Hartford, 5:30-7:30 p.m. Contact:
nyemapinkney@comcast.net
for more information.
HUAC of Chicago
Winter Soulstice — bringing alumni together with current and prospective (high school seniors) students for a networking bowling event on Saturday, December 29,2012 from 3-6pm at Seven Ten Lanes, 5510 E. 55th Street. Admission is $10. If you know of any high school students that you'd like to invite, please email
huaccbison@gmail.com
.
Wednesday, January 9th, 2013 -
HUAC GH
- Black Male Initiative College Readiness Workshop –The Real Cost of College, Urban League Greater Hartford, 5:30 - 7:30 p.m. Contact:
nyemapinkney@comcast.net
for more information.
---
Annual Holiday Party & Toy Drive

Don't miss the Howard University Alumni Club of Westchester and Rockland Annual Holiday Party! Enjoy good food, holiday cheer and socializing with Howard alumni and friends. Please bring 2 unwrapped toys or games for donation.

Friday, December 7th, 2012
6-9 p.m.
Home of Tresi Griffin
58 Oliver Avenue
White Plains, NY 10603

---
Team Bison
December 21- Region I Meet Up —
The Howard University Men's Basketball team will play Rutgers University at the RAC in Piscataway, NJ on Friday, December 21, 2012 at 8pm. Join Region I alumni as we cheer on the team!
---