Message from the HUAA President
THE REAL MEANING OF HOMECOMING


It's the most wonderful time of the year. A fall weekend filled with fellowship, football, friends, a stroll down The Long Walk and of course parties. …Cause ain't No Party like an HU Party cause an HU Party don't stop … STOP
Amongst all the glory and pageantry, most of us totally MISS the point of "Homecoming."
Homecoming is NOT for the current students, per say, cause they are already there.. Homecoming is for alumni to Come Home to Howard. To Renew acquaintances, to reminisce about our time on The Yard, but more importantly to fall in love all over again with The Mecca. It's a homecoming like no other because Howard is a university like no other.
So why are we called home every October? Because, like all families, every now and then you have to return to your roots, to reconnect, to reboot and to remember why we are "So Proud That We Went To Howard U."
Once we get the emotional factors out of the way, HOMECOMING, is of course, a FUNDRAISER for the University. It's the ultimate feel good, especially if the football team wins. If the Bison win then the BISON win. And WE Bison are all about WINNING.
So as you make your way to DC for this Homecoming weekend; as you prep your outfits and talk smack to the competition; think about your Bison bucks and how you can positively impact the Howard economy (Ujamaa). And when you find yourself in your Bison zone between the Flagpole and Founders Library. Remember the REAL reason for Homecoming and take the opportunity to enroll with the Howard University Alumni Association. Together we can fulfill Howard University's Mission – A Legacy Renewed.
Welcome Home Howard…The Time Is Now!
Chris Washington, President
HUAA
---
HUAC of Baltimore Celebrates 90 Years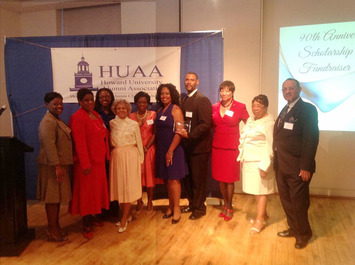 On Sunday, September 23rd, 2012, HUAC of Baltimore celebrated its 90th Anniversary with a Scholarship Fundraiser at the Eubie Blake Jazz and Cultural Center in Baltimore, MD. The club honored nine Howard alumni who have made an impact in the Baltimore area and beyond.
The honorees included: Dr. Lena Ampadu ('74), Ms. Gwendolyn Biddle ('50), Dr. Tracee Burroughs ('00), Cong. Elijah Cummings ('73), Dr. Hope E. Rhodes ('01 & '06), Dr. James Rucker ('70), Dr. Ruthe Sheffey ('49), Bishop Walter Scott Thomas, Sr. ('76), Ms. Evelyn White ('86)
. Lena Ampadu ('74). The Honorable Kurt L. Schmoke, Howard University Vice President and General Counsel, was the keynote speaker.
In attendance was Howard University President Dr. Sidney A. Ribeau, HUAA President Chris Washington, Former HUAA President Kim Singleton, Former HUAA Region II Representative Sheila Marshall, HUAC-PGC President Erica Kennedy,
Former Howard Trustee Paul Cotton,
The Honorable Vickie Ballou-Watts, Dr. Jannette Lake Dates, and State Senator Verna Jones-Rodwell. All proceeds from the event went to the Mamie Carroll Woodford Endowed Scholarship.
To make a donation to the scholarship, please send it electronically via Paypal to huacb1@hotmail.com, or by mail to HUAC Baltimore, P.O. Box 15046, Pikesville, MD 21282.
---
VERY PRESIDENTIAL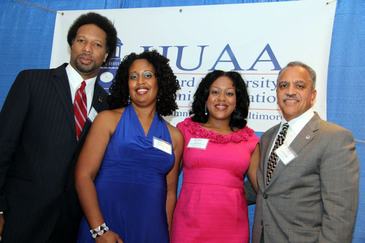 At the Howard University Alumni Club of Baltimore's 90th Anniversary Gala at the Eubie Blake National Jazz and Cultural Center on Sunday, September 23rd, 2012. From left:

HUAA President, Chris Washington; HUAC Baltimore President, Donyale Deshazio Smith; HUAC Prince George's County President, Erica Kennedy; and Howard University President, Sidney Ribeau.
---
HU HALL OF FAME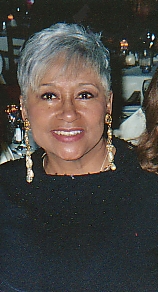 Margo Bouchet, as well as Judge Sherman Smith, will be inducted into the John M. Langston Bar Association Hall of Fame on Saturday, October 27th, 2012 at 6 p.m. The event will be held at the Omni Los Angeles Hotel at California Plaza, 251 South Olive Street, Los Angeles, CA 90012.
For more information call (310) 410-0530 or e-mail AttyGAF@aol.com.
---
Alumni Club of Chicago Holds Who's Who Gala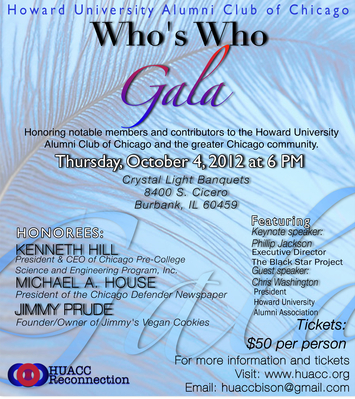 HUAC of Chicago will hold a Who's Who Gala on Thursday, October 4th, 2012 at 6 p.m. at Crystal Light Banquets, 8400 S. Cicero, Burbank, IL 60459.
Honorees include Kenneth Hill, President & CEO of Chicago Pre-College Science and Engineering Program, Inc; Michael A. House, President of the Chicago Defender Newspaper; and Jimmy Prude, Founder/Owner of Jimmy's Vegan Cookies.
Tickets are $50/per person. For tickets and information, visit
www.huacc.org
or e-mail huaccbison@gmail.com.
---
HUAC OF ATLANTA TO HOLD GOLF CLASSIC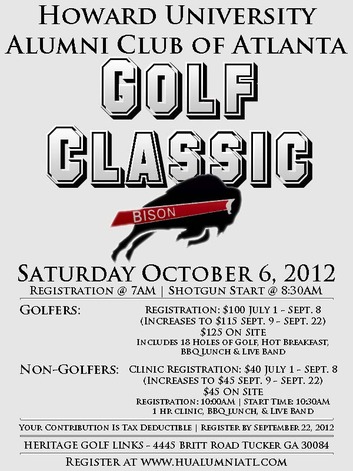 The award winning HUAC of Atlanta presents its 2nd Annual Charity Golf Tournament on October 6th, 2012 at the Heritage Golf Links in Tucker, Georgia, 8:30 a.m. shotgun start.
If you don't play golf, no problem, back by popular demand, there will be golf clinic beginning at 10:30 a.m. Live entertainment, hot breakfast and a buffet barbecue lunch.
Proceeds from this event benefit our scholarship fund. For more information visit our web site at
hualumniatl.com
. If you are anywhere near Atlanta, you don't want to miss this tournament! We hope to see you there!
---
HUAC of PGC Participates in
Health Walk/Run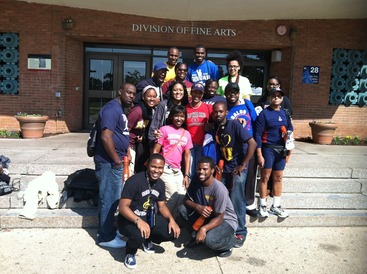 On Saturday, September 22nd, members of the HUAC of Prince George's County participated in the 105 Voices of History Health Walk/Run hosted on the campus of Howard University, which included morning warm-ups led by the U.S. Navy, Zumba, line dancing, and an "Amazing Race" challenge.
---
Meet & Greet With
Phylicia Rashad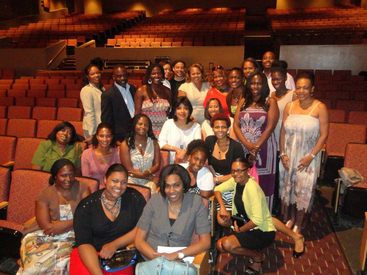 The caption: The Atlanta Club had the pleasure of seeing fellow Bison Phylicia Rashad perform in the play "Guess Whose Coming to Dinner". After the play the club had a private "Meet and Greet" with Ms. Rashad. What a treat!
---
HOMECOMING GALA CABARET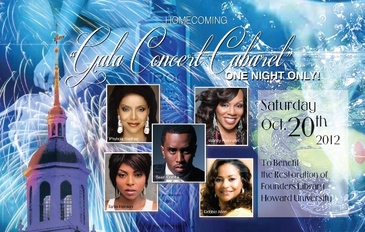 Tickets on sale now for the Homecoming Gala Concert Cabaret, to be held on Saturday, October 20th, 2012. This concert is to benefit the restoration of Howard University's Founders Library.

This event will be hosted by Howard alumni: Phylicia Rashad, Taraji Henson, Wendy Robinson, Debbie Allen, and Sean Combs. Performances by special guests.

Cocktails start at 8 p.m.; Concert starts at 9 p.m.; Cabaret will be held from 10 p.m. - 1 a.m. at the Howard Theater, 620 T Street, NW, Washington, D.C. 20001.


---
WHY SHOULD YOU JOIN HUAA?

Membership in the alumni organization of the Mecca of Universities seems like a No Brainer. I often remind friends and strangers (alums and non-alums); I would not be where I am, today, but for Howard University. My love for the university is immeasurable. Other than making donations to the university, the least I can do is join its Alumni Association because I know there is strength in numbers and HUAA needs your participation so our voice can and will be heard by the University. Membership is what we need to do in our effort to make HU a better institution for our children, grandchildren and great grandchildren. Instead of griping, join HUAA and help make a difference!
Membership in HUAA, as with most alumni associations, provides certain tangible benefits, like discounts to various venues, companies and products. Visit our website to see the many tangibles. However, in addition to the obvious, like networking, networking, networking, membership, more importantly, provides alums with an opportunity to demonstrate their ability and willingness to work as a team, and utilize invaluable leadership skills. It also goes without saying; membership in the alumni association also provides a link to local and national club events, ideas and it helps you find missing friends, through our social media sites, like FB, Twitter and the like. Membership, however, offers a means of reaching mentees, prospective employers, employees and potential scholarship recipients giving one the satisfaction of knowing your financial participation is helping students make ends meet. Has it been so long you have forgotten what it was like?
HUAA's short term goal is 4000 new or renewed memberships by Homecoming, 2012. Since our Alma Mater has at least 60,000 living alumni, 4,000 is not much of a stretch; but we are not there, yet. If you have not paid your dues, please visit www.thehuaa.org and pay your dues, at our secure on-line site. I also need you to forward this Newsletter, to at least ten (10) of your family, friends and colleagues, who are HU Alums, but not members of our august organization. Direct them to our site and ask them to join HUAA and their local club. By the way, if you happened to marry someone a non-HU Alum (perish the thought) they are eligible for Associate Membership.
Everyone loves competition. Right? Well you're ON. In an effort to attain our goal, a Competition has been created to determine `Who' (alumnus, club or region) will generate the most Memberships (new or renewed) between October 1, 2011 and October 19, 2012. Find out the winner in next month's E-Newsletter. Suggestion, add the following line below your email signature, to wit: `Join HUAA, visit www.thehuaa.org '
Look for next month's article, `Benefits of Life Membership'.
BTW, the next time someone says to you, Why should I join HUAA, tell them, it is the right thing to do to help our Alma Mater.

Margo Bouchet, Esq.
VP - Membership, HUAA

THE TIME IS NOW!
Become a member of HUAA
Click here
to join today!
MEMBERSHIP HAS ITS BENEFITS!
Join HUAA and receive discounts to a wide array of businesses including restaurants, retailers and sports clubs.
Click Here to visit the HUAA Membership Benefits page to view a complete list of benefits.


Click here
for information on other HU Alumni Clubs & Associations
FOLLOW US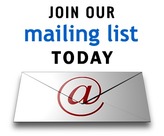 ---
We've Got An App for That!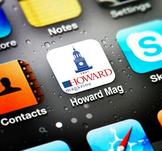 The Howard Magazine just launched a new complimentary digital mobile application for iPads and iPhones. To download the app, visit
www.howard.edu/howardmag
or visit the Apple iTunes store.
In addition to the new app, the magazine offers a digital version that is more interactive and can be shared via social media! Download it today!
Be sure to check out the HUAA article on page 37!
---
HOWARD HOMECOMING

Legendary 2012:
The Essence
of Icons

HUAC-PGC will hold a pre-homecoming mixer on Thursday, October 11th, 2012 at 6 p.m. at Sassafras Lounge & Restaurant, 12500 Fairwood Pkwy., Bowie, MD 20720
*******

Howard University Bison will play against the Morgan State University Bears on Saturday, October. 21st, 2012 at 1 p.m. at Greene Stadium.
*******

VOLUNTEERS NEEDED FOR THE BISON PARTY TROLLEY (3)
8:00 am to 10:00 am

· Two trolleys = 80 available seats to fill. If interested, send an e-mail to Karen Parker, HUAA Homecoming Chair, listing choice of Trolley and number of participants at devessel@gmail.com.
· Family Trolley and Adults-only Trolley (over 21). Minors must be accompanied.
· Light breakfast refreshments and giveaways will be available.
· Cost: free for HUAA members and children 12 and under, $18.67 for non-HUAA.
*******
Volunteers (10) needed for the Homecoming Alumni Tent (at Flagpole on the Yard) from 9 a.m. - 6 p.m. One member from each alumni club and One region chair is need for one hour shifts.Two volunteers needed to decorate te tent at 8:30 a.m. with balloons, streamers, etc.

· Gift bags are needed for new and renewing paying members; HUAA memberships can be purchased, upgraded or renewed.
· HUAA T-shirts and bricks will also be sold
Boxed lunch is provided for HUAA Tent volunteers.
*******


HUAA at BisonGate (tailgate party in lot on Georgia Avenue), needs Mini-Alumni HQ with 1 region Chair pluse 2 volunteers on duty/hour

· HUAA memberships can be purchased, upgraded or renewed.
· HUAA bandannas and T shirts available.
DJ experience
If interested in volunteering, contact Karen Park at devessel@gmail.com.
---
Howard University's Career Services presents the workshop:
"Starting Your Own Business: A Guide for Prospective Business Owners"
November 14, 2012 from 12:30 to 2:00 pm at the
Carnegie Building, Conference Room A.
This workshop will be conducted by Director, Alisa Balwant of the DC Small Business Development Center.
---
HUAC of Greater Boston is Making Strides

On Sunday, October 14th, 2012, the Howard University Alumni Club of Greater Boston will participate in the Boston
Making Strides
event. "Saving lives from breast cancer starts one team, one walker, and one dollar at a time. We know that the American Cancer Society is the leader in the fight to end breast cancer. We know that supporting them will ensure that if you need someone to talk to anytime of the day or night, they'll be there."
To donate to the HUAC of Greater Boston team, click on the link below.
HUAC Greater Boston Making Strides Team
---
Upcoming Alumni Events
The next general body meeting for the HUAC of Prince George's County will be held on Thursday, October 4th, 2012 at NGEN Corp., 1101 Mercantile Lane, Suite 100, Largo, MD 20774 from 7-8 p.m.
The next general membership meeting for the HUAC of Westchester and Rockland will be held on Saturday, October 6th, 2012 at Kendal on the Hudson, Sleepy Hollow from 10:30 a.m. - 12 Noon.
The next general body meeting for
HUAC of Baltimore
will be held on Saturday, Nov. 3rd, 2012 at Enoch Pratt Free Library, Reisterstown Road Branch, 6310 Reisterstown Road, Baltimore, MD 21215, from 11 a.m. - 12:30 p.m.
HUAC of Great Memphis
will hold it's next general body meeting on Monday, Oct. 22nd, 2012 at the Assisi Foundation of Memphis, 515 Erin Drive, Memphis, TN 38117. Please note that general body meetings are now quarterly, on the fourth Monday of the month. Each meeting will have a membership goal of 5, and thus, a financial goal of $125.
The HUAC of NJ and the Scholarship Committee will host the
Howard University Gospel Choir
on Sunday, October 7th, 2012 at First Baptist Church of Lincoln Gardens, 771 Somerset Street, Somerset, NJ 08873, at 5 p.m. Cost is $25. For more information visit
njbison.org
.
HUAC of Hartford
has many upcoming events for the month of October:
13
–
Black Male Initiative
– Leadership in Marketing and Promotions from 8:30 a.m. – 4 p.m. at the Metropolitan Learning Center (MLC) 1551 Blue Hills Avenue, Bloomfield, CT. Free but registration is required.
17- College Tour Send off -- The HUACGH Southern Connecticut committee (SoCo) will send off 150 Connecticut high school students to their college tour. They tour HU on October 18th.
26 -- Bison Masquerade at Mixx Lounge 161 Bridge Street, East Windsor, CT. Tickets are $10 in advance and more at the door. Happy Hour starts at 5 p.m. There will be a Best Costume Contest.
27 – Better Bison event -- Black Men: Take Charge of your Health Day at Hartford Hospital Education Resource Center, 560 Hudson Street, Hartford, CT 8:30 a.m. -1:30 p.m. Join them for a day of information sessions, health screenings, networking, healthy cooking demonstrations and much more in conjunction with the Omega Foundation of Hartford and Hartford Hospital. Free but registration is required. Call 860-545-1888.
---
HUACGH LAX Meet Up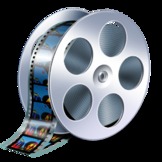 The Howard University Alumni Club of Greater Hartford hosts a meet up for the Women's Lacrosse Team. Click the reel above to check out what happens.

---
Who's Up For Competition?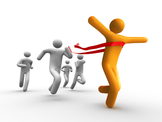 Join HUAA between October 1 - 19 and we will see what club or region can generate the most memberships. The winner will be announced in next months HUAA E-Newsletter.
Suggestion, add the following line below your email signature, to wit: `Join HUAA, visit
www.thehuaa.org
. '
---