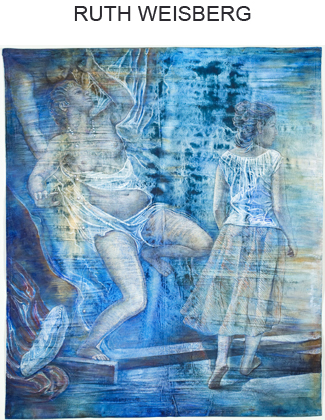 Ravished, 2011
Oil & Mixed Media on Unstretched Canvas
67 1/2 x 57 1/2 inches

"Ruth Weisberg: Now & Then" presents paintings and works on paper by one of Los Angeles' most celebrated figurative artists since her arrival in 1969. The exhibition, which includes her most recent paintings, and spanning more than three decades, reveals Weisberg's unique vision through which the viewer sees the convergence of art history, personal memory, and cultural experience.

The exhibition reveals Weisberg's decades-long interest in re-imagining the works of such past masters such as Titian, Velazquez, Blake and Corot. Through fresco-like effects in her unstretched paintings as well as the veils of washes in her masterful lithographs, Weisberg brings past-time into contemporary context.

Ruth Weisberg is currently a professor at USC, where she was one of the longest tenured Deans of the Roski School of Fine Art. Weisberg is the first living painter to have been afforded a solo exhibition at the Norton Simon Museum of Art. She holds that distinction as well at the Huntington Library. Her first major survey in Los Angeles was in 1979 at Los Angeles Municipal Art Gallery. The subject of over 80 solo and 185 group exhibitions, Weisberg's work is included in the permanent collections of over 60 museums, including the Metropolitan Museum, National Gallery of Art in Washington, D.C., Whitney Museum of American Art, Portland Art Museum, Los Angeles County Museum of Art, Getty Research Institute, Norton Simon Museum, Art Institute of Chicago, Detroit Institute of Arts, Biblioteque Nationale in Paris, and Rome Institute Nationale per la Grafica, among many others.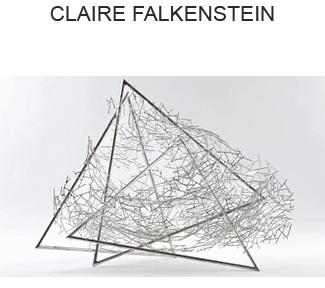 Space Structure, 1978
Nickle-Plated Iron, 35 x 39 x 32

"Claire Falkenstein: An Expansive Universe" features a selection of the artist's larger sculptural work and rarely-seen paintings, and follows an earlier Pacific Standard Time exhibition at the gallery of her intimately-scaled sculpture, wall pieces and iconic jewelry.

Claire Falkenstein's (1908-1997) work, with its innovative use of materials such as glass, metal and resin, reveals a prescient fascination with the possibilities of chance and choice which parallels current views of our expanding universe. Her ability to move sculpture to non-traditional realms, whereby she incorporates and suggests both the expansiveness of form as well as the compression of space, has established her as one of the most important modern artists in this medium. Falkenstein is well-known as the creator of Peggy Guggenheim's Venice palazzo gates.

Falkenstein's first solo museum exhibition at the San Francisco Museum of Art in 1940 was followed by her works being shown at such prestigious museums as the Louvre and the Rodin Museums of Paris. Moving to Paris for 13 years in 1950, her studio was central as a meeting place for admiring critics and artists. Her works were shown at The Tate Gallery in London, Whitney Museum, Metropolitan Museum of Art, Museum of Modern Art, the Carnegie Institute in Pittsburgh, Art Institute of Chicago, the Guggenheim Museums in New York and Venice, National Museum of American Art at the Smithsonian Institute, San Francisco Museum of Modern Art, Los Angeles County Museum of Art, Armand Hammer Museum of Art, and the Museum of Contemporary Art in Los Angeles.

The exhibition also launches the first major publication detailing her entire career – Claire Falkenstein – with essays by art historians Susan M. Anderson and Maren Henderson, art writer and critic Michael Duncan, and an introduction by Philip Linhares, President of the Falkenstein Foundation and former Chief Curator of Art at the Oakland Museum of California.