New Exhibition Catalogue: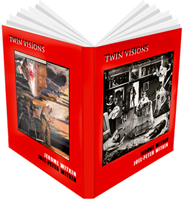 TWIN VISIONS
Estranged for more than 50 years, identical twin brothers - the celebrated artists Joel-Peter Witkin and Jerome Witkin - are brought together for the first time in this publication that re-creates the historic presentation of the two artists in a major exhibition at Jack Rutberg Fine Arts, in Los Angeles.

Each work is illustrated in full and double page images. The text includes the first interviews of the artists together, as well as a selection of the initial reviews published through the mid-point of the exhibition's extended run, making this a unique virtual "real-time" publication.

The book includes an introduction by Jack Rutberg and writings from 16 separate publications plus an audio CD of the historic first interview with Jerome and Joel-Peter Witkin, broadcast on Public Radio, recorded on the opening day of this historic exhibition.
New Exhibition Catalogue Click Here
Exhibition Video Preview Click Here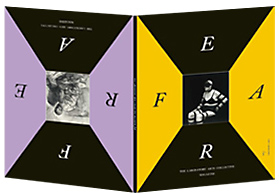 THE LABORATORY ARTS COLLECTIVE
is an international arts collective specializing in global culture and storytelling through theatre, film, publishing and events. It is a home for those seeking inspiration and a destination for the creative community. Laboratory Arts Collective searches the world over for the diverse and the exceptional, and through collaborations, brings original experiences to curious minds.

This current expedition is a journey into the nuanced word FEAR; hence the title of its latest edition (pictured above). The magazine is created on this theme of fear with the 'Twin Visions' exhibition at Jack Rutberg Fine Arts as the centerpiece.

Jerome Witkin and Joel-Peter Witkin, although identical twins, are most definitely singular artists as witnessed in the exhibition put together by Jack Rutberg. 'Twin Visions' is a journey through their work and the Laboratory Arts Collective is excited and proud to preview its magazine FEAR in the context of this magnificent exhibition.