From the Studio
Switching things up a bit, took my walk this morning and then the dogs...I know crazy...I have an senior Great Dane, arthritis but still need exercise. And young girl, Lab/bloodhound that hurt her knee, walking restriction/therapy. I like to walk longer, grab my yellow safety vest and flash light for the neighborhood walk about. This morning I felt blessed to see two Great Horned Owls. What site and feeling to be out before the dawn of light happens an see this pair.
After every one is watered and feed, I now sit down at the keyboard of my laptop and write this out.
They-researcher share that going the blue screen will have you depressed by noon. Can't have that happening. No blue screen for the first hour you wake up.
There's a new year musing idea for us all.
I have a collections of classes lined up for the new year and one of my favorites is the Vision Board...I'm getting excited about it already, thinking about my word for the year and areas of grow and change.
Let us remember as we are out and about, the season is patience and acceptance, and though in a smile for good measures.
From my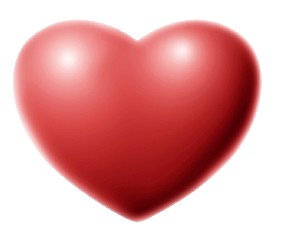 Heart and with gratitude in

Spirit
thank you for all your support through the years.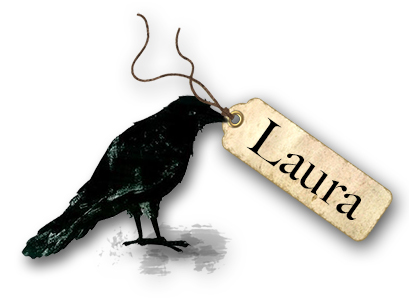 Tack Down Tuesday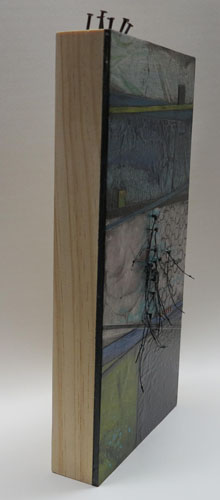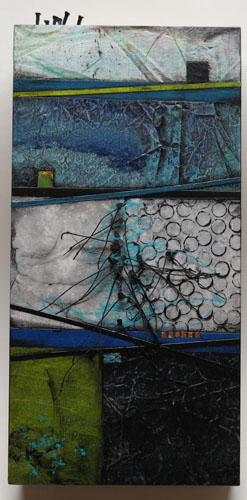 #120318-A, "Risky " 6 x 12 piece of collage art on wood panel, ready to hang on your wall or makes a perfect gift.
Materials Used: Wood panel, gloss medium, gesso and acrylic painted grocery bags, painted drawing paper, image transfers, carpet tacks, black book thread, acrylic glazing, wax pastel crayons, sealed with a layer of UV satin varnished.
Meaning behind the art: In discussion today with my artist way class, the subject of risk and accomplishments came up along with a few other topics, like fear and what's the payoff when one stays a victim? A great story was told about Mrs. Cicero, which…was a great reminder to keep moving in your life and forward at that…much like a shark does or it dies. I also saw a picture of Richard Diebenkorns work on social media and just had to share that influence in my work today.
Interested in the Original art work or a print
Quote for the Week
The Wolf and the Girl are one in the same.
When the lonely one cries to the moon the other
cries to the sky.