From the studio this week,
March and April was time for me to center down and focus on few personal projects. I had a list a mile long and learned about personal expectation...Darn it, I'm not Wonder Woman? There was much frustration and the realization of that fact. Before I knew it I was done painting the tipi and on to the prayer flags.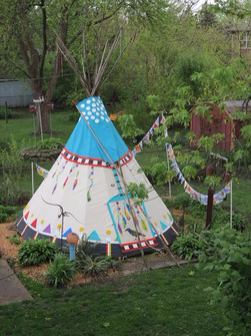 Not sure other Creative folks have had these thoughts but it hard for me to create for myself. Not complaining, but for the past 19 years I've been creating for the act of a class or workshop and planning, breaking down the creative process in steps. So when it came time to do this for myself...it was a totally different behavior for me. I've had many ask me why do you have a tipi and why did you want to paint it? Why do people like to Golf?
Why do people like to go Shopping?
I'm taking a cue from the readings of one of Julia Cameron's books...I can't be in place I would like to live so why not create a place where I am and make it special. So that is what I'm creating on my little piece of property.
It brings me Peace and Joy.
A bit of Self Love, that can be enjoyed my many.
Here's a short take of the Prayer flags in the wind on the
Video.