CANFIT Connection
juneuuuu
In this June 2010 newsletter:
CANFIT's Executive Director, Arnell Hinkle, is featured in an issue of Leo Pasifika. In New Ze

aland with an Ian Axford Fellowship in Public Policy, she is finding better ways to get health me

ssages across to Maori & Pacific people.

Read about Arnell on page 19.

Take Action: Urge fast food to stop marketing junk food to youth! Click here to take action. Get talking points for how marketers target youth - Download Are you getting played?

Blog: In Spanish - language, CANFIT's Ruth Manzano advises community members about the basic steps to start advocacy.

PEP Grants: Get 100,000 to 750,000 for your organization to improve and expand physical education. Write CANFIT workshops into your grant proposal. With culturally competent methods and workshops tailored to meet your community's needs, CANFIT can enhance physical activity at your youth program. Start Now - Apps due Monday, July 19.

Summer Food: Register today for the July 9th

Rethink Your Drink Summer Food Webinar from the CA Summer Meal Program Coalition.
Nutrition Policy: Child nutrition bill proposal released by House committee - Now is a critical time to support healthy food access for youth during after school and summer time.(Get highlights of the bill from FRAC.) Plus: Read the

policy guidelines every federal child nutrit

ion program should have in

CANFIT's Healthy Habits Policy Brief.

Physical Activity: CANFIT developed an easy

way t

o

breakdown the CDE physical activity guidelines into a si

mple matrix that can be incorporated into your everyday progra

mming. Download this tool for staff today!

Sincerely,

Featured Download
Just Released in Spanish - the Healthy Snack Guide is filled with 26 cultural recipes, affordable menu plans and much more! Get the English Version.



Stuff We Like: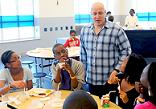 CHILD NUTRITION Featured on Top Chef: Chefs struggled to create healthy, kid-friendly meals at the federal reimbursement rate of $2.68. Just in time to further show how current funding is not enough to serve healthy food.
Get CANFIT's policy recommendations to support healthy snacks, especially during critical after school and summer hours.