Religious News
HDBS priest Dr. Bishnupada Goswami will perform "Satya Narayan Puja" on Sunday, February 9 at 11:30 AM. Please call Dr. Bishnupada Goswami at 832-367-6646 or Mr. Nirmalya Ray or Mr. Ganesh Mondal at 832-423-8541 for puja information. You are all invited to participate in the puja and get prasad. Any sponsorship puja will be performed before 11:30 AM.
Legal Update
HDBS is trying to set up a 3-way mediation on February 21, 2014. Assuming HDBS will be able to have a favorable outcome, the general body meeting scheduled for March 2, 2014 is being re-scheduled for Februray 23, 2014.

In case the above mediation effort fails, HDBS will have to present itself in a jury trial, set for March 3, 2014, for a resolution on the following cases under cause 2013- 14667.
Party
Type
Date
Relief Sought

1

Plaintiff HDBS

Original Petition
against
Cynthia Former

3-12-2013

(1) DJ Action – That Dutta has right to indemnification from HDBS
(2) statutory attorneys fees under Tex. Civ. P. Rem. Code Chap. 37

2

Intervenor
Aurko Dutta
Original Petition against
HDBS

7-18-2013

(1) Dutta has right to Indemnification from HDBS pursuant to Tex. Bus. Org. Code sec. 8.051
(2) statutory attorneys fees under Tex. Bus. Org. Code sec. 8.051(b)

3

Intervenor
Champak Sadhu
Plea in Intervention against
Dutta

9-18-2013

(1) Dutta has no right to Indemnification from HDBS by reason of res judicata
(2) Defamation per se (by Dutta)


4

Third-Party Plaintiff
Cynthia Former

Third-party Petition against
Subroto Gangopadhyay


9-19-2013

(1) Dutta has no right to Indemnification from HDBS by reason of res judicata
(2) Defamation per se (by Gangopadhyay)

October 17, 2013 Order: HDBS MSJ granted: (1) Res Judicata does not apply, (2)Plaintiff has right and must assume costs of Dutta's defense and damages.

5

Counterclaimant
Cynthia Former
Original Counterclaim
against
HDBS

11-29-2013

(1) Dutta has no right to Indemnification from HDBS by reason of res judicata
(2) Reimbursement of attorneys fees by HDBS to Former under equity
(3) Defamation per se (by HDBS leaders)


Aurko Dutta has claimed that he has incurred a reasonable and necessary legal fees in the amount of $158,000.00 plus in the defense of the 2012 lawsuit. Copies of his bills have been submitted as Exhibit to his Motion to sever and enter a Final Judgement against HDBS on January 13, 2014. The bills are part of public record. Aurko Dutta's attorney is also claiming additional fees exceeding 40,000.00 for legal fees incurred trying to collect indemnification.

"Your Voice Matters"
It is the last opportunity for all HDBS members to have their voices be heard regarding ongoing litigation involving HDBS. Members are requested to:
Attend the GBM on February 23, 2014

Any current members (in good standing) who believe they have evidence or facts to which they can swear under oath contesting the reasonableness of Aurko Dutta's bill:

​​

May make a written request to

legal@durgabari.org

Provide their first and last name, contact number where they can be reached for follow up basis of their claim that Aurko Dutta's legal fee of 158,000.00 is unreasonable and too high for the organization to pay
HDBS Library News
HDBS has significantly augmented the library with the following recent additions:
Subscription of five magazines of topical interest - Bengali magazines of Desh, Sananda, Anandalok and Du Kool and English magazine Outlook. (All magazines are available for library reading for 3 months and then issued to members).

Last year's Sharadiya edition of top of the line Bengali magazines

The complete set of Rabindra Rachanabali - A 35 volume hardcover edition from Visva-Bharati. This expensive acquisition has been made possible by voluntary contribution from several HDBS members

20 New DVDs on Bengali movies

A range of new books for both adults and children
HDBS encourages the members to actively use the library.
Kala Bhavan is a Center for Visual and Performing Arts of Houston Durga Bari. Kalabhavan offers Art classes by Sri Indranil (Neil) Sen, Odissi dance classes by Smt Supradipta Datta, and Rabindra Sangeet classes by Smt Kamalpriya Roy. Last year, we introduced Bharatnatyam classes by Smt Arpita Mukhopadhyay and Hindustani Classical music by Smt Rajnita Bandopadhyay. This year, on popular demand, we are introducing Tabla classes by Sri Raja Banga (starting February, 2014).
Please see our flyer for more information. To enroll, contact kalabhavan@durgabari.org.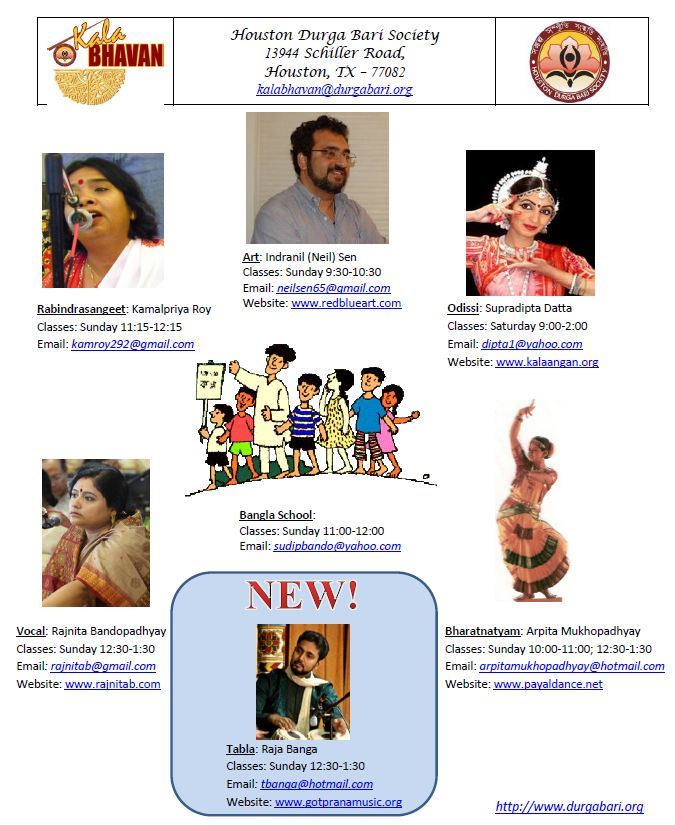 HOW TO SUBSCRIBE TO ENEWS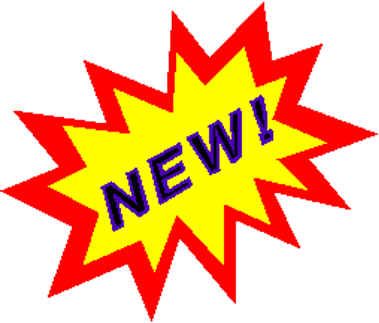 We hear from time to time that some members are not getting ENews. In an effort to improve that situation this special signup section is added to the ENews this time. Please forward them this ENews and ask to fill this form and resubscribe. Once they click the "Join Now" button below, they will get an email asking to confirm they want to subscribe. Click that link and you are done and should get the ENews. If in two weeks you do not get the ENews, please contact the executive board at secretary@durgabari.org.

Alternatively they can go to web site and sign up. To resubscribe Click Here.

HDBS Executive Board