HDBS ENews - January 17, 2014

Save the date : January 26, 2014 - HDBS General Body Meeting

Religious News
HDBS priest Dr. Bishnupada Goswami will perform " Radha Krishna Puja " on Sunday, January 19 at 11:30 AM . Please call
Dr. Bishnupada Goswami at
832-367-6646
or Mr. Nirmalya Ray or Mr. Ganesh Mondal at
832-423-8541
for puja information. You are all invited to participate in the puja and get prasad. Any sponsorship puja will be performed before 11:30 AM.
For availing Priest Services outside the Temple - please call Nirmalya Ray at 281-492-0606.

For puja and lunch sponsorship at Temple - please call Ganesh Mondal at 832-423-8541.
Up coming Events:
Volunteers:
For volunteering inside the temple, please call Mr. Ganesh Mondal at 832-423-8541 or Mr. Nirmalya Ray
at 281-492-0606.
Legal Update
On January 13, 2014, the Honorable Judge Englehart, denied Aurko Dutta's motion to separate his indemnification claims from the rest of the pending legal claims in cause # 2013-14667, HDBS vs Former and have a final judgment entered. As of now, the interlocutory judgment of October 17, 2013 stands pending results of the upcoming trial currently scheduled for March 2014. HDBS Members are encouraged to attend the GBM on January 26, 2013 for more info on the pending litigation and the impact on HDBS.

GENERAL BODY MEETING - January 26, 2014
As advised by the General Body during the previous GBM held on December 15, 2013, the first General Body Meeting for 2014 is being scheduled for January 26, 2014 at 2:00 pm inside HDBS Sur Auditorium. The agenda for this meeting shall be forwarded in the coming weeks.

Dr. Varma's lecture on "Alternative Medicine"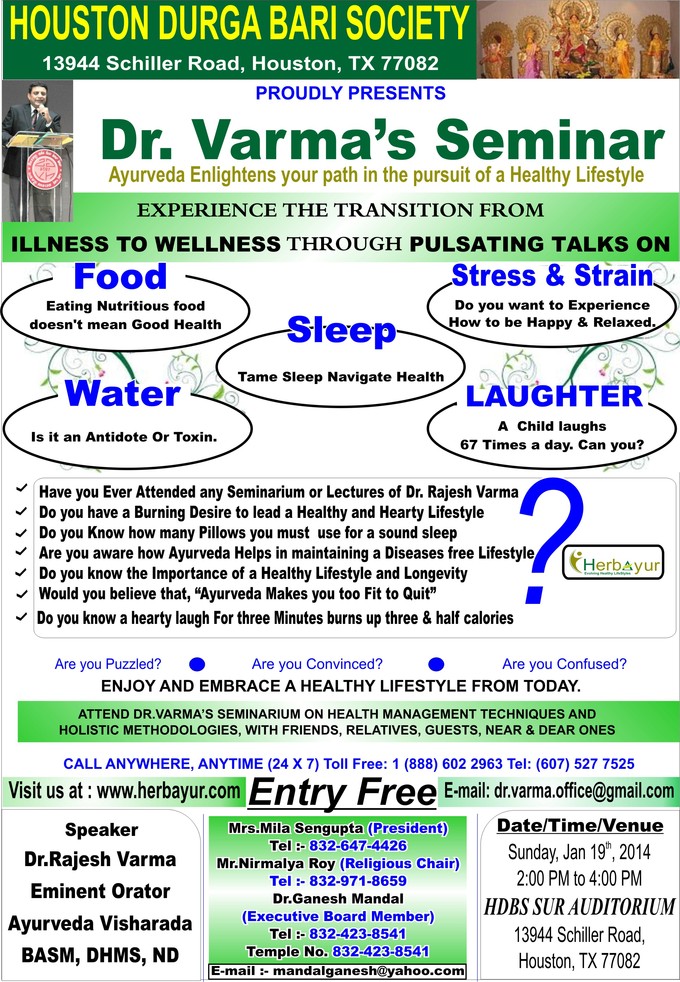 Membership / Maintenance Fees & Donations
The membership rates for General Members for the year 2014 has changed. The new rates are:
Individual Membership: $150,
Family Membership: $200
General Members must renew their membership by March 31, 2014 to be eligible to vote in the HDBS General Election scheduled for November, 2014.

Life members, Benefactors and Patron Members are requested to pay an annual maintenance Fee of $120.

Upgrading of Membership Status:
Congratulations to the following families for upgrading their memberships to the next level during 2013. Their support and goodwill are highly appreciated.
Patron Members from Benefactors (2):
Surajit and Joyati Dasgupta; Bikash and Nivedita Ghosh

Benefactors from Life Members (7):
Mohit and Nanda Banerjee; Bhaben and Nandita Chakravarti; Sumit and Sutapa Chattejee; Santosh A. and Kasturi Iyer; Santi R. and Maya Kundagrami; Protim and Sumana Mondol; Arun and Nalini Mukhopadhaya.

Life Members from General Members (14):
Debjyoti and Susmita Basu; Suvabrata and Shrabana Nath Biswas; Devasish and Mahua Choudhury; Pinak and Bharati Choudhury; Subrata and Debjani Dasgupta; Rajat and Parbati Dey; Uday and Suparna Mukhopadhyay; Pandurang and Jayanthi Nayak; Dilip and Gayatri Pal; Bhim Chandra and Rina Sadhukhan; Rajib and Priya Saha; Santanu and Papia Santra; Diptabhas and Antara Sarkar; Jyotirmoy (Late) and Reena Shome.
Membership Form
-
Click Here
How to Pay
:
Membership may be paid through check or credit card. Checks may be mailed or personally handed over to Bhajendra Barman on every Sunday at HDBS. If you have any questions please call Bhajendra Barman at
832-746-9004
or Sudip Bandyopadhyay at
281-221-4225
.
To get contacts of EB Members and other Committee Chairs : Click Here
Fund Raising drive for HDBS Legal Fund
Per resolution taken in August 18, 2013 General Body meeting, HDBS has opened a legal fund to defend HDBS from the ongoing and any potential future legal issues. As you all are aware, HDBS is currently entangled, albeit unwillingly, in a costly legal battle and needs money to get out of it.

With this in mind, the HDBS Executive Board has started a drive to raise donations for this fund. The goal is to raise $100,000 by end of January 2014. Patrons are requested to participate in this fund raising and help HDBS protect itself on the legal front. All donations are tax exempt. Checks shall be drawn in favor of HDBS.

Please contact Mrinal Chaudhuri, HDBS fund raising coordinator at chaudhuri.mrinal@gmail.com or at 713-373-9124 for further details.

HOW TO SUBSCRIBE TO ENEWS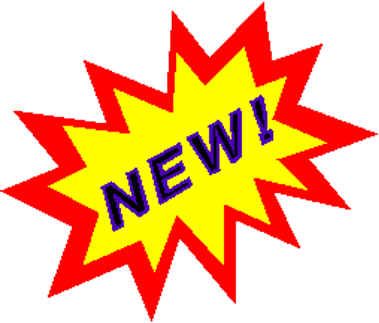 We hear from time to time that some members are not getting ENews. In an effort to improve that situation this special signup section is added to the ENews this time. Please forward them this ENews and ask to fill this form and resubscribe. Once they click the "Join Now" button below, they will get an email asking to confirm they want to subscribe. Click that link and you are done and should get the ENews. If in two weeks you do not get the ENews, please contact the executive board at secretary@durgabari.org.

Alternatively they can go to web site and sign up. To resubscribe Click Here.

HDBS Executive Board