As advised by the General Body during the previous GBM held on December 15, 2013, the first General Body Meeting for 2014 is being scheduled for January 26, 2014 at 2:00 pm inside HDBS Sur Auditorium. The agenda for this meeting shall be as follows:
2. Voting on the three motions presented during the December 15, 2013 GBM meeting:
Motion 1: Retain LaSusa & Deb Pllc as HDBS' "Attorney of Record" in all current and future litigation
Motion 2: HDBS General Body authorizes the EB to disburse payment of up to $10,000 per month to their "Attorney of Records" for their services, as earned, for the next 3 months. The Executive Board shall have the authority to renew this contract for another 3 months until cancelled by General Body resolution.
Motion 3: HDBS General Body authorizes the EB to make payment to Ashish Mahendru towards his September 2013 invoice in the amount of $9,126.75
3. Update on upcoming litigation
4. Discuss HDBS's options to minimize its total litigation and financial liability and consideration of the following proposed resolutions:
Motion 4: Authorize HDBS attorneys of record to enter into mediation with Aurko Dutta, Cynthia Former and other involved parties in the litigation to attempt to reach a consolidated settlement agreement
Motion 5: Authorize HDBS to release existing organizational funds to fund settlement agreement.
Motion 6: Select and approve a team to assist HDBS' attorneys during the mediation process.
Motion 7: Authorize HDBS attorneys to take legal action that may be necessary to minimize its financial liability in the event that HDBS cannot come to a satisfactory and mutually acceptable settlement agreement with one or more of the parties after mediation.
HDBS voting members who cannot attend the GBM are invited to vote by proxy using the attached proxy form.
Click Here.
Religious News
HDBS priest Dr. Bishnupada Goswami will perform "Shiva Puja" on Sunday, January 26 at 11:30 AM . Please call Dr. Bishnupada Goswami at 832-367-6646 or Mr. Nirmalya Ray or Mr. Ganesh Mondal at 832-423-8541 for puja information. You are all invited to participate in the puja and get prasad. Any sponsorship puja will be performed before 11:30 AM.
For availing Priest Services outside the Temple - please call Nirmalya Ray at 281-492-0606.

For puja and lunch sponsorship at Temple - please call Ganesh Mondal at 832-423-8541.
Up coming Events:
"Hathe Khori" for our young learners will be held during Saraswati puja. Charge for "Hathe Khori" is $51.00 per learner.

​

Please call Dr. Bishnupada Goswami at

832-367-6646

or Nirmalya Ray or Ganesh Mondal at

832-423-8541

for more information.​
Volunteers:
For volunteering inside the temple, please call Mr. Ganesh Mondal at 832-423-8541 or Mr. Nirmalya Ray
at 281-492-0606.

Kalabhavan News
Kala Bhavan is a Center for Visual and Performing Arts of Houston Durga Bari. Kalabhavan offers Art classes by Sri Indranil (Neil) Sen, Odissi dance classes by Smt Supradipta Datta, and Rabindra Sangeet classes by Smt Kamalpriya Roy. Last year, we introduced Bharatnatyam classes by Smt Arpita Mukhopadhyay and Hindustani Classical music by Smt Rajnita Bandopadhyay. This year, on popular demand, we are introducing Tabla classes by Sri Raja Banga (starting February, 2014).
Please see our flyer for more information. To enroll, contact kalabhavan@durgabari.org.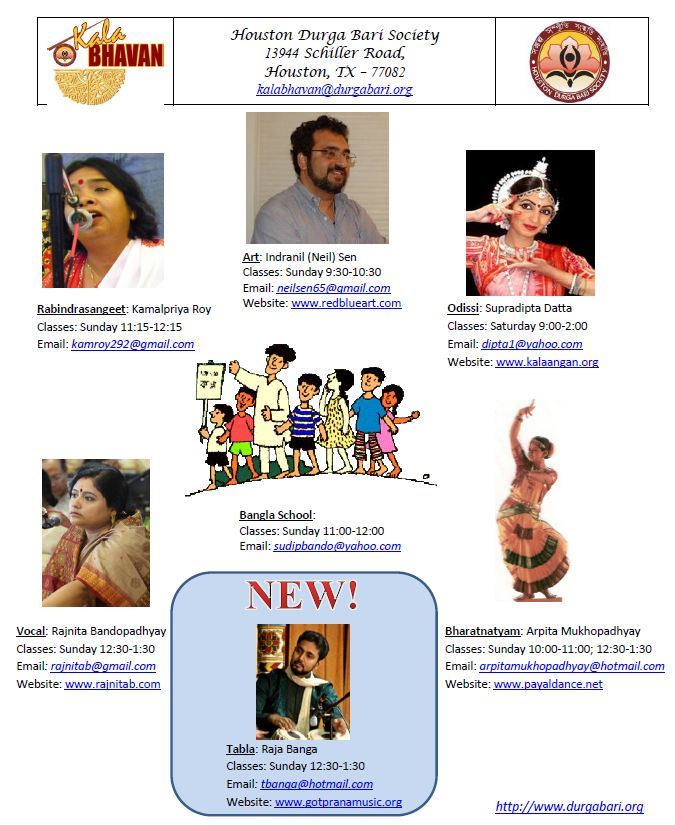 HOW TO SUBSCRIBE TO ENEWS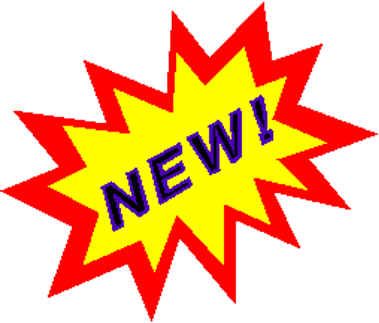 We hear from time to time that some members are not getting ENews. In an effort to improve that situation this special signup section is added to the ENews this time. Please forward them this ENews and ask to fill this form and resubscribe. Once they click the "Join Now" button below, they will get an email asking to confirm they want to subscribe. Click that link and you are done and should get the ENews. If in two weeks you do not get the ENews, please contact the executive board at secretary@durgabari.org.

Alternatively they can go to web site and sign up. To resubscribe Click Here.

HDBS Executive Board