Healthy Paint Babies born to previously neglected Horses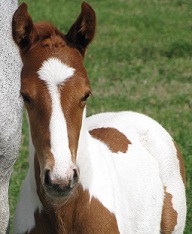 Two months after being seized due to neglect and starvation, 8 mares gave birth to healthy foals.

The foster homes worked hard and diligently to get weight on the starved mares and pump nutrients into them, hoping to save the babies. Prayers were answered, when one by one, healthy babies were born. One foal, Cartier, had a difficult first couple of days, but then turned the corner and is doing well.
After a drawn out appeal process, concluding with a rigorous two-day court hearing, ALL the horses - including the babies - were permanently awarded to TBAR on May 18th.
THANK YOU to all the foster homes and all our supporters for making this rescue & ongoing rehabilitation possible!
To see the difference you made - before/after pictures of the mares and pictures of the gorgeous, healthy babies - visit the TBar website: www.t-bar.org
---
Dear Members and Friends,

Spring and early Summer has been very busy for True Blue Animal Rescue (TBAR). After a long appeal process, TBAR was finally awarded the original 27 Wood County neglected horses, plus the 8 babies born healthy because of our fabulous foster homes! Second, TBAR was awarded six neglected horses from Burleson County that were skinny and/or had 'elf' hooves. In addition, Hemmingway, a senior horse, came to TBAR when he was found estray and no owner claimed him. Whew! And that's just the horse side of TBAR rescue!
THANK YOU for your continued support of TBAR! Your donations of time, energy and money made it possible for TBAR to assist these animals. We're still paying off the huge vet bills resulting from the seizures and rehabiliating the skinny horses; and we know that all will be fine because of our FANTASTIC supporters! Read the animal's amazing stories below and see how, because of you, they are getting a second chance!
THANK YOU for being a Member and for making all these things possible!
Sincerely,
Lauren Lee
True Blue Animal Rescue
WebMaster & Foster Home
---
Marmalade & Patches - Adoptable Kittens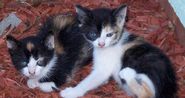 Maisy was already struggling all on her own to provide for her kittens, and then she sustained an injury rendering her front leg useless. A TBAR foster home volunteer found them and cared for them all. The boy Zane, a stunning gray with white mittens, and Marmalade & Patches (the beautiful calico girls) are now about 8-9 wks. old, weaned, socialized, and ready for forever homes.
TBAR also has two kittens about 6 wks. old and a sweet and lovely gray tabby mama cat and two tabby kittens. Please consider adopting a pair. They keep each other company and bring you twice the joy. TBAR will discount the adoption fee for a second or third cat or kitten.
For more about these kittens, and the other animals at TBAR, contact us at 936-878-2349 or visit the website at www.t-bar.org to see more photos.
---
Ciera, Sophia & Fabio- Adoptable Puppies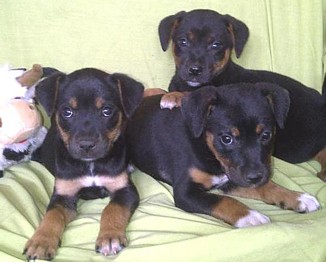 These darling puppies were stuffed in a plastic container and (illegally) dumped off in the countryside. Fabio, Sophia, & Ciara are about 12 weeks old now and are a small-boned all American mix-breed who will grow to about 30 lbs. They have beautiful markings: black coats with striking symmetrical tan marks on their faces, ears, chest, and legs, along with cute little white paws. They are a wonderful age for bringing into your home and making them a member of your family. They are still a bit timid but only need to be loved, cuddled, and shown how nice people can be, to earn their trust and devotion. For more about these puppies and the other animals at TBAR, contact us at 936-878-2349 or visit the website at www.t-bar.org to see current color photos.
---
Merlot & Cabernet - Adoptable Horses

Two of ten skinny paint weanlings and yearlings awarded to TBAR from Wood County neglect case, Merlot and Cabernet are quickly putting on weight and discovering that people are a good thing! Pictured here at their foster home, kicking up their heels. For more information, go to www.t-bar.org , email help@t-bar.org or call 936- 878-2349
---
YOU MADE THIS POSSIBLE!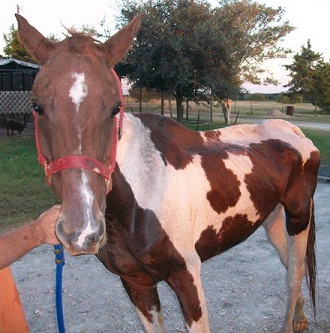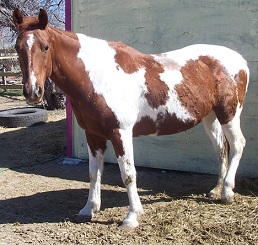 Look at these before and after pictures of Bubblegum/MEOQ
and see that you helped save a life!
---
Additional TBar News
Hemmingway, senior estray horse, makes his mark on TBAR hearts and inspires fundraiser Read more
Six neglected Burleson County horses with 'elf' hooves awarded to TBAR Read more
Texas' extreme drought requires extra precautions for proper horse care and rehabilitating rescues Read more
Spay/Neuter still the best option for homeless pets Read more
Social Networking helps the animals. Promoting adoptable pets on Facebook, Twitter and Internet Read more
---
GIVE A GIFT THAT
MAKES A DIFFERENCE!
---
Thank you for your support!
True Blue Animal Rescue has been determined a 501(c)(3) non profit organization by the Internal Revenue Service.
All donations are tax deductible.
TBAR is an all-volunteer organization.
Donations are always welcome and needed.
Hay, feed, and vet bills are our biggest expenses.
Your donation goes DIRECTLY to helping the animals!