Hi
I hope that things have improved for you and that you and your family are warm and safe. Below is a great listing of Sandy resources from Rev. Tom Goodhue, Director of the Long Island Council of Churches.
Best,
Chuck Schwartz
LI Green
631-721-1908 / chuck@ligreen.com
************************************************************
"HOPE FOR LONG ISLAND" DEC. 15 IN WESTBURY
NeighborWorks, the New York State Attorney General's Office, and Hope Now are doing a great event this Saturday, December 15, from 10 AM to 7 PM at the Joseph M. Barry Career and Technical Educational Center located at 1196 Prospect Avenue in Westbury.
More than 15 lenders will be available to meet with homeowners who are facing problems because of Sandy. Insurance companies and FEMA also will be there, as well as non-profit housing counselors. It's ideal for people who are dealing with double-endorsed insurance payments; insurance payments going directly to the banks, or others having a problem making payments because of loss of work and expenses. Some banks are able to lower or stop mortgage payments for up to a year!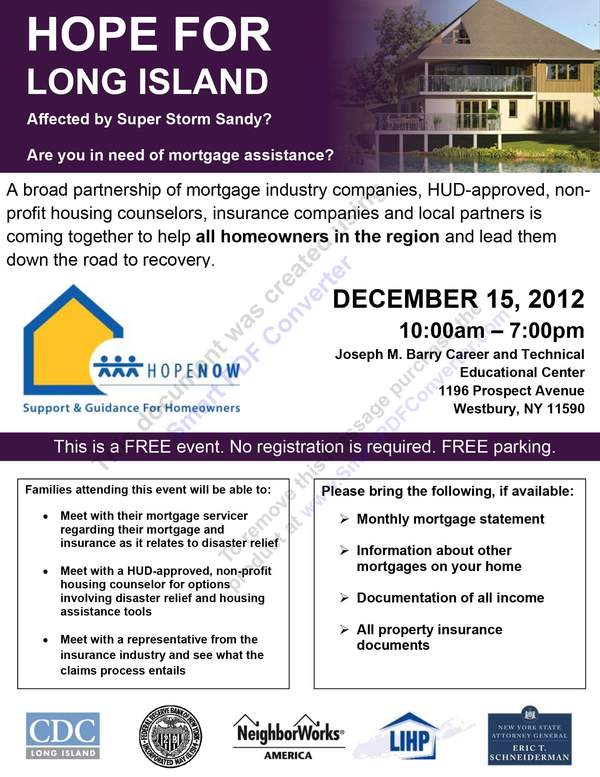 MORE ABOUT JOB OPENINGS FOR RECOVERY WORKERS
My last posting had info about new jobs in suffolk and they actually are available in both Nassau and Suffolk. The United States Department of Labor has awarded the New York State Department of Labor in conjunction with a grant to hire temporary workers to assist in recovery of damages caused by Sandy in both counties. People can apply by phone at 1-888-469-7365, visit one of the five One Stop Career Centers on LI, or go online to www.labor.ny.gov and tap the "Hurricane Sandy" link.
KNOW ANYONE WHO NEEDS A CHRISTMAS TREE?
We have an artificial tree with lights and decorations in our Hempstead office to give away. Call Yolanda Murray ASAP at 516-565-0290 if you know someone who needs it.
Tax Help for victims of Hurricane Sandy (and other natural disasters)
Try as we may, the one thing we can't control is the weather. When natural disasters such as floods, tornadoes and hurricanes occur, families and businesses can feel overwhelmed when faced with rebuilding and recovering. The IRS wants to help. Did you know that special tax law provisions may help you recover financially from the impact of a federally declared disaster? If you have damaged or lost property in a location declared by the federal government as a major disaster area, you may be able to get some money back from the IRS right now.
Additionally, depending on your circumstances, the IRS may grant you more time to file your return and pay your taxes. You could get a faster refund by claiming losses related to a disaster on your tax return for the previous year, usually by filing an amended return.
Check out the Tax Relief in Disaster Situations Web page. This page has helpful tax relief information for people affected by natural disasters, including Hurricanes Sandy and Isaac, the Texas wildfires, the Kentucky and South Dakota floods and other natural disasters. Remember, when natural disasters strike, the IRS is here to help you.
IRS.gov
• Help for Individuals
Disaster Assistance Self-Study Record Reconstruction Publication 2194, Disaster Losses Kit for Individuals
• Help for Small Business Owners – IRS Video Presentations
IRS Disaster Assistance Planning for Business Continuity after a Disaster Reconstructing Records after a Disaster Disaster Loss Deductions
IRS.gov in Spanish
• El IRS en Español
Alivio Contributivo en Situaciones de Desastre
IRS Forms and Publications
• Publication 547 – Casualties, Disasters and Thefts
UNITED METHODIST DISASTER RESPONSE
Long Island now has three
United Methodist Disaster Relief Centers
that are receiving, orienting, and deploying teams of volunteers to help individuals and families clear debris, clean out muck, remove damaged cabinets and wallboard, and perform mold treatment. The Centers are headquartered at the St. Mark's UMC, Rockville Center, the Freeport UMC, and Community UMC, Massapequa. Below are contact numbers and email addresses for the three centers:
St. Mark's UMC (516) 766-2080 pastorbob.grimm@gmail.com
Freeport UMC (516) 655-6528 nyacdisasterfreeport@gmail.com
Community UMC (516) 795-1322 UMDisasterRelief@cumcmassapequa.org
Volunteers from outside of the area are being housed at the St. Mark's in Rockville Center and at the Hicksville UMC. For the LI West District, contact Pastor Bob Grimm at St. Mark's. For LI East, contact Warren Ferry, District Disaster Response Coordinator at (631) 875-5204.
We Need Volunteers!
The demand is much greater than the volunteers currently available to meet it. Churches are encouraged to recruit volunteers from among their members as well as from their communities. Volunteers do not need to be skilled. However, we are grateful for those with carpentry, plumbing, and electrical experience. In addition to physical work in home, we also need volunteers to staff the command centers, serving meals to volunteers, do counseling with homeowners. Volunteers and teams should register on the NY Annual Conference website: www.nyac.com and
also
contact the District Coordinator or the site through which they want to volunteer.
Take Early Response Training
All volunteers are urged to take Early Response Training:
*Saturday, December 15 from 9 a.m. to 5 p.m. at First Church (UM) in Baldwin.
New classes are being scheduled. To find additional dates, visit http://nyac.com/events/index?area=10.
The class requires a big time commitment, but the training is invaluable and will prepare you well to participate in or lead a team.
VOLUNTEERS SEEKING A PLACE TO STAY
All Hands Volunteers (
http://hands.org/
) is seeking a temporary base on the South Shore of Nassau to use while doing free demolition and mucking out of destroyed homes and businesses. They need space to sleep about 20 (volunteers bring sleeping bags). Showers and access to cooking facilities are a huge help. If you have space to offer, please contact Adam Haber at amh5500@aol.com or 516-578-1815.
WHERE TO DONATE USED CLOTHING
After nearly every natural disaster, thousands of people go to their closets, pull out items they want to donate to somebody in need, load them into cars and trucks—and then are upset to learn that nearly every charity in the area already has all the clothing they can possibly give away or store. We sometimes refer to clothes as "the second flood." The impulse to donate is a very good one, and it is far better to give clothing away than for it to end up in a landfill, but many of us clearly have way too much stuff in our homes.
Here's one local charity that desperately needs these donations. Big Brothers Big Sisters of Long Island lost a LOT of things due to the storm, and would love to receive donations of clothing. To find a donation bin or arrange a pick-up, visit
www.bbbsli.org
or call Joanne at 631-234-0000,
extension 115. All proceeds of any clothes they sell will be used to help children on Long
Island.
And a good way to get used clothes to those who need them is to set up more donation boxes for legitimate charities. The LICC helps our long-time partner the Society of St. Vincent de Paul to find additional sites for clothing collection boxes. If you have a corner of a parking lot where you would be willing to have a clothing box, the Society will empty it as often as needed. The Society also is happy to move your collection box to a new location, as they did recently for Sayville Congregational Church, or to replace it when it is showing its age. Recycling clothes is good for planet, good for people who need inexpensive clothing, and generates some much-needed revenue for the Society and the Council. For more info about the LICC's collection box placement, please call Tom Abbate at 1-800-884-7837.
MORTGAGE HELP FOR THOSE AFFECTED BY THE HOME
Major state chartered banks (Apple, Dime, Emigrant, M & T, New York Community Bank, Ridgewood, Hanover, and state-registered loan servicers including, Citi, Homeward, Ocwen, Nationstar and others) have offered relief to homeowners with mortgages in the affected areas, including
postponing foreclosures and evictions for 90 days,
waiving late fees for 90 days
in some cases forbearance on mortgage payments for 90 days,
waiver of interest charges where a refi has closed but not yet been funded.
HUD, Fannie Mae, and Freddie Mac, are offering similar relief to borrowers whose mortgages they own. Even borrowers who were in foreclosure when Sandy hit will get a break: the agencies are suspending foreclosure sales and evictions for 90 days. This "foreclosure suspension" also applies to mortgages insured by the Federal Housing Administration.
To find out if Fannie Mae owns your loan, visit knowyouroptions.com/lookup.
To find out if Freddie Mac owns your mortgage, visit freddiemac.com/corporate
To find out if you are within a disgnated disaster area., visit fema.gov/disasters
FREE LEGAL CONSULTATIONS
Nassau County Bar Association is now offering free consultations to residents of Nassau County who may be facing Mortgage Foreclosure of their home or who suffered damage to their homes and belongings as a result of Superstorm Sandy:
MORTGAGE FORECLOSURE CONSULTATIONS:
Monday, January 7 ----- 3:00 p.m. to 6:00 p.m.
SANDY SUPERSTORM CONSULTATIONS:
Monday, December 17 ----- 10 a.m. to noon & 3:30 to 6:00 p.m.
It is recommended to pre-register by telephone, 516-747-4070, for consultations. Anyone needing a consultation in a language other than English should make the request when calling to register.
HELP WITH BOILERS & WATER HEATERS
The Long Island Housing Partnership is making grants of up to $5,000 to purchasing new hot water heaters, oil burners and other essential repairs to a home's heating and hot water supply systems in homes damaged by Sandy. These homes must be located in Island Park, East Rockaway, Long Beach, Bay Park, Inwood, Mastic, or Mastic Beach or the household occupying the home must have an income that is below 80% of median income. For a family of 4, for example, annual income cannot exceed $86,000 per year. To receive an application homeowners should call LIHP at (631) 435-4710 and request a Disaster Assistance Repair Application.
FOOD STAMP BENEFITS EXTENDED
The federal government is giving every current SNAP (a.k.a. food stamp) recipient in the areas impacted by Hurricane Sandy (including all of Nassau & Suffolk) 50 percent of their October benefits to replace food they may have lost in the storm. This amount will be automatically added to their SNAP cards. The feds also approved the New York State waiver to allow SNAP recipients that reside in these areas to purchase hot food with SNAP benefits and eat them on-premise, where practical, through Dec. 31.
SOLAR GENERATORS OFFERED
Solar Sandy project, a partnership of SolarCity, Consolidated Solar, and Solar One is offering to bring mobile solar generating units to provide temporary electricity to areas affected by Sandy. The units are 10kW of Solar, and are great for power lights, charging cell phones, and other critical equipment. The places we have deployed these units so far (which have been ideal) are community gathering places (churches, community centers) and relief centers in the Rockaways. You can read more about the project at
http://solar1.org/solar-sandy-project/
If you know any good locations to deploy these generators, email Sara Jayanthi at sara@solar1.org or call her at 203-308-6754.
Here are some things that faith communities are doing to respond to Superstorm Sandy
The LICC offices in Hempstead, Freeport, and Riverhead are assisting people with food, clothing, toiletries, school supplies, and household items at:
Hempstead, in Christ's 1
st
Presbyterian Church, 516-565-0290, has Church World Service blankets, school kits and hygiene kits,
Riverhead, 407 Osborne Avenue at Lincoln, 631-727-2210, has Church World Service blankets and baby kits,
Freeport, 450 N. Main Street, 516-868-4989, has CWS blankets, hygiene kits, and school kits, and MREs (Meals Ready to Eat).
Freeport needs donations of
Toiletries,
Cleaning Supplies, particularly bleach, soap/detergent, mops and buckets
Food – particularly protein, grains, fruits and vegetables.
And donations of diapers are needed in Riverhead.
Church World Service, our partner in ecumenical disaster response and relief efforts, has offered to deliver blankets and Gift of the Heart kits to any church, agency, nonprofit, or government entity that can distribute hygiene kits, school kits (to keep kids occupied while in shelters), baby kits, and cleanup kits (which include nice big buckets). You can request these from jhale123@aol.com or 917-705-3038 or 716-773-7935.
Many thanks to CWS for this help! And thanks to all of you who have bought CWS blankets, assembled disaster response kits, walked in our recent CROP Walks in East Meadow, Baldwin, Westhampton, Sag Harbor, Hicksville, Southold, Riverhead, Montauk, Brookhaven and Sayville which raised funds for Church World Service, or sponsored walkers.
UMCOR, the United Methodist relief agency, is seeking locations where volunteer crews can sleep (a floor is fine), shower, and cook. If you have space to offer, please contact Warren Ferry, the Long Island coordinator, at warrenferry@verizon.net or 631-875-5204. The New York Annual Conference of the United Methodist Church currently has three sites from where disaster response volunteers are deployed:
Massapequa: Community United Methodist Church,
Freeport United Methodist Church, and
Bethel United Methodist Church on Staten Island
To request assistance from these disaster response volunteer teams, visit
http://nyac.com/pages/detail/1789
or contact the Rev. Joseph Ewoodzie, Mission Coordinator for the New York Annual Conference (the downstate diocese of the UMC) at nyacdisaster@gmail.com or 914-615-2233.
UMCOR's base at Community United Methodist Church in Massapequa is taking requests for assistance and offers to volunteer:
United Methodist Disaster Relief CenterNeed Help? Want to Volunteer? Call (516) 795-1322Community United Methodist Church100 Park Blvd., Massapequa, New YorkWe Can Help With…
In the immediate relief stage, we can help clear debris, clean, remove cabinets and sheetrock, and perform mold abatement.
You Can Volunteer For…
Staffing the command center, serving meals, counseling, carpentry, electrical,
mold abatement, heating, and general labor.
You Can Donate…
Money (preferred – we can use for specific needs), heavy-duty trash bags, N-95 dust masks, 2' & 4' levels, chalk lines, sheetrock saws, hammers, screw guns.
United Methodist Disaster Relief CenterNeed Help? Want to Volunteer? Call (516) 795-1322Community United Methodist Church100 Park Blvd., Massapequa, New YorkWe Can Help With…
In the immediate relief stage, we can help clear debris, clean, remove cabinets and sheetrock, and perform mold abatement.
You Can Volunteer For…
Staffing the command center, serving meals, counseling, carpentry, electrical,
mold abatement, heating, and general labor.
You Can Donate…
Money (preferred – we can use for specific needs), heavy-duty trash bags, N-95 dust masks, 2' & 4' levels, chalk lines, sheetrock saws, hammers, screw guns.
Mt. Sinai Congregational Church has an experienced work team that would be glad to help anyone is in need of help cleaning up after Sandy. Contact mscc1@optonline.net or 631-473-1582.
Congregations in hard-hit East Rockaway are cooperating to augment the Fire Dept. as FEMA "Points of Distribution" with Bethany Congregational Church and St. Raymond's Church open during the day and the Church of the Nazarene open evenings.
The Presbyterian Church of the Moriches (263 Main Street in Center Moriches) is distributing—and needs donations of—food, hygiene products, diapers, and pet food. Contact Jeanine Fenzel-Sulyok at 631-878-1993 or Doug Tummer at 631-804-0544.
First Presbyterian Church in Oceanside (2701 Oceanside Road, 516-766-1596) is serving as a warming center and distribution point and needs donations of warm clothes, shoes, batteries, blankets, pillows, air mattresses, sleeping bags, and personal hygiene supplies.
First Presbyterian Church in Freeport (178 South Ocean Ave. 516-379-1114) is distributing MRE meals and letting evacuees sleep there, though there are no shower facilities. They need donations of food, personal hygiene kits, and cleaning supplies.
I was heartened, too, by the way Presbyterians in Massapequa immediately offered their sanctuary to a synagogue that was badly damaged, Temple Sinai, and hauled 94 bags of food to our Freeport pantry, knowing that many people lost precious food supplies due to flood and power outages. Also inspiring was the truck from a volunteer fire department located many miles upstate that I passed by me on Sunrise Highway. Hats off to all the volunteers who are coming to our region to lend a hand!
The United Church of Christ can arranged for shipping disposable Tyvek suits with goggles, masks and gloves for cleanup work to any church or agency that would like to distribute them. It is a good idea to wear these during cleanup and recovery work, which is expected to last until at least Christmas. Contact Florence Coppola at 216-736-3200.
The Salvation Army will arrange transportation from 66 Church Street in Freeport to its shelters at Nassau Community College and elsewhere. Those who need shelter—including those without as the temperature drops—can find the nearest temporary shelter by texting "SHELTER" and their Zip code to #43362 (4FEMA) or by calling the Red Cross as 1.877.733.2767.
Other News
The United States Department of Labor has awarded the New York State Department of Labor and the Suffolk County Department of Labor a grant to hire temporary workers to assist in recovery of damages caused by Hurricane Sandy. Please click link for flyer.
LABORERS NEEDED
The Community Development Corporation has an emergency home repair loan fund that is available to assist homeowners with loans up to $5,000 for homeowners whose incomes are under 120 percent of area median income, roughly at or below $129,000 for a family of 4.
Click here
for more information.
New York State has made Housing Choice Vouchers available to assist very low income residents who have been permanently displaced by Hurricane Sandy to find rental housing. CDC is administering the program in Suffolk County on behalf of the state. For more information,
click here
.
Previously posted
:
Touro Law Center has opened a legal hotline at 631-761-7198 that is staffed Monday-Friday 9-6 by law students and attorneys from the bar associations. Bilingual and Spanish-speaking lawyers are available, also, thanks to the Hispanic Bar Assn.
United Way's 211 information and referral service is now available 24/7 at 1-888-774-7633 or
https://211longisland.communityos.org/cms/
and can be accessed in Spanish and 150 other languages. Their constantly-updated "DISASTER ASSISTANCE RESOURCE GUIDE Long Island Region" can be downloaded from this site as a pdf file.
If you need to repair your home after Sandy, you might consider making it more accessible as you repair steps, bathroom, kitchen, etc. The Long Island Housing Partnership's Rehabilitation Emergency Assistance Program provides funds for improvements to accessibility in disabled Long Islanders' homes. Up to $15,000 in deferred loans are available. These can be used for various improvements, including wheelchair ramps, widened hallways, accessible bathrooms and kitchens, chair lifts and visual and hearing impairment devices. Applicants must meet income limits set by the federal home loan bank, according to household size:
1-2 persons: up to $97,728
3+ persons: $114,016
To apply, please call 631-435-471 9 to 5, Monday to Friday, or visit the Housing Partnership at 180 Oser Avenue, Hauppauge, NY 11788.
Many people have been reluctant to remove debris from their yards, fearing that this will make it more difficult to collect on their insurance. Governor Cuomo has issued an executive order requiring insurers to accept an inventory of loss and photos of damage as sufficient proof for claims. He also has ordered municipalities to pick up debris from your curbside ASAP.
If you would like to volunteer, you can do so through the website for the Long Island Volunteer Center at
www.longislandvolunteercenter.org
. If your organization needs volunteers you can make requests through the LIVC web site or 516-382-3674.
If your church or organization needs help, you can seek volunteers through them by email at disastervolunteer@longislandvolunteercenter.org.
The Federal Emergency Management Agency will help those who sustained damage during Sandy with grants for temporary housing and home repairs, low-cost loans to cover uninsured property losses, and other programs to help individuals and business owners recover from the effects of the disaster. To apply for disaster assistance, you can register on-line at FEMA's web site (www.disasterassistance.gov) or call 1-800-621-FEMA from 7 am to 10 pm, seven days a week.
A number of emergency programs are available from the U.S. Small Business Administration, whose hotline is 1-800-659-2955. The application Filing Deadline for Physical Damage is December 31, and for Economic Injury July 31. Whether you rent or own your own home, own your own business, or own a small agricultural cooperative located in a declared disaster area, if you are the victim of a disaster, you may be eligible for financial assistance from the SBA.
Home Disaster Loans – Loans to homeowners or renters to repair or replace disaster-damaged real estate or personal property owned by the victim. Renters are eligible for their personal property losses, including automobiles.
Business Physical Disaster Loans – Loans to businesses to repair or replace disaster-damaged property owned by the business, including real estate, inventories, supplies, machinery and equipment. Businesses of any size are eligible. Private, non-profit organizations such as charities, churches, private universities, etc., are also eligible.
Economic Injury Disaster Loans – Working capital loans to help small businesses, small agricultural cooperatives, small businesses engaged in aquaculture, and most private, non-profit organizations of all sizes meet their ordinary and necessary financial obligations that cannot be met as a direct result of the disaster. These loans are intended to assist through the disaster recovery period. EIDL assistance is available only to entities and their owners who cannot provide for their own recovery from non-government sources, as determined by the SBA.
Senator Kristen Gillibrand's office has posted a good, thorough guide to navigating your way through the process of applying for disaster relief assistance on their Web site:
http://www.gillibrand.senate.gov/issues/hurricane-sandy