---
---

---



March/April 2016





Silent Auction

!

Support the Sarah Hartman Fund for Paddle Sports Education

In This Issue - Think Spring!


Cleanup Corner:
Paddling Education:

FOCR Video: Lessons in an Urban River's Recovery: Making Habitat


Special Features:

Sarah Hartman Fund for Paddle Sports Education

Long Distance Paddling Events

Places to Paddle:

A Jewel on the south side has finally been discovered

Reminder: Spring is Coming

A History Of The Dam Simulator

Risk Assessment/Management
Beware the Fishhook!


Events:

Memorial: Remembering Sarah and Dan and Joe

2016 Paddling Events

IPC Booth at CanoeCopia

Reel Paddling Film Festival
---
Greetings and Happy New Year!

This spring the ACA is coordinating a Paddle Green Earth Day Cleanup weekend watershed cleanup. As an incentive for groups to host a cleanup, the ACA is offering a chance to win a weekend of free instruction in SUP, Canoe, or Kayak from an ACA Instructor Trainer. We are asking ACA State Directors to help us get the word out to the community so that together we can clean up our watersheds and raise awareness about water quality issues. Learn more about organizing a cleanup and how to win the weekend of free instruction here.

---

Cleanup Dates

Wow, its only March, and already there are more than 20 cleanups on the calendar. Water TrailKeepers is happy to partner with other organizations, promote stewardship activities, recruit volunteers, and when we can, provide additional support. Contact WTK Program Manager Tom Eckels at program-manager@watertrailkeepers.org to add your event to the calendar.

---
Lake County Forest Preserve District's River Stewardship
Planned work days for the Lake County Forest Preserve District's River Stewardship group, in 2016:
| | |
| --- | --- |
| April 3 | Sept 17 |
| April 30 | Oct 8 |
| May 15 | Oct 29 |
| June 11 | Nov 12 |
| July 9 | Dec 3 |
| August 6 | |
Come on out & get some junk out of The Mighty Des Plaines River!
---
Sarah Hartman Fund for Paddle Sports Education

Support the Sarah Hartman Fund for Paddle Sports Education

To promote the long-term viability of the program, we are running an Online Silent Auction (left-hand side of page). All auction proceeds support the Sarah Hartman Fund for Paddle Sports Education. The Sarah Hartman fund has been established to provide support for individuals in the Midwest states of IL, Iowa, Indiana, Michigan, and Wisconsin who are certifying as ACA Level 3 (and above) instructors, ACA Instructor Trainers, or the appropriate BCU level Coach by providing a onetime grant to help offset some of the costs of certification. Information on the fund is available here:
Items available in the auction include:
Please bid early and bid often!
---
Long Distance Paddling Events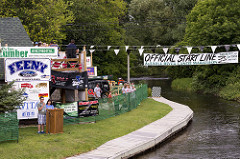 Not The Des Plaines Marathon – But Ultramarathons

If the 18.5 miles of the Des Plaines Marathon (May 22 this year) are not long enough for you – participate in one of these events to test your stamina – or at least, be astonished that some paddlers can do this.

Races featured here include:
Michigan, Friday, April 22 – Sunday, April 24: Campus To Coast
Texas, Saturday, June 11 – Texas Water Safari
Canada, Wednesday, June 29 – Sunday, July 3: Yukon River Quest
Michigan, Saturday, July 30: AuSable River Canoe Marathon
Check it out!
Featured photo by

Brian Connon, AuSable River Canoe Marathon
---
Reminder: Spring is Coming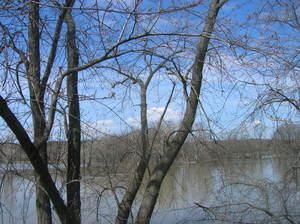 By Don Mueggenborg

JUST A PICTURE

Just a picture of a river.

A river in flood stage. Even a river with a wide flood plane can be dangerous when it is in flood stage. Fast current. Cool water in the spring. Branches that were well above the paddlers' head at normal water levels now become flow-throughs.

Rivers such as the upper Des Plaines, with its many twists and bends and low branches, can be especially dangerous.

We want to get out and paddle – but we want you around for the next newsletter. Please use caution.
---
A History of the Dam Simulator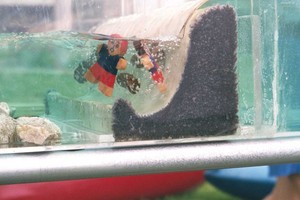 By Sigrid Pilgrim

The dam simulator, which has been displayed during the past 15 years at numerous events, continues to draw much attention. We will never know whether it has saved a life, but we believe that the visualization of the recirculation in a hydraulic has educated many, many people to the dangers of dams.

I have often been asked "where did the dam simulator come from," so here is a brief history.

Back in 2000 when I chaired Paddling in the Park, the two-day paddlesports festival in Palatine, we used to have a planning session in late winter which Susan Sherrod also attended. She suggested building a dam simulator like her club, the Canoe Cruisers Association, once had. Susan developed the engineering drawings and provided a cost estimate for the parts needed. CWA member Jim Cronin applied for a grant from the Baxter Foundation, and Joel Neuman built the dam. The rest is history.

Read more about the dam simulator, including how/where it's been used, an important video about the simulator that you can order, and features the simulator can demonstrate (with photos!), such as reversal of the hydraulic, foot entrapment, and strainers!
---
Risk Assessment/Management
By Lenore Sabota

Here are the steps that went into what became a U-Turn paddle trip this afternoon. Right from the beginning, we noticed the river had changed. Different channels. Trees down. There was significant flooding in December and several high-wind events and an ice storm since we paddled this section last fall.
First steps in risk management were not paddling solo; dressing for possible immersion; going with someone intimately familiar with the river.

We approached each potential problem area cautiously, such as when we were about to round a corner.

We stayed close together.
Safety continued here.
---
Beware the Fishhook!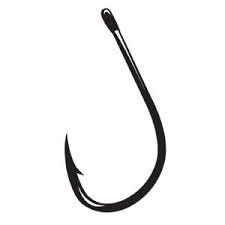 By Don Mueggenborg

It was an early spring day – sun shining, water up a little.

Time to get the rust off, get out on the river. In this case, it was the lower DesPlaines.

We launched at our favorite spot in Lemont and headed upstream. Peanut Butter Andersen in the stern.

When we paddled together, we took turns paddling bow or stern. That way we were more aware of what the other paddler has to do. And the stern paddler doesn't have to be reminded to call the "hut" because next time he will be in the bow.

Find out what happened with the fishhook here.
---
A Jewel on the south side has finally been discovered
By Michael Taylor

No motor boats, no barges, and deep enough not to scratch the bottom of your boat. Finally the secret of a beautiful flowing river in the southern suburbs of Chicago has been rediscovered. In the fall of 2015, the Cook County Forest Preserve opened a new boat ramp along the Little Calumet River at the Kickapoo Woods Forest Preserves. The immediate feedback from paddlers and novice alike was that it is a perfect venue.

Read more about this new access point, as well as the "
Little Calumet River Day at Kickapoo Woods"
event for the community on
Saturday morning, June 4, 2016.
---
Remembering Sarah and Dan and Joe:
Details are not set on the time, but the date and location are set for a memorial at Yorkville for Sarah Hartman, Joe Tybor and Dan Leigh. The date is Saturday April 30, and will include planting of 3 trees and a bench, along with plaques for each. Contact Andy Cocallas, acocallas@sbcglobal.net for information.

---
Ralph Frese Memorial Paddle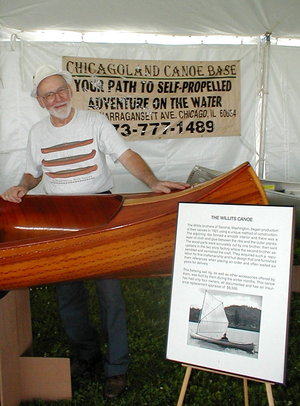 Saturday, April 9, 9am
Willow Road Dam, Winnetka

Experienced paddlers, bring your canoe or kayak and celebrate the legacy of canoe legend Ralph Frese by paddling down the Chicago River from Willow Road Dam to Linne Woods in Morton Grove. A shuttle bus will be provided and will run from 8 am to 2 pm from Linne Woods (Dempster St and Ferris Ave) to Willow Road Dam. The event is free and concludes with a celebration at Linne Woods where refreshments will be served.

For more information call 312-533-5751.
Register at https://www.eventbrite.com/e/ralph-frese-memorial-paddle-tickets-21462682461.
Cost: Free

http://fpdcc.com/event/ralph-frese-memorial-paddle-2016/
---
Paddle in the Park



Saturday, May 14, Crystal Lake, 10am

The McHenry County Conservation District is hosting our eighth annual Paddle in the Park event Saturday May 14, 2016, 10:00am – 4:00pm.

This event will be held on Lake Atwood, within The Hollows Conservation Area, 3804 US Highway 14, Crystal Lake, Il.

The Hollows is a 338 acre site that features hiking trails, picnic shelters, fishing, canoeing, and a camp ground among its amenities. Lake Atwood is a 20-acre, self-contained, artificial lake. It has a boat ramp, fishing dock, picnic shelter, restrooms, drinking water, and a large paved parking lot. It has good access from several different points, including about a ½ acre area of shallow, sandy bottom, beach-like water.

Read more here.
---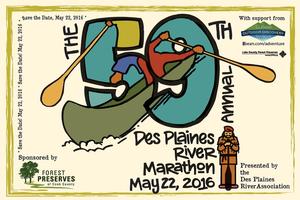 Save the Date to Paddle the 59th Annual Des Plaines Canoe & Kayak Marathon And Minithon

Sunday, May 22
More picnics are spoiled by weather reports than by the weather, wrote Don Mueggenborg (who has paddled every event but one since its starting) after last year's event. Forecasts had everyone concerned – rain, high winds, lightning. Instead we had a great day. Overcast early with a slight mist and headwinds to cool the paddlers down.

More than seven hundred paddlers participated in 2015, including 37 in the shorter Minithon, with several SUPs finishing the whole course. Most paddlers came from Illinois, Indiana, Iowa, Michigan, Minnesota, Ohio and Wisconsin, but also from as far as Arizona, Florida, Nebraska and Texas. Everyone who finished the course received the coveted embroidered patch. New in 2015 was also the inclusion of the Des Plaines River map on the back of the t- shirts that brought many congratulatory comments, and will be on this year's t-shirts as well.

Read more!
---
Boundary Waters Canoe Area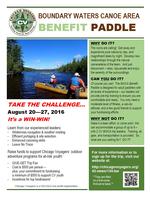 Benefit Paddle

August 20-27

Enjoy nature, learn new skills, and fundraise at the same time!

August 20-27 is the Chicago Voyagers (CV) Boundary Waters Fund Raising Trip. Last year, CV raised over $12,000 for at-risk youth to enjoy the outdoors. Please consider participating this year!

Download the flyer here.
---
Midwest Paddle Racing
Check out this great resource on paddling and racing in the Midwest, with events, resources, and goings-on in some of our fellow Midwestern states: www.midwestpaddleracing.com
---
IPC Booth at CanoeCopia
Canoecopia is the largest canoeing/kayaking/paddling show in the Midwest. Information about the show is available: www.canoecopia.com

The Illinois Paddling Council will have a booth at Canoecopia again this year, and we could use some help staffing it! Staffing a booth is a fun and rewarding way to participate in Canoecopia, providing a unique opportunity to meet lots of paddlers and talk about paddling. (Almost, but not quite as fun as going paddling!)
Not sure what to say? No problem. We will provide talking points.
To sign up for one or more time-slots, http://doodle.com/poll/ey2t96iega9q5c8b or email president@illinoispaddling.org
---
Reel Paddling Film Festival

Wednesday, March 23, Palatine, 7pm (doors open at 6:30pm)

Presented by the Chicago Whitewater Association

Rapid Media's 11th annual Reel Paddling Film Festival showcases the world's best paddling films to audiences in Canada, United States and around the world. The festival inspires more people to explore rivers, lakes and oceans, push physical and emotional extremes, embrace the lifestyle and appreciate the heritage of the wild places we paddle.

The Reel Paddling Film Festival is a film contest awarding winning films in 10 categories. The winners and other shortlisted films are then toured to more than 100 cities around the world, screening for an audience of more than 30,000 outdoor adventure enthusiasts and their friends and families.

More info, and find out how to get tickets here.
In our December newsletter, we asked readers to "guess that river." Must have been the busy holiday season in full-swing, as we didn't have any guessers. But we know you're curious, so here's the big reveal: The Des Plaines River. Thanks, Don M
ueggenborg, for the photos!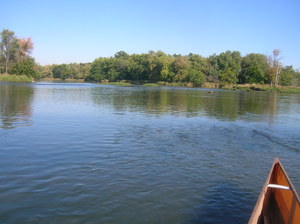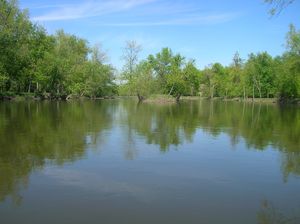 ---
The Illinois Paddling Council
609 roselle ct
Lake Villa, Illinois 60046
US


Read the VerticalResponse marketing policy.