WELCOME to THE ILLINOIS PADDLER

July 15, 2009
In this edition:
1. Editorial-We Won!
2. APF a success
3. Closure on the Vermilion
4. Latest on Yorkville Whitewater
5. Welcome Sangamon Paddlers
6. Friends of the Pecatonica newsletter
7. Summary of JCAR meeting





WE WON!

>


In a clear victory for the Paddling Community. The Legislature's JCAR Committee, meeting in Springfield, today voted eleven in favor (with one member voting present) to send The Dam Safety Rule# 3703 back to the DNR to be completely rewritten. A phone call and letter writing campaign that began in the Second Edition of this newsletter on March 16 with the words "Either we paddlers show that we are a force to be dealt with and mount an effective campaign against this legislation, or we allow the politicians to write us off, and bring about the permanent loss of something we treasure.has now shown that the Paddling Community in Illinois has truly come of age, and is a force for change in our state.

(We are indebted to Eric Sprenne for his willingness to drive to Springfield to attend this meeting and for his always reliable research, and writing throughout this campaign)
Read Erik Sprenne's summary of the JCAR meeting at the end of this newsletter
During the discussion prior to the vote virtually all of the concerns that we have been raising about 3703 were cited by JCAR members.

We have been hearing for some time that Legislators were receiving very large numbers of calls and letters, but we didn't know what effect this was having until JCAR sent 3703 back to the DNR with questions two weeks ago. DNR chose not to modify the rule and today's action by JCAR was the result.

The 350' exclusion zones, are not likely to again see the light of day, and the portages are likely to remain open. This is a clear reprieve for paddlers on the Fox, Rock, Kankakee, DesPlaines, and Sangamon rivers.

We must continue to remain vigilant because the rule will be rewritten. The Paddling Council will be formally offering to work with the DNR as they rewrite #3703. We are hopeful that a new rule that might actually make dams more safe can be written. We will continue to monitor progress closely and keep you informed.

Our thanks to the other members of the Protest Steering Committee Sigrid Pilgrim and Gary Mechanic, and most of all, we want to thank all of you who wrote, emailed, called, and signed the petition. You have shown that aroused citizens in Illinois can still make a difference.

Tom Lindblade
Editor
President Illinois Paddling Council


---
The Aurora Paddlesports Festival
By Sigrid Pilgrim

The Aurora Paddlesports Festival took place on July 11th and 12th and was a great success.

Nearly one hundred volunteers-ACA Certified Instructors, safety boaters, club representatives and registration staff offered their skill and time.

260 people from the public enjoyed the on-water activities, of which nearly 70 individuals took advantage of the two hour classes, and close to 90 kids had a wonderful time in the children's paddling playground.

26 businesses and organizations were present during the weekend

We would like to thank all who participated


click here
---
CLOSURE OF THE VERMILION
By Tom Lindblade



On July 3rd, after two deaths on the river during the week of June 26th. The current owner of the cement plant, Buzzi Unicem, decided to close all public access to its section of the river. Illinois' arcane and archaic access laws allow the owner of the riverbed to take such an action. Buzzi Unicem owns much of land that contains the whitewater reach of the river, including Wildcat rapid, the cement plant dam, and the Narrows. Apparently, B/U wishes to limit its liability by closing the river in order to prevent any further drownings, but at least the company has indicated a wilingness to talk.

Bob Herbst of Vermilion River Rafting who stands to lose his rafting business, and the City of Oglesby, which stands to lose significant sales tax revenue are taking the lead in discussions with B/U. The Paddling Council has offered its help and support, and we will continue to monitor the situation.
click here
---
Latest on Yorkville Whitewater Park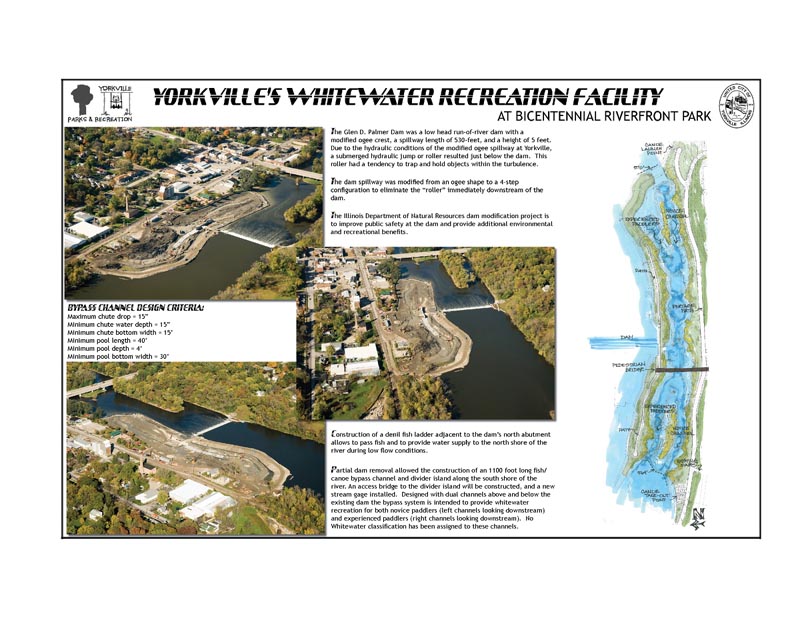 Construction of the whitewater facility at Yorkville has suffered several setbacks due to spring flooding, but according to Bart Olson Interim Director of Parks and Recreation they are planning for the facility to be functional this Spring
---
Welcome to the Sangamon Paddlers
We are delighted to see the creation of a new paddling group in Illinois , the Sangamon Paddlers. Created by our friends and co-sponsoring hosts for the IPC Season Ender on the Sangamon River last October, Scott Hewitt and Scott Gauvin, the Sangamon Paddlers will focus on the conservation and preservation of Central Illinois water resources, the education of local canoe and kayak enthusiasts and prospective enthusiasts and the enjoyment of the wonderful sport of paddling.

The Sangamon Paddlers frequent the Sangamon River , the bodies of water at the Jim Edgar Panther Creek State Park , the waterways surrounding Lake Springfield as well as the Sanganois State Fish and Wildlife Area, to name just a few.

Additional information may be found by clicking on the link below or by contacting the organization at sangamonpaddlers@yahoo.com.
---
Friends of the Pecatonica River Foundation

The Friends July Newsletter has been published and is on their web site. Click on the link below
---
Summary of today's JCAR Meeting
by Erik Sprenne

The Illinois proposed Dam Safety Rule was on the agenda for today's JCAR meeting, and although the meeting was originally scheduled for the Thompson Center in Chicago, the fact that the Governor called an emergency session of the legislature today required moving the meeting to Springfield.

At the meeting, JCAR member Louis Lang first called DNR staff (attorney Robert Mool and OWR Director Gary Clark) to the table, and asked if they would withdraw the proposed rule based on JCAR's "significant disagreement on parts of the rule". The DNR countered with a willingness to continue working with JCAR staff on the rule until the one-year deadline specified in the administrative rule process (the proposed rule was originally filed on 9/5/08), but JCAR then indicated that since one second notice extension had already been granted, the only options available now were withdrawl or prohibition. Asked for their preference, the DNR indicated that they would accept a prohibition.

Rep. Lang's formal motion was an objection and prohibition of filing of the proposed Dam Safety Rule on the grounds that it would:

o impose significant costs on public landowners

o impose costs and property right restrictions on private landowners not specifically authorized by statute

o greatly restrict recreational uses of some public waterways

o potentially expose public and private landowners to increased legal liabilities

With all 12 JCAR members present, the vote was 11 in favor of prohibition, and one voting present.



While this outcome represents a win for river recreatioinalists, dam owners, and adjacent landowners in this first 10 month battle, the process is not yet completed. Public Act 95-20 requires that the DNR write signage specifications and set forth "appropriate safety devices to be required at each dam", which can include the use of enforceable exclusion zones. The bulleted objections above suggest that the DNR has some significant re-writing to do, but with time we should learn the revisions made to the signage specification manual, the exclusion zone maps, and the administrative rule.



After the meeting I briefly spoke with Robert Mool about the outcome, and offered the assistance of the paddling community in rewriting the proposed rule. He did not respond directly to the offer, but indicated that he is very aware of our positions.



Thanks to all who took the time to comment during the public comments period, and to all who contacted their legislators and/or JCAR members after the public comment period. Getting involved in goverment can yield good results!



Erik Sprenne
CWA Advocacy Chairman

---
We hope you will keep us informed of any paddling related issues that you may have and we in turn will keep you informed as to what we are doing to make Illinois a Paddler Friendly State

Sincerely,

The Illlinois Paddler
Lindbladet@sbcglobal.net