Join us for our Annual Dinner
When: Oct 21 5-9pm
Where:
AT THE HISTORIC WARRENVILLE TAVERN
3 S 530 Second Street, Warrenville, Il. 60555
Our keynote speaker for this years annual Fall dinner and information gathering is Karen Miller of the Kane County Development Dept. She will give a 20 minute or so presentation of the projects current status of the state of progress of the development of the Fox River Water Trail for inclusion in the National Water Trail System thru the Department of the Interior. "What is a water trail you ask? Come on out and learn. There will be time for a question and answer session afterwards. See you all there.
The The Paddling Community Needs Your Help
Important issues continue to be brought up in the Ill State Legislature. We need paddlers help in addressing them.
People continue to make unsafe decisions about where/when to paddle. We need paddlers help to educate them.
We all want to see more youth engaged in paddling. We need paddlers to get involved and reach out.
Our rivers, streams and lakes benefit from stewardship. Paddlers are needed to help out.
What to get more involved in making Illinois a more paddle-friendly state?
Water Usage Stamp Update
By Sigrid Pilgrim
It is now the Law! "HB 434 bill removes the requirement for the WUS. This bill has passed through the Legislature and has been signed by the Governor.
Canoes and kayaks will go back to the 3 year registration. The Department will be able to move away from the WUS. To apply for a new registration, paperwork would be filed with the Department for a 3 year registration (cost is the same, WUS was $6 per year, canoe or kayak is $18 for 3 years). To renew, they can complete the process online, which usually only takes a week to arrive in the mail. Titling will remain optional for those who want it, but removing titling will speed up the new registration process significantly.
The bill also moves the registration deadline to the end of boating season (Sept 30) instead of right before one of the biggest boating weekends of the year (June 30). This will allow boaters to have all winter to send in for their registration without being kept off the water for expired stickers.
We recognize that we do not currently have the equipment/technology to successfully implement the WUS program, which is why we want to abolish it in its current form. We are in process of working on a new system which will hopefully provide more options for boaters."
http://www.ilga.gov/legislation/BillStatus.asp?DocNum=434&GAID=14&DocTypeID=HB&LegId=99929&SessionID=91&GA=100
Please thank Sen. Pamela Althoff for her efforts by writing or calling her office:
309H Capitol Building
Springfield, Illinois 62706
Phone: 217-782-8000
Fax: 217-782-7818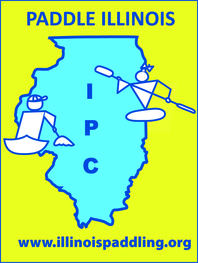 We have a new decal for your car, boat or otherwise promote IPC.
It is 3.5" x 4" and can be yours for a self-addressed, stamped envelope mailed to
Sigrid Pilgrim
2750 Bernard Place
Evanston, IL 60201
THE 60TH ANNUAL DES PLAINES RIVER CANOE & KAYAK MARATHON&am

By Sigrid Pilgrim




After being at flood stage barely a week before the race, the river dropped to less than 3 feet, making the former Ryerson Dam, rechristened the Ryerson Ripple a shallow hazard for any kayak or SUP with a fixed rudder or fin. So paddlers were urged to portage at a wide soft muddy flat! But rescue came thanks to volunteers who placed the red, gray and brown carpets, much appreciated by all who used them.

777 paddlers and passengers started the 18.5 mile or the 5.25 mile courses – both of which were threatened just 48 hours before by a major log jam across

the whole river. Thanks to the combined effort of the Metropolitan Water Reclamation District of Chicago, the Illinois Department of Transportation and expedited by the Forest Preserves of Cook County, the race was able to be held.

There are way too many volunteers to thank who are making this event possible. So I'd like to revert back to an article that I wrote a few years ago: What it takes to put on the Marathon



THE 61TH ANNUAL DES PLAINES RIVER CANOE AND KAYAK MARATHON – May 20, 2018
A behind the scenes look at what it takes to make it happen again… by Sigrid Pilgrim
For 60 years now, the Des Plaines River Canoe and Kayak Marathon in Illinois has attracted many hundreds of canoes and kayaks for the 18.5 mile stretch from Oak Springs Road in Libertyville to Dam #2 in Prospect Heights. Founded originally by Ralph Frese to introduce his boy scout troop to the beauty of the Des Plaines River, the event has become a "must participate" for many paddlers from all around the country, if for no other reason than to get the coveted embroidered patch or for the first place winners, the unique voyageur statue.
My husband Alan is co-chair of this event that happens only because a small, very dedicated group of volunteers for years has given many hours of their time to make sure no detail of the event is overlooked. As the sometimes willing sounding board, listening to Alan voice frustration about this, that, or the other aspect of the event that still hasn't been nailed down, confirmed, reconfirmed, settled, or figured out, sometimes just a few days before race date, I sat down with him with pen and paper and asked him "Tell me, what does it take to put on the Marathon?"
So here is a summary of what it will take again to have nearly 800 paddlers participate in the 61th Annual Des Plaines Canoe and Kayak Marathon to be held May 20, 2018: