From the President's Desk
Please Renew Your Membership in the IPC
The IPC is a membership based organization whose mission is to advocate for all aspects of paddling throughout the state of IL. Your membership funds our activities. Paddling Clubs become members and as a result their members are a Paddling-Club Member of the IPC. Member-Paddling-Clubs have the ability to appoint a Voice which becomes a liaison between the IPC board and the Paddling Clubs board. Paddling Club Membership is $30 plus $1 for each club member.
Supporting Membership is for individuals or families that want to support the IPC. Supporting memberships provide a vote in the annual election of officers for the board. Individual Membership is $15. Of course, if you want to make an additional donation, please feel free. You can either target the donation for a specific activity of the IPC or to our general revenues. Please Click Here to renew or become a new member:
And the results of the survey are:
Too early to tell. We need more survey participants. Please Click Here to take 10 minutes to complete the survey!
Read more from the President's Desk here.
Tom Eckels, President, Illinois Paddling Council
Access and Development
Fox River National River Trail Update
By Greg Taylor
The Core Development Team (CDT) is currently working on developing the final draft of the reporting form that will be used by paddlers to gather the information that will be used to determine the database for the certification. The known entry/exit points and campsites along the river are currently being plotted on a map for a clearer understanding of where gaps are that need to be verified for their attributes, along with the age of the data that might need to be re-verified this summer. Read on here.
Safety and Education
The Sarah Hartman Fund for Paddlesport Education
Greatly appreciates, again, the generous donations from Mrs. Helen Hartman, Sarah's mother, Dave Hillman, Iowa, and the contributors to the silent auction last year. This fund supports paddlers who have successfully completed paddlesport instructor certification. Please see details on our website about qualifying for financial support from the Sarah Hartman Fund:
Fabulous New Paddlesport Safety Brochure and Videos

By Sigrid Pilgrim
As a representative on the Chicago Harbor Safety Committee, I was sent the newly developed Paddlesport Safety Brochure:
http://www.canoekayak.com/wp-content/uploads/2017/01/WSF_Safety-Brochure-FINAL.pdf
This is excellent, short, visual and to the point. Since it is hard to print out in the format given, I tracked down the origin and suggested that perhaps it could be made available with each canoe/kayak sold. Little did I know the background and what a great surprise... (con't here).
Stewardship
River stewardship Volunteers 2016 Annual Summary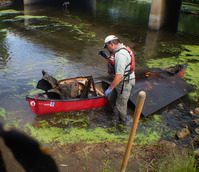 By Paul Klonowski

In 2016, the Lake County Forest Preserve District's Des Plaines River Stewardship Crew held somewhere in excess of 75 training and work days, involving 30 active regular volunteers (5 are new for 2016), and 53 "one-timers," including people from two corporate groups, a paddlesports club, a Boy Scout's Eagle Scout Project, and one volunteer we borrowed from McHenry County Conservation District's Education Volunteer corps. The combined efforts resulted in the collection and removal of an estimated 6,170lbs of trash from the river and its flood plains this year, including one of our biggest single-day trash hauls ever, estimated at 1,400lbs of trash! Read on
Oh the joys of high water on the Pecatonica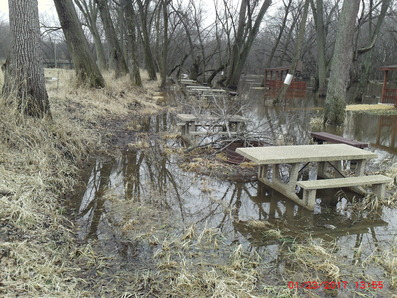 St. Charles Canoe Club's 44th annual Current Buster Canoe and Kayak Race

Des Plaines River Canoe and Kayak Marathon

Chicago Southland Dragon Boat Festival
Blue Island
June 1-3, 2017
More 2017 paddling events:
"Just Plain People" Canoe Races
By Don Mueggenborg
Just plain people who like to paddle -
that's what most of us are.
(That's how I started paddling the Des Plaines Marathon almost 50 years ago - has it really been that long? It was fun. I was hooked.)
Links and Stories of Interest to Paddlers
Kansas City Kayaker Embarks on Expedition to Set World Record for Miles Paddled.
Read Traci's story here
************
Call for Nominations:
International Whitewater Hall of Fame
Nominations for Class of 2017 accepted through 3-30
http://iwhof.org/nominations/2012-nomination-form-ii/
************
Caution:
Be careful about undercut rocks