---
---

---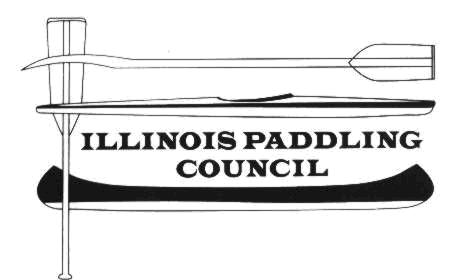 It is an exciting time to be a paddler in Illinois--there are a lot of projects and programs working towards improving paddling in Illinois. I would like to thank you in advance for taking some of your valuable time and supporting these activities and others as they come up. Please feel free to contact me and I will put you in contact with the appropriate people for these projects.
Several communities are looking to improve their waterfront presence, and we have the opportunity to provide input. Notably there are active projects along the Fox River in St Charles, Carpentersville, and Algonquin. There is another project on the Kankakee River in Wilmington, IL.
There are active projects for three Illinois Rivers to become recognized as National Water Trails. There are committees working on the Sangamon River, Kankakee River, and Fox River for this designation. Additionally there is an active signage project on Banner Marsh in Central IL establishing it as a locally recognized Water Trail.
Proposed legislation passed the House and Senate and is awaiting the signature of our Governor to help improve the Water Usage Stamp by exempting out-of-state paddlers from the stamp when they participate in paddling events in IL. Our Water Usage Stamp task force will continue to work on promoting incremental improvements of the program.
IPC Programs Remain Active: The River Closure Task Force continues to work with the DNR to address arbitrary river closures based on 'high water.' Water TrailKeepers continues to run cleanups; Paddlers Patrol continues to provide safety at events. Our Newsletter Committee has been working hard to produce these newsletters, and our web committee has worked hard to update the
IPC Website.
For those who have renewed or become new Members this year, Thank YOU! You directly support our continued involvement in these activities and more. If you have not yet become a member for 2015, it is not too late.
Memberships now accepted on line
:
Tom Eckels
President, Illinois Paddling Council
Program Manager, Illinois Water TrailKeepers
thomasreckels@gmail.com
847-863-7046
---
IPC Advocacy
WUS
House Bill 227 has passed the Senate to exempt out-of-state paddlers participating in an organized event from the WUS requirement.
As the next step - Governor Rauner has 60 days to sign it - if he does not sign it within this period - it will become law.
If you wish to contact the Governor urging him to sign it - Senator Morrison who sponsored the bill in the Senate, suggests that you contact Governor Rauner at the following address.
http://www2.illinois.gov/gov/Pages/ContacttheGovernor.aspx
Please include your suggestion that all out-of-state paddlers should be exempted as well.
Thank you - Sigrid
---
Paddler Input Needed

Three different opportunities to let your paddler voice be heard!
1. GREAT RIVERS CHICAGO SURVEY
Please take the Great Rivers Chicago Survey:
survey
Friends of the Chicago River, in partnership with the Metropolitan Planning Council, the City of Chicago and others, is creating a coordinated, long-term vision that will make Chicago's rivers more accessible, attractive, and active. Completing this 10-minute survey is the first opportunity you have to help us achieve that goal.
---
2. PROBLEM WITH THE WATER USAGE STAMP - BE SURE TO TELL THE IDNR - HERE IS HOW:
IDNR has a contact form
where you can post a question or comment.
http://www.dnr.illinois.gov/pages/feedback.aspx
Let the DNR know if you cannot get the adhesive, the WUS falls off or prematurely fades - IDNR will need to know.
---
3. FOREST PRESERVES OF COOK COUNTY IS LOOKING FOR PADDLER INPUT:
IPC has been requested to survey the paddling community - especially those living in or near Cook County - to make suggestions for new or improved put-ins and other infrastructure improvements within the Forest Preserves of Cook County. If you have any suggestions as to new or improved access/exit sites, and other improvements as it pertains to paddlesport, please forward details by

June 30

deadline to Sigrid Pilgrim - spconsult@comcast.net - thank you.
---
Cleanup Corner
Upcoming Cleanups
June 7: Little Calumet River Cleanup: Contact
michaeltay@sbcglobal.net
What: Little Calumet River Cleanup
​Time: 8am
Location:
Gouwens Park, South Holland, IL
​
Join the Calumet Waterway Stewards, Illinois Water TrailKeepers, OpenLands, Forest Preserves of Cook County and others on a cleanup of the Little Calumet River. Experienced Paddlers are meeting at 8am at Gouwens Park in South Holland, IL. We will run a quick car shuttle and then get on the river for the cleanup. Canoes and Kayaks welcome! Shore Walkers are welcome to participate as well from the
Calumet Woods Forest Preserve / Boat Launch:
We expect to be done by around 3pm.
Sweetwater Brewing will be sponsoring an after-cleanup party for participants over 21.
June 20: Fox River in Algonquin: contact
benjodieauliff@yahoo.com
Put in is Buffalo Park Forest Preserve, 1 Alan Drive Algonquin (West side of River), and take out is Fox River Shores, 701 North Williams Road, Carpentersville (East side of River). Car shift 9:30. General description of paddle route: Starts off very residential but does become more scenic with various parks along the way. Terrain varies from wooded to open prairie. Many types of birds can be spotted (turkey vultures, egret, hawks, cranes, herons, osprey, cormorants, ducks, etc.). The Fox River bike trail is along part of route on river left.
Additional Cleanups here!
---
Report Dumping
By now everyone has probably seen the big California Oil Spill on the news. How about the two Illinois Oil Spills, one in Galena and one near Sidney in the Salt Fork of the Vermillion River? Read on
here
for several media reports on these spills, as well as tips on what you can do if you encounter an illegal dump site or spill.
---
Upcoming Events
Kishwaukee Paddle Fest, August 1, 2015, Rockford, IL
More details
here
---
Wisconsin Canoe Symposium
Friday June 19 – Sunday June 21, 2015
Pine Lake Camp Westfield, Wisconsin
More details
here
---
Past Events - Here's what you might have missed!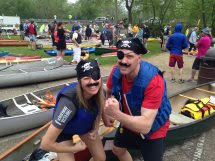 The 58th Annual Des Plaines River Canoe & Kayak Marathon and Minithon May 17, 2015
By Don Mueggenborg and Sigrid Pilgrim
More picnics are spoiled by weather reports than by the weather. Forecasts had everyone concerned –
rain, high winds, lightning. Instead we had a great day. Overcast early with a slight mist and headwinds
to cool the paddlers down.
This was the first event after the removal of Dam # 1, with Ryerson Dam having been removed previously which meant no portages. Good current – boggy water in places but no major obstacles on the race course.
Read more about the race here
---
2015 Abe's River Race
The Sangamon River was a great place to be on May 23, 2015, for the third annual Abe's River Race, hosted by the Lincoln Heritage Water Trail Association (

LHWTA).
The race and post-celebration were capped by Representative Tim Butler's presentation of Illinois House Resolution 493 to
LHWTA
. The Resolution recognizes and celebrates the 50th Anniversary of the Lincoln Heritage Water Trail.
Read on
here
---
The Chicago Maritime Society – Chicago Maritime Museum and the Chicago Maritime Festival, April 18, 2015
Next time you paddle your canoe – think back some centuries: The American Indian nations who inhabited the area that is now Chicago knew the place as a canoe portage between the Mississippi and St. Lawrence rivers' watersheds. But within two centuries – this area would host one of the busiest ports in the world.
Read on
here
to learn more about the Chicago Maritime Society Museum and Festival.
---
Safety And Education
Paddlers Patrol
By Andy Cocallas
Paddlers Patrol was founded in 2010 to help with on-water safety at paddling events such as the Des Plaines Marathon. Today there are currently 14 members with a variety of skills, with some trained for swift water rescue while others are specialists in flat water safety patrol.
2015 Schedule includes NYD paddle, Des Plaines Marathon, Little Calumet Clean Up, Beaubein Woods Celebration, William Tillman Academy Fest, Illinois Whitewater Festival, Fall into Wolf Lake and Ping Pong Park Event
Read more about Paddlers Patrol and ways to become involved
here
.
---
Morrall River Films
By Mark Morrall
After over 20 years of paddling and filming our adventures, we've decided to form Morrall River Films. We've paddled many great rivers across the Midwest and Canada, but have come to the conclusion that the best paddling is right here in our own backyard: the Wisconsin/Illinois area. This is where we started our video guidebook series.
Read on
here
---
Chicago Adventure Therapy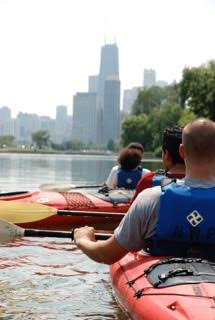 By Andrea Knepper
First in a series of occasional articles on
Paddlesport for Special Needs
"These trips make you realize you can do more than you thought you could."
"This trip" was a 5-day, self-supported kayak camping trip in the San Juan Islands. We had paddled in current and wind and dealt with fog. Group members on the trip were responsible (with help and back up) for navigation, cooking, setting up camp, loading boats in the morning… The crew learned to eddy hop against a current, tow each other against wind, and crank on the foot pegs for a stronger forward stroke. And there were the soft skills...
Read more about
this adventure and Chicago Adventure Therapy
---
Some great places to paddle!
Salt Creek
Check out this Silent Sports article on Salt Creek by Bob McCray:
http://silentsports.net/Content/Default/Homepage-Article-Rotator/Article/A-river-worth-its-salt/-3/32/2362
---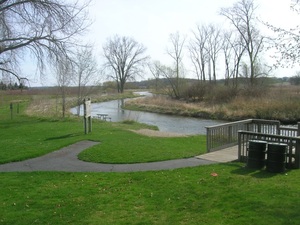 My Favorite Rivers - Nippersink Creek

By Don
Mueggenborg
If you like to paddle narrow, winding rivers – the Nippersink might be just what you want. If you
like to paddle an hour or two without seeing houses, farms, or people - the Nippersink. Add to that
glacier remnants called Kames that rise as small hills for a different kind of scenery – the
Nippersink.
Read more
here
.
---
And how to plan the paddle!
Using Technology to Help Plan Your Next Paddle
By Mike Cocat
You just learned about a new stretch of river, and you're doing your homework prior to heading out. How do you calculate trip distance? With Google's free online mapping tool, it's easy! Just follow
these steps
to get started!
---
Paddling Trip Info
The
www.paddling.net
website has a link to
Places to Paddle
in their
Go Paddling
tab. You can select by state, and for Illinois, here is the link to lots of interesting trip info on many Illinois Rivers. Check it out.
http://www.paddling.net/places/IL/
---
Wilmington's Vision Plan for the North and South Islands
Check out the city of Wilmington's Vision Plan for the North and South Islands, which includes these key ideas to implement: trails, interpretative signage/history venue sites, restoration of Mill Race, recreation/event settings. The city is also conducting an assessment of the Mill Race channel with the goal to develop this area for kayak and canoe bypass around the Kankakee River Wilmington Dam.
Read more
here
---
Dam Removals
Check out this article on
Journal Online
about dam removals on the Des Plaines River:
http://www.journal-topics.com/news/article_a7287d68-e934-11e4-b5d7-034452dbada1.html
Wilmington's Vision Plan for the North and South Islands
---
The Illinois Paddling Council
609 roselle ct
Lake Villa, Illinois 60046
US


Read the VerticalResponse marketing policy.