Growth and Expansion of the IPC

Do you like to go paddling? Want to see Illinois become a more paddle-friendly state? Improve and add access to paddleable lakes, rivers, and streams? Promote Paddling Safety? End Arbitrary River Closures? Provide Stewardship to Illinois paddleable waterways? Whatever your paddling interests and passions, the IPC could use your help!
There are several ways to give back to paddling.
The IPC sets up an informational display at many paddling related events. Staffing these displays is a great way to get involved. You meet lots of great people while sharing your passion for paddling! Contact Sigrid Pilgrim, IPC Marketing and PR Director for details.
Water TrailKeepers provides stewardship for Illinois Paddleable Waterways. It is very rewarding to see a large pile of trash you pulled out of the river, knowing it is being disposed of properly! We have plenty of opportunities to get involved.
Paddling safety initiatives such as Paddlers Patrol and the Paddling Safety Taskforce give paddlers an opportunity to promote safety.
Stepping up the level of participation, there are a number of Voice positions open. A voice is a board level position that serves as a liaison between a specific paddling community and the IPC board. Each Member Club appoints a Voice to the IPC board. Traditionally there are voices for specific Paddling Disciplines such as White Water, Sea Kayaking, Flat Water Paddling, Parks & Forest Preserve Districts, and Water TrailKeepers. Additionally there are Regional Voice Positions for NorthEast IL, NorthWest IL, Central IL, and Southern IL.


Tom Eckels,
President, Illinois Paddling Council
Program Manager, Illinois Water TrailKeepers
thomasreckels@gmail.com
847-863-7046

---
Time to Plan for 2016 Cleanup Season
Another successful cleanup season is winding down. Thanks everyone who organized and participated!
Now it is time to start planning for Next Year! In addition to leading our own cleanups, Water TrailKeepers can partner with and assist other efforts as well. We are happy to publicize any waterway stewardship event. Depending on logistics and available funding we may also be able to provide cleanup tools and supplies.

Contact program-manager@watertrailkeepers.org;



---
It's Gift Giving Season
By Sigrid Pilgrim
LOOKING FOR A HOLIDAY GIFT THAT KEEPS ON GIVING - THAT'S ALWAYS THE RIGHT SIZE –
WON'T BE RETURNED - DOESN'T TAKE UP SHELF SPACE AND ABOVE ALL….
BENEFITS YOU, YOUR RELATIVE, FRIEND, NEIGHBOR, COLLEAGUE AND PADDLERS

Give a gift membership to any one of these national, state, and local organizations.

Many come with interesting monthly magazines as well. Read more about each on their websites. Then chose one or more for the gift membership that
best fits you and your recipient's interests.
---
Feedback on Mandatory PFD Article

In our last newsletter (Oct/Nov 2015), we included an editorial by Don Mueggenborg regarding the mandatory use of PFDs. The article received the highest "click" rating of all articles in the newsletter, an indication of its interest to many of you. We also received a few comments or rebuttals from readers, and would like to share these with the rest of the TIP audience. Thanks to the authors for sharing their thoughts, which are posted on our website.

---

Cold Weather Paddling
By Paul Klonowski, ACA Canoe Instructor

One of our new River Stewardship Volunteers for the Lake County Forest Preserves asked this very important question: "I was thinking about going on this clean up, but I was wondering how to dress for canoeing when it is cold out. Is it possible to be warm?" At this time of year, it's always good to review this fundamental question.
Cold water exposure will rob your body of heat many times faster than air at the same temperature, and can cause a person to go into hypothermia very quickly. This is a critically serious medical condition, and can be fatal in a short time frame. It's that serious.
Dedicated to all canoe instructors
By Michael Cline, May 1995

CANOE

Is a canoe just another boat?
Doesn't it do more than just float?
As a canoe glides across the lake
A path of growth left in its wake.
A soul is awakened to all that is true -
The trees, the animals, and the sky so blue.
Much can be gained on canoe trips.
As your canoe glides and your paddle dips.
A teacher of this has a great task:
Many answers to ponder and questions to ask.

---
Why be a paddlesport instructor? Let me tell you why I did.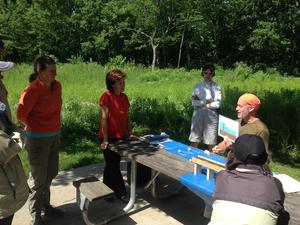 By Steve LaPorte

Like many people, I was first exposed to canoeing as a child at summer camp. I learned one stroke – forward. What else does a paddler need to know, right? It was fun, but nothing I was motivated to continue to do. Then when I was around fifty, I bought a Grumman at a garage sale and began to paddle again. Of course I used the skills I had learned forty years before, zig-zagging down the river, wielding my paddle as if it were a war club.

Read more instructor inspiration from Steve here.
---
This fund assists the development of instructor trainers and advanced level Instructors (ACA Level III or above) and certified instructors residing in Wisconsin, Iowa, Illinois, Indiana, and Michigan.

A one-time $500 honorarium will be awarded upon completion of necessary training and presentation of evidence of certification in any paddling discipline as:
An American Canoe Association Instructor Trainer, or Instructor Trainer Educator

A United States Canoe Association Trainer

A British Canoe Union Level 5 Assessor
A one-time $150 honorarium will be paid to those individuals who present evidence of certification in any paddling discipline as:
An American Canoe Association Instructor Level III or above

A British Canoe Union Coach 3
These honoraria are designed to reimburse successful trainees for part of the costs incurred during the certification process. No one may receive more than one honorarium. Awards will be made until the fund is depleted.

To ensure the fund will not be depleted - watch for a special raffle announcement to benefit the fund. We gratefully acknowledge the following contributions made already:
LL BEAN - $200 Gift Certificate

NORTHWEST PASSAGE - Two SUP class certificates valued at $50 each
If you are a business - please consider contributing to the raffle with a product donation or gift certificate.
If you are a paddler, you can make a donation at
http://www.illinoispaddling.info/heartland-fund/
---

Paddling teaches everything worth knowing
By Bob McCray

**The following article was reprinted with permission from Silent Sports, September 2011. It's a wonderful read for those long winter months ahead.**

Bob McCray remembered the courses he took and we remember him as an avid paddler, wonderful writer, great friend
"Let nature be your teacher," wrote the English poet William Wordsworth. I agree. Over the years we've learned a lot from Mother Nature's River Academy - a curriculum with everything from beginning courses to advanced placement. As recreational paddlers, my wife and I have rivers to thank for some great life lessons.

Bob's lesson continues here, along with a Silent Sports tribute to Bob on his recent passing.

---
---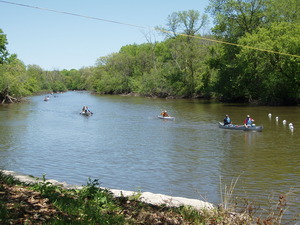 GET OUT YOUR 2016 CALENDAR AND PLAN ON PARTICIPATING IN SOME OF THESE GREAT PADDLING EVENTS NEXT YEAR
We already have dates for some races; we'll keep you updated on those still tentative
Click here to find out more about 2016

Current Buster, Des Plaines Canoe & Kayak Marathon, Abe's River Race, Mid American Race, and many more!



Please send any announcements about competitive events to be included in our events calendar to
news@illinoispaddling.org
---