IDNR Updates

If you have received a letter from IDNR requesting you to renew the boat corresponding to the hull number listed - see copy attached - this ONLY applies to boats whose registration expired in 2015 or 2016. If you already purchased a WUS for 2017 - you DO NOT NEED to respond. Also - if you have sold or otherwise no longer own the boat corresponding to the hull number listed in the letter, no action is needed.
Here is the explanation from IDNR why they sent the letter:
Illinois Recreational Access Program – IRAP
By Sigrid Pilgrim
With efforts to develop water trails on a number of Illinois Rivers – we wanted to let you know about the IRAP Program by IDNR. This program leases private property throughout the state for semi-controlled public access for outdoor recreational opportunities. Currently, there are three such access sites for non-motorized craft in Bureau and Schuyler counties on the Illinois River, and on the Sangamon River in Sangamon County. Landowners are compensated with a few hundred dollars annually for making their private land available to the public for recreational purposes.
"WARNING: Polluted Stream. Avoid All Contact"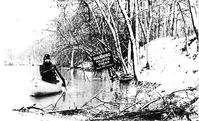 WE HAVE MADE GREAT PROGRESS REDUCING POLLUTION - LET'S NOT GO BACK TO THE 1970s WHEN THIS PICTURE WAS TAKEN
Stewardship
By Scott Hays
Last November, several groups and organizations came together with a common interest in the Sangamon River. Over 240 miles in length, the Sangamon courses through several towns including Mahomet, Monticello, Decatur (where a dam on the Sangamon forms Lake Decatur), Springfield, the historic town of Lincoln's New Salem, and Petersburg before joining the Illinois River at Beardstown. On that day, people from organizations spanning these towns were there.
The initial goal was to meet, talk, network and explore shared interests and opportunities. And out of this meeting, a new organization was formed that we feel could be a model for river stewardship across Illinois and indeed, everywhere: the Sangamon River Alliance (SRA).
Read more here.
Safety and Education
River is Up – Let's Go! (No Don't)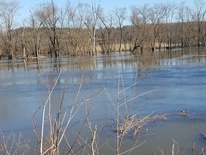 By Don Mueggenborg
The river is up. Time to go paddling. Finally deep water. Good current.
How often have we wished for good, high water on our favorite river? Won't have to worry about hitting the bottom with our paddles. The good current will make the trip fast.
Not a good idea.
When the river is in flood stage, there are no banks. Those trees that are along the banks, are now between you and higher ground. If you should dump, you won't be able to get you and your canoe or kayak to the shore.
Link to full story
.
Ralph Frese Memorial Paddle April 8




About 40 paddlers braved the low temperature, high and swift water on the North Branch of the Chicago River from below the Willow Road Dam at the Skokie Lagoons to Linne Woods on Dempster.




This event is now sponsored by the Forest Preserves of Cook County http://fpdcc.com/ who provided shuttle service, granola bars, water and many staff to make sure only experienced paddlers would venture onto the water. THANK YOU JUSTIN and everyone at FPCC! And, THANK YOU also to the ten paddling guides from the Friends of the Chicago River http://www.chicagoriver.org/ who contributed their skills as safety boaters. Three members from OctaneRichMedia http://octanerichmedia.com/ also were present to record footage for their upcoming film about MR CANOE - RALPH FRESE.




Watch this newsletter for further info about the release of the film later this year. AND plan to participate in another RALPH FRESE (sort of Memorial) event - May 21 - the 60th Annual Des Plaines River Canoe & Kayak Marathon and Minithon www.canoemarathon.com




And now a small plea: If you are an experienced boater - the organizers of the Des Plaines River Canoe & Kayak Marathon are still looking for paddlers willing to help out as safety boaters - but note - NO MORE DAMS ON THE RIVER. Please contact Al Pilgrim if you would be interested and feel capable of being a safety boater - apilgrim@comcast.net


















The non-profit Water Sports Foundation (WSF) announced today the release of a specialized paddle sports safety logo designed for, and approved by, the U.S. Coast Guard's Office of Boating Safety. The Coast Guard has promoted its popular Boat Responsibly logo for many years, but with an extra emphasis on paddling safety, it became apparent that there needed to be a sister logo designed specifically for paddle sports.
Link to more info and logos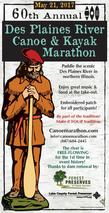 Des Plaines River Canoe and Kayak Marathon

Petersburg, IL
**Postponed**

2017 Canoe & Wooden Boat Show
More 2017 paddling events:
Come out for the weekend, and learn some new and fun canoe techniques!
How Many Miles Do You Want to Paddle?
By Sigrid Pilgrim
From a short HOP to a 100-MILE MARATHON - you can do it all on the PECATONICA
Links and Stories of Interest to Paddlers
Beach Trashed
Evanston Photographer, Ted Glasoe annually leads a beach cleanup trip and as a photo artist, he created this - enjoy - Sigrid
********************