---
Access & Water Trails Development
Volunteer Coordinator Wanted
Wisconsin-Illinois Fox River Water Trail Initiative
The Core Development Team of the Wisconsin-Illinois Fox River Water Trail Initiative is looking for an unpaid coordinator or coordinators to collect data along the Illinois portion of the Fox River. Coordinators may choose to work with volunteers along the entire length of the Fox River in Illinois or work in one of the following counties: McHenry, Lake, Kane, Kendall and LaSalle Counties.
Read more about the position and application here.
---
Canoemobile is coming to Chicago in September! Check out the dates and more info here:
https://www.wildernessinquiry.org/find-your-trip/itinerary/?i=Chicago-IL
Explore Chicago with Canoemobile! Wilderness Inquiry's Canoemobile is a fleet of vans each with six, handmade, 24-foot Voyageur canoes, safety and paddle equipment, and a crew of outdoor educators. The centerpiece of the Canoemobile is integrated classroom and outdoor education experiences utilizing under-appreciated urban resources, especially urban waterways. Canoemobile programming and educational activities operate in collaboration with local, state, and federal partners. Enjoy the company of others, work as a team, and learn about the watershed in your backyard!
[As described on Wilderness Inquiry's website, 9.1.16]
---
Special Feature
La Salle: Expedition II
Legendary Illinois Paddlers Mark 40th Anniversary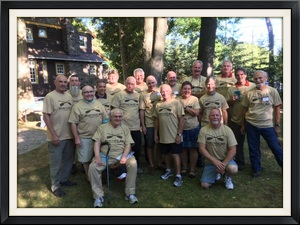 Aging veterans of an epic canoe journey assembled Aug. 6 in Toronto where, as Elgin teenagers in 1976, they struggled through a brutal 11-day, 35-mile portage from Lake Ontario to Lake Simcoe. These were the voyageurs of La Salle: Expedition II, a 3,300-mile, 8-month canoe odyssey from Montreal to the Gulf of Mexico to mark the U.S. Bicentennial.
Now in their late fifties, their leaders in their seventies, the modern voyageurs came from across the country to celebrate the 40
th
anniversary of their remarkable voyage. As boys they were aided and encouraged by Chicago's Mr. Canoe, Ralph Frese, and trained for two years by their leader, Reid Lewis, whom Ralph had hand-picked to lead the 1973 Jolliet-Marquette Tri-centennial paddle.
Their arduous trip through the record cold of a Midwest winter is told, in their own words, in the recently published
Hard Rivers
(River Grove Books). (
Read full story.
)
Photo: Members of La Salle: Expedition II met Aug. 6 at Jackson's Point north of Toronto for a 40th anniversary reunion. As students and teachers from Chicago suburban high schools, they reenacted in 1976-77 La Salle's historic canoe journey of 1681-82 from Montreal to the Gulf of Mexico. (Photo credit, Craig Howard)
---
Book Review: Hard Rivers - The LaSalle II Expedition, Author: Craig Howard
By Sigrid Pilgrim
Some of you may remember the reenactment of the Marquette & Joliet Expedition by Ralph Frese, which in turn lead to La Salle: Expedition II, a reenactment of the 1681-82 voyage of La Salle from Montreal to the Gulf of Mexico for which Ralph also built the six canoes.
I just received a copy of the book that Craig Howard wrote about LaSalle II and it is such fascinating reading that I could not put it down. Although I am not quite through (it's over 300 pages) since Amazon just delivered it two days ago, I would urge anyone interested in not only history, but also learning more about Ralph, and most importantly, the incredible journey that the crew of seven adults and sixteen teenage boys accomplished, to read this book. Reading about the three-year preparation in the selection of the crew, the interpersonal relationships among the expedition members, and the hardships encountered during this 3,300 mile journey, have left me almost unable to put the book down.
I learned of the book by chance, after PaddlingLife.net published the summary of this year's Des Plaines Marathon event. The book's author, Craig Howard, saw the item and subsequently contacted the editor, who forwarded me his note. I asked Craig how he was able to write this book and here is his response:
"Like the expedition itself, it was a team effort. Many people pitched in to tell their stories. My job was to stitch together their stories, to let them tell it as it was, and to keep the heck out of their way. Many things deserve to be remembered, and this expedition is one of those. Shakespeare's Marc Antony spoke the truth of it in Julius Caesar: 'The good (that men do) is oft interred with their bones.' Expedition II falls into this category."
Postscript: A second book on the LaSalle II Expedition has been written by Lorraine Boissoneault, who will talk about it in a presentation October 20, at the Evanston History Center. See details below.
---
"The Last Voyageurs: Retracing La Salle's Journey Across America" Lorraine Boissoneault. Thursday, October 20, 2016, 7pm.
Reception catered by Whole Foods Market starts at 6:30pm
Author Lorraine Boissoneault will talk about her book, The Last Voyageurs, which explores a 1976 reenactment involving 24 young men who canoed 3,300 miles across North America, dressing, eating, and acting like 17th-century Frenchmen. The reenactment followed the route of French explorer La Salle, the first European to travel all the way down the Mississippi River. It's a route that even passed by Evanston. Over the course of the reenactment, participants battled storms on the Great Lakes, walked more than 500 miles across the Midwest during one of the coldest winters of the 20th century, and overcame near-death experiences to reach the end of their journey. Learn about this amazing story and the lessons the participants learned about the modern world during their 8-month "visit" to the 1600s.
Link to register for event:
https://docs.google.com/forms/d/e/1FAIpQLSf8dvXe-x3gV4hHJzpHSisz9NzsXvdLDxi7jhqMXEkllaecpQ/viewform?c=0&w=1

---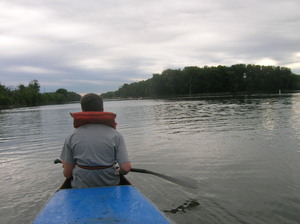 A Call To The IEPA
By Don Mueggenborg
For several days now, besides the seaweed in the river, there were globs of something floating in the river.
I have called the IEPA about possible pollution before – time to call again.
I paddled on a Tuesday and saws the stuff – whatever it was.
Wednesday I called the Des Plaines office of the Illinois EPA. After a bit of a discussion, I was switched to a field officer (or whatever the title).
Me:
"There is stuff floating in the river, it might be raw sewage."
EPA:
"Is it green or brown?"
Me:
"Ahh – brownish-green or greenish-brown. Anyway – I paddle the river frequently and this is something different. It might be sewage."
Read on for IEPA's response...
---
"Paddling" Fun
Canoe Sailing
By Don Mueggenborg

Put two great ways to travel on the water together – paddling and sailing - and you have canoe sailing.

The first time I tried it was almost my last time doing anything.

I had a 16' canoe made of orange crates – plans from Boys Life. I bought it used and wish I never got rid of it, but that is a different story. It was my first canoe.

My folks had a summer cottage on Wonder Lake.

I got the idea. Found an old bed sheet and some 2 x 2"s, a little rope, and I paddled down to the end of the lake. I had nailed the sheet to a 2 x 2. I tied the second 2 x 2 to the front thwart of the canoe and tied the rope to the sail. Success? Read on here
---
Happy Paddling!