The trivial, vulgar, and exalted jostle
Each other in a way to make the apostle
Of culture and right feeling shudder faintly.
It is a shudder that effects the saintly.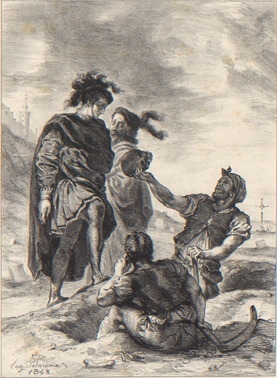 These lines from J. V. Cunningham sum up the mixed feelings that can still be elicited by the great works of Shakespeare and of Beethoven. After supernatural terror, murder, and foreboding have already gripped Hamlet's audience, Act 5 begins with the jests of the gravediggers. Some theatergoers complain that the incongruity of this scene is jarring and inappropriate to the seriousness of the rest of the play. Likewise, Beethoven's clowning and low humor close by his passages of ecstatic transport cause consternation among those who prefer their musical experiences to rise above the earth, not to be mixed with the common clay. But Beethoven, like Shakespeare, defeats such expectations by his inclusiveness: the high-flown and the low-down meet, as the gravediggers engage Hamlet and Horatio in banter at the edge of the pit.
With Beethoven's great—in all dimensions—Quartet in Bb, Op. 130 the New Esterházy Quartet continue our series of Haydn & His Students in two concerts on Thanksgiving weekend: Saturday, November 24 at 4pm in St. Mark's Lutheran Church, San Francisco and Sunday, November 25 at 4pm in All Saints' Episcopal Church in Palo Alto. The program will be repeated in Berkeley on Thursday and Friday, November 29 and 30, presented by Barefoot Chamber Concerts.
Like a harvest feast, Beethoven's Quartet features all manner of savory items, not merely for digestion, but also matter for discussion and disputation. As for a holiday meal, he has put extra leaves in the table; instead of the usual four movements we have six, encompassing song, dance, wit, prayer, and frequent changes of subject. The first movement has no less than 15 changes of tempo, a lively conversation indeed, with many subjects, sometimes overlapping and interrupting each other, and finally summed up together by a kind of Masonic toast, striking the wine glasses on the table. The second movement is quick, full of Puckish humor, and gone nearly before you can grasp it. The third seems to begin in utmost seriousness, which turns out to be just the introduction to a genial bit of clockwork, with some coquettish sentimentality mixed in. Toward the end the clock mechanism seems to "go haywire" and throw gears and springs all over the musical texture, an hilarious moment in an otherwise genial movement. The next might be the tipsy dance band come to entertain the guests at table with a waltz tune that is full of strange lurches and wrong-footed accents. After the dance ends abruptly, a singer stands and delivers a Cavatina, a movement that Beethoven declared to a friend "was composed in the very tears of misery, and that never had one of his own pieces moved him so deeply, and that merely to relive it in his feelings always cost him a tear." Until the Cavatina everything has been surprising, but more or less festive. This unexpected onslaught of deep feeling is succeeded by a German contradance with lyrical interludes, the feast ending perhaps on the veranda with brandy and cigars, stories, jokes, and snatches of song, the ladies by no means excluded!
Beethoven was hardly Haydn's only student. Many of Haydn's students' names are lost to us, of some of them we know only their names, and of others we can't even be sure that they studied with Haydn at all. Anton Ferdinand Titz (Nuremberg 1742–St. Petersburg 1810) according to his 19th century Russian biographer was in Vienna in the 1760's where he had some connection with Prince Lobkowitz before going to Russia in 1771. And a Parisian reprint of his 1781 set of quartets lists him as Eleve d'Haidn. Problems abound: Haydn's activities in the 1760's were more centered in Eisenstadt and Esterhazy than in Vienna, Prince Franz Joseph Maximilian Lobkowitz, the music-loving patron of both Haydn and Beethoven, was not born until 1772, and a Parisian publisher would have no compunction about elevating the composer of a set of quartets he was pirating to the status of "Student of Haydn." Nevertheless, the fifth of Titz's 1781 set is an attractive, two-movement work in D minor which furthermore is dedicated to the Russian ambassador in Vienna, the same Prince Nicholas Galitzin who commissioned the Op. 130 Quartet from Beethoven.
Haydn himself is represented in our program by his theatrical Op. 17, No. 5 in G. The first movement is furnished as a spacious theater set with grand processions and presentations of pleasant but not frivolous characters who occasionally turn quite serious and inward before recovering themselves to appear again unruffled in public. The second act is a whirling ball scene with a serious interlude, followed by a Scena in which the heroine sings in recitative and arioso of her dreams and sorrows. In the Finale all the characters bustle about, with bursts of coloratura fireworks from the soprano.
Please note that all these fanciful characterizations are not meant to replace the choreographies or images that you yourself might mount on the stages of your imagination. Our composers provide an emotional script, but our listeners people it with their own characters, movement, interactions, and settings according to whatever we are able to suggest. Opera is not merely expensive, it is often too specific, and always risky. By offering these quartets as theatrical representations we invite our listeners to experience at our concerts the drama and color and exaltation of opera, of theater, of life.
Graphic: Hamlet & Horatio in the Graveyard – Eugène Delacroix, 1843

Our two new CDs will be available at our concerts at a substantial discount if you buy both:
Haydn in America
and
The Seven Last Words
. See our
website
for details, or to order immediately.
Look for details soon about our January concert with pianist Eric Zivian,
Grand Concert Symphonique.
It promises many delights and surprises.
As always, we welcome your comments, your financial support, and especially your presence at our concerts. We look forward to seeing you soon!
Kati Kyme, Lisa Weiss, Anthony Martin, William Skeen
The New Esterházy Quartet