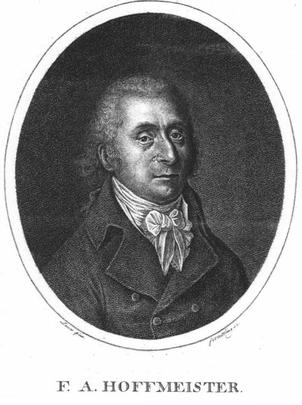 Thanks to all who attended our "Grand Concert Symphonique" concerts this past weekend. To read what another listener thought of the concert, click here for a review in the San Francisco Examiner.
Please join us again next month to hear music that first appeared in a magazine. Franz Anton Hoffmeister, a Viennese composer, publisher, and all-round musical entrepreneur issued periodical chamber music collections for subscribers. When a new issue arrived, you would remove the parts necessary for your next quartet party. For our quartet parties on February 2 in San Francisco and February 3 in Palo Alto, we have torn from Hoffmeister's pages two pieces that have long outlived their first appearance as magazine articles—Haydn's Quartet Op. 42 in D minor and Mozart's Quartet in D major, K. 499. The program opens with Hoffmeister's own Quartet in F minor, which appeared in the same issue as Haydn's.
For tickets click here, for further details please keep reading in this Newsletter.

Franz Anton Hoffmeister: Quartet in F minor
Haydn: Quartet in D minor, Op. 42
Mozart: Quartet in D, K. 499
Saturday, February 2, 2013 at 4pm in San Francisco
Sunday, February 3, 2013 at 4pm, in Palo Alto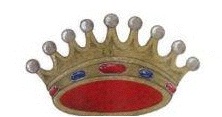 The New Esterhazy Quartet is pleased to announce its
Second Annual Classical Workshop
! We will be returning to St. Albert's Priory in the Rockridge neighborhood of Oakland for a intensive week of Chamber Music for Strings. The dates are June 23–29, 2013 and we encourage string players of all ages and levels to join in our exploration of the Viennese Masters and their contemporaries.
For more information,
send us an email
and Kati or Bill will get back to you
.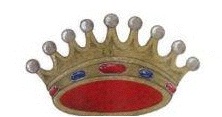 Some have asked why we sit the way we do, "
inside out
". The short answer is that we usually sit as string quartets and orchestras normally sat until less than a century ago, with the two upper voices (violinists Lisa & Kati) opposite each other in stereo, the top (Kati or Lisa, whoever is playing first violin) and the bottom (Bill on cello) next to each other on the left, the middle voices (Kati or Lisa, whoever is playing second violin & Anthony on viola) next to each other on the right, and the lower voices (Anthony & Bill) projecting from behind. But this season, we are experimenting with yet another, this time non-standard, seating. We put the back row in front, to strengthen the lower voices and to allow the violinists to sit closer to one another. Please feel free after the concert to let us know if this new seating made any difference to your listening experience.
Listeners of a certain age might remember "record clubs"—periodically recordings would arrive in the mail at your front door for enjoyment on whatever device you had that could play them back. But before the twentieth century, if you wanted music in your home you would have to make it yourself. And the same entrepreneurial spirit that created the Columbia Record Club and the Musical Heritage Society flowed through Telemann, whose
Getreue Musikmeister
came out every two weeks beginning in 1728, offering new music by Telemann, Keiser, Pezold, Görner, Bonporti, Zelenka, Ritter, and Stoltzer for home consumption.
Like Telemann in Hamburg some two generations before,
Franz Anton Hoffmeister
in Vienna was a tireless composer, publisher, and promoter. He announced his intention in 1785 "to lay before lovers of music a plan, according to which they can purchase an entire library of original music over the course of several years…to this end I have already made agreements with our best local composers, Haydn, Mozart, Wanhall, Albrechtsberger, Pleyel, Mitscha, v. Ordonnez &c, as well as foreign masters, together with my own works, to receive new products from month to month." He offered three subscription services, catering to players of keyboard instruments, the flute, and of string chamber music. Naturally, he composed in all these genres, and his subscribers received packets of music well larded with his own compositions, one of which opens our program.
But it is significant that in his prospectus the first names he mentions as among the "best local composers" are Haydn and Mozart. A review from 1786 of Hoffmeister's
Praenumeration pour le Forte Piano ou Clavecin
writes that "the first four monthly installments of this periodic music collection include quartets, terzetts, sonatas for four hands, fugues, concertos, and variations by Albrechtsberger, Mozart, Haydn, Wanhall, and Hoffmeister, easy and difficult, galant and serious pieces…The best in the collection is a terzett by Haydn; then Mozart's compositions." The reviewer goes on to suggest that "the volumes could be very interesting if in future the editor is more careful in the selection of works…"
In spite of the reviewer's snarky comment, Hoffmeister did well in selecting the pieces we lay before you in our program. In 1785, when he first offered his subscriptions,
Joseph Haydn
was already famed throughout Europe as a master, and the D minor Quartet, Op. 42 is, in the words of Hans Keller, "a miracle within the miracle that is his output of great string quartets." Its inclusion in Hoffmeister's magazine helps to explain why it exists in isolation, unlike Haydn's other quartets, grouped together in batches of 3 or 6. It has been speculated that it was part of a set of quartets "intended for Spain" that Haydn mentioned in a letter written in 1784, but other than this mention, no trace of these "Spanish" quartets has ever turned up.
While we are speculating on the isolation of Op. 42, it should be pointed out that Haydn did not have the unmitigated self-confidence that is characteristic of some casts of genius. He was acutely sensitive to the efforts of rivals and generally declined to meet them head-on in competition. Toward the end of his life he yielded the field to Beethoven in writing symphonies and string quartets, and earlier he wrote no piano concertos after the appearance of Mozart's. He said that one of the advantages of working for decades out in the boonies at Esterházy was that "there was no one to bother me" which we can take to mean there was no one to be set up as a rival, as was done by the press in London with his friend and former student Pleyel. Thus, Op. 42 of 1785 stands alone between the Six Quartets, Op. 33, of 1781 and the six of Op. 50 from 1787.
Could the publication of Mozart's set of six quartets also in 1785 have created some temporary uncertainty in the older man to whom those quartets were dedicated?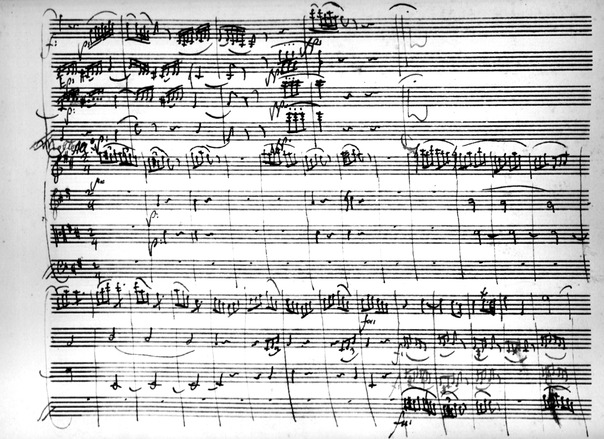 Wolfgang Mozart
's Quartet, K. 499, too, sits in solitary splendor between his six "Haydn" Quartets (heard in our 4th
& 5th
seasons) and his last three "Prussian" Quartets. Only through its nickname—"The Hoffmeister"—has its publisher retained any renown into the present age. Mozart's Quartet is substantial in ambition and scope, no mere magazine article. A German review published just a week before Mozart's death states that it was "written with that fire of the imagination and that correctness, which long since won for Herr M. the reputation of one of the best composers in Germany."
Hoffmeister had more than just a casual relationship with Mozart. He was the first publisher of over a dozen of Mozart's works, including sonatas and rondos for piano, violin sonatas, four-hand works, a piano trio and a piano quartet. Furthermore, he was the guarantor for one of the many loans Mozart took out in his last years to tide him over from one commission to the next. And in the official inventory made of Mozart's printed books and music on his death, item 67 (of 73 total) gets by far the highest valuation—a folder of 22 pieces of "
Musickpränumeration Hofmeisterishe
".
Graphic: Mozart's autograph of his Quartet, K499, end of third movement and beginning of finale