---
EcoMobility Changwon 2011: Mobility for the future of sustainable cities

ICLEI - Local Governments for Sustainability and the City of Changwon are hosting the EcoMobility Changwon 2011 congress on 22-24 October 2011 in Changwon, Republic of Korea.
Find out more: www.iclei.org/ecomobility2011


Let's get out of our cars and start moving sustainably!

EcoMobility Changwon 2011 will provide cities with fresh, visionary and enriching perspectives on sustainable urban mobility. Renowned transportation experts from around the globe will present some of the world's best case studies, and participants will learn how to kick start and implement good policies while engaging in fruitful debates about mobility for the future of sustainable cities.


Featuring EcoMobile cities, bike sharing, innovations, and overcoming barriers

Plenary topics will feature: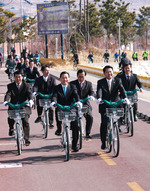 ecoMobile cities around the world

mainstreaming EcoMobility

envisioning the future EcoMobile city

instruments and business models for EcoMobility
A special focus will be given to:
bicycle sharing systems
e-mobility and intelligent transport systems
innovative transport models reshaping forms of urban mobility
City Challenges workshops concentrating on innovative solutions tailored to the particular needs of cities
Take a look at the latest program!
Connect, be creative, get active and collaborate in a professional atmosphere
Get involved in our congress and help us spread the word to your city representatives, colleagues and partners.
For cities, associations and experts, the congress offers many opportunities and benefits:
participate in a GIZ training, "Implementing bike-sharing systems" on 24-25 October. Register your interest here: ecomobility2011@iclei.org

network with leading city government officials, businesses, and organizations to form partnerships for future EcoMobility endeavors.

explore visions for overcoming physical, institutional or financial barriers

get to know various components of ecomobile solutions and products, and talk to experts, producers and service providers at the marketplace.

experience Changwon's award winning NUBIJA system, the host city's bicycle sharing program.
Confirmed Mayors and city officials participating as speakers:
Anker Boye (Odense)

Oh Se-hoon (Seoul)

Yum Tae-Yeong (Suwon)

Stephen Yarwood (Adelaide)

Helena Hećimović (Koprivnica)

Masashi Mori (Toyama)

Councilor Brian Shanahan (Melbourne)

Speakers from other organizations and businesses include:
Gil Peñalosa (8-80 Cities)

Carlo Ratti (MIT)

Peter Newman (Curtin University)

Eric Britton (New Mobility)

Robert Stussi (Perform Energy and European Association for Battery)

Christian Häuselmann (Swisscleantech)

Michael Repogle (ITDP)

Florian Lennert (London School of Economics)

Bernhard Ensink (European Cyclists' Federation)

Manfred Breithaupt (GIZ)

Shivanand Swamy (CEPT University)

Li Shanshan (ITDP-China)

Be part of EcoMobility Changwon 2011 congress.

More on program, practical information, partners, speakers on www.iclei.org/ecomobility2011 or via ecomobility2011@iclei.org

---
What is EcoMobility?
EcoMobility refers to environmentally sustainable and socially inclusive way of local mobility, combining the use of non-motorized means of transport such as walking, cycling and wheeling with the use of public transport and light electric vehicles, provided electric power stems from renewable energy sources. EcoMobility allows people to move in their local environments without utilizing privately owned motor vehicles, and goods to be distributed with city-scale vehicles without combustion engines.




Forward this message to a friend