Annika and Tori Cowen held a tremendously successful lemonade stand at the Dominicks in Fox River Grove Saturday July 21st. Their Mom Kelly Harmon made all the arrangements for them and they had lots of fun. In fact almost broke our record for the most money collected from the running of one stand this
year
WITH $246.17 in donations.
Giving Cub Scout Pack 857
a run for their money.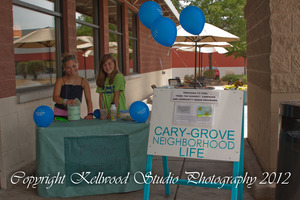 There are still plenty of beautiful days left for you and your family to make an impact and run a stand for our Feed the Hungry Campaign.
Contact Kelley Belmonte, at
847-516-5681 or email her at
jpbelmonte@ameritech.net
if
you would like to sign up. We
will supply the stands, lemonade
packets, and free water vouchers
from Walgreens.
Come and see us at the Farmers Markets on the first Sunday of the month August 5th or September 2.