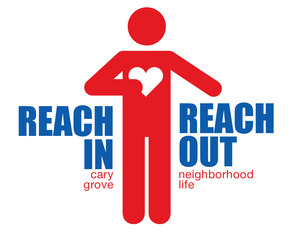 All over Cary and Fox River Grove people
will be doing Random Acts of Kindness;
You're It. Pass It On.
It's a game of pay-it-forward:
Anonymously make someone smile with an act of kindness, leave behind a card asking them to keep the ripple going.
It's easy and fun.

Get your tag cards and grab an idea out of the
Reach In Reach Out Bag
at any Cary Grove community church.

OR TRY ONE OF THESE BIG IDEA'S

Help the Teachers from Prairie Hill School pack and move boxes for their new classrooms.
June 7, 8 , 9, and 10th from 9am to 12pm
Contact Sue Dunn at 847-814-1121 or sdunn@carygrove.org


After your church service help at the new Cary Grove Farmers Market opening day. Located by the north commuter parking lot of the Cary train station.
June 5th from 8am to 1pm
Contact Suzanne Corr at 847-639-2800 to sign-up


Serve with Cary Grove Neighborhood Life's "Love Your Neighbor Team" doing some work projects

in our neighborhoods.
June 11 from 9am to 4pm
Contact Andrew Dimino at 847-942-9528 to sign-up

Go to www.helpothers.org for more ideas


Sponsored by Cary Grove Neighborhood Life:
Neighbors Connecting to better serve your Community
www.carygrove.org