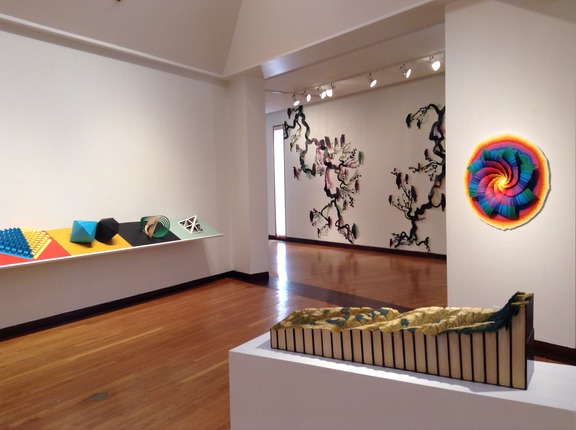 SOMEWHERE BETWEEN CREATION AND DESTRUCTION
The Seventh International Distinguished Artists
Symposium and Exhibition
Joseloff Gallery
September 9-October 26, 2014
Opening Reception:
Thursday, September 18, 2014, 5-7 p.m.
Somewhere Between Creation and Destruction, the seventh International Distinguished Artists Symposium and Exhibition at the Joseloff Gallery, Hartford Art School is a celebration of the renaissance of cut paper as an artistic expression. Paper, a ubiquitous medium, is transformed by the simple acts of cutting, removing, folding, and reassembling to create something far beyond its humble beginnings.
The International Distinguished Artists Symposium and Exhibition (IDASE), established at the Hartford Art School in 1994, is a grand showcase for the work of internationally known artists featuring challenging themes and a week of lectures and discussions leading up to the gala opening reception. This exhibition, curated by Joseloff Gallery managing director, Lisa Gaumond, will explore works featuring paper as the central medium used to express each artist's message and emotion. Paper may be sliced by hand, torn, or laser cut; pieces may be traditional, flat, and decorative; they may be layered, reconstructed, and sculptural.
Emerging artists will be shown alongside veterans of the craft. Wall pieces, freestanding sculptures, and site-specific installations will share space with hand-cut books and freestanding sculptures; all borrowed from private collections and galleries from across the globe.
List of Artists:
Tauba Auerbach | Su Blackwell | Jaq Belcher | Doug Beube | Sang-ah Choi | Béatrice Coron | Andrea Dezs
ö
| Lesley Dill | Olafur Eliasson | Adam Fowler | Mark Fox | Christopher Gilmour | Red Grooms | Valerie Hammond | Julene Harrison | Andrew Hayes | Carole P. Kunstadt | Guy Laramée | Simone Lourenço | Max Marek | Elsa Mora | Nicole Morello | Claes Oldenburg | Mia Pearlman | Dieter Roth | Rob Ryan | Andy Singleton | Aki Sogabe | Jen Stark | Andrew Sutherland | Richard Sweeney | Sarah Sze | Randal Thurston | Lane Twitchell | Kako Ueda | Crystal Wagner | Letha Wilson
The exhibition will begin on Tuesday, September 9, 2014, and run through Sunday, October 26, 2014. A three-day symposium will take place September 16-18, 2014 with events scheduled each day, leading up the gala opening reception on Thursday, September 18, 2014 from 5-7 p.m. in the gallery. Symposium events are listed below.
To learn more and to view many of the works to be featured in this exhibition, please visit the
IDASE Preview
page of our website.


SYMPOSIUM WORKSHOP: SEPTEMBER 16, 6 PM, SILPE GALLERY, NORTH

Join us for a day of hands-on workshops in the art of cut paper installation-building, led by Hartford artist,

Anne Cubberly

. Attendees will be led in the exciting and dynamic act of building a group installation of cut paper forms which will remain installed in the Silpe Gallery until the end of the month. Our evening workshop will take place at 6 p.m. and will be followed by a private viewing of the exhibition in the Joseloff Gallery. The workshop is free, and all materials will be provided, but space is limited and registration is required. (

more

).





SYMPOSIUM LECTURE: SEPTEMBER 17, 3 PM, WILDE AUDITORIUM

Exhibiting artist,

Crystal Wagner

will give a public lecture on Wednesday, September 17, 2014 at 3 p.m. in the Wilde Auditorium. Wagner's interest in combining 2-D and 3-D forms, alternative use of materials, hybrid approaches to printmaking, and massive site-specific installations, have led to her artwork being exhibited extensively. A recent ArtPrize recipient, Wagner has an active visiting artist schedule, and in 2014/2015, can be found at the University of Iowa, University of South Carolina, University of Hawaii, Southeastern Missouri State University, and Syracuse University. (

more

)


SYMPOSIUM PANEL: SEPTEMBER 18, 11 AM, WILDE AUDITORIUM

Cap off a week of exciting events with a panel discussion on the topic of cut paper as a means of artistic expression on Thursday, September 18, 2014 at 11 a.m. in the Wilde Auditorium. The panel will be moderated by artist,

Doug Beube

. Panelists will include exhibiting artists: Jaq Belcher, Guy Laramée, Randal Thurston, and Crystal Wagner. (

more

)