In This Issue

Georgia River Network News Stream
News

Workshops/Conferences/Calendar Items

Nonprofit Resources
Funding Opportunities
---
1. Spring Float on the Satilla Sold Out!
We are excited to announce that registration for the Spring Float on the Satilla is full. We are sorry if you missed out on this opportunity. However, don't miss the opportunity to sign up for plenty of other awesome paddle trips coming up such as Paddle Georgia 2016, and our Hidden Gem Paddles!

2. First St. Mary's Riverkeeper Named
The Waterkeeper Alliance Board of Directors has named retired businessman and science teacher, Rick Frey, St. Mary's Riverkeeper. Frey will be a full-time advocate for the river and its tributaries through community action and enforcement. He became active in environmental groups and trained to be a certified naturalist in Georgia and Florida. He worked as a kayak guide, trained as a volunteer at Cumberland Island National Wildlife Refuge and at Okefenokee National Wildlife Refuge. He also serves as the at-large representative for Camden County on the St. Marys River Management Committee.

"Waterkeeper Alliance is thrilled to have Rick to be the eyes, ears, and voice for this vital watershed," said Robert F. Kennedy Jr., Waterkeeper Alliance president. "The theft of our public waters by polluters is not acceptable. Rick is the right leader to fight for clean water in the region."

To read the full article in The Brunswick News click HERE.
3. Donate to Paddle Georgia Youth & Teacher Scholarships
Paddle Georgia is more than just a fun paddle (of course there is nothing wrong with that!). Paddle Georgia is also a vehicle to build the river stewards of tomorrow and to train teachers in water education.

Through scholarships, the Paddle Georgia Youth Program brings a group of 10-12 underserved youth with their chaperones on the journey. Most of these kids have never been on a river or camped in a tent before. The Youth Program introduces them to the importance of river protection but more importantly to the joys of paddling a river. The experience is transformative!

The Paddle Georgia Educators Scholarship Program brings teachers in grades K-12 on the trip and provides environmental education training which includes Georgia Adopt-A-Stream and Project WET curriculum. The goal is for these educators to take their experiences on the river and the curriculum they learned back to their classrooms. This program is impactful way beyond the river we paddle.

GRN asks you to make a donation TODAY earmarked for these scholarship programs. It is quick and easy to do. Just click HERE.

One donation, tremendous impact!

4. Georgia Water Wire - 'Clean Water For All'
"Every day I work for Georgia's rivers because I know the value of clean water.

Wherever I hike or bike for long distances, where I decide to go is dictated by where I will find water to drink. I have traveled all over the country, and beyond its borders, and carried water from streams dirty and clear, dry and flooding. The pipes in my own home have frozen, which was only a temporary inconvenience. Now with two children under the age of three (plus the dog), I cannot imagine how my family could function without dependable water for any duration.

Flint, Michigan's unfolding water and public health crisis is timely example of why "clean water" in the United States is not a spectator sport. If you want clean water, you have to work for it. Demand it. Fight for it.

And that's what I do.

Unfortunately, a lot of what I do is not camera-ready, easy to articulate or measure. It's hard to capture the excitement of a meeting with federal regulators. Regional Water Council meetings and public hearings often include drowsy attendees. The comment letters I draft are not bestselling novels destined for adaptation to the big screen; they are serious, technical and dry. In other words, the work of a policy director is not a riveting day on the river with Paddle Georgia. But, I have learned by experience and observation, if I want clean water I have to work for it."

To read the full Water Wire Blog written by GRN's Policy Director Chris Manganiello, click HERE.

5. Brew, Boats, and BBQ for Better Rivers 2016!
When: February 28, 2016
Where: SweetWater Brewing Company, 195 Ottley Dr, Atlanta GA 30324
What: Join GRN for the 3rd Annual 'Brews, Boats and BBQ for Better Rivers 2016' on February 28, 2016. This kickoff paddle party and GRN fundraiser is a pre-season gathering of paddlers and river lovers from all over Georgia at SweetWater Brewing Company. We invite paddlers of all skill levels and disciplines, as well as those who have never paddled but are interested in this wonderful sport to come meet GRN staff members and learn about our mission and upcoming events. This is also a great opportunity to meet new paddling friends and renew old friendships!

Representatives from several paddling groups across Georgia will be there, and author Suzanne Welander will be signing copies of the newly realeased 2nd edition of Canoeing & Kayaking Georgia! There will also be silent and live auctions including a Deuter Rece X backpack, Optic Nerve Arsenal Sunglasses, Werner Bandit Canoe Paddle, Tickets to the Atlanta Botanical Garden, an Altamaha Coastal Tours Paddling Trip for Two, Jewelry, Art and much more. Plus... a chance to win 2 new Jackson recreational kayaks (2016 Cruise 10 & 2016 Tupelo)! So, be sure to stock up on on these raffle tickets!

Many thanks to event sponsors Outside World Outfitters, Oglethorpe Power and Storm Water Systems Inc. for their generous support!

Tickets are $25 and include: Admission to the event, six tasting tickets, a souvenir Sweetwater Glass, a brewery tour, BBQ, and a chance to win a camping gear package valued at over $900 and door prizes, which will be drawn throughout the event. ***Kayak raffle tickets (mentioned above) will be sold separately and are NOT included in ticket price*** These special raffle tickets can be purchased either within your event registration or seperately HERE. You do not have to be present to win a kayak.

Event tickets must be purchased in advance at http://www.BBBB2016.eventbrite.com

(Please note that all attendees must be 21 years of age or older as of February 28, 2016.)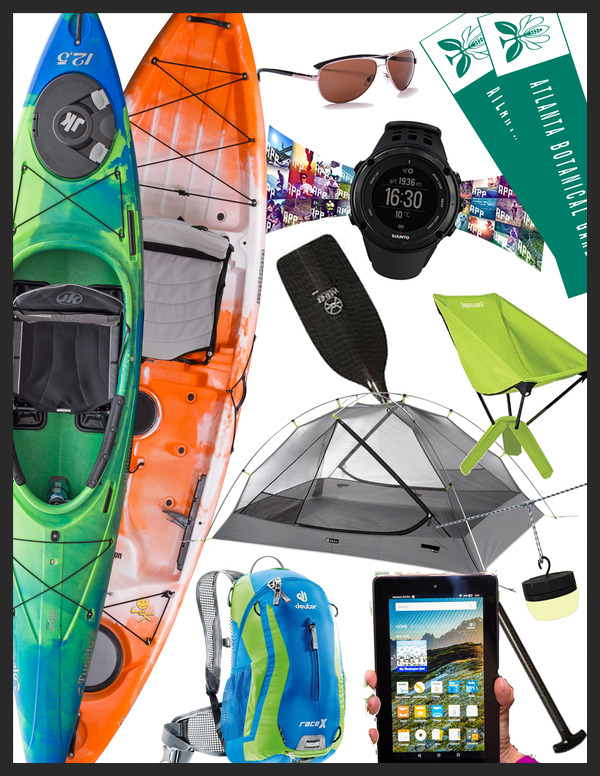 6. Paddle Georgia 2016 - Reserve Your Spot Now
When: June 18-24, 2016
Where: Oostanaula, Coosa and Conasauga Rivers
What: 400 people, 103 miles, 7 days and 1 great time! Paddle Georgia 2016 returns to north Georgia on the Oostanaula, Coosa and Conasauga rivers for a journey from Dalton to Rome. Join us as we spend the week paddling and camping with meals, games, entertainment and educational programs!

Registrations will be taken until the trip is sold out at which time a waiting list will be started. Visit the Paddle Georgia 2016 website to register or learn more!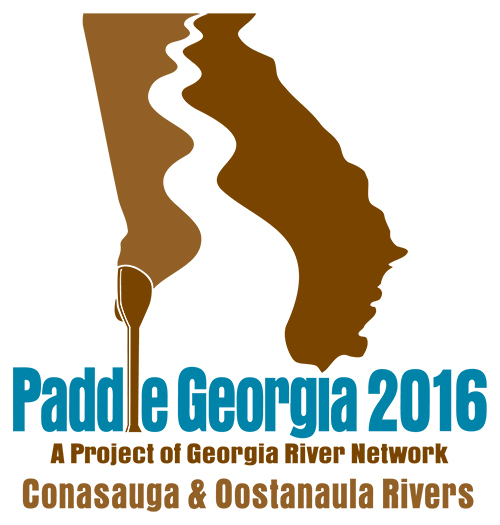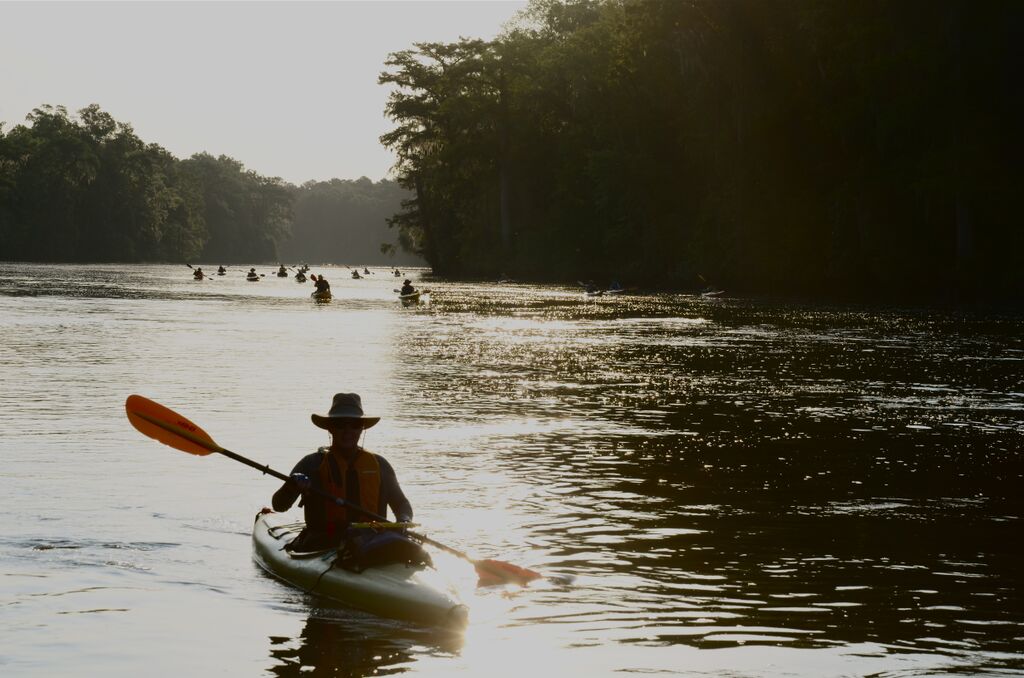 7. Hidden Gem Paddle Excursions
Save the date for excursions to rediscover some of the hidden gems on Georgia's waterways. Each river trip includes lunch and presentations along the route, ranging from natural history and water quality testing to cultural history and river cleanups.

July 31: Coosawattee River Hidden Gem Paddle to Farm to Table – Experience a 9-mile section of this north Georgia gem and up-and-coming Water Trail with Georgia River Network, Coosa River Basin Initiative, and Georgia Organics. We will also visit Riverview Farms, an organic farm on the banks of the river where we will enjoy a gourmet lunch from the farm's fields. The trip ends at a privately-owned Native American archaeological site.

Sept. 17-18: Lower Oconee Hidden Gem Paddle & Campout– Spend a weekend exploring this up-and-coming Water Trail on the Fall Line of middle Georgia! Georgia River Network is partnering with the Altamaha Riverkeeper and Lower Oconee Water Trail, for this exciting two day paddle, dinner party, & campout on the Oconee river in Milledgeville, GA.

Mark your calendar - Registration coming soon! To learn more, click HERE.

8. River Rally 2016
When: May 20-23, 2016
Where: Mobile, AL
What: River Rally, hosted annually by River Network, is a national conference that focuses on education, inspiration, and celebration within the river and watershed community. Unique in its focus on connecting peers, providing practical education, inspiring courage, and celebrating achievements, River Rally draws hundreds of people together every year from across the United States - including NGO staff, academics, agency and foundation representatives, industry innovators, and concerned citizens.

To learn more, please visit their website.
9. Georgia Trail Summit
When: April 14-16, 2016
Where: Carrollton, GA
What: Now in its third year, the Georgia Trail Summit convenes in Carrollton on April 14, 15 and 16. The conference is open to everyone interested in creating a connected trail system across the state. Tanner Health System is the lead sponsor.
-25 sessions over 2 days
-8 mobile workshops
-2 parties
Georgia trails are increasingly popular in communities large and small. "Across the state, trails encourage healthy lifestyles; offer inexpensive, clean transportation choices; serve as economic development catalysts for increased tourism, property values and sales tax revenues and enhance quality of life for everyone," remarks Tracie Sanchez, volunteer chair of the Georgia Trail Summit.
The Summit features 25 presentations from trail professionals in every discipline, and eight mobile workshops will get people outside on nearby water trails, cycling trails, mountain biking trails, parks and the Carrollton GreenBelt.

GRN Community Programs Coordinator, Gwyneth Moody, City Planner of Tallapoosa, Patrick Clarey, and Georgia Canoeing Association, Dan MacIntyre, will be leading the Water Trail Mobile Workshop on the Dub Denman Canoe Trail on the Tallapoosa River!

Another highlight is the collaborative keynote panel featuring trail experts from Tennessee, Alabama and Florida. They're eager to share trail wisdom, success stories and models relevant here in Georgia.

View the full schedule of the 2016 Georgia Trail Summit and register today. The Georgia Trail Summit is organized by a dedicated group of volunteer trailblazers committed to realizing a world-class, connected trail system in every corner of Georgia.

10. Capital Conservation Day
Join the Georgia Water Coalition Leadership Team for a day at the Capitol on February 17, 2016 from 8am- 3pm!

Come meet with your legislators to talk about important water issues in Georgia. We will start the day with a free buffet breakfast at 8AM at Central Presbyterian Church across the street from the Capitol. After briefings on current water related legislation, we will go across the street and meet with legislators.

To find out more about this important FREE event and to register click HERE.

11. Sweep the Hooch
When: Saturday, April 9, 2016
Where: 70 river and tributary miles on the Chattahoochee River
What: Chattahoochee Riverkeeper is gearing up for another BIG cleanup this year, on April 9! Although it's obvious to most that river cleanups improve the quality of our water, we've discovered that they do much more than that. Cleanups are also a great way to develop a sense of "river community." This is your chance to volunteer and be part of this community.

Cleanup locations will take place over 70 river and tributary miles – from Don Carter State Park through the Chattahoochee Recreation Area, and all the way down to Chattahoochee Bend State Park. Cleanup sites in between include Simpsonwood in Gwinnett County, Atlanta Memorial Park (Peachtree Creek), Sweetwater Creek State Park and more being added each day.

To learn more about how you can volunteer visit their website.

12. Adopt-A-Stream Confluence
When: March 11-12, 2016
Where: Environmental and Heritage Canter, Buford GA
Confluence is the Adopt-A-Stream annual conference—an event designed for expanding education, sharing successes and exchanging experiences in water quality monitoring! Please note that some sessions are limited to 20-30 participants, so register early to reserve your spot. This is a celebration of YOUR efforts in water quality monitoring!

Registration Details: $30 ($20 for students with ID) - Includes T-shirt, lunch, conference session, door prizes and more! The Registration deadline is March 8th. For questions or more information, contact 404-651-8512 or AS@gaedp.org.

Register for Confluence HERE.

13. Clean Water Network: Stormwater Management Conference Call
Did you know that stormwater is water that runs off roofs, driveways, and streets into our storm drains? On its way, stormwater picks up chemicals and pollutants that contaminate our waterways. The Environmental Protection Agency has found that stormwater (non-point source pollution) is the number 1 leading cause of pollution in today's streams, rivers, and lakes! Georgia River Network's mission is to protect and restore Georgia's rivers and it is also one of the top issues that members of the Clean Water Network from across the country are prioritizing right now.

If we all come together to share our knowledge and ideas, and hear about strategies that have worked--or haven't--we can take more steps forward together towards protecting our rivers, lakes, and bays.

On Thursday February 25th at 2pm EST, Clean Water Network is holding a conference call for groups interested in collaborating with other CWN members on stormwater issues. You'll learn how the issue is playing out in various places across the country, discuss the types of resources and information that groups need most for more progress, and identify opportunities for coordinated action in the coming months.

Please RSVP for the call by clicking here if you're interested in engaging with CWN on this issue.

14. River Protection 101
If you live in Georgia, the water that you drink, cook with, and shower in comes from one of two places: either it's pumped out of your local river, stream or reservoir, or it comes from a well that draws on groundwater. Either way, the health and cleanliness of the wet stuff that nourishes and cleans you has a lot to do with the health and cleanliness of the creek down the street from your house.

Your local river most likely provides drinking water to your kitchen sink, but it's also where treated sewage from your town is dumped, where your local industry releases its wastewater and where toxic runoff from parking lots, golf courses and construction sites ends up after it rains. Our waterways face problems like these every day, and protecting the quality and health of the rivers in your community isn't an easy job.

Visit Georgia River Network's webpage on River Protection 101 for more information.

15. Amp Up Your Next Meeting
When was the last time you went to a really GREAT meeting? And by great, I mean useful, but also inspiring, engaging and...dare I say fun?

Unfortunately for us--and for the health of our organizations--most of us can probably count the number of those meetings we've been to on one of our hands.

So how do we capture the special magic of some of those cathartic, inspiring, obstacle-leaping meetings in every meeting? Well, unfortunately there's no silver bullet for getting meetings right. But click HERE to take a look through Georgia River Network's resources, make note of things that seem like they would help the groups you most commonly work with feel more energetic and creative!

16. Webinar: Building A River's Identity to Attract New Users
Learn different ways to create a unique identity for your river and attract new users and advocates in a sustainable way. Join this 30 minute webinar led by Mimi Wagner of Iowa State University on Tuesday, February 16th at 1pm.

Rivers are often the most dynamic and visible landscape systems in a region. River recreation trails are one of the primary ways people experience rivers and their surrounding lands, creating the enormous potential to build knowledge and advocacy among many different groups in a region. From paddlers to hikers, photographers and history buffs, Mimi will provide information and details on methods and publicly-available tools to collect and synthesize information useful in creating connections between a river and the residents of its region. Examples are included from recent projects associated with Iowa DNR State Water Trail planning.

Sign up HERE.

17. Conservation Fund Grant Program
The Kodak American Greenways Awards Program, a collaboration of the Eastman Kodak Company, the National Geographic Society, and the Conservation Fund, provides seed grants to stimulate the planning and design of greenways, trails, and waterways in communities throughout America. The focus is on setting aside corridors of protected public and private land established along rivers, ridges, abandoned railroad corridors, utility right-of-ways, canals, scenic roads, or other linear features. Most grants range from $500 to $1,000; the maximum grant is $2,500. Visit the Conservation Fund's website for current grants and application guidelines.
---
Join Georgia River Network!
If you find News Stream and other information and services provided by Georgia River Network useful, we would appreciate your financial support!
Visit www.garivers.org and join today!
Georgia River Network
126 South Milledge Ave.
Suite E3, Athens, GA 30605
(706) 549-4508
http://www.garivers.org


Become a Member Today -

Join