​Nonprofit Resources
House Resolution 281, recognizing and encouraging the proliferation and use of water trails in

Georgia and for other purposes, received a number and its second reading in the House of Representatives yesterday and is officially in Committee. We hope to have a hearing schedukled soon. This statewide Water Trails Resolution of Support was assigned to the Natural Resources & Environment Committee.

Georgia River Network would like to give special thanks to the following congressmen for sponsoring HR 281:
Representative Spencer Frye

Representative Lynn Smith, Chairman of Natural Resources & Environment Committee

Representative Tom McCall, Chairman of Agriculture & Consumer Affairs Committee

Representative David Knight, Chairman of Games, Fish & Parks Committee

Representative Chuck Williams, Agriculture & Consumer Affairs Committee

Re

presentative Debbie Buckner, Natural Resources & Environment Committee
If the resolution passes, "water trail partnerships" throughout Georgia will get an "appropriate copy of this resolution" suitable for framing and distributing on social media, etc.
View HR 281 and its status HERE and stay tuned for more details!
---
McDuffie Progress:
Little River W
ater Trail Making Big Strides
Excerpted from the McDuffie Progress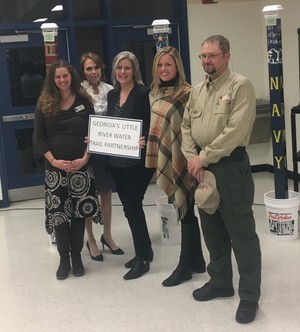 The development of Georgia's Little River Water Trail, which flows 20 miles through Wilkes, Warren and McDuffie counties within the 15,000-acre Clarks Hill Wildlife Management Area is starting to gain momentum.

Georgia's Little River Water Trail includes four public access locations: Hwy 80, Hwy 78, Holliday Park, and Raysville Campground and has a wide array of wildlife and a rich history from gold mines to Quaker settlements, and Native American Indians.

Georgia's Little River Water Trail is being developed by various community stakeholders with assistance from Gwyneth Moody, Georgia River Network's Director of Programs & Outreach. "Georgia River Network's Water Trails Technical Assistance Program helps communities form comprehensive water trail stakeholder partnerships​ ​as well as providing them with guidance and resources to begin developing a sustainable water trail." said Moody.​ ​"It's a win-win for everyone - and most importantly our rivers as water trails are also an effective way to introduce people to river issues and to engage them in the protection of their local waterways."

Over the last few months stakeholders including McDuffie, Wilkes and Warren Counties, Army Corp of Engineers, Department of Natural Resources, landowners, local business owners, Boy Scout Troop leaders, and local paddlers have been actively involved in planning and developing the trail.

The latest developments include: a local area high school 'Georgia's Little River Water Trail Logo Contest' for high school students in McDuffie, Warren and Wilkes Counties, entries are due February 22nd; passage of the Georgia's Little River Water Trail Resolutions of Support by McDuffie and Wilkes Counties; and continued work by stakeholders on creating a website, updating the Facebook page, and designing marketing materials that share information about Georgia's Little River Water Trail, river stewardship opportunities, safety and upcoming events.
Stay tuned for the upcoming Georgia's Little River Hidden Gem Paddle and Campout May 20-21, 2017 and learn more here: http://garivers.org/#GRNevents

In addition, the Warren County Chamber of Commerce recently recognized Georgia's Little River Water Trail and Georgia River Network at their Chamber Banquet for being community partners and enhancing the tourism and ecological benefits of Georgia's Little River.

Read the full article HERE.
---
It was the close of the 4th week of the General Assembly's 2017 session. The legislators returned February 14 (Day 17). The calendar for the full legislative session has been set. 24 days remain in the 40-day session. The 2017 legislative session will end on Thursday, March 30.
Georgia Water Coalition Priority Issues:
Addressing Uncertainty Surrounding State Water Buffers
Unfortunately, while the Coalition has been working with supportive legislators to re-establish comprehensive buffers on state waters, other interests have been promoting a delay tactic—study committees.
SR 152 was introduced to create a study committee to look at stream buffers, rather than fix the law. Please reach out to your Representatives and ask them to support legislation that fixes the confusing buffer law.
Legislators need to fix the law to protect private property from flooding, mud and pollution. The longer we delay, the more pollution enters our streams and more property damage can occur.
Ensuring Safe, Secure Disposal and Storage of Coal Ash Wastes
GWC continues its work to address the huge volumes of coal ash waste stored at Georgia Power plants across the state. GWC is supporting legislation that [1] requires utilities to test the wastewater released from contaminated coal ash ponds into rivers and streams across the state and [2] ensures the safe storage of this waste in any Georgia municipal solid waste landfills that receive it.
It's vital that coal ash waste be stored in a safe manner so that it does not leak into our rivers, lakes and streams or contaminate subsurface drinking water sources on nearby properties.
GWC has pulled together some resources to help out:
Other Issues GWC is tracking:

Senate Bill 116 – Passing on the costs of dirty stormwater
SB 116 by Senator Frank Ginn is an attack on local stormwater utilities programs, sometimes called "rain taxes," by creating an exemption for any property that is "designed to achieve control of water runoff from a 25 year, 24 hour storm event." Given the well-known fact that "100 year" storm events occur quite often in GA, the 25 year event is a common rain "event."
Stormwater management is a growing problem in Georgia, in large part due to more frequent severe weather brought by climate change and the increase in paved surfaces caused by growing populations. Eliminating these stormwater fees paid to local governments that manage stormwater systems will lead to more flooding, mud flows, washouts, culverts uprooted, bridges failing, and trees falling. SB 116 will cost tax payers much more money in the long run.
House Bill 271 – Defining the jurisdictional area of the Shoreline Protection Act
HB 271 is a bill that would change the way that the jurisdictional area is determined on beach front property on Georgia's coast. While GWC agrees that the current method is problematic for both DNR officials and property owners, the current language leaves some beach-front property susceptible to erosion. GWC is working with the bill sponsor to increase the bill's setback off of the ordinary high water mark from 25 feet to 150 feet.
---

Capitol Conservation Day Update - First Time Attendee Reflects on Her Experience
Georgia River Network had the opportunity to interview Anne Ledbetter, an avid paddler, river enthusiasts, and first time attendee of Capital Conservation Day about her experience.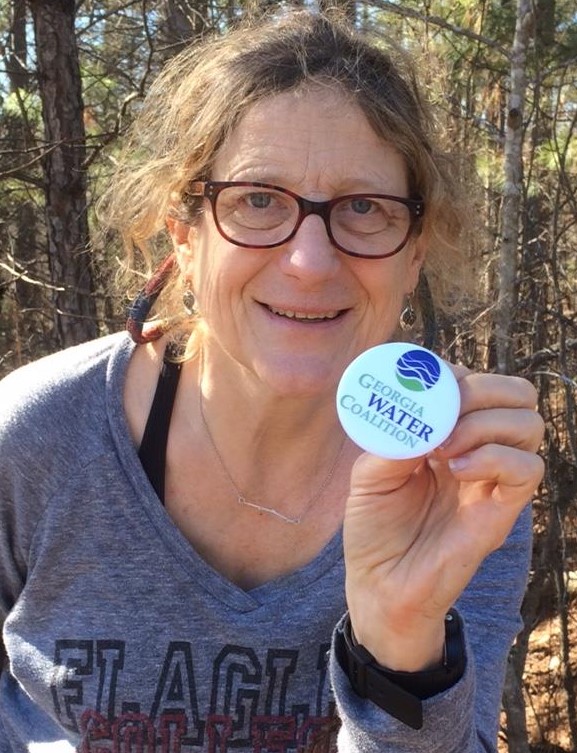 It was really cool and interesting. Beforehand I tried to read up on the bills and I was unsure if I would be influential or be a good spokesperson, but an overview of each bill was given during the CCD breakfast including explanations and specific topics we needed to touch on. I felt much more confident afterwards.
I was the only one in my district, and I went up and talked to Joe Cook about which representative to talk to and then filled out a piece of paper requesting to speak with Senator Hunter Hill and gave it to a page who delivered the paper him on the Senate Floor. I then I waited for Senator Hunter Hill to come out and speak with me. He was very congenial. I made a point to tell him that he was my senator from my district, and I said, "I want to talk to you about coal ash!" It was a lot easier than I thought and I felt like I was doing something important. He explained how the process worked and apologized for not knowing more about the subject at hand. I later emailed him three links and explained that the issue is also on a national level.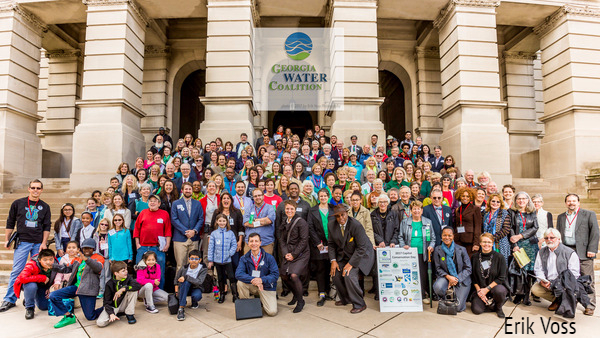 The whole process was a lot less scary than anticipated. It was very straightforward and casual. I realized your representatives and senators want to talk to you and they are willing. You also aren't alone; a lot of people were waiting to talk to their senators and representatives about important issues. Talking to my senator about issues in my district felt like I had initiated an important association with him, and that what I had to say mattered. By attending I got to see how to "work the ropes".
After attending I feel comfortable talking to my representatives about issues and concerns, and much more empowered. I have a new perspective on what I am able to do and it amazes me.
I would definitely recommend others to attend Capital Conservation Day. I got a lot out of it. The breakfast and the meeting helped tremendously. There were other people around that I knew were doing the same thing and it made me feel more comfortable having others to talk to and knowing that if I had needed more help talking to my representatives then someone would have happily done so. I encourage others to go- even if you have never been involved in politics or advocacy work before because just being there makes a difference.
---
Georgia Scores Major Victory in Water Wars Feud with Florida
Excerpted from the Atlanta Georgia Constitution, by Greg Bluestein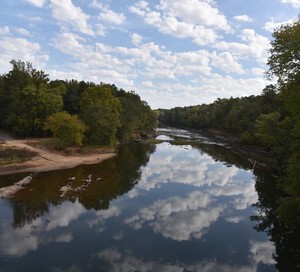 Georgia notched a victory in a long-running legal dispute with Florida on Tuesday when a judicial official urged the U.S. Supreme Court to reject strict new water consumption limits that Georgia said would have struck a devastating blow to the state's economy.

The recommendation by Ralph Lancaster, a special master appointed by the U.S. Supreme Court to handle the case, found that Florida had "failed to show that a consumption cap" was needed after five weeks of hearing testimony in the case.

The finding was celebrated by Georgia politicians, business boosters and agriculture groups that said strict new water limits could have cost the state billions of dollars.

Gov. Nathan Deal and other state leaders said Lancaster's order vindicated Georgia's argument.

"Georgia remains committed to the conservation efforts that make us amicable stewards of our water," Deal said in a statement. "We are encouraged by this outcome which puts us closer to finding a resolution to a decades-long dispute over the use and management of the waters of the basin."

For the full article click HERE.
---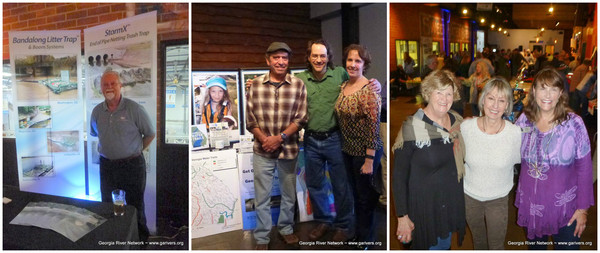 Thank you so much for coming out to Brews, Boats & BBQ for Better Rivers at SweetWater Brewing Company. We had a lot of fun and hope you did too!

Congratulations to Carlton Gober for winning the $1000 Gift Certificate and to Kelli Bailey for winning the Jackson Cruise Kayak.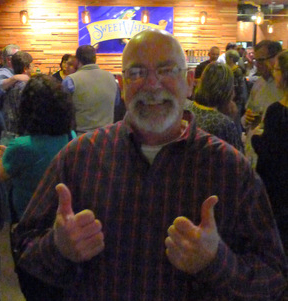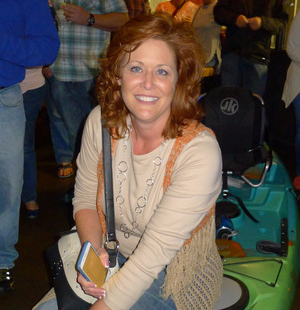 Huge thanks to our sponsors Outside World Outfitters and Storm Water Systems!
---
Published in the Marietta Daily Journal, By Staff Reports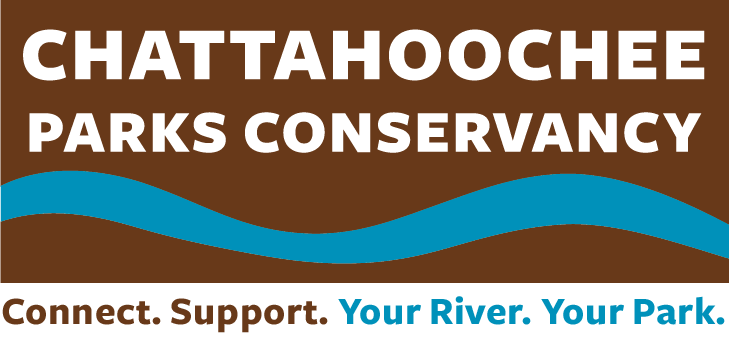 Chattahoochee Parks Conservancy, the nonprofit friends group that works to inspire people to support the Chattahoochee River National Recreation Area — which runs along portions of the eastern border of Cobb County, announced the appointment of its 2017 officers.

The new appointments are Sally Bethea, president; Bob Ruby, vice-president; Bob Schneider, treasurer; and Jay Bogan, secretary.

Bethea is the retired founding director of Chattahoochee Riverkeeper and a longtime environmental advocate. Ruby, a retired IBM manager, is the immediate past president of the Benton MacKaye Trail Association. Schneider is a manager in finance and accounting Equifax. Bogan is a partner with the law firm of Kilpatrick Townsend.

CPC's mission is to build a community of support for the CRNRA and promote stewardship of its natural and cultural resources.

The CRNRA is a series of 15 park units along a 48-mile stretch of an iconic waterway that flows through metro Atlanta and is one of the top 30 most-visited units in the national park system.

To read the full article click HERE!
---
Ocmulgee National Park & Preserve would bring economic prosperity to Macon
Excerpted from The Telegraph, By Brian Adams and Ethiel Garlington
In January, U.S. Reps. Sanford Bishop and Austin Scott achieved passage of the Ocmulgee Mounds National Historical Park Boundary Revision Act by a vote of 396-8 in the U.S. House of Representatives, a remarkable accomplishment in a contentious Congress.

Local voices in Macon have proposed [to] consolidate the Ocmulgee National Monument with other existing state and federal public lands along the river to establish an Ocmulgee National Park & Preserve. This week, the concept gained significant additional momentum with the release of a new economic analysis by the National Parks Conservation Association entitled "Diamond in the Rough". The report, funded by the John S. and James L. Knight Foundation, projects that within 15 years of its creation, a National Park & Preserve could bring in over 1 million visitors per year, a more than six-fold increase over the current public lands operating separately. Such visitation growth would add $206.7 million in yearly economic activity and support over 2,800 jobs annually.

In addition, a National Park & Preserve could serve as the nexus uniting multiple local themes and assets such as the Ocmulgee Heritage Trail, the Ocmulgee River Water Trail, and a range of historic preservation efforts, amplifying their overall impact as magnets for recreation and tourism.

To read the full article click HERE.
---
Looking for a job that gets you outside and on the river? Look no further! The Chattahoochee Nature Center has openings for Canoe Guides and Camp Kingfisher Counselors plus other positions.

The Chattahoochee Nature Center is a great place to work for people who care about the environment and about our rivers.

For more information on how to apply for these positions and others please visit HERE!
Not looking for a summer job? Volunteer instead! Volunteers are an important component to the Nature Center. For more information click HERE.
---
There are only a few spots left; get your tickets now for Spring on the Satilla!

Join Georgia River Network and Satilla Riverkeeper for the second annual "Spring on the Satilla" April 1-2.
Spring on the Satilla is the ultimate south Georgia river adventure.
In early April while north Georgia is just emerging from the winter doldrums, the Satilla River in far southeast Georgia will be brimming with life…
(and in early April, not brimming with the eternal heat of summer!).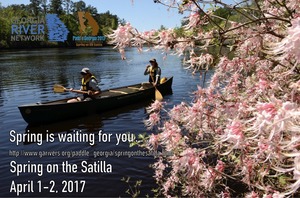 For two nights you'll tent camp atop Long Bluff at rustic Satilla Lodge overlooking the river and over the course of two days of paddling you'll experience nearly 28 miles of this blackwater gem where moss-draped cypress and tupelo crowd the banks and where it seems oxbow lakes and sloughs radiate from every bend. Educational programs, catered meals, campfires and camaraderie round out a weekend of leisurely paddling and first-rate camping.
Along with raising awareness for this beautiful coastal plain, this event will also highlight Satilla Riverkeeper's hard work in establishing a recreational water trail a

long the river

with intensive technical assistance from Georgia River Network.

You can learn more and register HERE!
---
Georgia River Network's Annual Weekend for Rivers Conference and River Celebration Awards Party will be held in conjunction with the Georgia Water Coalition's Spring Partner Meeting.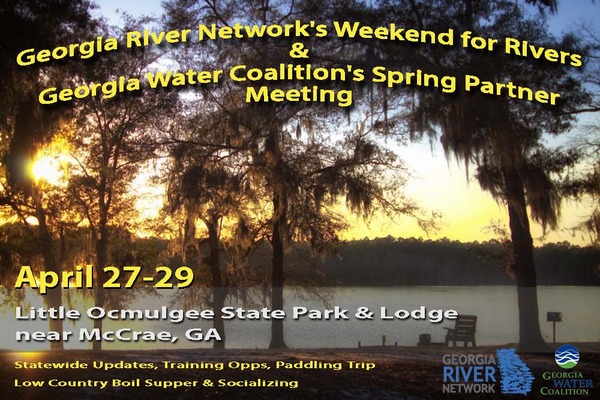 This will be a fun and informal gathering to celebrate rivers, network with river lovers and dive deeper into the work of ensuring healthy rivers. There will be multiple training opportunities during this multi-day event. Come enjoy two days of learning and sharing with fellow water advocates. Engage in the river revelry and share your river revelations!
GRN Weekend for Rivers & GWC Partner Meeting

Speakers/Workshops/Activity

No need to be a GWC partner to eat & socialize! BYOB

Group Supper and Socializing

Free
GWC Members Only

Protecting and Restoring Flows in Your River: State Policies for Water Security and Sustainability - Katherine Baer and April Ingle

The Agricultural Water Footprint in Georgia - Chris Manganiello

GRN's Weekend for Rivers -

River Celebration Awards Ceremony

Happy Hour, Low Country Boil Dinner, and River Celebration Awards

GRN's Weekend for Rivers Conference

Is Dam Removal Right for Your River ? - Lisa Hollingsworth-Segedy

From Lemons to Clean Water - Katherine Baer

How to Reduce the Impacts of Transportation Projects on Rivers - Brian Gist

Plan Your Impact! Create an Inspired Strategic Plan to Guide Your River Work - April Ingle

Turn your Community into a River Town! Build a Water Trail - Gwyneth Moody

FUNding your Water Trail Projects - Cheryl Delk

Build the Perfect Launch for Your Water Trail - Don Wells

Navigating the Snags and Rapids of Permitting - Keith Parsons

Get the Word Out! Marketing Tools & Resources for Your Water Trail - Cheryl Smith

$20 B.Y.O. Boat
$40 to Rent a Boat

Guided Paddling Trip on the Little Ocmulgee River

Join us for this special guided 4.6 mile paddling trip on the majestic Little Ocmulgee River.

Limited to 25 participants.
---
Registration is now open for Georgia Adopt-A-Stream's annual conference, Confluence. Confluence is a fun filled weekend where attendees will learn, celebrate, and share their experiences about our wonderful water resources.

Confluence 2017 will be held on Friday & Saturday, March 24-25 at the Environmental and Heritage Center in Buford, GA.
Friday (5 pm to 9 pm): Dinner Social, Water Quality Poster Session, Featured Speakers Dr. Tony Martin and Ruth Schowalter

Saturday (8 am to 5 pm): Keynote Address from Dr. Alan Covich, Water Quality Workshops, Exhibits, and AAS Awards Ceremony
For the full conference schedule and to learn more visit HERE.
---
Paddle Georgia Returns to the Etowah!
7 DAYS, 125 MILES, 1 GREAT TIME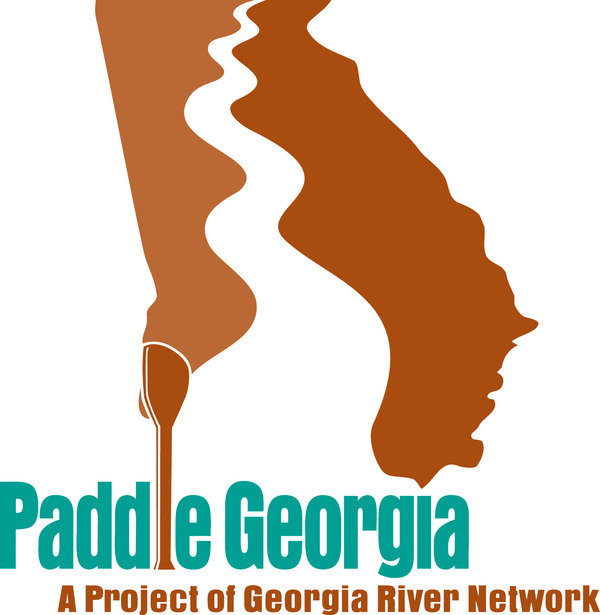 AWAIT YOU ON THE ETOWAH RIVER
JUNE 17-23, 2017
CLICK HERE TO LEARN MORE AND REGISTER!

Since Paddle Georgia 2017 registration opened on Jan. 31, more than 260 people have registered to get in on this 125-mile journey from near Dawsonville to Rome.

Have you registered yet? Don't miss the boat. About 180 spaces are still available, but they won't be around forever.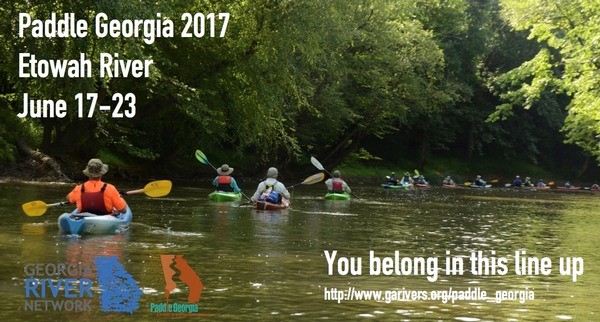 Arguably the best family-paddling river in the state, the Etowah is a treasure trove of cultural and natural history. Along the way, you'll paddle through beautiful wildlife management areas, over 1,000-year-old Native American fish weirs, past antebellum plantations and ancient indian mounds and into a river corridor of tremendous biodiversity.

Throw in educational programs, fun and games and camaraderie with your fellow paddlers, a few water cannon battles, great food, a street party and a lip-smacking fish fry and you have the makings of another classic Paddle Georgia adventure.

Registration Fees: $425 for adults, $230 children (8-17), $30 children (7-under).
Paddle Lite Registration Fees: $120 for adults, $70 children (8-17), $15 children (7-under).

Registration fees include a T-shirt, boat decal, maps and river descriptions, souvenir cup, a year's membership to Georgia River Network, camping with bath facilities, shuttles to campsites, entertainment, activities, educational programs and special swag from our sponsors.

Big Thanks to our 2017 Sponsors to Date:
Columbia Sportswear Company; Cedar Creek RV and Outdoor Center; Cary Baxter, CPA; CYA Agency, Inc.; Oglethorpe Power; Terry Pate, PC, CPA; China Clay Producers Association; Georgia Mining Association; EarthShare of Georgia; Troncalli Subaru
---
Georgia Trail Summit registration is now open!
The annual gathering will be held April 20-22 in Columbus, GA home of the longest urban whitewater course. Georgia Trail Summit focuses on connecting trails all across Georgia by providing connections, sharing knowledge and furthering the trail projects already happening in Georgia.

Conservation Speakers at the Summit!
If you're interested in hearing how land trusts activate their conserved areas for the public, you're in luck! For the first time ever at the annual Georgia Trail Summit, five conservation groups are on the program:
Southeastern Trust for Parks and Land
All will be in attendance at the trail summit and will share lessons learned in trail building, maintenance, and stewardship. As well as, successful volunteer management, restoration methods, and in one case the connectivity of 750 miles of trail.

To Register for the Georgia Trial Summit click HERE.
---
Join the River Network for their 2017 River Rally taking place May 8-11 at the Amway Grand Plaza Hotel in Grand Rapids, MI.

Today is the last day to apply for River Rally 2017 scholarships! Don't miss out on this opportunity, to learn about Protecting and Restoring Flows.





Scholarship applications are due tonight by midnight (12:00 am EST). Your scholarship application must be submitted with conference registration.

The program includes more than 65 workshops, multiple keynote presentations, abundant networking opportunities, and fun activities like field trips and a film festival. Join NGO staff, academics, agency and foundation representatives, industry innovators, and concerned citizens for the biggest event of the year.

Registration is now open. The early bird special is open until April 7, 2017! Get your tickets soon, register HERE!
---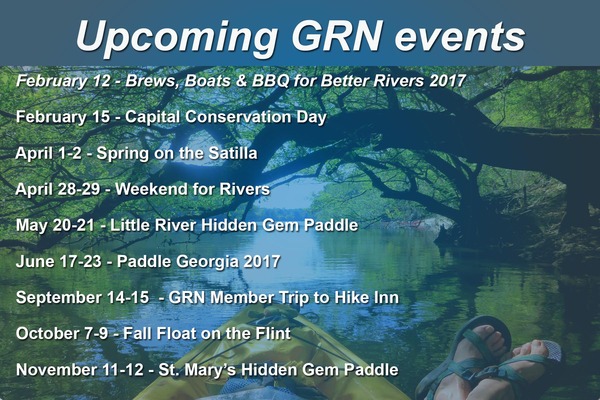 ---
A new Clean Water for All Campaign created by national groups is getting going to organize defensive work in key target states and look to some proactive opportunities across the country.
Chad Lord with the National Parks and Conservation Association and Jan Goldman Carter with National Wildlife Federation will speak about how this important work is unfolding and how you can engage. There will be ample time for Q&A and discussion re this and other next steps on working together.
Please RSVP to Katherine Baer by 2/21 and they'll send you the call in number.
---

Join Heather Stombaugh on February 23rd, for this 90 minute live webinar on how to write thank you letters that will make your doors smile!
This live nonprofit webinar is an easy way to vamp up your thank you notes and will provide great examples on how to correctly acknowledge your donor and their gift,
how to incorporate excitement and gratitude into your letter, and much more.

Space is limited to sign up now!
---
J
oin Jeff Brooks, on February 22, as he explains the real stories you need to tell donors. Find out why donors give, how to ask for money, and how to appropriately thank your donors.

This is a hands- on training webinar that includes prompts and examples to help you get your story started.

To sign up for this 90 minute webinar click Here.
---
To view grant makers that give throughout the year, visit the GRANT PAGE on our website!

Grants include:
AEC Trust Technical Grants

EPA Environmental Education Grants

Mary Reynolds Babcock Foundation
For resources on how to apply for grants click
HERE
.