In This Issue
Join Georgia River Network
for our 4th Annual 'Brews, Boats and BBQ for Better Rivers' on February 12, 2017 at SweetWater Brewery in Atlanta, Georgia.
This kickoff paddle party and GRN fundraiser is a pre-season gathering of paddlers and river lovers from all over Georgia at SweetWater Brewery.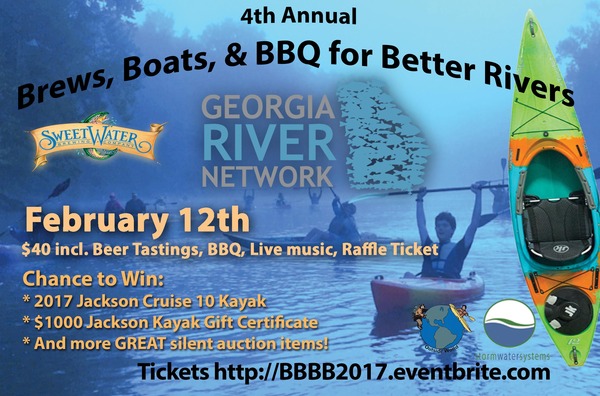 We invite paddlers of all skill levels and disciplines, as well as those who have never paddled but are interested in this wonderful sport to come meet GRN staff members and learn about our mission and upcoming events.

Don't miss this wonderful opportunity to meet new paddling friends and renew old friendships! This is also a great event for those who just love being outdoors and want to support the ONLY organization in the State of Georgia devoted 100% to the protection and preservation of our rivers.
Representatives from several paddling groups across Georgia will also be there.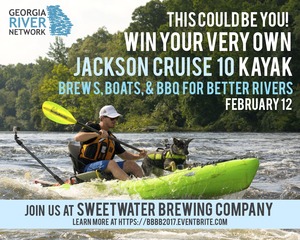 TICKET INCLUDES:
Six Tickets for your choice of a variety of Sweetwater Beers on Tap (Wine will also also available)

A chance to win the Jackson Cruise 10 Kayak (you can purchase more tix)

Live music by the Barbaric Yawps: "An

eclectic acoustic band steeped in bluegrass and traditional country but impatient with labels, categories, and genres".
Don't Forget about our Raffle Prizes!
And our Awesome Silent Auction: ​
Eagle Optics~ 10x42 Denali Binoculars

Float Trip for 2 on the Chattahoochee River

4 Passes to Atlanta Botanical Gardens

Mountain High Outfitters ~ Paddle Board Yoga Class

Center for Puppetry Arts ~ 4 Tickets to any Family Series Performance

A Membership and gift package to Chattahoochee Nature Center

A Paddle Board

A One Year Family Membership to Fernbank Musuem

Astral PFD's including a rescue vest

2 Whitewater WERNER Powerhouse paddles

Various Accent paddles

Salomon Running Shoes

Fused Glass Art

2 Tickets to Riverdance May 2017 at Fox Theatre and more....
Learn more and register HERE!
---
Thank You for Our Beautiful New Canoe/ Kayak Trailer!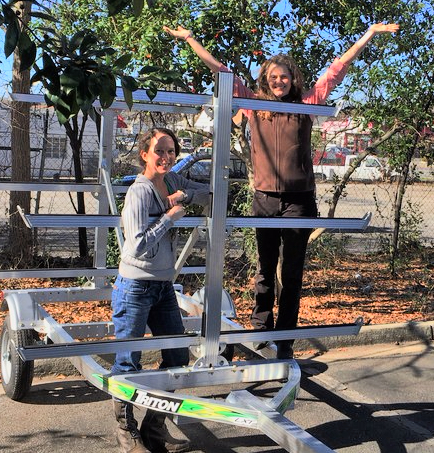 Special thanks to Steve Cousins and other contributors for making this possible! We are truly grateful for everyone's support.

A trailer is essential for the day-to-day operations of paddling trips and will be used to carry staff and volunteer boats, boats for VIPs and the media, and to transport boats when participants have emergency situations and can't paddle. We will use this trailer for many adventures, such as Spring on the Satilla and the 7 day Paddle Georgia trip!
---
Capitol Conservation Day -
Let Your Voice Be Heard
RSVP for Georgia Water Coalition's Capitol Conservation Day

Wednesday, February 15th

from

8am to 12 noon!

Gather at the Central Presbyterian Church to rally with other water advocates at the State Capitol.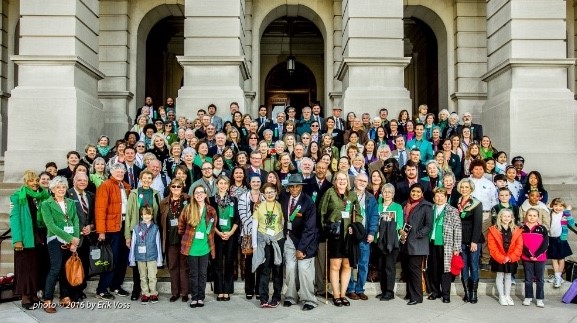 Breakfast will be provided, inspiring presentations are expected, and preparing you to be an effective advocate is promised! Together, help ensure that Georgia's water is protected for generations to come! Like last year, One Hundred Miles and partners will be sponsoring a "Ride the Bus!" day trip from the coast to the Capitol for coastal citizens, partners and school groups to join the Capitol Conservation Day efforts!

To RSVP click HERE; for bus transportation registration click HERE.
---
Spring on the Satilla - Tickets Selling Fast!
Registration is now open and tickets are going fast! Join Georgia River Network and Satilla Riverkeeper for the second annual "Spring on the Satilla" April 1-2.
Spring on the Satilla is the ultimate south Georgia river adventure.
In early April while north Georgia is just emerging from the winter doldrums, the Satilla River in far southeast Georgia will be brimming with life…
(and in early April, not brimming with the eternal heat of summer!).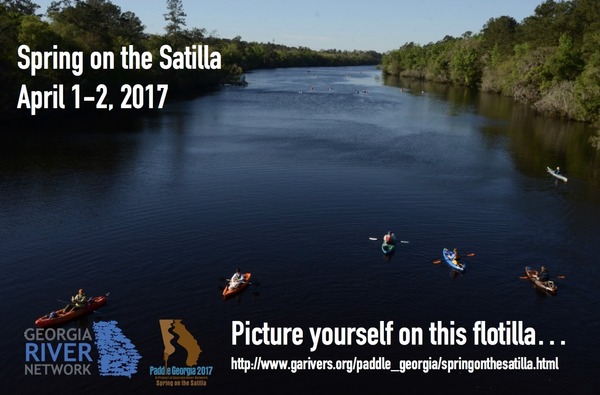 For two nights you'll tent camp atop Long Bluff at rustic Satilla Lodge overlooking the river and over the course of two days of paddling you'll experience nearly 28 miles of this blackwater gem where moss-draped cypress and tupelo crowd the banks and where it seems oxbow lakes and sloughs radiate from every bend. Educational programs, catered meals, campfires and camaraderie round out a weekend of leisurely paddling and first-rate camping.
Along with raising awareness for this beautiful coastal plain, this event will also highlight Satilla Riverkeeper's hard work in establishing a recreational water trail a

long the river

with intensive technical assistance from Georgia River Network.

You can learn more and register HERE!
---
Weekend for Rivers & GWC Spring Partner Meeting - Register Feb 10!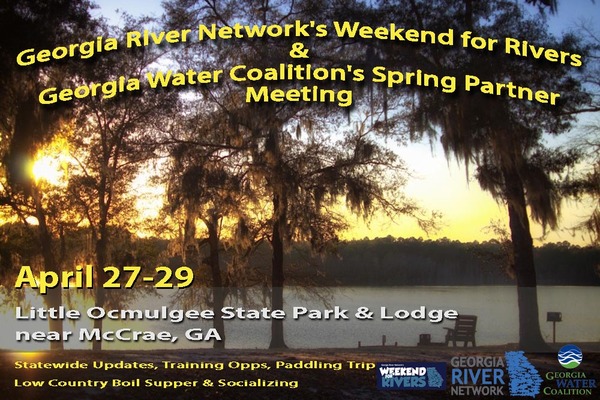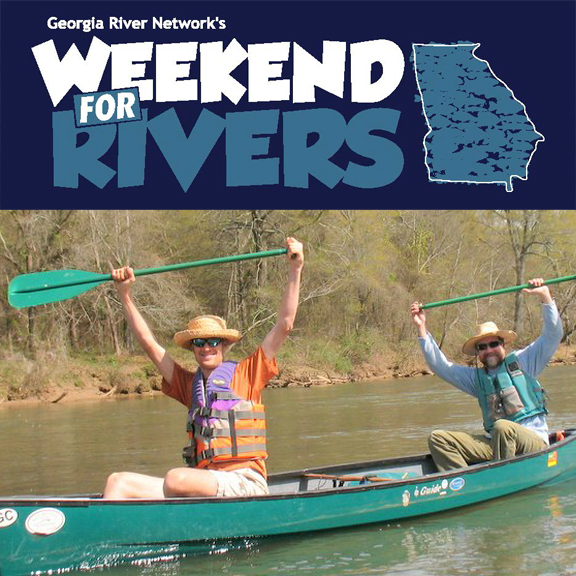 The Georgia Water Coalition will hold its 2017 spring partner meeting in conjunction with Georgia
River Network's Weekend for Rivers Event April 27-29, 2017 at Little Ocmulgee State Park & Lodge near McCrae, GA.
There will be multiple training opportunities for our partners during this multi-day event. Come enjoy two days of learning and sharing with fellow water advocates. Engage in the river revelry and share your river revelations!
Registration will open February 10th, and will be an Ala Carte menu where you can choose all events or just certain portions of the weekend that work with your schedule.
Tentative Agenda:

Group Supper and Socializing

Friday
April 28

GRN's Weekend for Rivers Happy Hour, Low Country Boil Dinner, and River Awards Ceremony

GRN's Weekend for Rivers Conference

Guided Paddling Trip on the Little Ocmulgee River
We have 15 rooms in the Lodge and 25 campsites blocked for Thursday 4/27/17 thru Saturday 4/29/17. Please use the Group Code 04748 when making your reservations at Little Ocmulgee State Park Reservations.
---
The Flint River is arguably Georgia's most beautiful river, and in terms of the terrain through which it flows on its 344-mile journey, there is not another Georgia river that exposes the river traveler to more diverse vistas.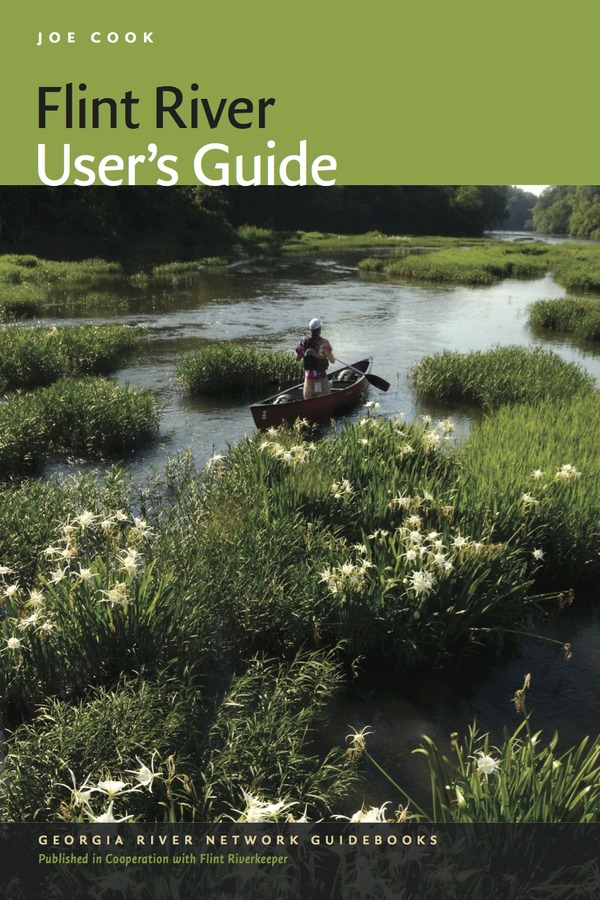 From the bottomland swamps in its headwaters, through soaring views of Pine Mountain and rapids in the Piedmont, to breathtakingly clear springs in the Coastal Plain, the Flint is filled with surprises at virtually every bend.

The Flint River User's Guide, the fourth in a series of Georgia River Network recreational guidebooks, is a portal to adventure on this spectacular river. The book brings to life the river's cultural and natural heritage while providing all the details needed to get out on the river and enjoy it via canoe, kayak, paddleboard, or motorized vessel.

Features include an introduction and overview of the river, detailed maps and notes on river access and points of interest, much more printed on waterproof paper.

If you purchase your copy directly from GRN, a portion of the proceeds benefit our river conservation work. To order online go HERE.
To place a pick-up order, call 706-549-4508 or come by the Georgia River Network office. Price: $25 including shipping.

We would like to give our sponors a big thank you for making this possible!
Hennessy Land Rover Centres of Buckhead and North Point

Turner Foundation

Mildred Miller Fort Foundation

American Rivers Southeast Region Office

Weyerhauser Cellulose Fiber Mill

Crisp County Power Commission

Chehaw Animal Park
---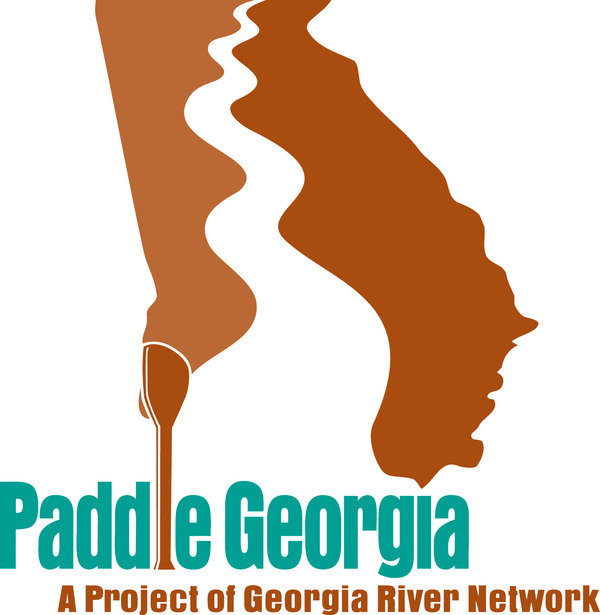 Register now for the 125 mile, 7 day adventure on the Etowah River June 17-23! This trip will include nightly camping with meals and entertainment, tours of historic sites, water monitoring opportunities, and camaraderie with hundreds of fellow paddlers, while also raising awareness for Georgia River Network, Coosa River Basin Initiative and Upper Etowah River Alliance.

The Etowah River is 163-miles long and with 76 native fish species, and is considered one of the most biologically diverse rivers of its size in the country. The river offers more than biological diversity by taking you back in time as you paddle through old Native American fish weirs, ancient Indian mounds, and civil war battle sites.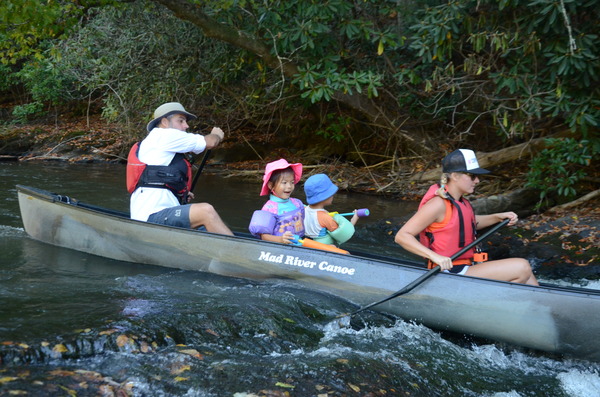 An educational adventure for the whole family, Paddle Georgia will show you Georgia as you've never seen it before.

If 7 days is too more time than you are able to commit, there is another option! Paddle Georgia offers a "Lite Paddler" option, which is an abbreviated trip held only for the first two days, June 17-18.

Registration ends May 31st , for more information and to register click HERE!

Paddle Georgia Canoe-A-Thon 2017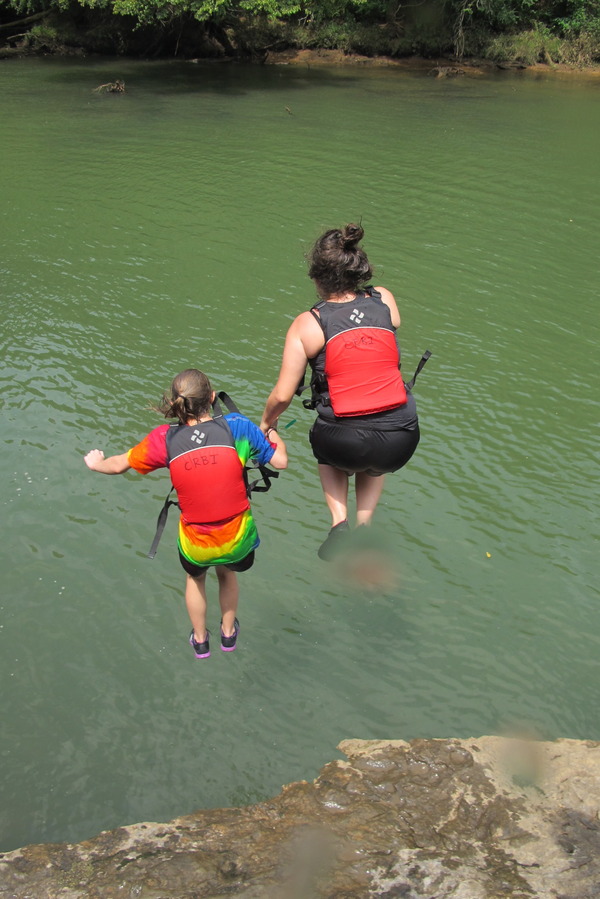 Paddle Georgia is a fun and action packed adventure, but it also raises awareness for clean and healthy rivers! Each participant is asked to solicit donations on a per-mile basis.
The Canoe-A-Thon works just like a walk-a-thon.
Ask prospective donors to sponsor you at a specific amount for each of the miles you'll be paddling during Paddle Georgia 2017 or Spring on the Satilla. By participating in the Canoe-A-Thon, you help Georgia River Network accomplish two important goals of Paddle Georgia--introducing more people to our beautiful rivers and raising more money to protect these precious resources.
Last year our TOP Canoe-A-Thon registrants included:
Terry Pate, Jim & Debbie Fountain, John Branch, Alicia Evans, and Tom Beman
helping to raise $30,522 along with our other AWESOME Canoe-A-Thoners.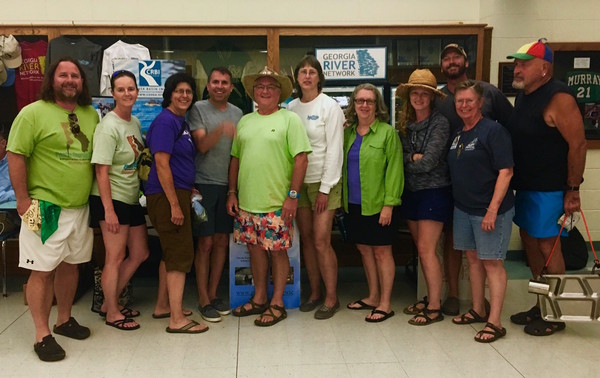 The 2017 Canoe-A-Thon is underway and will go through July 31, 2017.
If you choose, you can contribute to your own Canoe-A-Thon HERE!

Big Thanks to our 2017 Sponsors to Date:
Columbia Sportswear Company; Cedar Creek RV and Outdoor Center; Cary Baxter, CPA; CYA Agency, Inc.; Oglethorpe Power; Terry Pate, PC, CPA; China Clay Producers Association; Georgia Mining Association; EarthShare of Georgia; Troncalli Subaru
---
GRN Member Spotlight - Doug Mathews
We'd like to give a big shout out to Doug Mathews for his dedication and support!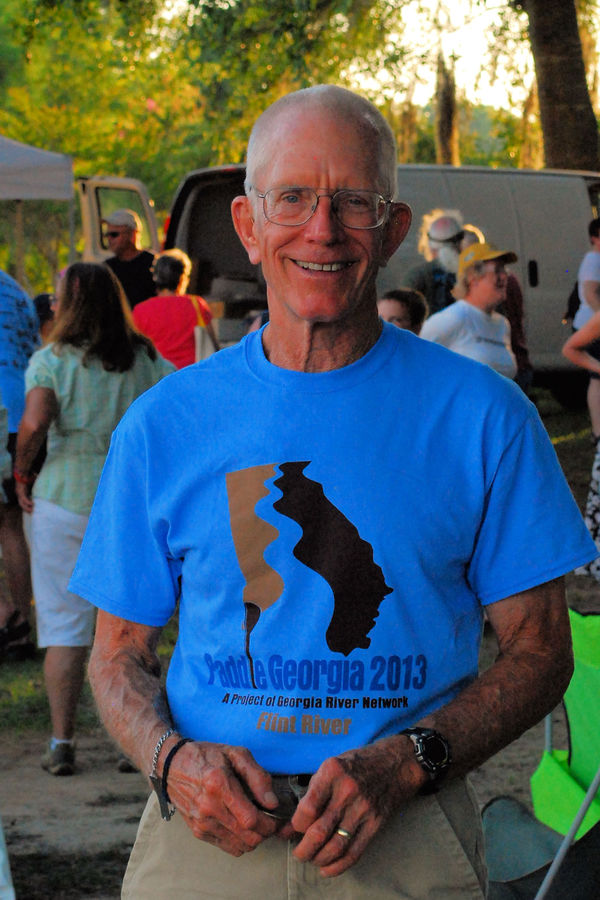 He loves spending time with his family (wife Jane, 2 children, and 6 grandchildren) and getting active outside and within the community. Doug is an avid paddler and feels that with all the demands on our rivers we must keep them clean and available for generations to come!

"I support the GRN because I feel that our water supply is one of our most precious resources and rivers are a major component of it... With all the demands on our rivers and our water supplies we have to keep them usable and not polluted and thanks to the GRN for being a major player in monitoring our rivers, educating us, and keeping our law makers attention on water issues."

Thank you for your continued support!
---
GRN is looking for the following new or gently used items for our office: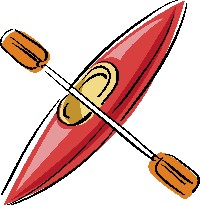 Sit on top kayaks, recreation kayaks, tandem kayaks, and canoes - in good shape

Graphic design and printing services

Rolls of Forever stamps

Donated office space in Athens

Adobe Creative Suite software

Covered trailer
Email info@garivers.org or call 706-549-4508 if you would like to donate any of these items.
---
Donate a vehicle to GRN and help save our rivers! Turn your car, truck, RV, or boat into protection for Georgia's rivers.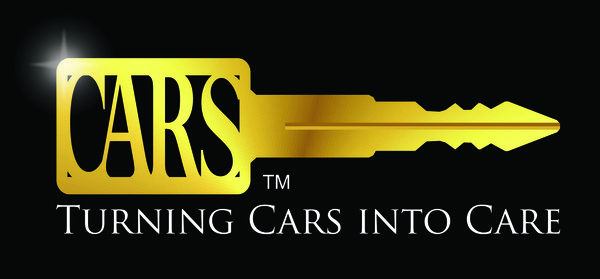 We accept any vehicle - running or not - by working with Charitable Auto
Resources. Your vehicle is towed free of charge and the donation is eligible for a tax deduction.
Contact Dana Skelton, at dana@garivers.org or 706-549-4508 if you are interested in taking advantage of this opportunity or for more information about the vehicle donation program.
---
To view the full 2016 annual report visit our website!
---
GRN 2017 Events - Mark your Calendar!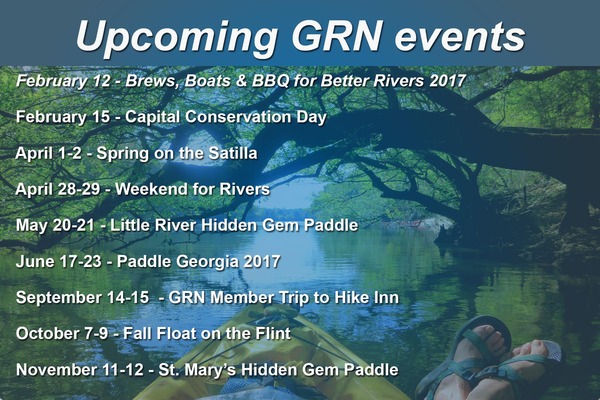 Learn more about our 2017 events HERE!
---
Georgia River Network is a Member of EarthShare
Georgia River Network is a member group of EarthShare of Georgia

— a non-profit federation of over 60 Georgia non-profits, all of which work to educate, conserve, or protect our air, land, and water throughout Georgia. Through workplace giving campaigns at participating companies, EarthShare raises funds
for the member group non-profit organizations in Georgia. Employers who include EarthShare as part of their annual pledge campaign empower their employees with additional ways to improve their world. EarthShare of Georgia, as part of the EarthShare national employee giving program, is part of a network representing more than 400 environmental groups working locally, nationally and internationally. You can support Georgia River Network easily through the annual campaign.

If your company would like add an EarthShare giving campaign, contact Dana at
dana@garivers.org
. Learn more at the
EarthShare website
.
---
Not on Facebook? Get GRN and other River News in Your RSS Feed
Want to see what is going on each day in the world of Georgia rivers? Go here: http://garivernews.wordpress.com. Click on the "follow" button in the bottom right corner, enter your email address, and our daily news will be delivered to your inbox.
Georgia River Network
126 South Milledge Ave.
Suite E3, Athens, GA 30605
(706) 549-4508


http://www.garivers.org




Become a Member Today -

Join