Georgia River Network News Stream

News
Workshops/Conferences/Calendar Items
Nonprofit Resources
Funding Opportunities
---
1. "Lower Oconee Hidden Gem Paddle & Campout to Highlight Watershed" - Lake Oconee Breeze
Georgia River Network is partnering with Altamaha Riverkeeper, and Lower Oconee Water Trail Partnership for the upcoming Lower Oconee Hidden Gem Paddle & Campout on September 17-18.

The two-day event will include a scrumptious lunch on Saturday with presentations along the route, ranging from wildlife, water health, and river cleanups to cultural history, and visual & performing arts, followed by an afternoon and evening filled with fun activities such as a yoga class, scavenger hunt, nature trivia, corn hole, live music, drum circle, campfires, and a festive Low Country Boil dinner provided by Altamaha Riverkeeper. Paddlers will wake up on Sunday to a hot breakfast before heading back out on the river for a leisurely float to the take out.

We will be paddling near the sites of revolution-era forts, through antebellum shipping routes, and through a diverse and rich mix of terrestrial and aquatic habitats including those of the blossoming Cherokee Rose, bald eagles, osprey, kingfishers, river otters, Longnose gar, as well the threatened Altamaha Shiner, Altamaha Arcmussel, Oconee Burrowing Crayfish and endangered Robust Redhorse.

Read the full article on the Lake Oconee Breeze News website.

2. Coosa River Basin Initiative Job Opening
The Coosa River Basin Initiative based in Rome, Georgia seeks an Executive Director/Riverkeeper® with an established track record of success in fundraising, environmental advocacy and management of a small staff. This position has primary responsibility for all aspects of the organization, reports to an active volunteer board of directors and is supported by hundreds of committed volunteers.

To learn more about the position and application process go to the Coosa River Basin Initiative website.
4. Chattahoochee Riverkeeper - River Discovery Trip
When: August 20, 9:00am
Where: Johnson Ferry to Paces Mill
Paddle the final 8 mile section of the Chattahoochee River National Recreation Area, which is rich in both natural and human history. See the site where Federal forces outflanked the Confederate Army, Native American sites, and the magnificent Palisades. Pass through Cochran Shoals, Devil's Race Course Shoals, and Thornton Shoals, all easy Class 1.5 rapids.

For more information and to register, go to the Chattahoochee Riverkeeper River Discovery site.
5. Broad River Watershed Association Annual Meeting
When: August 20, 9:30am
Where:

Camp Kiwanis Nature Center, 2613 Old Wildcat Bridge Rd, Danielsville,

GA
Join Broad River Watershed Association for their annual meeting to learn about the Broad River and its watershed.

Additionally, Joe Cook, author of the ​recently released​ Broad River User's Guide and other Georgia River Network Guidebooks on Georgia's rivers, will discuss the process of compiling the user guide for the Broad River.

For detailed information, directions, and an itinerary visit the Broad River Watershed Association website.
6. Satilla Riverkeeper 12th Annual Gala
When: August 20, 6pm
Where: Strickland's Satilla Lodge near Raybon, GA
Join Satilla Riverkeeper for their 12th Annual Gala! There will be an open bar, entertainment, a raffle, and silent & live auctions. Featuring guest speaker Dink NeSmith. Dress is resort casual.

For more information about this event visit www.satillariverkeeper.org.
7. Savannah Riverkeeper Summer Paddle Series - Turner Creek Paddle
When: August 21,10 am
Where: Turner Creek
Continue the Savannah Riverkeeper's Summer Paddle Series with a paddle of Turner Creek.

More information regarding the Summer Paddle Series, and the Turner Creek Paddle specifically, can be found at the Savannah Riverkeeper website.

8. Upper Oconee Water Trail Paddle - Upper Oconee Watershed Network
When: August 21, 11am
Where: Depart from Peppino's - Shuttle from restaurant to launch point
Join the Upper Oconee Watershed Network for a

group paddle along the future Upper Oconee Water Trail! Meet in the parking lot of Peppino's at 11am to park vehicles and catch a shuttle (free for members; $5 for non-members) to the Ben Burton Launch. Following the paddle, they will shuttle everyone back to Peppino's for some delicious post-paddle pizza.
Please RSVP for the paddle at outreach@uown.org by Sunday, August 14. When you RSVP, please indicate if you need to rent a boat or if you will be using your own. More details to follow when you RSVP!
For more information about UOWN visit the Upper Oconee Watershed Network website.

9. Georgia River Network - Member Hike near Amicalola Falls
When: August 23, 12 pm - August 24, 1 pm
Where: Len Foote Hike Inn
Every year Georgia River Network brings a group to Len Foote Hike Inn at a special discounted rate, and we would love for YOU to join us in 2016! On Tuesday, August 23 we will hike to the Inn by foot over a moderate 5 mile trail which originates at the top of the beautiful Amicalola Falls. Enjoy a special tour of the LEED Certified Gold Inn and grounds, a delicious dinner and breakfast and an evening program all about Georgia rivers. The Inn has room for up to 40 people, so it's first come, first served, and we want to offer this opportunity to YOU – our supporters, volunteers, members and colleagues, and your families – FIRST! Please join our staff, our board and our families for this special opportunity. It will be a great time for Georgia's river friends to spend time together and have fun.

The Hike Inn is generously offering a special rate for our group! $42.50/person for double occupancy, $58.50/person for single occupancy (Normally $170/$117!) + tax. To reserve your spot go to the reservation link on the Hike Inn website, and click the book now tab. It will pull up the 50% discounted rate. Enter the correct dates and on the bottom of the page enter promotional/group code GRN16.
10. Dr. James W. Porter Lecture - John Abbott and the Pearly Eye Butterflies of Athens-Clarke County
When: August 25, 5:30pm - 7:00pm
Where: The Special Collections Library Auditorium, Athens, GA
2015 was the hottest year in human history. In his talk, Dr. James W. Porter, Meigs Professor of Ecology, will discuss anthropogenic climate change and conservation in Georgia and Athens-Clarke County. The stunning diversity, including rare species, of butterflies found in Tallassee Forest, the newest of the county's conservation areas, will be on display. In this lecture, he will announce a major new discovery of the presence of three lookalike species of Pearly Eye butterflies within the county's Tallassee Forest. The presence of three virtually indistinguishable, but genetically distinct, species at the same time and in the same place is almost unheard of outside the tropics. Illustrations in Hargrett's copy of The Rarer Lepidopterous Insects of Georgia (1791) by Georgia naturalist John Abbott, show that more than 100 years before the scientific description of these species the artist was clearly aware of the slight variations that were later used to distinguish them. Mature and diverse forests and wetlands, like those at Tallassee, can provide niches for diverse species. Tallassee Forest can also be a refuge for species with ranges shifted by development, such as that in downtown Athens, and by changing climate. Dr. Porter will use these stunning examples of biodiversity to demonstrate the need for and success of, local conservation efforts. He will also show how the holdings of both the Hargrett Rare Book Library and the Georgia Museum of Natural History can inform us, not just about our past, but also about our future.

Detailed information can be found on the University of Georgia's Master Calendar.

11. River Revelry - Coosa River Basin Initiative
When: August 27, 6pm
Where: Heritage Park, Rome, GA, 30165
Join Coosa River Basin Initiative for live music, a bbq battle, live & silent auctions! River Revelry has historically included about as many events as the Upper Coosa has endemic aquatic species (30, for the record). River Revelry 2015 carries on that tradition. This year River Revelry will serve as a "confluence" for multiple events that will converge on Heritage Park for what's sure to be a rip-roaring good time Saturday, Aug. 22, from 6-11 pm. Live music all night from Jerry on the Moon, silent and live auctions, boat rides on the river, beer from New Belgium Brewing Co., wine from Barefoot Wines & Bubbly and, of course, some of the best barbecue in the Coosa River Basin.

Go ahead and purchase your tickets for River Revelry, or learn more about the event from the Coosa River Basin Initiative.

12. Cruise on Lake Lanier - Chattahoochee Riverkeeper
When: August 27, 10am
Where: Aqualand Marina, Lake Lanier
Come aboard the Chattahoochee Riverkeeper's Chota Princess II, their 40-foot catamaran, for a tour of Lake Lanier. As part of their Watershed Outings program, participants will learn about issues facing Lake Lanier and the Chattahoochee River with Chattahoochee Riverkeeper's own Jason Ulseth and how to take water quality samples with Chattahoochee Riverkeeper Watershed Protection Specialist Dale Caldwell. The boat will depart from Aqualand Marina at 10am sharp and return to the dock at 12:30pm. They will head south to Buford Dam and circle Lake Lanier Islands. Passengers will also learn about the lake's history, uses and current water quality. Register now for the Cruise on Lake Lanier! The cost is $15 for adults and $5 children (general public), and $10 adults and $5 children (Chattahoochee Riverkeeper members).

13. Alliance for Water Efficiency - Webinar
When: September 1, 12:00pm - 1:00pm
Where: Online
As part of their series showcasing Exemplary Programs of Alliance for Water Efficiency partners, this 60-minute webinar will feature examples of creative and successful programs developed by North Texas Municipal Water District (TX) and Cobb County Water System (GA) to teach school-age children and youth about conservation and the value of water. Join them for inspiration and ideas to build or spruce up a program to turn the next generation of water users into water warriors.

Visit the Alliance for Water Efficiency to learn more and register for the webinar.

14. Fish Weir Paddle on the Etowah - Coosa River Basin Initiative
When: September 3, 10am - 5pm
Where: Etowah River near Kingston
Join Coosa River Basin Initiative on this 17-mile course from US 411 to Grizzard Park in Rome, winding through some of the most remote stretches of the Lower Etowah and providing access to the best of the Etowah's fish weirs and other historic sites.

For more information and to register visit the Coosa River Basin Initiative website.

15. North Augusta Paddler - Savannah Riverkeeper
When: September 6, 5:30pm
Where: Launch Point - North Augusta Boat Ramp
Join Savannah Riverkeeper for this paddle from the North Augusta Boat Ramp to Savannah Riverkeeper Headquarters. There will be a gathering after the paddle to celebrate the end of the summer paddle series.

To learn more about this paddle visit the Savannah Riverkeeper website.

16. Athens Water Festival - Athens-Clarke County Water Conservation Office & Stormwater Division
When: September 10, 10:30am - 2:30pm
Where: Sandy Creek Park
The Athens-Clarke County Water Conservation Office & Stormwater Division invites you to the upcoming 7th Athens Water Festival, a family-friendly event that provides families with a fun environment to increase their knowledge about water! This year, the spotlight is on the importance of drinking water and the theme is "We Treat Water Right" as an effort to celebrate the 80th anniversary of drinking water treatment and delivery from JG Beacham Drinking Water Treatment Plant.

To learn more about this informative event, go to the Athens Water Festival webpage.

17. Open House - Chattahoochee Riverkeeper
When: September 13, 10:30am - 7:00pm
Where: Gainesville, GA
On Tuesday, September 13, Chattahoochee Riverkeeper will officially open their new office on the square in Gainesville at 10:30 am. Meet the new staff in Chattahoochee Riverkeeper's Gainesville office where they are working together to launch a new era in Headwaters protection. The new office features a state of the art laboratory, where the Neighborhood Water Watch program continues to expand. Can't be there at 10:30? There will be an Open House immediately following the ribbon cutting until 7 pm where soft drinks and light snacks will be served.

18. Family Fun Campout Alert ~ GRN's Lower Oconee Hidden Gem Paddle
When: Sept 17-18
Where: Milledgeville, GA - Lower Oconee Water Trail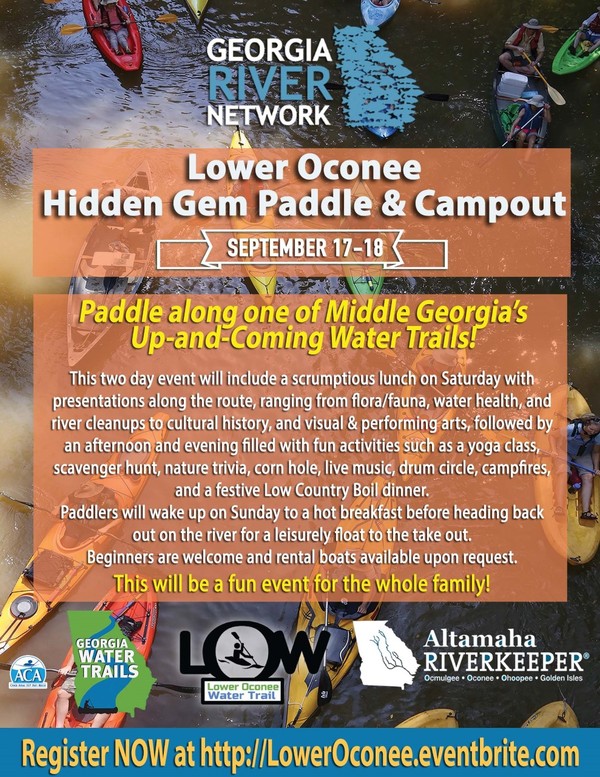 Register HERE.
19. Upper Oconee Science and Policy Summit - Call for Proposals
When: September 30, 10am
Where: The University of Georgia Special Collections Library
The Upper Oconee Watershed Network and its partners welcome proposals and participants for the first ever Upper Oconee Science and Policy Summit. The summit will bring together scientists, policymakers, activists, students, and community members from across the Upper Oconee Watershed to explore the intersection between watershed science and policy.

Possible topics include (but are not limited to):
*Water Quality *Water Quality Monitoring *Urban Ecology *Stream Ecology *Nutrient Dynamics *Microbial Ecology * Fresh Water Biogeochemistry *Hydrology *Citizen Science * Stormwater Runoff *TMDL *Bacterial Impairment *Regional Water Planning *Water Conservation *Aquatic Resource
Protection *Mitigation *Environmental Flows *Reservoir Development *Land Conservation *Stormwater Management *Species Protection *Restoration

Each proposal submission should include:
1) Maximum of one-page abstract including the proposed (ten minute talk, panel, poster, etc.)
2) Name(s) and affiliation(s) of all presenters
3) Email address(es) of all presenters
4) Any additional audiovisual requirements

Please submit proposals via email to Uosps1@gmail.com with "Upper Oconee Science and Policy Summit" in the subject field.

Deadline for submissions: August 30, 2016

20. Call for River Rally 2017 Workshop Proposals - River Network
When: Rally May 8-11, 2017; Deadline for proposals is October 7, 2016
Where: Grand Rapids, MI
The call for workshop proposals for River Rally 2017 is now open! What ideas, experience, or advice do you have for your fellow water advocates?

Share your practical knowledge with hundreds of river and watershed protection enthusiasts and concerned citizens from across the country and beyond related to these themes:
Tackling the Drinking Water Crisis and Water Affordability

Restoring Urban Rivers and Achieving Climate Resiliency

Connecting Communities to Rivers and Recreation

Protecting and Restoring Flows

Growing Organizational Momentum and Impact
If you have a workshop proposal enter it at the River Network website!
21. Blue Springs, Giant Cypress, Limestone Caves! - GRN's Fall Float on the Flint
When: October 8-10, 2016
Where: Albany to Bainbridge, GA
Join Georgia River Network and Flint Riverkeeper on Columbus Day weekend for a voyage down the Flint River that would fill Chris
topher Columbus with envy.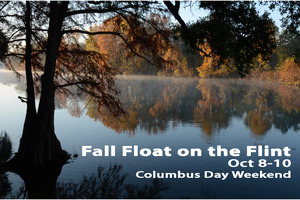 Travel 56 miles from Albany to Bainbridge taking in
the best of the Flint - beautiful blue hole springs, lively rapids, rich hi
story, abundant wildlife and more! Fashioned after the annual week-long Paddle Georgia events, paddlers will tent camp on the river two nights at Rocky Bend Flint River Retreat. Participants will enjoy catered meals, educational programs and great camaraderie while they make their way down one of Georgia's most beautiful rivers d
uring a beautiful time of year.
22. Outdoor Learning Symposium: Request for Exhibitors, Door Prizes & Goodie Bags items - GA DNR
When: October 24
Where: Southwest Atlanta Christian Academy
The Council of Outdoor Learning is hosting the 2016 Outdoor Learning Symposium (OLS) on October 14 at Southwest Atlanta Christian Academy. Approximately 250 educators representing public and private schools, home school cooperatives, universities, and nature centers across Georgia will be in attendance, eager to enhance their knowledge and skills in the field of outdoor education. This year's theme is "Innovation in the Outdoors."

Participants will attend sessions and meet representatives from various agencies, organizations and businesses through an Exhibit Hall/Common Area. To inform participants of the vast educational resources offered around Atlanta as well as through our great state, we invite you to be an exhibitor. Exhibiting at OLS gives you the opportunity to share your work, services, and/or products with this audience.

If you would like to support the Outdoor Learning Symposium in other ways, please consider presenting a session, donating items for goodie bags or door prizes, or even becoming a sponsor.

Contact Linda May, the Environmental Outreach Coordinator for the Georgia Department of Natural Resources, at Linda.May@dnr.ga.gov if you are able to support this event.

23. 2016 Climate Conference - GA DNR
When: November 2, 1:00pm - November 3, 5:00pm
Where: Jekyll Island Convention Center
This conference is being hosted by the GA DNR Coastal Resources Division in order to inform practitioners about hazards and resiliency planning and projects that are occurring in Georgia and/or may benefit Georgia. Persons such as public health officials, researchers, GIS users, lawyers, resource managers, local government officials, outreach specialists, economists, NGOs and from the private sector will benefit from the information exchange and networking opportunities available at the conference. The conference includes Concurrent Sessions, a Poster Session and Social, Networking Breaks, and a Keynote Luncheon with Carl Parker from The Weather Channel. Topics that will be covered throughout the conference include Public Health, Agriculture, Research, Mapping/GIS, Online Tools, Law & Policy, Invasive Species, Local Government, Communications, Economics, Resiliency & Adaptation, Habitat & Impacted Species, and Energy Resources. Continuing education credits for Planners and Floodplain Managers, as well as continuing law credits for Attorneys, may be available.
To learn more and register for the conference visit the event page set up by GA DNR.

24. New Facebook for Nonprofits Blog
Facebook for Nonprofits recently announced that they are adding a new feature to nonprofits.fb.com: a blog with in-depth articles on strategies and tools to help nonprofits and non-governmental organizations increase their impact on Facebook. Facebook for Nonprofits expects this blog to provide valuable resources to your organization, regardless of your organization's size, focus or location.

New posts with tips and updates will be added regularly, and can be found under the blogs category on the Facebook for Nonprofits website.

25. Treasurers of All-Volunteer Organizations: Eight Key Responsibilities - Blue Avocado
This article, written for treasurers of all-volunteer organizations, is a useful resource highlighting eight key responsibilities that can help treasurers of AVO's flourish in their roles.

Read the full Blue Avocado article.

26. If Your Board Looked Like Your Community - Blue Avocado
While inclusive representation is just one component of a strong board, there are significant hurdles to overcome–logistic, strategic, and perceptual. The James Irvine Foundation spoke with senior leaders and board members from four organizations to get their advice on how to overcome some common hurdles and why it's worth diversifying your board.

Read the full Blue Avocado article.

27. GA EPD - Section 319(h) Georgia's Nonpoint Source Implementation Grant
The Georgia Environmental Protection Division receives an annual grant under Section 319(h) of the Federal Clean Water Act to help prevent, control and/or abate nonpoint source pollution in support of Georgia's Nonpoint Source Management Program. GAEPD then conducts a competitive process to fund eligible projects that will lead to direct reductions in pollutant loads and measurable water quality improvements in impaired waters throughout the State.
ELIGIBLE APPLICANTS: Public entities such as city or county governments with Qualified Local Government status; regional and State agencies; authorities that operate public service or delivery programs (e.g. sewer, water); regional commissions; resource conservation and development councils; county extensions; and local school systems and State colleges and universities. State law prohibits private or non-profit companies or organizations from receiving Section 319(h) funds directly. However, these groups are encouraged to partner with public agencies to develop implementation projects and apply for grants.

The application deadline is October 31. To learn more about this grant visit the Environmental Protection Division website.
---
Join Georgia River Network!
If you find News Stream and other information and services provided by Georgia River Network useful, we would appreciate your financial support.
Make a difference and JOIN TODAY!