In This Issue
Announcing GRN's 2017 Events! Mark your calendar!
Feb 12, 2017

– Brews Boats and BBQ - Our annual kickoff paddle party hosted by Sweetwater Brewery allows paddlers to mingle with one another and meet GRN staff, while enjoying delicious food, live music and brews!

March 30-April 2, 2017

– Spring on the Satilla - This 2 day paddling event will take place on the beautiful Satilla River this spring.

Date TBD, 2017 – Weekend for Rivers - Our Annual Conference that provides an opportunity for

all of Georgia's river lovers, recreationists and advocates to gather and network, learn from each other, and celebrate our state's glorious rivers!

May 20-21, 2017

– Little River Hidden Gem - Our Hidden Gem events highlight a developing water trail for a short day trip or weekend paddle/ camping trip.

June 16-23, 2017

– Paddle Georgia (Etowah River) - Paddle Georgia is GRN's trademark event, the week-long paddle along our favorite rivers. The Etowah River will make for one of our best Paddle Georgia's yet.

Sep 14, 2017 – Hike Inn - This annual hiking trip is a favorite for our members.
Oct 6-8, 2017 - Fall Float - The Fall Float is an event during the fall every year, which is a 3-day paddle that paddlers from all over the nation attend.
Nov 11-12, 2017 - St. Mary's Hidden Gem - Our second Hidden Gem of the year will feature the St. Mary's Water Trail in late fall.
---
Farewell to Chris Manganiello and Debra Blanchard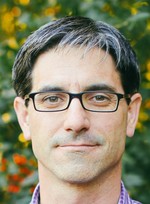 Georgia River Network would like to congratulate and thank two members of our staff that are moving on to new chapters in their lives. Chris Manganiello, Policy Director, and Debra Blanchard, Director of Administration & Operations, have both relocated to Atlanta. Debra got married this past spring and Chris has accepted an opportunity to become the Policy Director at Chattahoochee Riverkeeper.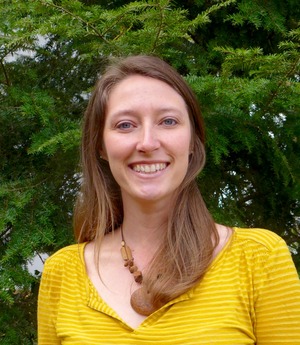 Since Chris started at GRN in 2011, he has made a huge difference for the rivers and watershed groups across the state through his leadership in water protection and advocacy efforts. Debra joined GRN in 2012 and has been a valuable member of our team through the support she provided to all of GRN's programs. Both will be very missed! We congratulate them, thank them and wish them luck in their new endeavors!
---
GRN Charity Recipient for Wild Rumpus Parade - Join in the Halloween Festivities!
MARK YOUR CALENDARS for October 29th, Athens's Annual Wild Rumpus Parade & Spectacle!
This year's Halloween Mardi-Gras is especially exciting because Georgia River Network is the official 2016 charity recipient! Join us and other Athenians for a day filled with fun events and activities! To start off the weekend, there will be the Monster Mash, a family-friendly event for all ages! To kick off the 29th, there will be the Pre-Party Meetup, the Big Parade, and the After-Party!
Come show off your spookiest or silliest costume and march through the streets of downtown with your fellow Wild Things!!
---
Sponsor Spotlight - Sweetgrass Foundation
Many thanks to the Sweetgrass Foundation for awarding GRN a significant grant. The Sweetgrass Foundation has generously donated money to assist GRN in implementing one of our most important programs for 2016. Once again, thanks to the Sweetgrass Foundation and everyone involved in awarding this grant to help our environment and rivers!
---
Lower Oconee Hidden Gem Paddle & Campout~ Fantastic Fun on this Up-and-Coming Water Trail!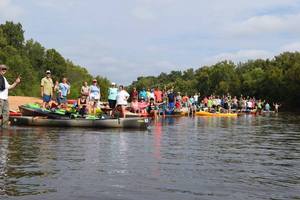 The two-day Lower Oconee Hidden Paddle & Campout on the Oconee river in Milledgeville was a big success with over 60 participants ranging from 15 months old to paddlers in their 70's. The event which took place last weekend was organized by Georgia River Network, Lower Oconee Water Trail Partnership, and Altamaha Riverkeeper as part of Georgia River Network's Hidden Gems Paddling Series.

These Hidden Gem events are aimed to highlight local up-and-coming water trails and provide opportunities for people to rediscover some of the hidden gems on Georgia's waterways and learn ways that they can get involved in the many facets of river protection and enjoyment in their local community. The short 8.3 mile float spread over 2 days was geared towards people new to paddling who might be intimidated by Georgia River Network's longer trips such as our annual Paddle Georgia (7 days, 400 people, 100 miles).

Everyone seemed to thoroughly enjoy themselves, as participant Sarah Brookshire put it "I had a great time paddling and camping on the Oconee River this weekend. One of the best things about kayaking is the people I get to know. We are all a little off and that makes it even better."

The event included lunch on the Oconee River Greenway provided by Stacked and presentations along the route, ranging from the Oconee River Greenway(ORG) Walter Reynolds (ORG Foundation), water health by Dr. Dr. Kalina Manoylov (Georgia College and State University (GCSU)), river restoration by Dr. Doug Oetter (GCSU), native/ invasive plants by Greg Eilers (Lockerly Arboretum) and animals by Ruth Eilers (GCSU), local area history by Daniel Wilkinson (Old Capital Museum), and a live aquarium with fish seined from the river that afternoon by Camm Swift & Michael Wolfe (North America Native Fishes Assoc.). After setting up camp the evening was filled with a yoga class and drum circle by good KARMA, nature trivia by Georgia River Network, live music by Ron Harris, campfires, and corn hole provided by Lower Oconee Water Trail and a festive Low Country Boil dinner provided by Altamaha Riverkeeper. After dark we enjoyed sitting beside campfires on the huge sandbar under the full moon. On Sunday, paddlers woke up to a beautiful sunrise and hot breakfast provided by Local Yolkal before heading back out on the river for a leisurely float to the take out. Tremendous assistance with carrying boats and portaging around the dam was provided by the Georgia Military College ROTC and Kappa Sigma Fraternity.

THANK YOU: Peter Driver, Craig Henry, Liz Havey, Doug Oetter, Adam Heagy, Deb Carlisle, Katherine Cummings, Andy Davis, Amy Pinney (Lower Oconee Water Trail); Chuck Moody, Perry Lamb, Gwyneth Moody, & Daniel Peiken (Georgia River Network); Jen Hilburn, Page Sessoms, Kaitlyn Warren, and Frances Holmes (Altamaha Riverkeeper); Marion Nelson and Walter Reynolds (Oconee River Greenway Authority/ Foundation); Daniel Wilkinson (Old Capital Museum); GMC - Junior College (ROTC) Cadets; Kappa Sigma Fraternity students, Ruth Eliers, Dr. Kalina Manoylov (Georgia College & State University-(GCSU)); Camm Swift and Michael Wolfe (North American Native Fishes Assoc.); Greg Eliers (Lockerly Arboretum); Alan McDade (Berry Hill Farm Conservation Area); Ron Harris (Live music);Special thanks to our sponsors: Blackbird Coffee, Oconee Outfitters, Taylor's Restrooms 2 Go, good KARMA, Tentsational, and Lockerly Arboretum.
---
Has your Loved One been Nagging You to "Get that Beater out of Our Driveway Honey!" - Donate it to GRN
Georgia River Network is accepting any vehicle - running or not - including cars, trucks, boats, RVs, ATVs, motorcycles, wave runners, and more. GRN works with their colleagues at Charitable Auto Resources to ensure that your donation delivers the highest possible revenue to Georgia River Network and that your experience is convenient and efficient. Your vehicle is towed free of charge, and the donation is eligible for a tax deduction. Contact Dana Skelton at dana@garivers.org or 706-549-4508 if you are interested in taking advantage of this opportunity or for more information about the vehicle donation program.
GRN is looking for the following new or gently used items for our office:
Picnic table or concrete outdoor patio set

Vacuum cleaner

Rolls of Forever stamps

Sit on top kayaks, recreation kayaks, tandem kayaks, and canoes - in good shape

Conference table

Paper folding machine

Graphic design and

printing

services

Donated office space in Athens

Adobe Creative Suite software

Covered trailer, and canoe trailer
Email info@garivers.org or call 706-549-4508 if you would like to donate any of these items.
---
Get your Etowah User Guide Now in Preparation for Paddle Georgia. Plus Other Merch!
The first in a series of Georgia River Network Guidebooks, the "Etowah River User's Guide," authored by Joe Cook and published in cooperation with Coosa River Basin Initiative, is an appealing and handy look at the biologically diverse and beautiful Etowah River in North Georgia. Printed on waterproof paper by the University of Georgia Press, the book offers a fascinating history of the area and information valuable for novice or experienced paddlers as well as fishermen. It also will help explorers understand the threats facing the river and what steps can be taken to protect it for future generations.

Check out Georgia River Network's new online store to get the Etowah River User's Guide and some other great Georgia River Network merchandise. Perfect gifts for Father's Day or the river lover in your life! Check out our online store.
---
Does the Business you Work for Donate to Charities? Perhaps GRN Could be One?
Georgia River Network invites you and your business to join in the work to protect and restore our rivers from the mountains to the coast by sponsoring an event.
See our Sponsorship Packet here!
1) Be a Paddle Georgia Partner
2) Be a Weekend for Rivers Sponsor
3) Support Our Water Trails Program
4) Support Our River User's Guides
5) Ask your Company to Add an EarthShare Giving Campaign

Learn more about the above opportunities and contact Dana Skelton at Dana@garivers.org If you or your company would like to sponsor any of our programs or events ~ Thanks
---
Georgia River Network is a Member of EarthShare
Georgia River Network is a member group of EarthShare of Georgia — a non-profit federation of over 60 Georgia non-profits, all of which work to educate, conserve, or protect our air, land, and water throughout Georgia. Through workplace giving campaigns at participating companies, EarthShare raises funds for the member group non-profit organizations in Georgia. Employers who include EarthShare as part of their annual pledge campaign empower their employees with additional ways to improve their world. EarthShare of Georgia, as part of the EarthShare national employee giving program, is part of a network representing more than 400 environmental groups working locally, nationally and internationally. There you could support Georgia River Network and other member non-profits easily through the annual campaign. If your company would like add an EarthShare giving campaign, contact Dana at dana@garivers.org. Learn more at the EarthShare website.
---
Not on Facebook? Get GRN and other Watershed Group News in Your RSS Feed
Want to see what is going on each day in the world of Georgia rivers? Go here: http://garivernews.wordpress.com. Click on the "follow" button in the bottom right corner, enter your email address, and our daily news will be delivered to your inbox.
Georgia River Network
126 South Milledge Ave.
Suite E3, Athens, GA 30605
(706) 549-4508
http://www.garivers.org
Become a Member Today - Join