Job Opening - Executive Director
Paddle Georgia River's End Celebration
Hidden Gems Paddle Dates
Hike Inn Trip for Members
Donate to Paddle Georgia Youth & Teacher Scholarships
Fall Float Registration Opens in July
Weekend for Rivers - Save the Date
Staff Spotlight: Debra Long
Chattahoochee River User's Guide Available!
Sign Up for Protect Georgia Action Alerts
Wish List
1% for the Planet
Get GRN News in our RSS Feed
---
Job Opening - Executive Director
Georgia River Network is hiring! The job posting for the Executive Director position can be found here.
---
Paddle Georgia River's End Celebration

Join us for the Paddle Georgia River's End Celebration at Love's Seafood on the Ogeechee River on June 26! Paddle Georgia participants will be completing their journey at King's Ferry between 12 noon-5pm. Join them as they kick up their heels at legendary Love's, where tables and chairs will be set up beneath a tent on the banks of the majestic blackwater river. Food, music, friends and fun will be the evening's top priorities. Coastal Empire Beer will sell beer at the soiree and donate proceeds to Ogeechee Riverkeeper, whose mission includes preservation work, advocacy efforts and outreach. A low country boil dinner will be available at 6pm for $15 per person along with a cash bar. For information, please visit www.ogeecheeriverkeeper.org.
---
Hike Inn Trip for Members

Georgia River Network (GRN) has two opportunities this year to bring a group to the Hike Inn on Wed. July 8th and Wed. Sept. 9th. The Inn has room for up to 40 people - first come, first served. Cost and How to Sign Up: The Hike Inn is generously offering a special rate for our group! $42.50/person for double occupancy, $58.50/person for single occupancy (Normally $170/$117!) + tax. To reserve your spot contact the Hike Inn at 800-581-8032, 10:00am - 5:00pm Monday-Friday. If you are unable to reach them by phone, leave them a message at reservations@hike-inn.com that includes your name, phone number and the best time to reach you. They will call you back to book your reservation. Provide code GRN715 when you sign up for July 8 and code GRN when you sign up for Sept. 9th. About the Hike Inn: http://hike-inn.com.
---
Hidden Gems Paddle Dates

Save the date for excursions to rediscover some of the hidden gems on Georgia's waterways. Each one-day river trip includes lunch and presentations along the route, ranging from natural history and water quality testing to cultural history and river cleanups. Learn more by clicking here.
Aug 22: South River – From Urban Wasteland to Wet & Wild Oasis - Go with the flow and explore this nearly forgotten beauty. Registration opens soon!
Nov 14: Ochlockonee River – Tea-Stained Waters, Cypress Knees & Rich Wildlife Diversity - Discover this majestic river in the Red Hills of Southwest Georgia.
---
Donate to Paddle Georgia Teacher & Youth Scholarships
Paddle Georgia is more than just a fun paddle (of course there is nothing wrong with that!). Paddle Georgia is also a vehicle to build the river stewards of tomorrow and to train teachers in water education.

Through scholarships, the Paddle Georgia Youth Program brings a group of 10-12 underserved youth with their chaperones on the journey. Most of these kids have never been on a river or camped in a tent before. The Youth Program introduces them to the importance of river protection but, more importantly, to the joys of paddling a river. The experience is transformative!

The Paddle Georgia Educators Scholarship Program brings teachers in grades K-12 on the trip and provides environmental education training, which includes Georgia Adopt-A-Stream and Project WET curriculum. The goal is for these educators to take their experiences on the river and the curriculum they learned back to their classrooms. This program is impactful way beyond the river we paddle.

Georgia River Network asks you to make a donation TODAY earmarked for these scholarship programs. It is quick and easy to do. Just click here. One donation, tremendous impact!
---
Fall Float Registration Opens in July

Join Georgia River Network Columbus Day weekend 2015 for a voyage on the Flint River that would fill Christopher Columbus with envy. Oct. 9-12, we'll travel 70 miles on the Flint from Albany to Bainbridge taking in the best of the Flint--beautiful blue hole springs, lively rapids, rich history, abundant wildlife and more! Fashioned after our annual week-long Paddle Georgia events, we'll tent camp at Chehaw Park and on the river two nights at Rocky Bend Flint River Retreat. Like our annual summer adventure, we'll enjoy catered meals, educational programs and great camaraderie as we make our way down one of Georgia's most beautiful rivers during a beautiful time of year. Tent camping only with limited options for indoor camping. Registration opens July 1! Visit www.garivers.org/paddle_georgia/fallfloat.html for more information.
---
Weekend for Rivers 2015

Weekend for Rivers is coming up on September 19-20, 2015 at the Chattahoochee Nature Center in Roswell, GA. Now is the time to submit a presentation proposal to share with us at Weekend for Rivers! Join us for a weekend of inspiration, education and connections with folks who love Georgia's rivers as much as you! This year's Weekend for Rivers theme is "River Revelations." We are looking forward to hearing tales about what rivers have shown our friends and colleagues-- about how local government work, about the natural world, about our families, our communities and ourselves. Join us September 19-20 to celebrate Georgia's rivers as we share stories, policy and technical information, sage advice about nonprofit management, and more! The day will include river-lovers of all kinds painting a broad picture of the state of Georgia's rivers and the good folks who protect, enjoy and honor them. Registration for Weekend for Rivers will open July 1st. If you register by August 3rd, you will receive a discount! So, mark your calendars and check back at www.garivers.org.
---
Staff Spotlight: Debra Long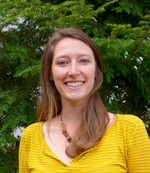 Hi! I'm Debra Long, GRN's Administrative Assistant and the one you usually speak with when you call our office. As most of you know, Admin Assistants do a wide range of things and are, therefore, thought of as the catch-all person in the office. I would agree! I love this, though, because it keeps my job from becoming boring. To give you an idea of what I am doing here at GRN to support the work we do to empower you to protect/restore/enjoy Georgia's river, keep reading.

If you didn't already know, we have a state-wide calendar of events on our website (www.garivers.org). I post those events! In addition to assisting with the maintenance of our main website, I help maintain GRN's other websites – the Georgia Water Trail Clearinghouse and Paddle Georgia websites. There are also other areas in which I am active within our communication efforts, which include assistance with social media postings, video creation, and editing of our e-newsletters and event emails. If you donate to our Canoe-a-thon, know I most likely printed your thank you letter. If you sign up for a GRN event, know I developed the registration site by which you signed up, which means I am also the one you generally communicate with when a registration need arises. I also assist in the maintenance of your contact information in our database and list serve. If you become a new member, I am the one who welcomes you to the GRN family. If your membership lapses, I am the one who reaches out to say we want to keep you in the family. Because GRN serves on the leadership team for the Georgia Water Coalition (GWC) and has been tasked with leading GWC communications, I also maintain the GWC's list serve, website and Facebook page. In case you haven't noticed, GRN and GWC are both in the news a good bit. I track these media hits. The last couple of years I have overseen our GRN/Turner Re-grant Program, which re-grants funding received from the Turner Foundation to river groups across Georgia. If you have attended our annual Weekend for Rivers dinner party the last couple of years, know I organized the silent auction. I also launched our first online auction last year with great success. If you donated to or purchased anything from either of these auctions, THANK YOU! Lastly, you may also occasionally see me at a small GRN event, but I always work during Paddle Georgia. So, if you are coming on Paddle Georgia this year, stop by and say hi! I love getting the chance to put a face with a name I have looked at a thousand times as a result of managing Paddle Georgia registrations.
---
Chattahoochee River User's Guide Available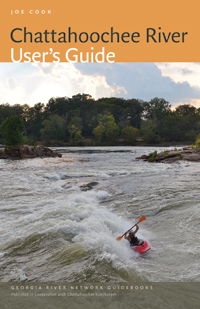 The Chattahoochee River User's Guide, the latest in a series of river guides from Georgia River Network and the University of Georgia Press, traces the 430-mile course of the Hooch from its headwaters at a spring on Coon Den Ridge near Jacks Knob in northeastern Georgia to its confluence with the Flint River where they form the Apalachicola River. The Georgia River Network guides provide many little-known facts about Georgia's rivers, bring to life these rivers' cultural and natural history, and present river issues in an immersive and engaging manner that will inspire users to help protect their local waterways. Click here to purchase and learn more.
---
Sign Up for Protect Georgia Action Alerts!

GRN members can stay up-to-date on issues affecting clean water, the health of our rivers and Georgia's vital natural resources by signing-up for Protect Georgia action alerts.

Membership in Protect Georgia—formerly known as the Georgia Environmental Action Network (GEAN)—is free and allows you to easily contact your senator, representative or other decision maker via e-mail when an important decision is pending or a vote is scheduled.

GRN—working alongside our Georgia Water Coalition partners advocate for protection of valuable coastal and wetland buffers, the underground supply of well water which provides drinking water for many Georgians, and healthy stream flows from the mountains to the sea.

Please sign up here: http://www.protectgeorgia.org/georgia-river-network---sign-up-form.html
---
Wish List

GRN is looking for the following new or gently used items for our office: a picnic table or concrete outdoor patio set, a vacuum cleaner, rolls of Forever stamps, gently used (or new!) well-functioning laptop, canoes and kayaks (sit on top kayaks, recreation kayaks, tandem kayaks, and canoes - in good shape), a conference table, and a covered trailer. Email info@garivers.org or call 706-549-4508 if you would like to donate any of these items.
---
1% For the Planet Partner

Georgia River Network is a 1% for the Planet non-profit partner. Over 1200 companies are giving 1% of their profits to organizations in the network that are committed to creating a healthy planet. Learn more at www.onepercentfortheplanet.org.
---
Get GRN News in Our RSS Feed

Not on Facebook? Want to see what is going on each day in the world of Georgia rivers? Go here: http://garivernews.wordpress.com/. Click on the "follow" button in the bottom right corner, enter your email address, and our daily news will be delivered to your inbox.
---
Forward this message to a friend