GRN's Search for Executive Director Underway
Paddle Georgia Registration - Spaces for Thru Paddlers
Hidden Gems Paddle Dates
Donate to Paddle Georgia Youth & Teacher Scholarships
New Book by Policy Director, Chris Manganiello
Spring Merchandise Sale
Chattahoochee River User's Guide Available!
Sign Up for Protect Georgia Action Alerts
Wish List
1% for the Planet
Get GRN News in our RSS Feed
---
GRN's Search for Executive Director Underway
The Board of Directors of Georgia River Network announces the departure of Glenn Dowling as its Executive Director as he transitions into private sector sustainability efforts in Georgia and throughout the Southeast. To find out more, refer to the announcement from GRN's board of directors here.

Over the course of the next few months, Georgia River Network will conduct a search to find our new executive director. During this search, our priority will be to find the best candidate, and to ensure stability and continuity throughout the organization. The job posting for the Executive Director position can be found here.
---
Paddle Georgia Registration

Paddle Georgia 2015 registration is open. Paddle Lite is sold out, but we still have space for thru paddlers. Paddle Georgia will be held June 20-26 on the Ogeechee River. Visit http://www.garivers.org/paddle_georgia/pgregister.html for details.

Thru-Paddler 2015 Registration Fees
$425 Adults
$230 Children (8-17)
$30 Children (7 & under)
---
Hidden Gems Paddle Dates

Save the date for excursions to rediscover some of the hidden gems on Georgia's waterways. Each one-day river trip includes lunch and presentations along the route, ranging from natural history and water quality testing to cultural history and river cleanups. Learn more by clicking here.
May 17: Middle Oconee River – Bubbling Shoals, Rocky Outcrops & Historic Mills - Paddle along one of the Classic city's secluded gems.
Register now by clicking here.
Aug 22: South River – From Urban Wasteland to Wet & Wild Oasis - Go with the flow and explore this nearly forgotten beauty.
Nov 14: Ochlockonee River – Tea-Stained Waters, Cypress Knees & Rich Wildlife Diversity - Discover this majestic river in the Red Hills of Southwest Georgia.
---
Donate to Paddle Georgia Teacher & Youth Scholarships

Paddle Georgia is more than just a fun paddle (of course there is nothing wrong with that!). Paddle Georgia is also a vehicle to build the river stewards of tomorrow and to train teachers in water education.

Through scholarships the Paddle Georgia Youth Program brings a group of 10-12 underserved youth with their chaperones on the journey. Most of these kids have never been on a river or camped in a tent before. The Youth Program introduces them to the importance of river protection but more importantly to the joys of paddling a river. The experience is transformative!

The Paddle Georgia Educators Scholarship Program brings teachers in grades K-12 on the trip and provides environmental education training which includes Georgia Adopt-A-Stream and Project WET curriculum. The goal is for these educators to take their experiences on the river and the curriculum they learned back to their classrooms. This program is impactful way beyond the river we paddle.

Georgia River Network asks you to make a donation today earmarked for both of these scholarship programs. It is quick and easy to do. Just click here. One donation, tremendous impact!
---
New Book by Policy Director, Chris Manganiello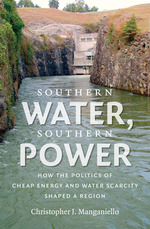 GRN announces the publication of policy director Dr. Chris Manganiello's new book: Southern Water, Southern Power: How the Politics of Cheap Energy and Water Scarcity Shaped a Region (UNC Press)

Why has the American South--a place with abundant rainfall--become embroiled in intrastate wars over water? Why did unpredictable flooding come to characterize southern waterways, and how did a region that seemed so rich in this all-important resource become derailed by drought and the regional squabbling that has tormented the arid American West? To answer these questions, policy expert and historian Christopher J. Manganiello moves beyond the well-known accounts of flooding in the Mississippi Valley and irrigation in the West to reveal the contested history of southern water.

"Focuses much-needed attention on the crucial role of water in the environmental history and development of the South. This book fills a critical void in our understanding of the relationship between southerners and their water resources."
--Timothy Silver, Appalachian State University

For more information, to read an excerpt or purchase a copy, please visit UNC Press' book page.
---
Spring Merchandise Sale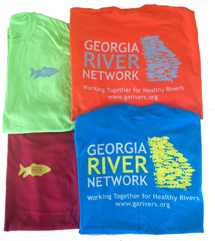 It's Spring! And that means it's time to get outdoors! Get this season started off right by supporting Georgia River Network's work to protect our rivers. One way you can do this is by purchasing some of our merchandise and/or purchasing items from those who so generously support GRN by donating a portion of their sales to us! You can use our handy guide books on your paddle trips, spread the word about Georgia River Network by wearing our clothes, drink a cold beer out of our pint glass, or share the beauty of our rivers by sending a card to someone you care about. Support your rivers by supporting Georgia River Network! Place your order today by calling Debra or Dana at 706-549-4508. Visa, Mastercard and Checks accepted. Prices include shipping. Images, inventory list and descriptions of each item are found by clicking here.
---
Chattahoochee River User's Guide Available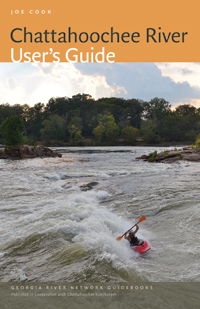 The Chattahoochee River User's Guide, the latest in a series of river guides from Georgia River Network and the University of Georgia Press, traces the 430-mile course of the Hooch from its headwaters at a spring on Coon Den Ridge near Jacks Knob in northeastern Georgia to its confluence with the Flint River where they form the Apalachicola River. The Georgia River Network guides provide many little-known facts about Georgia's rivers, bring to life these rivers' cultural and natural history, and present river issues in an immersive and engaging manner that will inspire users to help protect their local waterways. Click here to purchase and learn more.
---
Sign Up for Protect Georgia Action Alerts!

GRN members can stay up to date on issues affecting clean water, the health of our rivers and Georgia's vital natural resources by signing-up for Protect Georgia action alerts.

Membership in Protect Georgia—formerly known as the Georgia Environmental Action Network (GEAN)—is free and allows you to easily contact your senator, representative or other decision maker via e-mail when an important decision is pending or a vote is scheduled.

GRN—working alongside our Georgia Water Coalition partners—will advocate for protection of valuable coastal and wetland buffers, the underground supply of well water which provides drinking water for many Georgians, and healthy stream flows from the mountains to the sea.

Please sign up here: http://www.protectgeorgia.org/georgia-river-network---sign-up-form.html
---
Wish List

GRN is looking for the following new or gently used items for our office: a picnic table or concrete outdoor patio set, a vacuum cleaner, rolls of Forever stamps, canoes and kayaks (sit on top kayaks, recreation kayaks, tandem kayaks, and canoes - in good shape), and a covered trailer. Email info@garivers.org or call 706-549-4508 if you would like to donate any of these items.
---
1% For the Planet Partner

Georgia River Network is a 1% for the Planet non-profit partner. Over 1200 companies are giving 1% of their profits to organizations in the network that are committed to creating a healthy planet. Learn more at www.onepercentfortheplanet.org.
---
Get GRN News in Our RSS Feed

Not on Facebook? Want to see what is going on each day in the world of Georgia rivers? Go here: http://garivernews.wordpress.com/. Click on the "follow" button in the bottom right corner, enter your email address, and our daily news will be delivered to your inbox.
---
Forward this message to a friend