Weekend for Rivers - Register Now
GRN Now Hiring an Executive Director
Join GRN at the Banff Film Festival in Athens
2014 Hidden Gems Paddles
Paddle Georgia Fall Float on the Flint
Georgia Trail Summit
Budweiser - Made in America Service Day
Osprey Pint Night - Athens
Earthfest - Athens
14 in 14 Challenge
Georgia Water Wire - SB 213's Passage
GRN Monthly Photo Contest
Wish List
Support Year Round Giving
1% for the Planet
Get GRN News in our RSS Feed
---
Weekend for Rivers - Register Now!



Check out the exciting lineup, and register today at www.garivers.org.
Join us April 5-6 at the Chattahoochee Nature Center in Roswell, GA for a weekend of inspiration, education and connections with folks who love Georgia's rivers as much as you! Weekend for Rivers is GRN's annual conference and River Celebration event that gives us all a chance to celebrate Georgia's unique, beautiful rivers through storytelling, partying and paddling.
The theme of this year's Weekend for Rivers is "The History of Georgia's Rivers." Saturday, April 5th's program will include river-lovers of all kinds painting a broad picture of the state of Georgia's rivers and the people who protect, enjoy and honor them. Three tracks will explore Georgia's rivers from different angles. Highlights will include talks by Atlanta Journal-Constitution columnist Jay Bookman and retiring Chattahoochee Riverkeeper Sally Bethea, and films by Rhett Turner and David and Michael Hanson.
In the evening, we'll have a ton of fun at our annual River Celebration Party and then we'll camp at the Chattahoochee Nature Center (indoor and outdoor camping will be available, OR you can just get a hotel room). We'll wake up on April 6th and paddle a beautiful stretch of the Chattahoochee River--Bull Sluice Lake. Naturalists, historians and ecologists will be stationed around the lake to tell us more about the cultural and natural history of the area. Visit www.garivers.org to see the full agenda of presentations and programs and to register. We can't wait to spend the Weekend with you!
Sponsors: Chattahoochee Nature Center, Patagonia, Cedar Creek RV & Outdoor Center, Chattahoochee Riverkeeper, Flint Riverkeeper, American Rivers, GreenLaw, Southern Enviromental Law Center, Georgia Wildlife Federation, Fish Action Response Team, Stormwater Systems, Barefoot Wine, Upper Oconee Watershed Network, The RainBarrel Depot, Broad River Watershed Association, Hike Inn, Upper Etowah River Alliance, Coosa River Basin Initiative, Environment Georgia, Satilla Riverkeeper, Ogeechee Riverkeeper, Savannah Riverkeeper
---
GRN Now Hiring an Executive Director

Executive Director, April Ingle, will be leaving GRN in July to start a consulting business. Read the announcement here. GRN is now accepting applications for the position of Executive Director. Click here for the job announcement.
---
Join GRN at the Banff Film Festival in Athens

The Banff Mountain Film Festival World Tour brings Banff films to audiences around the globe. Immediately after the Festival ends, a selection of the best films go on tour, and Half Moon Outfitters is bringing these films to Athens, GA on Friday, April 4th at 7pm at the Morton Theatre. A portion of the proceeds benefit GRN. Buy tickets now. Will call ticket pickup starts at 5:30.
---
2014 Hidden Gems Paddles

Enjoy four different occasions to rediscover some of the hidden gems on Georgia's waterways. Each river trip will include lunch and presentations along the route, ranging from natural history and water quality testing to cultural history and river cleanups.
Ogeechee River - May 10
Secrets of South Georgia's Tea-Colored Waters & White Barking Sands
Click here to register.

Oconee River - August 23
Bobbin through Remnants of the Oconee's Historic Timeworn Textile Mills

Chattahoochee River - September 13
From Derelict Dams to Recreational Whitewater - Adventure on a Revitalized River in Columbus

Satilla River - November 15
Giant Magnolia's and Burnt Forts - a Glimpse of the Satilla's Unique Past

Register and learn more at www.garivers.org!
---
Join Georgia River Network Columbus Day weekend 2014 for a voyage on the Flint River that would fill Christopher Columbus with envy. Oct. 10-13, we'll travel 70 miles on the Flint from Albany to Bainbridge taking in the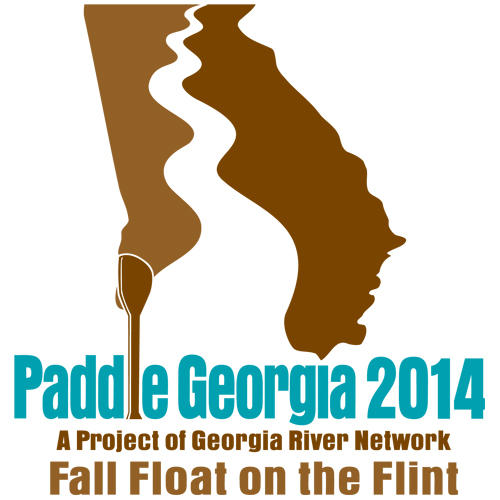 best of the Flint--beautiful blue hole springs, lively rapids, rich history, abundant wildlife and more! Fashioned after our annual week-long Paddle Georgia events, we'll tent camp at Chehaw Park and on the river two nights at Rocky Bend Flint River Retreat. Like our annual summer adventure, we'll enjoy catered meals, educational programs and great camaraderie as we make our way down one of Georgia's most beautiful rivers during a beautiful time of year. Tent camping only with limited options for indoor camping. Registration for this event will begin April 15. Visit www.garivers.org/paddle_georgia/fallfloat.html for more information.
---
Georgia Trails Summit April 11-12, 2014 in Athens, GA
Forging a new path in trail planning, building and funding across Georgia.

Join us for this inaugural trail summit: April 11-12, 2014 in Athens, GA. The Summit aims to provide connections, share knowledge and further the trail projects going on in Georgia. Trails include rail-trails, greenways, blueways, multi-purpose paths, equestrian trails, and motorized trails.
Endorsed by groups committed to realizing a first-class trail network in Georgia: Million Mile Greenway, Oconee River Greenway, Atlanta Beltline, DNR, BikeAthens, Newton Trails, Georgia River Network, Southeastern Trust for Parks & Land, NPS RTCA, USFS, Co-trails, SORBA, IMBA, Carrollton Greenbelt, Firefly Trail, Meriwether Rail-Trail, Silver Comet, Path Foundation, Rails to Trails Conservancy, American Trails, TRED, Environment Georgia, Chattahoochee NOW, Eco Addendum and more.

See the GA Trail Summit Website for more details and register here http://georgiatrailsummit.com/
---
Budweiser - Made in America Service Day - Athens

April 19 –Join GRN, UOWN and ACC Leisure Services for the Budweiser- Made in America Service Day Project River Clean Up and Invasive Plant Removal at Dudley Park. 1-4pm with social after party at Dirty Birds 4:30-6:30pm. Registration details coming soon.
---
Osprey Pint Night- April 22 - Athens

Half-Moon will be offering Terrapin beer to shoppers for a donation to GRN, giving out free pint glasses and raffling off other freebies like Osprey and Half-Moon packs, hats, tees, etc. GRN will have a table at the event and staff will be present. Half-Moon Outfitters Athens store - 1225 S. Milledge Ave, Athens, GA 30605
---
EARTHFEST – Athens

April 24 –Georgia River Network and Upper Oconee Watershed Network are partnering for the 2nd annual EARTHFEST 2014 at Terrapin Brewery in Athens, GA, Thursday April 24th 5-7pm. Come learn about upcoming events and ways to get involved from these eco-friendly local non-profits: SORBA, Broad River Watershed Assoc., State Botanical Gardens of Georgia, GA Climate Change Coalition, Environmental Law Association, UGA Environmental Health Science Club, Bike Athens, Oconee River Audubon Society, ACC Leisure Services, Oconee River Land Trust, Oconee Rivers Greenway Commission, Keep Athens Clarke County Beautiful, Georgia Bikes, UGA Office of Sustainability, UGA Students for Environmental Action, and Athens Farmers Market!
---
14 in 14 Challenge

Georgia River Network is challenging Georgians to get out and protect, restore, learn about, recreate and volunteer on Georgia's rivers by attending 14 river related events in 2014. Watershed groups throughout the state offer a variety of experiences such as family friendly paddling trips, river hikes, watershed workshops, conferences, river clean ups, water quality monitoring opportunities, and advocacy events, all of which qualify to fulfill the Challenge. The goal is to promote Georgia's growing movement in river restoration, protection, and engagement. Get outside, get active and get involved in river and watershed protection, restoration and engagement opportunities with friends and family. To learn more, visit http://garivers.org/news/440-grn-challenge.html
---
Georgia Water Wire - SB213's Passage

SB 213 – which revised the Flint River Drought Protection Act (2000) and now awaits the Governor's signature – will now provide exactly what the bill's sponsors and the Environmental Protection Division have said they have desired for almost two years: the ability to protect augmented flows in order to protect vulnerable aquatic life in specific areas of the Flint River basin.

Visit the Georgia Water Wire at gawaterwire.wordpress.com to read the rest of this post.
---
GRN Monthly Photo Contest

Each month we have a different theme and invite you to send us a photo that you think best represents the topic of the month. In April, the theme is "Best Weekend for Rivers Photo". Submit your photo to gwyneth@garivers.org. Click here to visit our homepage to view a slideshow of the entries and winners.
---
Wish List

GRN is looking for the following new or gently used items for our office: a picnic table or concrete outdoor patio set and a flat screen computer monitor. Email info@garivers.org or call 706-549-4508 if you would like to donate any of these items.
---
Support GRN Year Round

Start your year off by making a positive impact on our rivers and continue it all year long by signing up for GRN's Monthly Giving Program. It is easy and convenient. Simply click here. Then choose "Monthly" under the "donation frequency" section. You can give $14 a month in 2014 and your monthly support will help us create updates to empower citizens and watershed groups and allow us to monitor what is going on at the capitol and alert you to legislation that will have an impact on our rivers.
---
1% For the Planet Partner

Georgia River Network is a 1% for the Planet non-profit partner. Over 1200 companies are giving 1% of their profits to organizations in the network that are committed to creating a healthy planet. Learn more at www.onepercentfortheplanet.org.
---
Get GRN News in Our RSS Feed

Not on Facebook? Want to see what is going on each day in the world of Georgia rivers? Go here: http://garivernews.wordpress.com/. Click on the "follow" button in the bottom right corner, enter your email address, and our daily news will be delivered to your inbox.
---
Forward this message to a friend