Paddle Georgia 2016 Duck Race and End of Trip Fish Fry
Paddle Georgia 2016 Street Party - Open to the Public!
Lower Oconee Hidden Gem Paddle and Campout-Registration Now Open!
Join GRN for Our Annual Len Foote Hike Inn Trip
Perfect Outreach Training Workshop
Southern Water, Southern Power - GA Water Wire
Healthy Rivers, Healthy You Challenge
Do you Have an Old Vehicle/Motor Boat that has Kicked the Bucket?
Looking for Ways You Can Help Protect Georgia' Rivers? Sign Up for Action Alerts!
Take a Look at GRN's Wish List - Perhaps your 'Junk' can be our Treasure!
Georgia River Network Merchandise - Great Father's Day Gift Ideas!
1% for the Planet
Georgia River Network is a Member of EarthShare
Get Georgia River Network News in Your RSS Feed
---
Paddle Georgia 2016 Duck Race and End of Trip Fish Fry

Join Georgia River Network for our first ever Duck Race on June 24 in Heritage Park in Rome, GA! The winner's adoptive parents will win a cash prize of $250 and a free Paddle Georgia 2017 registration*!

The Duck Race is open to all, not just those on Paddle Georgia!
Ducks start swimming at just $5, you can adopt your ducks here at the Duck Race website.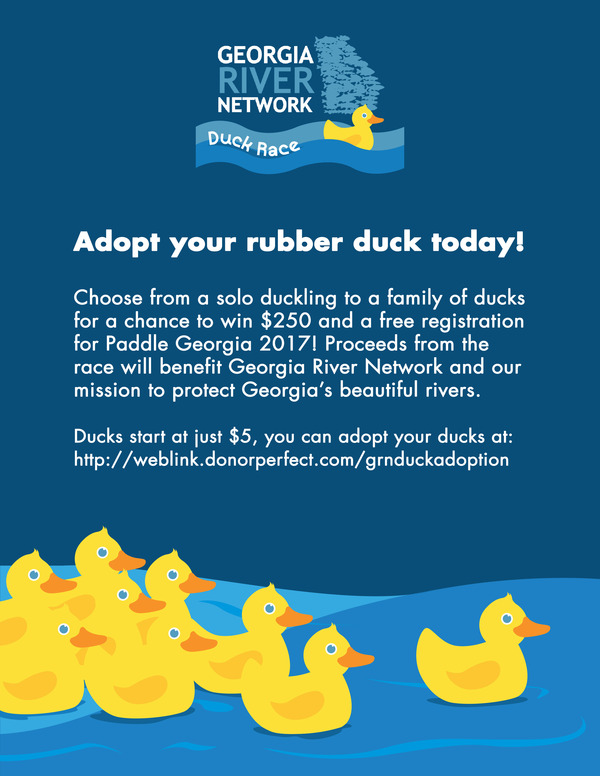 *Meals and special shuttle not included.
Tickets for the fish fry can be purchased at Coosa River Basin Initiative or online at the End Celebration event page. The meal includes catfish filets, hushpuppies, cole slaw, cheese grits, tea and dessert. Yum!!!
Tickets are $15 and must be purchased by June 20.
---
Paddle Georgia 2016 Street Party - Open to the Public!

Georgia River Network and Coosa River Basin Initiative are hosting a Paddle Georgia 2016 street party at the Calhoun Depot with music, food, canoe and kayak rides and canoe tug-o-wars. Festivities begin at 5:30pm; the event is open to the public.
Registration for the tug-o-wars is $25 for each four-person team. Each team must include at least one woman. All proceeds will benefit New Echota Rivers Alliance, a Calhoun-based citizen group working to protect the Coosawattee, Conasauga and Oostanaula rivers.

Register for the event at the Tug-O-War event page.
Special thanks to Street Party sponsor Cedar Creek RV & Outdoor Center.
---
Join GRN for Our Annual Len Foote Hike Inn Trip

When: Tues-Wed, Aug 23-24, 2016
Where: Len Foote Hike Inn – Amacalola Falls

On Tuesday, August 23 participants will hike to the Inn by foot over a moderate 5 mile trail which originates at the top of the beautiful Amicalola Falls. Enjoy a special tour of the LEED Certified Gold Inn and grounds, a delicious dinner and breakfast and an evening program all about Georgia rivers!

Cost and How to Sign Up:
The Hike Inn is offering a special rate for our group! $42.50/person for double occupancy, $58.50/person for single occupancy (Normally $170/$117!) + tax. To reserve your spot go to the reservation link on their webpage at http://cts.vresp.com/c/?GeorgiaRiverNetwork/5d5edc4dfe/7957978964/91349826b3 and click the book now tab. It will pull up the 50% discount rate. Enter the correct dates and on the bottom of the page enter promotional/group code GRN16. You can learn more about the Inn at http://hike-inn.com.
---
Perfect Outreach Training Workshop
When: Tuesday, August 9, 2016- 10:00AM to 3:00PM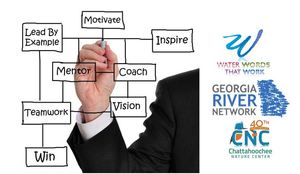 Where: Chattahoochee Nature Center 9135 Willeo Road, Roswell, GA 30075
What: The Perfect Outreach Project series provides a practical introduction to the art and science of "project management" -- leading teams of people to successful outreach outcomes.
Sponsored by Georgia River Network, Water Words that Work and the Chattahoochee Nature Center. $30 ticket includes lunch.

Learn more and sign up at: https://perfectoutreach.eventbrite.com
---
Lower Oconee Hidden Gem Paddle and Campout - Registration Now Open!

Spend a weekend exploring the up-and-coming Lower Oconee Water Trail on the Fall Line of middle Georgia on Sept 17-18! Join Georgia River Network, Altamaha Riverkeeper, and the Lower Oconee Water Trail Partnership for the Lower Oconee Hidden Gem Paddle & Campout in Milledgeville, GA!
Bring your friends and family ~ Beginners welcome ~ No paddling experience necessary!
~~The event will include:
Lunch * Games * Festive Low Country Boil dinner * Live music * Camping * Hot breakfast * Presentations along the route ranging from flora/fauna, water health, and river cleanups to cultural history and visual & performing arts...
~~We will be paddling:
Near the sites of revolution-era forts * Through antebellum shipping routes * In the habitat of bald eagles, osprey, kingfishers, river otters, alligator gar, and blossoming Cherokee Rose.
REGISTER HERE: http://LowerOconee.eventbrite.com

We'd also like to give a huge THANK YOU to all of our sponsors:
Taylor Services of Georgia, Oconee Outfitters, Blackbird Coffee, Tent-Sational Events, Inc., and Lockerly Arboretum!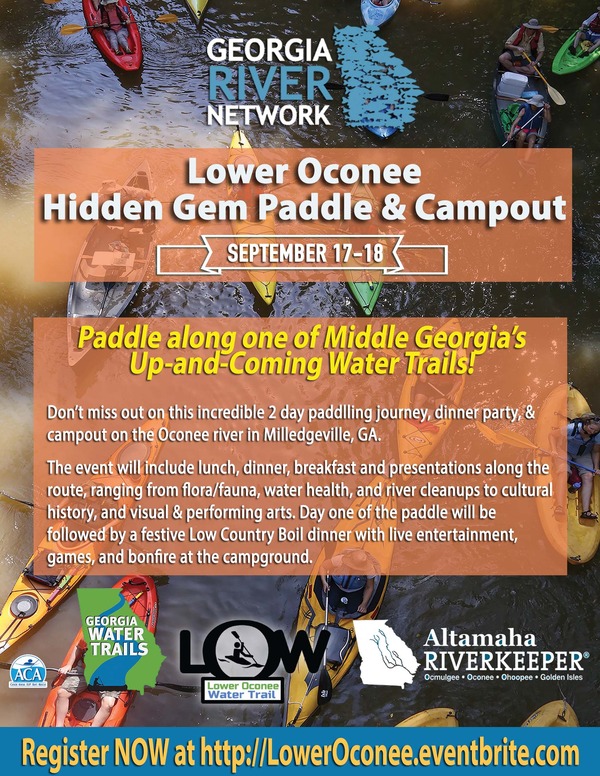 ---
Southern Water, Southern Power - Georgia Water Wire
The process of writing Southern Water, Southern Power: How the Politics of Cheap Energy and Water Scarcity Shaped a Region (Chapel Hill: University of North Carolina Press, 2015) took about ten years and a lot of resources. And love.

Over the past year, a number of generous readers have reviewed the book. You are invited to read them.

Read the full article written by GRN Policy Director, Chris Manganiello at Georgia Water Wire.
---
2016 Healthy Rivers, Healthy You Challenge
Want to make Georgia's rivers healthier while challenging yourself to do the same? You can! Join Georgia River Network's

Healthy Rivers, Healthy You

fundraising challenge this summer to make an impact on our waterways, while becoming a healthier you! By participating in

Healthy Rivers, Healthy You

, you can strive to be healthier by joining challenges such as conserving water and building a rain garden or getting creative with your creek!



Each challenge will incorporate self-health, while also educating participants about the health of our rivers, and what can be done to make sure they're clean and beautiful! The money that each participant raises will go toward the efforts that Georgia River Network is making to encourage river health and people like you to get out and enjoy them! And get this! First place is a FREE registration for our next Hidden Gem Paddle on the Lower Oconee in September, with more prizes for the runner-up fundraisers! Keep a lookout for more information on the Healthy Rivers, Healthy You on our social media!
For more info visit:
https://www.firstgiving.com/21238/healthyrivers
---
Do you Have an Old Vehicle/Motor Boat that has Kicked the Bucket?

Georgia River Network is accepting any vehicle - running or not - including cars, trucks, boats, RVs, ATVs, motorcycles, wave runners, and more. GRN works with their colleagues at Charitable Auto Resources to ensure that your donation delivers the highest possible revenue to Georgia River Network and that your experience is convenient and efficient. Your vehicle is towed free of charge, and the donation is eligible for a tax deduction. Contact Dana Skelton at dana@garivers.org or 706-548-4508 if you are interested in taking advantage of this opportunity or for more information about the vehicle donation program.
---
Looking for Ways You Can Help Protect Georgia' Rivers? Sign Up for Action Alerts!

GRN members can stay up-to-date on issues affecting clean water, the health of our rivers, and Georgia's vital natural resources by signing-up for Protect Georgia action alerts.

Membership in Protect Georgia is free and allows you to easily contact your senator, representative, or other decision makers via e-mail when an important decision is pending or a vote is scheduled.

GRN, working alongside our Georgia Water Coalition partners, advocates for protection of valuable coastal and wetland buffers, the underground supply of well water which provides drinking water for many Georgians, and healthy stream flows from the mountains to the sea.

Please follow the link and sign to get access to Protect Georgia Action Alerts.
---
Take a Look at GRN's Wish List - Perhaps your 'Junk' can be our Treasure!

GRN is looking for the following new or gently used items for our office: a picnic table or concrete outdoor patio set, a vacuum cleaner, rolls of Forever stamps, well-functioning laptop and tower computers, canoes and kayaks (sit on top kayaks, recreation kayaks, tandem kayaks, and canoes - in good shape), a conference table, a paper folding machine, graphic design services, printing services, donated office space in Athens, Adobe Creative Suite software,a covered trailer, and canoe trailer. Email info@garivers.org or call 706-549-4508 if you would like to donate any of these items.
---
Georgia River Network Merchandise - Great Father's Day Gift Ideas!
Check out Georgia River Network's new online store to get some great Georgia River Network merchandise. The store has GRN apparel, River User's Guides, banners, and much more! Perfect gifts for Father's Day or the river lover in your life! Check out our online store here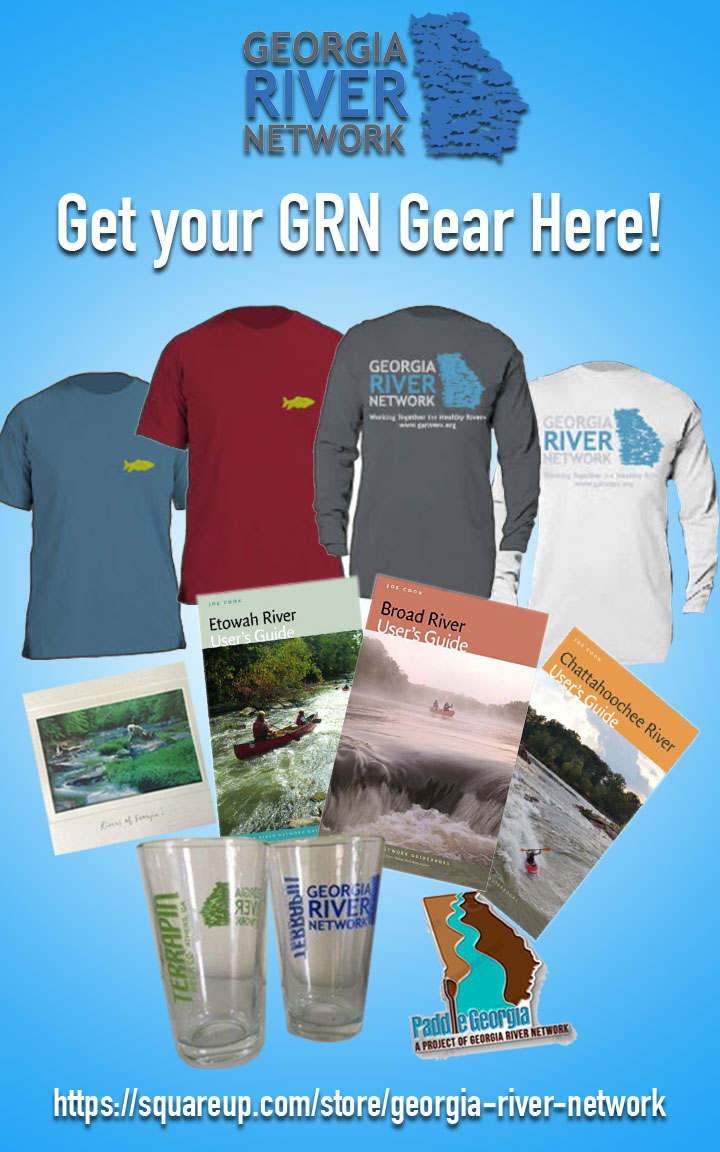 ---
1% For the Planet Partner

Georgia River Network is a 1% for the Planet non-profit partner. Over 1200 companies are giving 1% of their profits to organizations in the network that are committed to creating a healthy planet. Learn more by following the link to the 1% For The Planet website.
---
Georgia River Network is a Member of EarthShare

Georgia River Network is a member group of EarthShare of Georgia — a non-profit federation of over 60 Georgia non-profits, all of which work to educate, conserve, or protect our air, land, and water throughout Georgia. Through workplace giving campaigns at participating companies, EarthShare raises funds for the member group non-profit organizations in Georgia. Employers who include EarthShare as part of their annual pledge campaign empower their employees with additional ways to improve their world. EarthShare of Georgia, as part of the EarthShare national employee giving program, is part of a network representing more than 400 environmental groups working locally, nationally and internationally. There you could support Georgia River Network and other member non-profits easily through the annual campaign. If your company would like add an EarthShare giving campaign, contact Dana at dana@garivers.org. Learn more at the EarthShare website.
---
Get Georgia River Network News in Our RSS Feed

Not on Facebook? Want to see what is going on each day in the world of Georgia rivers? Go the Georgia River Network News Wordpress webpage and click on the "follow" button in the bottom right corner, enter your email address, and our daily news will be delivered to your inbox.
---