Chattahoochee River User's Guide Now Available!
GRN Offering 2 More Hidden Gems Paddles
Paddle Georgia Canoeathon a Success
April Ingle is Greenlaw's Environmental Hero for 2014
Join GRN at Terrapin Brewery in Athens
14 in 14 Challenge
GRN Monthly Photo Contest
Wish List
Still Time to Help Raise Funds for Georgia Rivers
1% for the Planet
Get GRN News in our RSS Feed
---
Chattahoochee River User's Guide Now Available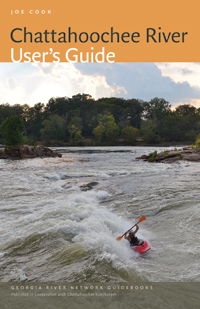 The Chattahoochee River User's Guide—the latest in a series of river guides from Georgia River Network and the University of Georgia Press, traces the 430-mile course of the Hooch from its headwaters at a spring on Coon Den Ridge near Jacks Knob in northeastern Georgia to its confluence with the Flint River, where they form the Apalachicola River. The Georgia River network guides provide many little-known facts about Georgia's rivers, bring to life these rivers' cultural and natural history, and present river issues in an immersive and engaging manner that will inspire users to help protect their local waterways. Click here to purchase and learn more.
---
GRN Offering 2 More Hidden Gems Paddles

Enjoy the two remaining excursions to rediscover some of the hidden gems on Georgia's waterways. Each one-day river trip will include lunch and presentations along the route, ranging from natural history and water quality testing to cultural history and river cleanups.

September 13 - Chattahoochee River Whitewater Rafting in Columbus
November 15 - Paddle on the Satilla River
Register and learn more at www.garivers.org!
---
Paddle Georgia Canoeathon a Success!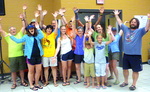 The Paddle Georgia Canoeathon was successful in raising over $50,000 for river protection. We had 34 paddlers who participated in this year's Canoeathon. Special recognition goes to our top fundraisers: Terry Pate ($6,205), John Branch ($6,125), Tom Beman ($5,708.98) and James and Tim Watson ($5,250). Two of our top fundraisers were very successful in obtaining sponsors for Paddle Georgia which counted toward their totals. Another top fundraiser secured a foundation grant to help put him in the top four. We encourage more paddlers, fishermen, and river enthusiasts to join us in raising funds to protect our beautiful rivers and to think creatively about how to raise those funds (ice bucket challenge anyone?). It is important to note that while we are extremely grateful for our top fundraisers, we are equally grateful for everyone who participated. All funds raised added up to make a great difference. If all of the Paddle Georgia participants join us and raised just $50, it would add $10,000 to our river protection efforts. Thanks again to our Canoeathon participants and together lets raise over $60,000 next year!
---
April Ingle is GreenLaw's Environmental Hero for 2014

GreenLaw is naming GRN's previous Executive Director, April Ingle, as its Environmental Hero for 2014. Ingle was the Executive Director of GRN since 2003 and stepped down after nine years to enter the private consulting community. GreenLaw is hosting its annual Environmental Heroes award celebration on Tuesday, October 7, 2014. The event will be held at Nelson Mullins on the top floor with stunning views of downtown Atlanta at 201 17th Street at Atlantic Station. The Environmental Heroes event is one of the environmental community's premiere events with sustainable catering provided by Parsley's Catering, featuring White Oak Pastures and Sapelo Sea Farms fare, live music from the Tammy Allen Trio and adult libations. The event includes networking, a brief honoree award ceremony and a thank you gift. Sponsorships and tickets for the event may be purchased at www.greenlaw.org. Tickets are $250 for a couple and $150 for individuals. If you would like to include congratulations to April in the Environmental Heroes program please contact the Communication Department via e-mail at bbond@greenlaw.org.
---
Join GRN at Terrapin Brewery in Athens, September 18, 5:30-8:30

Raise your glass and help GRN raise money for our rivers at Terrapin Brewery. GRN will receive $2 for every GRN logo pint glass purchased. Pass this message to your friends and join the staff of GRN at Terrapin Brewery from 5:30-8:30pm at 265 Newton Bridge Road in Athens.
---
14 in 14 Challenge
Georgia River Network is challenging Georgians to get out and protect, restore, learn about, recreate and volunteer on Georgia's rivers by attending 14 river related events in 2014. Watershed groups throughout the state offer a variety of experiences such as family friendly paddling trips, river hikes, watershed workshops, conferences, river clean ups, water quality monitoring opportunities, and advocacy events, all of which qualify to fulfill the Challenge. The goal is to promote Georgia's growing movement in river restoration, protection, and engagement. Get outside, get active and get involved in river and watershed protection, restoration and engagement opportunities with friends and family. To learn more, visit http://garivers.org/news/440-grn-challenge.html
---
GRN Monthly Photo Contest

Each month we have a different theme and invite you to send us a photo that you think best represents the topic of the month: Sept - Pet Paddlers on GA's Rivers; Oct - River Cleanup Photo; Nov - Autumnal Magic on GA's Rivers; Dec - Funniest Paddling. Submit your photo to gwyneth@garivers.org. Click here to visit our homepage to view a slideshow of the entries and winners.
---
Wish List

GRN is looking for the following new or gently used items for our office: a picnic table or concrete outdoor patio set, a vacuum cleaner, rolls of Forever stamps, and a flat screen computer monitor. Email info@garivers.org or call 706-549-4508 if you would like to donate any of these items.
---
Still Time to Help Raise Funds for GA Rivers

You can double your gift to GRN by accepting the challenge to increase donations on three different levels. An anonymous donor has agreed to extend our challenge by matching new donors at the $250, $500, and $1,000 levels. When you join one of these levels, they will match each gift dollar for dollar. For the gifts to be matched, they must be from donors who have not given at that level before. The anonymous couple wants to encourage and engage new donors in the work of protecting GA's rivers. To accept this challenge, go to our website at www.garivers.org and click on the red "Donate Now" button or mail a check to 126 South Milledge Ave., Ste E3, Athens, GA 30605. Thank you so much for your kind and thoughtful generosity.
---
1% For the Planet Partner

Georgia River Network is a 1% for the Planet non-profit partner. Over 1200 companies are giving 1% of their profits to organizations in the network that are committed to creating a healthy planet. Learn more at www.onepercentfortheplanet.org.
---
Get GRN News in Our RSS Feed

Not on Facebook? Want to see what is going on each day in the world of Georgia rivers? Go here: http://garivernews.wordpress.com/. Click on the "follow" button in the bottom right corner, enter your email address, and our daily news will be delivered to your inbox.
---
Forward this message to a friend