Georgia River Network News Stream
December 2011

News
1. Happy Holidays from Georgia River Network!
2. Save the Date: Weekend for Rivers 2012
3. Weekend for Rivers Call for Proposals
4. GRN is Hiring TWO New Positions
5. Georgia Water Coalition's Dirty Dozen Report
6. Update Your Organization's GRN Directory Listing
7. Paddle 12 Rivers in 2012
8. Ecowatch
9. Nominate a River Hero!

Workshops/Conferences/Calendar Items
10. Savannah Riverkeeper's Roast on the River
11. Get Out and Do Some Winter Paddling!
12. Terry College of Business Nonprofit Board Workshop

Nonprofit Resources
13. FAQ: Annual Planning
14. Water Words That Work Message Blaster
15. Maps and Apps
16. Get Colleagues to Read Your Emails!
17. How to Survive an IRS Audit
18. 7 Free Tools That Can Save Nonprofits Money

Fundraising
19. Grant Opportunities
******************************************************************************************************************
1. Happy Holidays from Georgia River Network!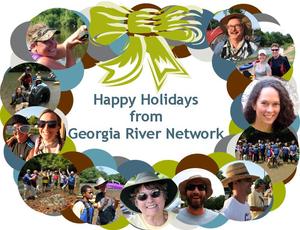 Please consider making a yearend gift to protect rivers by clicking here.

You can also give the gift of coffee at the holidays and support rivers. When you purchase coffee from Cafe Campesino through this special link, GRN receives a portion of the proceeds. See other businesses that do the same by clicking here.


2. Save the Date: Weekend for Rivers 2012!


Join Georgia River Network on March 31-April 1, 2012 at the Chattahoochee Nature Center in Roswell, Georgia for Weekend for Rivers, GRN's Annual Conference and River Celebration eventthat gives us all a chance to celebrateGeorgia's unique, beautiful rivers through storytelling, partying and paddling!

Join us March 31st for a day of inspiration, education and connections with folks who are as passionate about Georgia's rivers as you are! The day will include river-lovers of all kinds expressing their passion for rivers with short, inspiring presentations and interactive forums that will paint a broad picture of the state of Georgia's rivers and the people who protect, enjoy, and honor them. We not only want you to attend – we want you to participate! See the Call for Proposals below to find out how to submit a presentation proposal.


In the evening, we'll have a ton of fun at our annual River Celebration Party and then we'll camp at the Chattahoochee Nature Center, Paddle Georgia-style, wake up the next morning and paddle a 9-mile stretch of the beautiful Chattahoochee River! The perfect way to experience what people love about the popular, annual week-long Paddle Georgia event. The experience will be as close to the real thing as possible (right down to the bus shuttles, the gym camping and the Satterfield's catering) for the uninitiated as well as for all you Paddle Georgia fanatics who regularly plead with us to plan more than one event each year. Thanks go to Upper Chattahoochee Riverkeeper, who lead popular trips and events on the 'Hooch all the time, in supporting us on the paddle.

So put Weekend for Rivers on your calendar and look for registration to open mid-January, 2012! In the meantime, we'd love it if you submitted a proposal to present at Weekend for Rivers. Click HERE for more information about how to tell your river story at Weekend for Rivers.


3. Weekend for Rivers Call for Proposals
At Weekend for Rivers, we want to know what inspires you about your river.
In 2012, we're trying something new at Georgia River Network's annual river celebration event. Not only do we want you to attend – we want you to participate! This is your opportunity to share how you protect, enjoy or honor the rivers and streams closest to your heart. And we want you to express it in any way you like, with a speech, photography, poetry, music, art…the possibilities are endless! The only rule: no boring Power Points!

We welcome everybody to submit a proposal to put your ideas, stories and talents on display! Whether you're interested in the natural or cultural history of our rivers, current political issues, water monitoring, paddling, or if a river or stream has just inspired or shaped you in a significant way, Weekend for Rivers is a positive, exciting, accepting atmosphere to let people know about your experiences.

So, if you or anyone you know has something great to share about Georgia's rivers, we really hope you'll share it with us!! For more information about how to submit an idea for a presentation, click HERE.

4. GRN is Hiring TWO New Positions
GRN is now hiring a part time Administrative Assistant and a full-time Community Programs Coordinator. Click HERE to view the job descriptions.

5. Georgia Water Coalition's Dirty Dozen Report
The Georgia Water Coalition (GWC) recently named its "Dirty Dozen" for 2011, exposing the worst offenses to Georgia's water.

Read the report and learn more about the Dirty Dozen online.


6. Update Your Organization's GRN Directory Listing
Georgia River Network is working on updating the Georgia River Network Directory of Watershed Groups. Please take a moment to visit our website to check your listing to make sure it's up to date. Please send any edits to info@garivers.org by January 20. Click HERE to view the directory.

7. Paddle 12 Rivers in 2012!
Georgia River Network is excited to announce a program that will promote the use of the Georgia Water Trails Website as well as your local events and water trails. "Paddle 12 Rivers in 2012" will encourage people to paddle on 12 different rivers next year and use the water trails website to find trails in Georgia, plan their own adventure, and join organized events and trips. Please send us your 2012 trip dates as they become available. We also hope you will promote this program to your members. The 12 in 2012 website can be found HERE.


8. Ecowatch
Ecowatch is a new website created to get your message and stories out there.

Ecowatch is looking for original content, meaning something you have written personally (but probably not your journal entries). This can be an Op-Ed piece, a retooled pre-press release, a reworked post-press release as follow-up to an event, and environmental essays on a timely issue. They are not looking for content from any publication (newspaper, website, magazine, etc.). Please do not forward them this type of stuff as it will not be posted. You can send your original content to Stefanie Spear at Ecowatch: spear@ecowatch.org, or you can submit material directly on this website.

EcoWatch, in partnership with Waterkeeper Alliance, works to unite the voice of the grassroots environmental movement and mobilize millions of people to engage in democracy to protect human health and the environment. The website is the only media source to focus exclusively on the news from more than 1,000 environmental organizations across the country. In addition, the site showcases original content in its Insights column from leading national voices in the environmental movement, including EcoWatch's advisory board members—Wendy Abrams, Ed Begley, Jr., Lester Brown, Laurie David, Paul Hawken, Randy Hayes, Robert F. Kennedy, Jr., Phil Radford, Laura Turner Seydel and Harvey Wasserman.

9. Nominate a River Hero!
River Rally 2012 is currently accepting nominations for our 2012 Heroes.

River Network wants to know about THAT individual who has gone above and beyond mere mortal contributions to protect his/her local waterway. THAT individual who has such passion and dedication, who has such drive and ambition – that simply hearing his/her accomplishments from the previous week makes you wonder if they perhaps live in a world where weeks consist of 12 days. THAT aquatic-saving superstar who rarely (if ever) gets the recognition he/she deserves, and most definitely doesn't seek it out. THAT modest, humble, beloved peer who has lots to say and share, but doesn't feel the need to share all of it while accepting the award at River Rally 2012? THAT person should be a River Hero.

Click HERE to learn more about the award and/or to view the nomination process.

10. Savannah Riverkeeper's Roast on the River
When: Friday, January 20, 2012: 6:30 pm – until
Where: Hogan's Marina - 36 Wilmington Island Village Rd, Wilmington Island
Cost:$35/person, $180/6 people, $275/10 people (Current members receive $10 off )
Click HERE to register.

11. Get Out and Do Some Winter Paddling!
There are still several paddle trips in December that you can take advantage of on the Satilla River, Altamaha River, Ebenezer Creek and more. To learn more about these events see our calendar.

12. Terry College of Business Nonprofit Board Workshop
When: Wed, January 18, 2012, 8:30am – 4:00pm
Where: Room 137 of the Tate Center on the UGA campus, Athens, GA (map)
Description: The Nonprofit Program of the Terry College of Business, University of Georgia, announces its Board Member Seminars for Spring Semester. The popular seminars, which are available without charge to nonprofit board members, will be held on the following Wednesdays: JANUARY 19; FEBRUARY 23; and MARCH 23, 2011. The seminars are held from 8:30 a.m. until 4:00 p.m. in Room 137 of the Tate Center on the UGA campus and this semester will cover the following topics: Responsibilities of Board Members and Boards; Strategic Planning; Fund Raising. Boards may send up to four members at one time, but each person must register individually. There is no fee for the seminar; however, participants will be responsible for their own parking, lunch and breaks. At the conclusion of the seminar, you will be presented with a Certificate (if you attend all sessions) and Door prizes will be available as the day concludes. Sessions will be over by 3:45 p.m. Register online HERE. Online registration will open for the January seminar on December 18. You may also send an email to nonprofit@terry.uga.edu.


13. FAQ: Annual Planning
Each month, Jesslyn Shields, Georgia River Network's Watershed Support Coordinator, answers a question she gets asked a lot by river group staff and boards. Here's this month's question:

Question: Our nonprofit board has been collecting ideas about what we want to accomplish next year, but it's not in a very organized form at the moment. Someone suggested to us that we create an annual plan of work. That sounds good, but what is an annual plan and what goes into creating one?

Click HERE to read Jesslyn's answer.

14. Water Words that Work Message Blaster
The Water Words That Work Message Blaster is an all-in-one solution that makes it easy and affordable for you to get the right words to the right people and the right time. Click HERE for more information.

15. Maps and Apps
A new USFS map highlights watersheds where healthy forests are particularly important for clean water.

A great interactive map from our friends at NRDC can help you keep track of where wind, solar and other "river-friendly" power projects are either online or in development.

And the winners of EPA's Apps for the Environment contest can be found here.

16. Get Colleagues to Read Your Emails!
Do you ever have the sneaking suspicion that people aren't reading your emails? Click HERE to find out what to do about it!

17. How to Survive an IRS Audit
Click HERE to read the article.

18. 7 Free Tools That Can Save Nonprofits Money
Click HERE to find out what they are.


19. Grant Opportunities
We're always adding new grants to the grants page of our website. Click HERE to see an updated list of possible funding sources for your work.

Join Georgia River Network!
If you find News Stream and other information and services provided by Georgia River Network useful, we would appreciate your financial support! Visit www.garivers.org and join today!

To be removed from this list, send an email requesting removal to info@garivers.org.