News
Workshops/Conferences/Calendar Items
​Nonprofit Resources
---
The U.S. Army Corps of Engineers has released the final Environmental Impact Statement for the Master Water Control Manual, Apalachicola-Chattahoochee-Flint (ACF) River Basin including a water supply storage assessment. The manual includes information for individual projects in the ACF basin, and will also be used by the USACE in order to operate the five reservoir projects on the Chattahoochee River.

"The purpose and need for the federal action is to determine how federal projects in the ACF Basin should be operated for their authorized purposes, in light of current conditions and applicable law, and to implement those operations through updated water control plans and manuals."

For further information regarding the Master Water Control Manual click HERE
---
Georgia River Network records can now be found at the Hargrett Rare Book and Manuscript Library. Over the years the Library has acquired several historical resources related to the protection and preservation of Georgia's rivers, as well as information on water policies. Information from GRN includes administrative records, maps, and other materials concerning Georgia's rivers and watersheds.
---
Registration is now open! Join Georgia River Network and Satilla Riverkeeper for the second annual "Spring on the Satilla" April 1-2. "Spring on the Satilla" not only raises awareness for Georgia's coastal plans, but also highlights Satilla Riverkeepers hard work in establishing a recreational water trail along the river with intensive technical assistance from Georgia River
Network.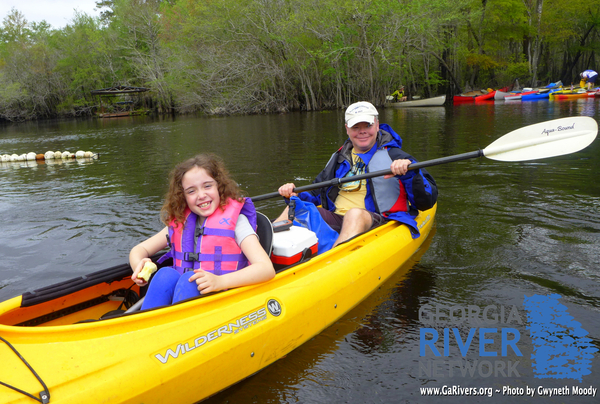 "The trip is more than just a paddle trip. Event organizers plan catered breakfast and dinners at the riverside campsite along with sack lunches for the river. Interpretive programs on local cultural history, opportunities to become a certified Georgia Adopt-A-Stream citizen water monitor as well as games and other activities will also be offered."



To read the full article from The Citizen click HERE
---
Special congratulations to John Quarterman for his new position as Riverkeeper.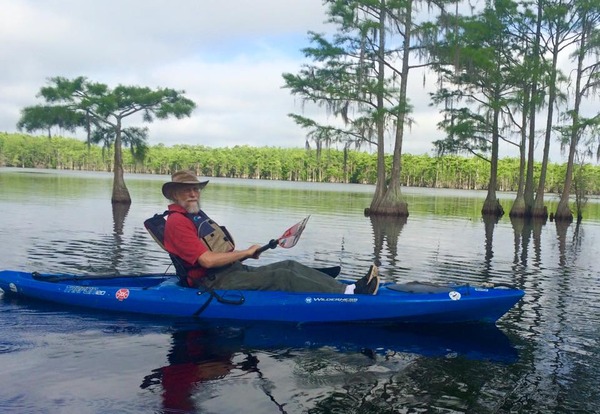 He will continue to be an advocate for the Suwannee River and its tributaries, which include the Withlacoochee, Willacoochee, Alapaha, Little, and Suwannee River watersheds.

Adam Dubbin announces Quartermans' new position on his video blog and explains its importance, "it's a way to formalize the care of these rivers, and also these people are river warriors, out there documenting things and providing the type of information we need to know if somebody is not in compliance or if something is not right. They basically are

boots on the ground."



For more information check out Adam Dubbin's video blog
---

Georgia River Network recently convened the 2nd Georgia Water Trails Network Steering Committee Meeting on Dec 5th, 2016 in Athens, GA. Representatives from the 16 established water trails that make up the Georgia Water Trails Network travelled or called in from throughout the state to reconnect, discuss progress and sustainable measures being taken, and to share resources and new ideas. Water Trail representatives also gave a brief overview of their respective water trails and showcased marketing materials. Jeffery Bishop, DNR Boating Access Coordinator, also joined and gave an overview of DNR's Boating Access signage program and invited the Georgia Water Trails Network reps to provide feedback and recommendations for DNR's new 2017 Signage Policy.

The Georgia Water Trails Network Steering Committee was established by Georgia River Network in order to build relationships and collaboration between established water trail groups, create a framework for developing, promoting, and marketing successful water trails, and to increase resource conservation. The periodic assemblage of the Steering Committee also helps ensure that the Georgia Water Trails Network continues to maintain a level of consistency and validity throughout the state.

Communities from all over Georgia are beginning to develop water trails and are looking to the Georgia Water Trails Network for examples and role models to follow.

GRN's Director of Programs and Outreach, Gwyneth Moody, provides water trail development technical assistance to watershed groups throughout the state and intensive technical assistance to one or two water trail groups for a one year period. This assistance helps water trail groups fulfill the criteria required for a trail to be considered an 'established' water trail within the Georgia Water Trail Network by providing planning and a framework in the areas of: funding, public information (signage, map, brochures, website), recreation opportunities (increased public access), outreach, community support (Resolutions of Support), conservation/restoration (water quality monitoring and cleanups), trail maintenance and education.

Please visit the Georgia Water Trails Website to learn more about the GA wager Trails Program and Georgia Water Trails Network.

---
Georgia Water Coalition's - 2017 Capitol Conservation Day - Feb 15
The next Capitol Conservation Day is Wednesday, February 15th
We'll gather at Central Presbyterian Church to rally with other water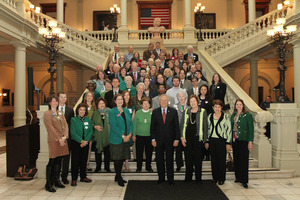 advocates at the State Capitol. Breakfast will be served, inspiring presentations are expected and preparing you to be an effective advocate is promised! Bring members from your various organizations and network with all GWC partners. Together, let's ensure that Georgia's water is protected for generations to come!

Sponsorships are still available for this exciting annual gathering. Your organization's logo will be displayed prominently on the GWC 2017 Banner and highlighted in event communications. Contact kate@gipl.org for more information.

Like last year, One Hundred Miles and partners will be sponsoring a "Ride the Bus!" day trip from the coast to the Capitol for coastal citizens, partners and school groups to join our Capitol Conservation Day efforts. Please contact kelly@onehundredmiles.org for more information.
---
Check out GRN's

2016 Annual Report ~ By the Numbers


Here are just a few accomplishments as we look back at our work protecting and celebrating Georgia rivers in 2016.
ENGAGING PEOPLE ON GEORGIA'S RIVERS
Paddle Georgia - GRN led over 400 people on the 12th annual Paddle Georgia canoe and kayak adventure.
Brews, BBQ, and Boats for Better Rivers 2016 - $16,000 was raised for river protection and engagement.
Hidden Gems - GRN partnered with local community groups for two paddling events on the Coosawattee and Oconee rivers. Two hundred paddlers learned about the development of these up-and-coming water trails and ways to get involved in river conservation and protection.
Fall Float on the Flint - Close to $10,000 was raised to help Georgia River Network and Flint Riverkeeper protects our rivers year round.
Spring on the Satilla - 130 people spent two nights tent camping atop Long Bluff at rustic Satilla Lodge overlooking the river and paddling 17 miles of this blackwater gem.
EMPOWERING WATERSHED GROUPS & WATER TRAIL DEVELOPMENT
GRN provided intensive technical assistance for the development of the Flint River Water Trail, Upper Oconee Water Trail and Georgia's Little River Water Trail.

​GRN convened the 2nd Georgia Water Trails Network Steering Committee Meeting.

GRN provided ongoing assistance to 30+ river protection organizations via consultation, an outreach workshop, monthly newsletter and other resources.
​ADVOCATING FOR CLEAN RIVERS

GRN Kept citizen advocates and Georgia's river groups informed and stayed up to date on and involved in important policy issues and provided ways for people to engage in river issues.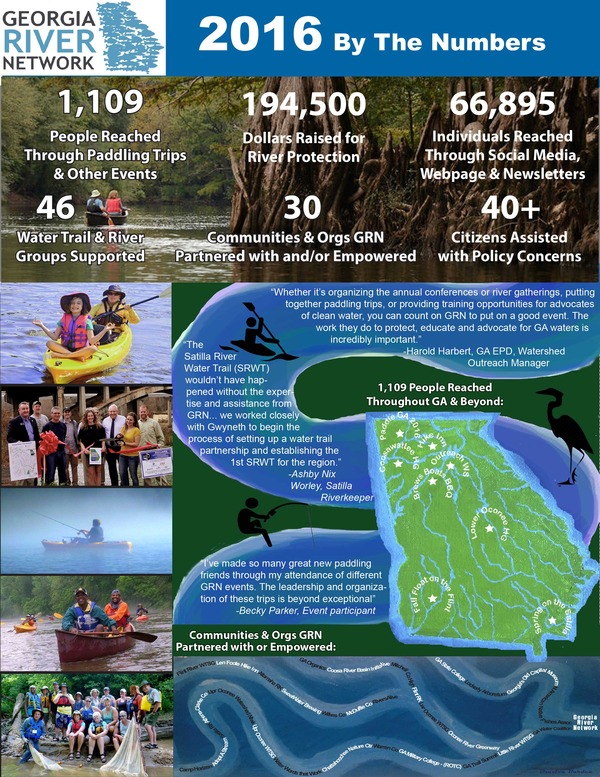 We would like to thank our board members, staff, and volunteers for helping us make 2016 such a great year. Thank you!
Please go to our website to view the entire 2016 Annual Report.
---
The Marine Extension and Georgia Sea Grant invites you for a two day environmental education workshop engaging adults on Georgia's coastal biology, ecology, and issues associated with our beautiful coast.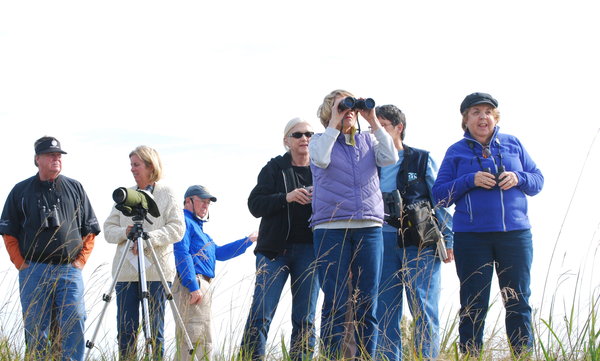 Workshop activities will include a ride aboard the

R/V Sea Dawg,

forest exploration, water quality sampling, and so much more! The workshop will be held Jan. 20, 5-8 p.m. and Jan. 21, 8 a.m.-5 p.m. at the

UGA Marine Education Center and Aquarium on Skidaway Island. The cost is $100 per person.


For more information visit HERE!
---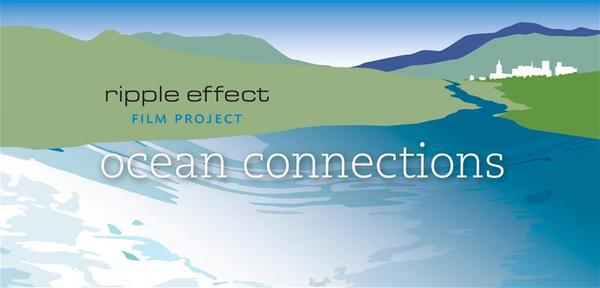 Enter your film for the 2017 Ripple Effect Project! Georgia filmmakers of all ages and abilities are welcome and there is no entry fee for contestants.

The final date for film submissions will be January 31

st

.

Finalists' film well be shown at Athens' historic Morton Theater on March 25, 2017 and the winners will receive cash prizes!

It is asked that films focus on key issues from the Ocean Connections List found HERE . Some topic examples are: water conservation, Food choices, consumer products and plastics, etc.

Click HERE for rules and more information.
---
The Georgia Water Coalition will hold its 2017 spring partner meeting in conjunction with Georgia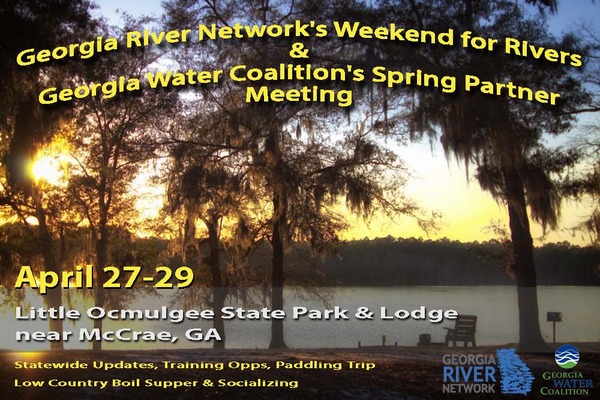 River Network's Weekend for Rivers Event April 27-29, 2017 at Little Ocmulgee State Park & Lodge near McCrae, GA.
There will be multiple training opportunities for our partners during this multi-day event. Come enjoy two days of learning and sharing with fellow water advocates. Engage in the river revelry and share your river revelations!

Tentative Agenda:

Thursday April 27

Group Supper and Socializing

Friday
April 28

9AM–4PM

GWC Partner Meeting

5PM

–

9PM

GRN's Weekend for Rivers Happy Hour, Low Country Boil Dinner, and River Awards Ceremony

Saturday April 29

8AM–3PM

GRN's Weekend for Rivers Conference

Guided Paddling Trip on the Little Ocmulgee River
Registration will open in February and it will be an Ala Carte menu where you can choose all events or just certain portions of the weekend that work with your schedule.

We have 15 rooms in the Lodge and 25 campsites blocked for Thursday 4/28/17 thru Saturday 4/29/17. Please use the Group Code 04748 when making your reservations at Little Ocmulgee State Park Reservations.
---
Join Georgia River Network for our 4th Annual 'Brews, Boats and BBQ for Better Rivers' on February 12, 2017 at SweetWater Brewery in Atlanta, Georgia.
This kickoff paddle party and GRN fundraiser is a pre-season gathering of paddlers and river lovers from all over Georgia at SweetWater Brewery.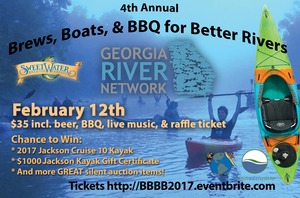 We invite paddlers of all skill levels and disciplines, as well as those who have never paddled but are interested in this wonderful sport to come meet GRN staff members and learn about our mission and upcoming events.

Don't miss this wonderful opportunity to meet new paddling friends and renew old friendships! This is also a great event for those who just love being outdoors and want to support the ONLY organization in the State of Georgia devoted 100% to the protection and preservation of our rivers.
Representatives from several paddling groups across Georgia will also be there.

TICKET INCLUDES:
SweetWater Brewery Tours

Six Tickets for your choice of a variety of Sweetwater Beers on Tap

BBQ by Low Country

One chance to win the Jackson Cruise 10 Kayak (you can purchase more)

Live music by the Barbaric Yawps; "An

eclectic acoustic band steeped in bluegrass and traditional country but impatient with labels, categories, and genres".
---
T
he top 250 Canoe-A-Thon fundraisers who have raised at least $300 are eligible to register for Paddle Georgia 2017 during our special priority registration period (starting today) before regular open registration begins in February!
The 2017 Canoe-A-Thon is underway and will go through July 31, 2017.
If you choose, you can contribute to your own Canoe-A-Thon HERE!
By participating in the Canoe-A-Thon, you help Georgia River Network accomplish two important goals of Paddle Georgia--introducing more people to our beautiful rivers and raising more money to protect these precious resources.
Last year our TOP Canoe-A-Thon registrants included: Terry Pate, Jim & Debbie Fountain, John Branch, Alicia Evans, and Tom Beman helping to raise $30,522 along with our other AWESOME Canoe-A-Thoners.
Y'ALL ROCK!!!!
---
Georgia Trail Summit 2017 ~ Register Now!
Georgia Trail Summit registration is now open! The annual gathering will be held April 20-22 in Columbus, GA home of the longest urban whitewater course. Georgia Trail Summit focuses on connecting trails all across Georgia by providing connections, sharing knowledge and furthering the trail projects already happening in Georgia.
To Register click HERE
---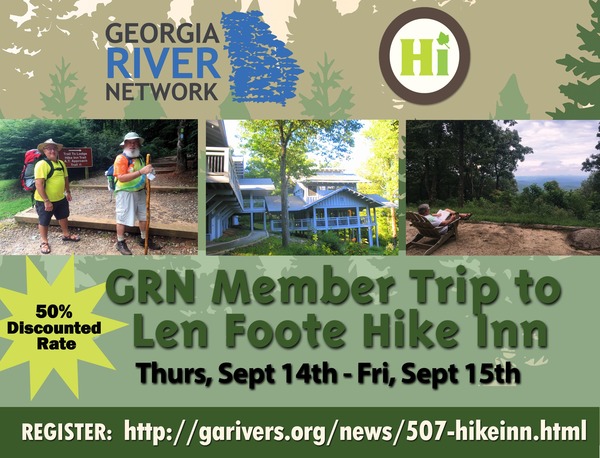 We are excited that Georgia River Network has been offered an opportunity this year to bring a group to the Hike Inn Thursday Sept 14th – Friday Sept 15th and we want YOU to come!

The Inn has room for up to 40 people, so it's first come, first served, and the people we wanted to offer this opportunity to is YOU – our supporters, volunteers, members and colleagues, and your families - to join our staff and board and our families! It will be a great time for Georgia's river friends to spend time together and have fun.

Learn more about the Hike Inn and Claim your spot HERE!

Hope you can join us!
---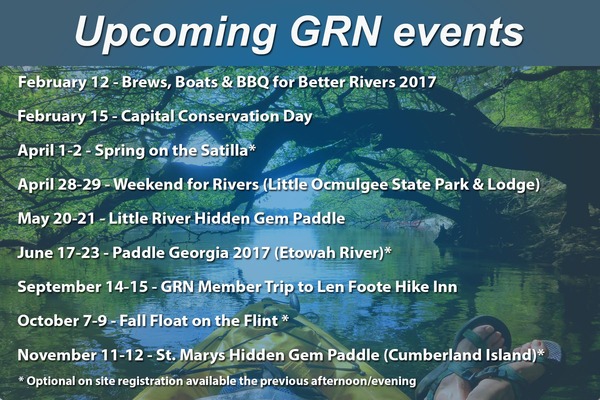 ---
The deadline to submit your nomination for a 2017 River Hero is Friday, January 20, 2017!!!
River Network created the River Hero Award to distinguish those whose efforts have protected and restored their local waters. River Heroes are nominated, selected, and celebrated by peers at the annual River Rally, May 8-10. River Hero Nominations are open to any who have successfully worked with a river conservation organization to improve the protection and health of a river and its watershed.


The application consists of three parts:
A completed nomination form

A nomination letter describing general information, accomplishments, etc

Finally, each nomination will require three letters of support
If you would like to nominate someone for a 2017 River Hero Award click HERE!
---
Looking to build up your organization's team this year? Look no further! Georgia Center for Nonprofits has a few upcoming series to help kick off the New Year.

Development Institute: Introduction to Fundraising
Begins January 18, 2017
A six course series, that teaches best practices in stewardship of donor dollars, capital campaigns, developing relationships with corporate or foundation donors, individual donor development, planned and major gift giving, as well as government funding.

Certificate of Supervision and Management
Begins February 2, 2017
A five part certificate series that aims to provides those working in a supervisory role the knowledge and skills necessary be successful managers and leaders

For more information click HERE