Georgia Water Trails News
---
Water Trails in the News

GRN Convenes GA Water Trails Network Steering Committee Meeting

Georgia River Network recently convened the 2nd Georgia Water Trails Network Steering Committee Meeting on Dec 5

th

, 2016 in Athens, GA.

Representatives from the 16 established water trails that make up the Georgia Water Trails Network travelled or called in from throughout the state to reconnect, discuss progress and sustainable measures being taken, and to share resources and new ideas. Water Trail representatives also gave a brief overview of their respective water trails and showcased marketing materials. Jeffery Bishop, DNR Boating Access Coordinator, also joined and gave an overview of DNR's Boating Access signage program and invited the Georgia Water Trails Network reps to provide feedback and recommendations for DNR's new 2017 Signage Policy.

The Georgia Water Trails Network Steering Committee was established by Georgia River Network in order to build relationships and collaboration between established water trail groups, create a framework for developing, promoting, and marketing successful water trails, and to increase resource conservation. The periodic assemblage of the Steering Committee also helps ensure that the Georgia Water Trails Network continues to maintain a level of consistency and validity throughout the state.

Communities from all over Georgia are beginning to develop water trails and are looking to the Georgia Water Trails Network for examples and role models to follow.

GRN's Director of Programs and Outreach, Gwyneth Moody, provides water trail development technical assistance to watershed groups throughout the state and intensive technical assistance to one or two water trail groups for a one year period. This assistance helps water trail groups fulfill the criteria required for a trail to be considered an 'established' water trail within the Georgia Water Trail Network by providing planning and a framework in the areas of: funding, public information (signage, map, brochures, website), recreation opportunities (increased public access), outreach, community support (Resolutions of Support), conservation/restoration (water quality monitoring and cleanups), trail maintenance and education.

Please visit the

Georgia Water Trails Website

to learn more about the GA Water Trails Program and Georgia Water Trails Network.
Satilla River Water Trail Volunteers Rejoice and Unwind
By Rachael Thompson, Satilla Riverkeeper, Watershed Outreach and Development Assistant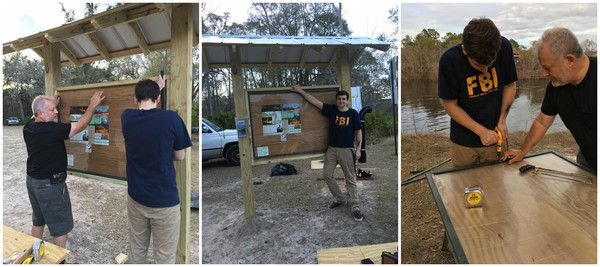 After a summer full of events, and a momentous ribbon cutting ceremony in September, the partners, volunteers, and other contributors of the Satilla River Water Trail (SRWT) were delighted to have some time to unwind this fall. With our checklist of items to become a state-designated water trail completed, the group decided to take some time off to refocus before the new year.

We are gearing up for our first meeting of the year in the first week of February. In an effort to maintain our momentum, our plan in 2017 is to discuss and designate new projects and funding sources for the SRWT. Opportunities to expand our work may include: ordering outreach materials to distribute at events such as banners and SRWT stickers; refine our current Adopt-A-Landing program; plan a family-friendly event, or two!; mount cigarette receptacles at landings; print posters size versions of the SRWT map; and organize community-led efforts to install kiosks at public landings.

We have some accomplishments in the books this year already! Nathaniel Barber, SRWT volunteer, and Boy Scout, just completed his Eagle Project by installing a kiosk at the Ava Strickland Lightsey Landing in Atkinson, GA. In addition, the Satilla Riverkeeper (SRK) has been working to tie up some loose ends from last year. In January, SRK staff and volunteers installed signs on DOT roads along the SRWT landing sites. We look forward to what 2017 has to bring and hope you will follow us on our journey through the year!

For more information visit the Satilla River Water Trail Website.


Georgia's Little River Water Trail Making Steady Progress
The development of Georgia's Little River Water Trail, which flows 20 miles through Wilkes, Warren and McDuffie counties within the 15,000-acre Clarks Hill Wildlife Management Area is starting to gain momentum.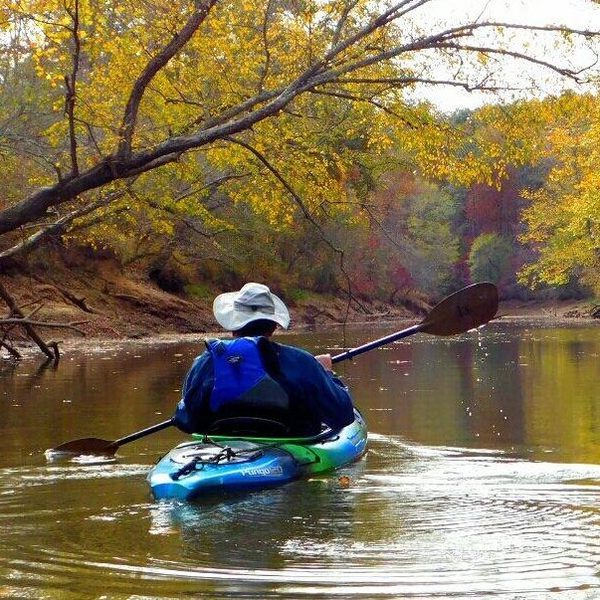 A water trail is similar to a hiking trail but on a waterway with safe public access points, information kiosks and signage, and family friendly amenities such as picnic areas and facilities along the route.

Georgia's Little River Water Trail includes four public access locations: Hwy 80, Hwy 78, Holliday Park, and Raysville Campground and has a wide array of wildlife and a rich history from gold mines to Quaker settlements, and Native American Indians.

Georgia's Little River Water Trail is being developed by various community stakeholders with assistance from Gwyneth Moody, Georgia River Network's Director of Programs & Outreach. "Georgia River Network's Water Trails Technical Assistance Program helps communities form comprehensive water trail stakeholder partnerships​ ​as well as providing them with guidance and resources to begin developing a sustainable water trail." said Moody.​ ​"It's a win-win for everyone - and most importantly our rivers as water trails are also an effective way to introduce people to river issues and to engage them in the protection of their local waterways."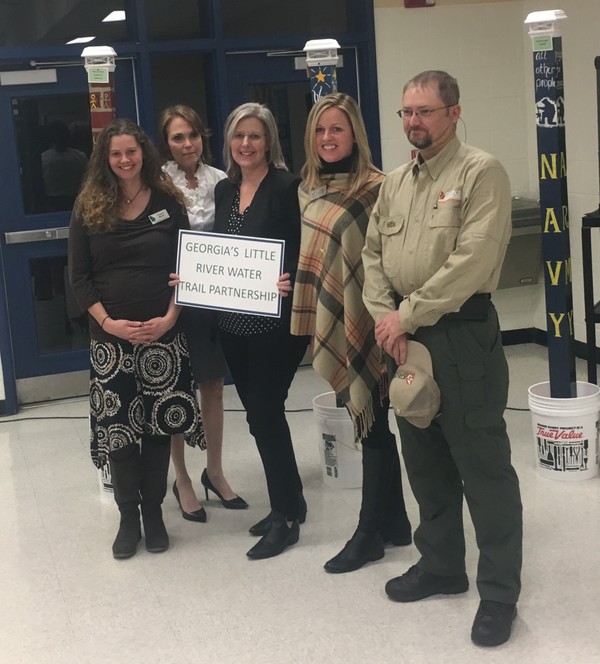 Over the last few months stakeholders including McDuffie, Wilkes and Warren Counties, Army Corp of Engineers, Department of Natural Resources, landowners, local business owners, Boy Scout Troop leaders, and local paddlers have been actively involved in planning and developing the trail.

The latest developments include: a local area high school 'Georgia's Little River Water Trail Logo Contest' for high school students in McDuffie, Warren and Wilkes Counties, entries are due February 22nd; passage of the Georgia's Little River Water Trail Resolutions of Support by McDuffie and Wilkes Counties; and continued work by stakeholders on creating a website, updating the Facebook page, and designing marketing materials that share information about Georgia's Little River Water Trail, river stewardship opportunities, safety and upcoming events.
Stay tuned for the upcoming Georgia's Little River Hidden Gem Paddle and Campout May 20-21, 2017.

In addition, the Warren County Chamber of Commerce recently recognized Georgia's Little River Water Trail and Georgia River Network at their Chamber Banquet for being community partners and enhancing the tourism and ecological benefits of Georgia's Little River.

"Ultimately," Moody said "Georgia River Network hopes to see Georgia's Little River Water Trail join the state-wide Georgia Water Trails Network consisting of the 15 water trails that have successfully fulfill the six criteria required to become an officially established water trail–these criteria include: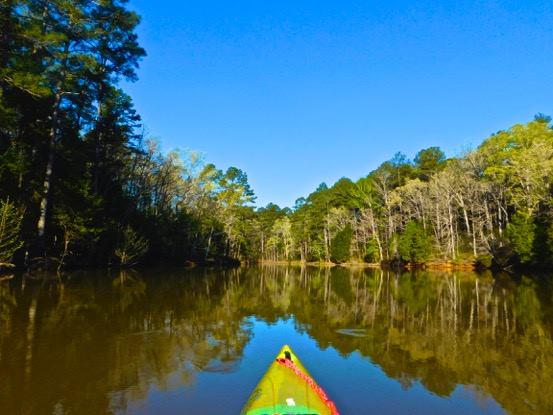 Water trail is sponsored, maintained and promoted by a local entity or partnership.
Publicly accessible areas that paddlers can legally access and safely unload boats and park vehicles.

River access sites are appropriately spaced apart on the river so that they may be reasonably paddled in a few hours or a full day.

Depending on the length of the trail, water access to public overnight camping sites.

Information about the water trail provided to paddlers through a website and illustrative maps created by the sponsoring entity.

Signage/ kiosks placed at all water trail access points that include: river etiquette information, paddling safety information, and a map of the water trail.
"Georgia's Little River Water Trail will be an asset to the communities along it and to Georgia tourism serving as a gateway for environmental protection, economic development and recreational opportunities."
Yellow River Water Trail Proposes Accessible Canoe/Kayak Launch

The city of Porterdale along with the Yellow River Water Trail Partnership have submitted an RTP Grant application for a proposed Yellow River Water Trail Accessible Canoe/Kayak Launch that would include a concrete step-down with wheelchair accessible ramp, kiosk, picnic table, waste receptacle, and parking area. The launch site will be constructed at the intersection of the Yellow River at Brown Bridge Rd, a highly visible site, and only 3.5 miles from the recently completed launch in Porterdale.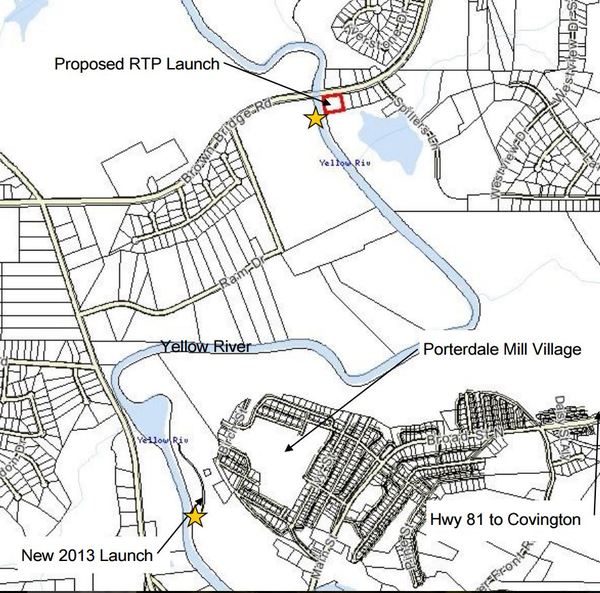 This location is also across from the Newton County Educational Complex and Performance Center, suitable to all county residents. The launch site is approximately 2.5 miles off I-20 from exits 89 Almon/ Porterdale or 90 Turner Lake Road, which will be convenient and beneficial for paddlers coming out of town.

The need for a family and special needs friendly launch site was inspired by the number of paddlers that visited the Yellow River this previous summer. The new launch site located in Porterdale was popular but only for those capable of paddling upstream and comfortable launching from steps. A new launch site would also be another step in the plans for the 53-mile Yellow River Water Trail, a regional project.

This project is projected to be completed by summer of 2017.

To learn more visit the Yellow River Water Trail website.


New Boat Landing for Ocmulgee River Water Trail at Scuffle Bluff
Excerpted from the Telfair Enterprise

Many Telfair County residents turned out to witness the dedication of the new boat
landing at Scuffle Bluff located in the Horse Creek Wildlife Management Area in
Jacksonville last week. State Representative Jimmy Pruett led the dedication
ceremonies along with other local officials and representatives from the Georgia
Department of Natural Resources.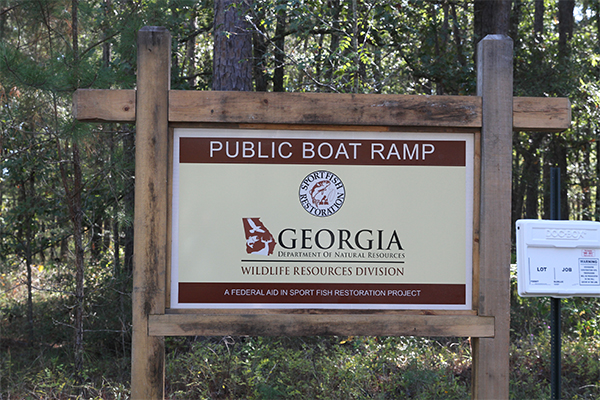 "I was pleased to see the citizens that turned out for the dedication," says Telfair County
Board of Commissioners Chair, Pat Ray, who spoke at the ceremony. "This landing is
an asset to our community. I know the use of it will be advantageous to all."

According to a press release from Georgia DNR's Wildlife Resources division, officials
are anticipating more than 5,000 users each year availing themselves of the new facility.
The Scuffle Bluff Boat ramp will give boaters, anglers and hunters improved access to the Ocmulgee River.

The facility includes a 20-foot wide boat ramp, canoe steps and parking for 18 trucks
and trailers, with space available for overflow parking. The area will be accessible to the
public 24 hours a day, seven days a week, except when the road is closed due to
flooding.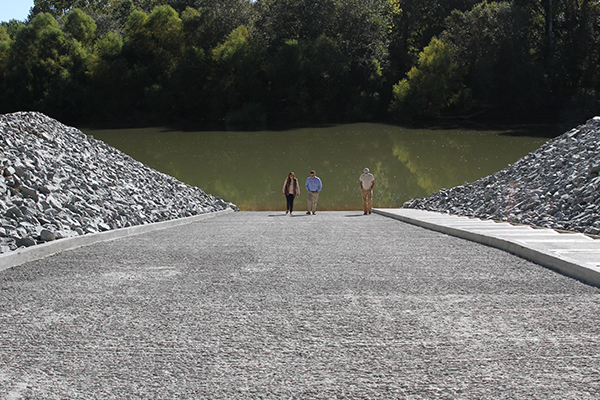 The installation of boat ramps gives anglers, boaters and hunters improved access to waterways. This helps facilitate fishing participation in Georgia's exceptional fishing resources. Additionally, the availability of ramps in communities brings people through those areas, with potential for economic increase.

Telfair County is one of the counties participating in the Ocmulgee Water Trail Partnership and this landing will be incorporated into the Ocmulgee Water Trails map.
Click HERE for more information about the new boat landing.
More Camping on Upper Chattahoochee River Water Trail
Buck Shoals State Park, located along the 36.2 mile Upper Chattahoochee River Water Trail,
will allow camping for groups only with permit along the riverbank which has been changed to a Wildlife Management Area.

DNR officials decided to transfer the property from the state parks section to the Wildlife Resources Division. It will now be operated as a Wildlife Management Area.

Learn ​more about the
Upper Chattahoochee River Water Trail.
The DeKalb County Section of South River Water Trail on the Up and Up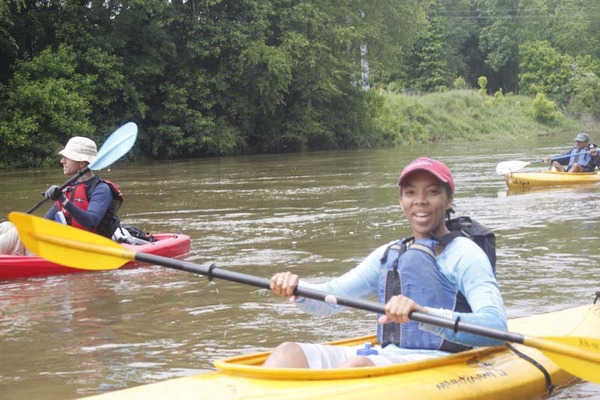 The DeKalb County section or first section of the developing South River Water Trail is moving along. The county is working on securing the required launch permits, and working towards a summer 2017 completion date.

South River Watershed Alliance (SRWA) received a $5,000 grant from Arabia Mountain Heritage Area Alliance to purchase signage. The remainder of the trail is moving along as well. SRWA is completing conceptual design and cost estimates for the other four launch sites (2 in Rockdale County, 2 in Newton County). Once this is completed SRWA will develop a proposal and submit to interested funders.

Learn more about the South River Water Trail and get involved!
Brooks County Passes Withlacoochee and Little River Water Trail Resolution of Support
By John. S Quarterman, Suwannee Riverkeeper WWALS Watershed Coalition, Inc.


Brooks County unanimously passed a resolution to support the Withlacoochee and Little River Water Trail. Thanks to Commissioners and staff, especially County Administrator Justin DeVane, for some very useful suggestions, such as numbering river landings as well as naming them, in the same way that county roads have both names and numbers to make it easier for emergency services. Commissioners and staff also clarified several access points.

Learn more about the developing Withlacoochee and Little River Water Trail!
American Trails' New Executive Director is Water Trails Advocate
"Why Water Trails are Better than Land Trails"
Excerpted from American Trails Magazine - by Mike Passo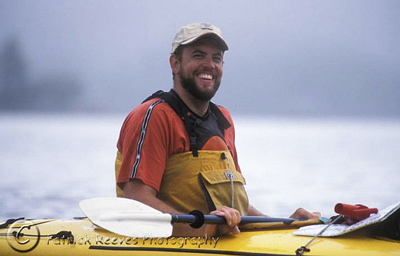 I'm starting a movement... Land-lubbers have dominated the trails discussion for too long. No more, I say! Did Lewis and Clark choose to follow game trails to connect to the Pacific Ocean? NO! What was the most miserable and disheartening part of their epic journey? It was walking over the Continental Divide! Americans knew the score back then. Why walk when we can paddle?

Since those heady days, we Americans have lost our way. We have turned to the land as our primary
means of travel and recreation. We need to return to the right path... the wet path... and, coincidentally, an extremely accessible path!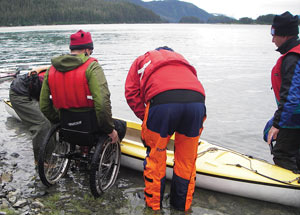 I am a person with a disability, and I own a sea kayak tour company that operates in the Pacific Northwest. I have conducted extensive, pain-staking research on the subject and have discovered the following absolute truisms:
Kayaking is more fun than walking.

A water trail is already there. You just need to provide the means to utilize it.

Canoeing is more fun than walking.

Water trails are cheaper to build (refer to #2 above).

Rafting is more fun than walking

Water trails are cheaper to maintain (refer to #2 above).
Read the rest of Mike Passo's article HERE.
​
New Trails Help Promote Obama Administration's Effort to Increase Outdoor Recreational Opportunities, Connection to Nature
Excerpted from US Department of the Interior Press Release- By Jessica Kershaw and Jeff Olson

U.S. Secretary of the Interior Sally Jewell and National Park Service Director Jonathan B. Jarvis announced the designation of six local and state National Recreation Trails, adding more than 350 miles to the National Trails System, and three National Water Trails, adding more than 600 miles to the National Water Trails System.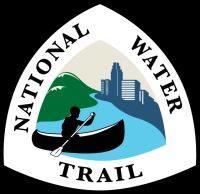 "By designating these new National Trails, we recognize the efforts of local communities to provide outdoor recreational opportunities that can be enjoyed by everyone," said Jewell. "Our world-class network of national trails provides easily accessible places to enjoy exercise and connect with nature in both urban and rural areas while also boosting tourism and supporting economic opportunities in local communities across the country."

On Saturday, June 4, 2016 hundreds of organized activities were planned as part of National Trails Day, including hikes, educational programs, bike rides, trail rehabilitation projects, festivals, paddle trips, and trail dedications.

For the full press release click HERE
---
Brews Boats & BBQ for Better Rivers 2017 - Join the Party!
This kickoff paddle party and GRN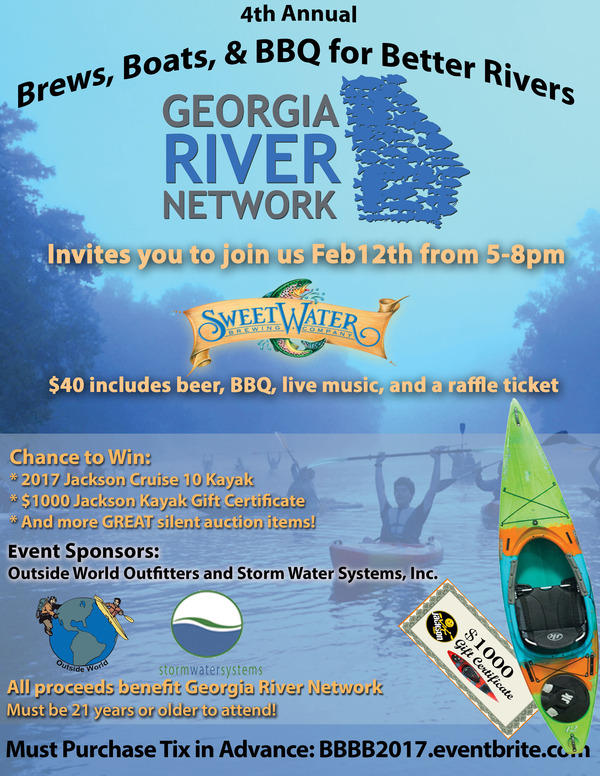 fundraiser is a pre-season gathering of paddlers and river lovers from all over Georgia at SweetWater Brewery.

We invite paddlers of all skill levels and disciplines, as well as those who have never paddled but are interested in this wonderful sport to come meet GRN staff members and learn about our mission and upcoming events.

Don't miss this wonderful opportunity to meet new paddling friends and renew old friendships! This is also a great event for those who just love being outdoors and want to support the ONLY organization in the State of Georgia devoted 100% to the protection and preservation of our rivers.
Representatives from several paddling groups across Georgia will also be there.

TICKET INCLUDES:
SweetWater Brewery Tours

Six Tickets for your choice of a variety of Sweetwater Beers on Tap (Wine will also be offered)

BBQ by Low Country

A chance to win the Jackson Cruise 10 Kayak (you can purchase more)
Don't Forget about our Raffle Prizes!
2017 Jackson Cruise kayak (you must be present to win)

A $1000 Gift Certificate - good for any Jackson Kayak from Outside World ( you don't have to be present to win)
And our Awesome Silent Auction
To find out more and purchase your tickets click HERE!
Paddle Georgia Returns to the Etowah
"A week-long canoe/kayak adventure from Dawsonville to Rome"
Excerpted from Coosa Valley News by Staff Reports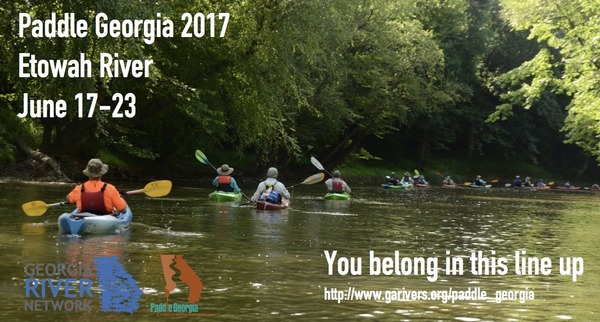 Paddle Georgia 2017 will take you on a 125-mile journey from near Dawsonville to Rome. Along the way, you'll paddle through beautiful wildlife management areas, over 1,000-year-old Native American fish weirs, past antebellum plantations and ancient indian mounds and into a river corridor of tremendous biodiversity and cultural history.

Throw in educational programs, fun and games and camaraderie with your fellow paddlers, a few water cannon battles, great food, a street party and a lip-smacking fish fry and you have the makings of another classic Paddle Georgia adventure.

REGISTRATION IS LIMITED TO THE FIRST 450 PADDLERS.

Spaces will be sold on first-come, first-serve basis until sold out. There is no lottery or second registration period.

Registration Fees: $425 for adults, $230 children (8-17), $30 children (7-under).
Paddle Lite Registration Fees: $120 for adults, $70 children (8-17), $15 children (7-under).

Registration fees include a T-shirt, boat decal, maps and river descriptions, souvenir cup, a year's membership to Georgia River Network, camping with bath facilities, shuttles to campsites, entertainment, activities, educational programs and special swag from our sponsors.

Register HERE!
Paddle Georgia Canoe-A-Thon 2017

Paddle Georgia is a fun and action packed adventure, but it also raises awareness for clean and healthy rivers! Each participant is asked to solicit donations on a per-mile basis. The Canoe-A-Thon works just like a walk-a-thon. Ask prospective donors to sponsor you at a specific amount for each of the miles you'll be paddling during Paddle Georgia 2017 or Spring on the Satilla. By participating in the Canoe-A-Thon, you help Georgia River Network accomplish two important goals of Paddle Georgia--introducing more people to our beautiful rivers and raising more money to protect these precious resources.
Last year our TOP Canoe-A-Thon registrants included: Terry Pate, Jim & Debbie Fountain, John Branch, Alicia Evans, and Tom Beman helping to raise $30,522 along with our other AWESOME Canoe-A-Thoners!

The 2017 Canoe-A-Thon is underway and will go through July 31, 2017. If you choose, you can contribute to your own Canoe-A-Thon HERE!
​
Spring on Satilla ​- Tickets Selling Fast
Registration is now open and tickets are going fast! Join Georgia River Network and Satilla Riverkeeper for the second annual "Spring on the Satilla" April 1-2.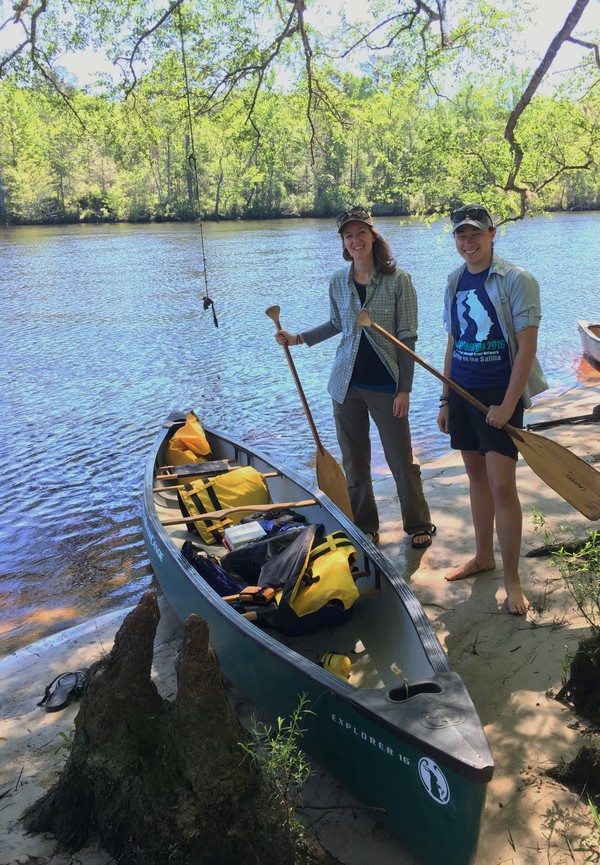 Spring on the Satilla is the ultimate south Georgia river adventure. In early April while north Georgia is just emerging from the winter doldrums, the Satilla River in far southeast Georgia will be brimming with life…(and in early April, not brimming with the eternal heat of summer!).
For two nights you'll tent camp atop Long Bluff at rustic Satilla Lodge overlooking the river and over the course of two days of paddling you'll experience nearly 28 miles of this blackwater gem where moss-draped cypress and tupelo crowd the banks and where it seems oxbow lakes and sloughs radiate from every bend. Educational programs, catered meals, campfires and camaraderie round out a weekend of leisurely paddling and first-rate camping.
Along with raising awareness for this beautiful coastal plain, this event will also highlight Satilla Riverkeepers hard work in establishing a recreational water trail a

long the river

with intensive technical assistance from Georgia River Network.

You can learn more and register HERE!


Weekend for Rivers ~ April 27-29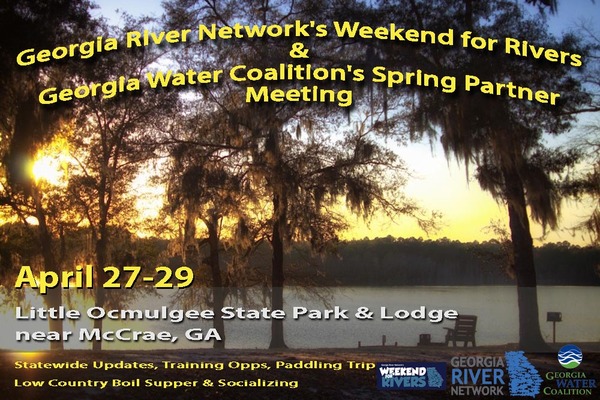 The Georgia Water Coalition will hold its 2017 spring partner meeting in conjunction with Georgia

River Network's Weekend for Rivers Event April 27-29, 2017 at Little Ocmulgee State Park & Lodge near McRae, GA.

There will be multiple training opportunities for our partners during this multi-day event. Come enjoy two days of learning and sharing with fellow water advocates. Engage in the river revelry and share your river revelations!

Registration will open February 10th, and will be an A la Carte menu where you can choose all events or just certain portions of the weekend that work with your schedule.

Tentative Agenda:

Thursday April 27

Group Supper and Socializing

Friday
April 28

9AM–4PM

GWC Partner Meeting

5PM

–

9PM

GRN's Weekend for Rivers Happy Hour, Low Country Boil Dinner, and River Awards Ceremony

Saturday April 29

8AM–3PM

GRN's Weekend for Rivers Conference

Guided Paddling Trip on the Little Ocmulgee River
We have 15 rooms in the Lodge and 25 campsites blocked for Thursday 4/27/17 thru Sunday 4/30/17. Please use the Group Code 04748 when making your reservations at Little Ocmulgee State Park Reservations.
Georgia Trail Summit 2017 Registration Now Open!
Georgia Trail Summit registration is now open! The annual gathering will be held April 20-22 in Columbus, GA home of the longest urban whitewater course. Georgia Trail Summit focuses on connecting trails all across Georgia by providing connections, sharing knowledge and furthering the trail projects already happening in Georgia. The theme this year will be Plan. Fund. Build. Manage.

Participants will have the opportunity to engage in seminars such as, Setting a Vision for Public Parks, which focuses on the importance of Park Pride. As well as hear from speakers like Georgia River Network's very own, Gwyneth Moody, who will be speaking about building local rivers into popular water trails.

For more information on Georgia Trail Summit click HERE
River Rally 2017 ~ Define What is Possible
River Rally will be held at the Grand Rapids, Michigan
from May 8-1.
This year's conference program is super-charged for impact.
In the midst of a crisis related to climate risk, drinking water contamination, and access to water, we will be asking some hard questions. How do we respond, how do we grow our community, and how do we inspire the next generation? River Rally 2017 will help define what is possible, individually and collectively.
Find more information click HERE.
---
Useful Resources
A
merican Trails: Archived Webinar:
"Leveraging Public-Private Funding for Trails"
​
Need help creating funding strategies for your local water and land trails? American Trails presents this archived webinar that focuses on funding ideas and provides two case studies of strong public-private partnerships. Speakers include Elizabeth Riggs, Huron River Watershed Council; and Julie Clark, Traverse Area Recreation & Transportation (TART) Trails. It is archived and free to download!
Throughout the hour and a half webinar you will learn about maintaining trail infrastructure and improvement despite having a limited budget, TART and it's development with public-private partnerships, and hear from speakers with the utmost experience and knowledge.

To download this free webinar Click Here!
Check the Numbers: Watersports are Dominating the Outdoor Recreation Industry
The demand for recreational experiences on the water is growing at a steady clip. Outdoor recreation participants spend $86 billion annually on watersports (kayaking, stand-up paddling, rafting, canoeing, and motorized boating), the second highest revenue stream, with camping in the lead at $142 billion. Watersports directly support more than 800,000 jobs annually (The Economic Impacts of River Recreation, 2014).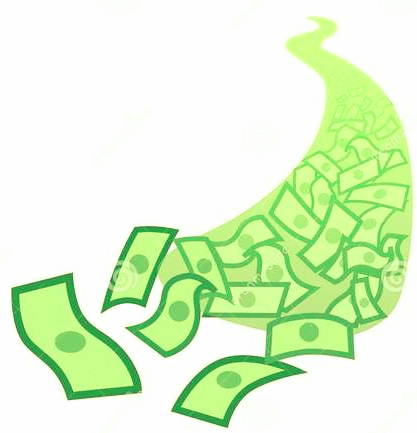 The Outdoor Foundation's "Special Report on Paddle Sports" found that paddling activities, like whitewater and sea kayaking, grew up to 2.8% in participation from 2007 to 2008. The study concluded that almost 20% of active paddlers are from the South Atlantic region of the U.S. (Outdoor Foundation, 2009)

In addition the Outdoor Foundation's "Special Report on Fishing and Boating" noted that in 2011, 7.9% of Americans owned a boat – that equates to 22.6 million people, and represented a 2.7 million increase since 2010. The article went on to announce that, "For fishing and boating communities, participation trends are very promising and indicate that outreach programs are working. In addition, these trends offer encouraging news for the overall outdoor community and America's outdoor heritage" (Outdoor Foundation 2012).
Furthermore, the Association of Fish and Wildlife Agencies reported that recreationists spend $11.3 billion annually on canoeing, kayaking, and rafting in Georgia. (Discover Georgia Outdoors - Tourism Impact Brochure. Association of Fish and Wildlife Agencies).
Do You Manage Recreational Access to Water?
Check out the River Management Society's "Public Access Guide for Landowners, Water Trails and River Managers"!

This nine page guide will help you better understand recreational use statutes and sovereign immunity, how to apply charging fees, and much more. The guide is filled with excellent examples and links to helpful websites.

For the full guide click HERE
---
Flotsam and Jetsam
Paddling Boarding May Not Give You the Six Pack You Desire, but It's Still Great Exercise
This article, from SUP Magazine, details what research studies have found about paddle boarding as an exercise, and what it actually takes to gain those "instant abs" associated with SUP. Whether you want rock hard abs or just a fun new activity, paddle boarding is a great exercise to keep you happy and healthy!
How can others sign up for Georgia Water Trails News?


It's EASY! Just fill out this sign up form.
Please send news and developments on your trail, contributions to be included in the newsletter, and any suggestions to gwyneth@garivers.org

Georgia River Network
126 South Milledge Ave. Suite E3,
Athens, GA 30605