Georgia River Network News Stream
************************************************************************************************
1. Ochlockonee Hidden Gems – A Great Time had by All
Nearly 70 participants, presenters and volunteers joined us to experience, learn about, and celebrate this beautiful up-and-coming Ochlockonee Water Trail!

Not only did we get to indulge in donuts, coffee and goodie bags at the put-in location, we were also serenaded by local musician Gary Asbell, who sang songs about the Ochlockonee river as he played his guitar and harmonica to paddlers passing by. We also enjoyed presentations about river cleanups, water quality monitoring, cultural history, conservation efforts, event partnering organizations, native/invasive plant species and wildlife.

Brave paddlers Michael Wolfe and Camm Swift had no problem wading up to their elbows into the chilly river water in order to sein a plethora of fishes and even freshwater shrimp!

Majestic Bald Cypress, Ogeechee Lime, and Weeping Willow graced the river banks at every turn, at times reaching out and making the river into a paddling obstacle course. We lucked out with beautiful weather and a lovely water level, and we couldn't have asked for a more supportive group of friendly enthusiastic paddlers! See the photos HERE.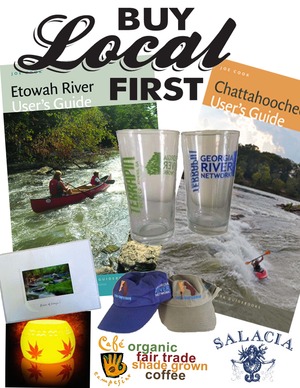 Looking for gifts for family and friends? Well look no further!
We have hats, coffee, beeswax candles, t-shirts, pint glasses, bath salts, river greeting cards, GA river guide books, and more....

Give someone a gift and help protect rivers at the same time by purchasing some of GRN's merchandise and/or purchasing items from those who so generously support GRN by donating a portion of their sales to us!
You can do so by shopping HERE!
All of GRN's merchandise is being sold at a DISCOUNT now through December 31!
3. Sierra Club Outdoors Hiring In Atlanta
Would you like to play a lead role protecting the environment and growing the environmental movement in the Southeast US? Sierra Club Outdoors is looking for a Southeast Military & Veterans Outdoors Coordinator to be based in their Atlanta, GA office. Working alongside staff and volunteers in Georgia, Tennessee, North Carolina and South Carolina, you'll be asked to engage veterans and build this program throughout the region. Previous experience in a leadership role in the military, non-profit or outdoors program will help you hit the ground running. Recruiting and training new volunteer leaders will be a primary focus, as will advocacy and coalition building. Comfort with these roles is essential.
If this sounds like the right career move for you, please visit the job posting HERE.

4. Savannah Riverkeeper Seeks Outreach Coordinator
Savannah Riverkeeper is seeking a highly motivated, organized, and creative individual for an exciting opportunity to serve as Outreach Coordinator to promote recreational use and respect for the river, to spread their messaging to underserved areas, increase community involvement and expand their reach of the watershed.
This full­time position will be expected to travel often, working 1⁄4 time in Augusta, GA, 1⁄2 time in Savannah, GA and 1⁄4 in the Allendale, SC (Middle­Lower Savannah River) area. Personal and reliable transportation is a requirement.
Learn more HERE.

5. Please Act NOW to Protect Georgia Streams with a Buffer

All of Georgia's waterways are supposed to be protected by a 25-foot buffer. On cold water trout streams in North Georgia that buffer is 50 feet. These protected areas help keep water clean, protect habitat for fish and wildlife, and prevent damage to streamside property.

This summer the Georgia Supreme Court ruled on a legal case Georgia River Network initiated in 2012. The Supreme Court's decision places the protection of Georgia's creeks, streams and rivers in question. The high court limited the methods used by Georgia's Environmental Protection Division (EPD) to determine streamside protection zones to a single, narrow test: buffers are to be measured only from the point of "wrested vegetation." Not all waterways have wrested vegetation, however, which leaves many of the state's streams, creeks and rivers without a protected buffer.

Georgia River Network is actively engaged in working on a solution to this problem. And we need YOUR help. To learn more about the issue and TAKE ACTION, visit: http://www.protectgeorgia.org
6.
Brews, Boats, and BBQ for Better Rivers 2016 - Save the Date
When: February 28, 2016
Where: SweetWater Brewery, Atlanta, GA
What: Join Georgia River Network for the 3rd Annual 'Brews, Boats and BBQ for Better Rivers' on February 28, 2016 at SweetWater Brewery in Atlanta, GA. This kickoff paddle party and GRN fundraiser is a pre-season gathering of paddlers and river lovers from all over Georgia at SweetWater Brewery. We invite paddlers of all skill levels and disciplines, as well as those who have never paddled but are interested in this wonderful sport to come meet GRN staff members and learn about our mission and upcoming events. This is also a great opportunity to meet new paddling friends and renew old friendships!

Representatives from several paddling groups across Georgia will be there. There will also be silent and live auctions including a Deuter Rece X backpack, Optic Nerve Arsenal Sunglasses, Werner Bandit Canoe Paddle, Tickets to the Atlanta Botanical Garden, an Altamaha Coastal Tours Paddling Trip for Two, Jewelry, Art and much more… Plus a chance to win 2 new Jackson recreational kayaks (2016 Cruise 10 & 2016 Tupelo) - So be sure to stock up on raffle tickets!

Many thanks to event sponsors Outside World Outfitters and Storm Water Systems Inc. for their generous support! Tabling by Surfrider Foundation - Georgia Chapter.
Tickets are $25 and include: Complimentary SweetWater Brewery Tours & Tastings,
BBQ, and a raffle ticket. We will have additional raffle tickets for sale!
Must purchase event tickets in advance at www.BBBB2016.eventbrite.com
(Please note that all attendees must be 21 years of age or older as of February 28, 2016.)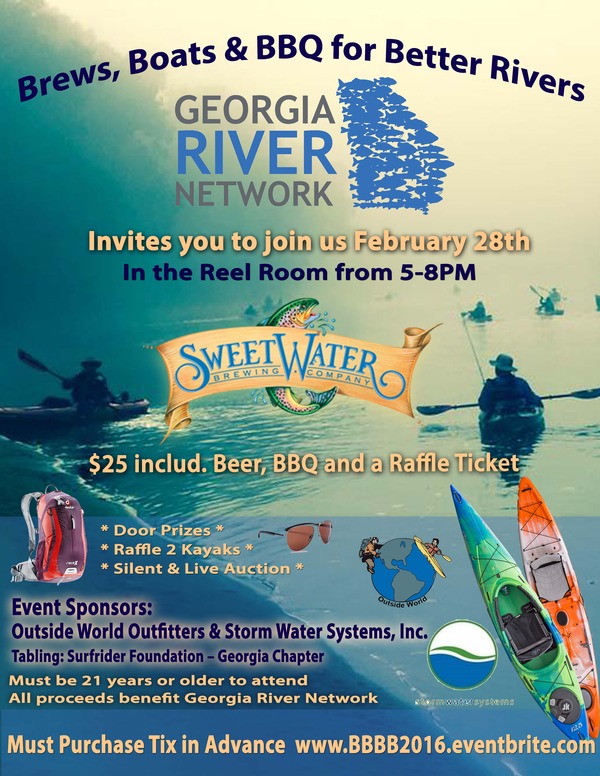 When: Thursday, February 18 – Saturday, February 20, 2016
Where: Coastal Georgia Center, 305 Fahm Street, Savannah, GA 31401
How: For more information and to register, visit www.gacoast2016.org OR call 912-233-5104
Who: The Symposium is a project of The Ossabaw Island Foundation, Armstrong

Chris Manganiello, Georgia River Network's policy director, will join ten leading writers and scholars in history and literature to present original research on critical topics about Georgia's coast for the ​upcoming 'Coastal Nature, Coastal Culture:

Environmental Histories of the Georgia Coast Symposium.
Why does the Georgia coast matter? For over 5,000 years, people and cultures influenced, and were shaped by, Georgia's 100-mile coastline, barrier islands and lowcountry. This first-of-its-kind symposium will build a much-needed bridge between the history of the American South and the booming field of environmental history.

The changing landscapes on Georgia's coastal plain reflect the interaction of different visions and cultures with the natural environment. The history of Georgia's people, land, and water reveals how the past has shaped the present and could affect the future.

8. Spring Float on the Satilla - Come Paddle With Us
When: April 1-3, 2016
Where:

Satilla River near Woodbine


What: Spring on the Satilla is the ultimate south Georgia river adventure. In early April while north Georgia is just emerging from the winter doldrums, the Satilla River in far southeast Georgia will be brimming with life…(and in early April, not brimming with the eternal heat of summer!). For two nights you'll tent camp atop Long Bluff at rustic Satilla Lodge overlooking the river and over the course of two days of paddling you'll experience 17 miles of this blackwater gem where moss-draped cypress and tupelo crowd the banks and where it seems oxbows lakes and sloughs radiate from every bend. Educational programs, catered meals, campfires and camaraderie round out a weekend of leisurely paddling and first-rate camping. Register by March 18. www.garivers.org.
9. Plan Your Impact! Workshop in Athens
When: Jan 12, 6-7:30 PM
Where: Athens, GA
What:
Broad 9A is hosting a workshop that will illuminate the strategic planning process and help you achieve the impact you seek. April Ingle, a long-time environmental non-profit consultant, will teach the steps one must take to create a plan and apply it to everyday work. This exciting opportunity costs $25, register today.
Georgia River Network is proud of the progress made this year on the development of the Satilla River Water Trail! The Satilla River Water Trail is located in Southeast Georgia within the counties of Atkinson, Ware, Pierce, Brantley, Charlton, and Camden. The trail will ultimately be 166 miles long beginning on GA 64 Bridge, Atkinson County Landing, continuing downstream along the Satilla River, and finishing in the City of Woodbine. The water trail is currently being developed by the Satilla Riverkeeper, Pierce County, and communities within the watershed with intensive technical assistance provided by Georgia River Network. The Satilla River is among the last free-flowing rivers in Georgia and is considered to be one of the most scenic and natural rivers in south Georgia. The river is nestled in a wet bottomland forest corridor and supports a significant number of plants and animals, including endangered and threatened species, and is an industrial and agricultural water supply for the region.
Some of the accomplishments made this year include the establishment of road signage at 2 access points using the Georgia Water Trail Signage Packet, creation of a logo, website, and Facebook page and they are also in the process of developing an illustrative map with the help of Georgia River Network and the Northeast Georgia Regional Commission.

Georgia River Network is also excited to announce that Camden County, Pierce County, the cities of Woodbine and Waycross have followed the lead of 18 other cities and counties in Georgia by signing a Resolution of Support for their respective Water Trails.

Go to Georgia River Network's Water Trail Toolkit to see all 21 signed City and County Water Trail Resolutions of Support and a template you can use for your water trail HERE.

Learn more about the Satilla River Water Trail and read the most recent article in the Brunswick News about their progress!
11. 2015 Special Report on Paddle Sports: Kayaking | Canoeing | Rafting | Stand Up Paddling

Recently, the Outdoor Foundation released the 2015 edition of their Special Report on Paddle Sports. Overall, the report found that 7.4% of Americans engaged in paddlesports, or an overall record of 21.7 million people. That number represents an increase of more than 3 million people since the study began in 2010. More and more people are using waterways for recreation, and water trails are a great way to connect the public to opportunities. You can read the entire report HERE.

Is your watershed organization in need of new data to convince your community about the benefits of water trails? Then be sure to check out GRN's Georgia Water Trail Toolkit – Economic Benefits section!
It's no secret that water trails (aka paddling trails, canoe trails, blueways, blue trails) will bring economic development and tourism to a community. Just look at the data: Outdoor recreation participants spend $86 billion annually on watersports (kayaking, stand-up paddling, rafting, canoeing, and motorized boating), the second highest revenue stream, with camping in the lead at $142 billion; Watersports directly support more than 800,000 jobs annually; and the Association of Fish and Wildlife Agencies reported that recreationists spend $11.3 billion annually on canoeing, kayaking, and rafting in Georgia.
Furthermore, along with creating opportunities for recreation, water trails allow more people to experience and become familiar with a river, which often fosters a sense of attachment to the river as a familiar place. Stable, functional watersheds and rivers add value to water trail experiences, as well as benefit wildlife and environmental conditions in general. In this way, a water trail can act as a springboard to motivate residents and landowners to care and seek enhancements that benefit the river. Each new water trail allows more sets of eyes on wildlife and stream conditions and can bring public attention to opportunities for local stream and watershed restoration. So Water U Waiting 4? Check out Georgia River Network's Water Trail Website (gawatertrails.org) to learn more and contact GRN Community Programs Coordinator, Gwyneth Moody, to help you get started!
13. Healthy Watersheds Consortium Grant Program
A stream can't be healthy if its watershed is not properly protected. The Endowment for Rivers & Communities and the Environmental Protection Agency are offering awards to projects that will develop healthy watersheds. They expect to make awards in the range of $50,000 to $150,000, out of a total pool of $3.75 million. This is a great opportunity to fund your local project!
Read more about the grant
HERE
.
14. Royal Bank of Canada's Blue Water Project
The Royal Bank of Canada is funding urban waters grants, which will be announced soon. These "Community Action Grants" range from $1,000 to $10,000 and are awarded to local or community-based organizations.
The project focuses on supporting initiatives that help protect and preserve water in towns, cities and urbanized areas with populations of more than 10,000 people that focus on:
Improved control and management of urban storm or rain water

Efficient and innovative use (or capture and reuse) of water

Protection and restoration of urban waterways

Improved urban water quality
Applications for the community action grant are due February 18, 2016. An expression of interest for the leadership grant is due by

December 15, 2015

. Find out more about this and other RBC water grants
HERE
.
---
Join Georgia River Network!
If you find News Stream and other information and services provided by Georgia River Network useful, we would appreciate your financial support!
Visit www.garivers.org and join today!