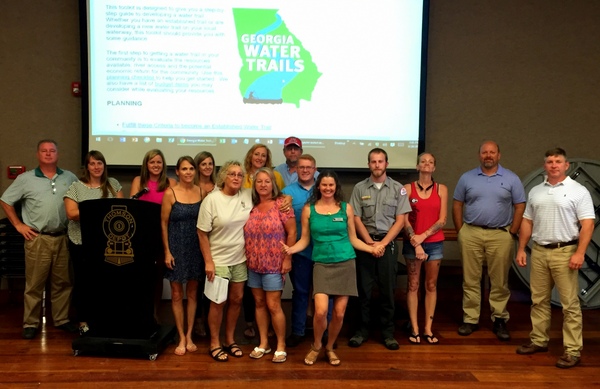 development of the Little River Water Trail!

This beautiful river flows into the 15,000-acre Clarks Hill Lake Wildlife Management Area and is truly a wildlife sanctuary with bald eagle nests, river otters romping about, turtles galore and so much more!

If you are interested in getting involved please contact Gwyneth@garivers.org to learn about our monthly meetings and project opportunities.

---
Favorite Paddling Spots in GA - By GRN Board Member & River Rat, Vincent Payne

Some people only paddle whitewater while some only paddle smooth water, some only canoe and some only kayak. I am not picky; I am happy on any water and in any craft. I tell people that I paddle as much as I can while remaining married. I am only sort of joking. Over the years, I have paddled many of Georgia's beautiful rivers. I would like to share a few of my favorite rivers with you.

My favorite river for smooth water camping is the Ocmulgee.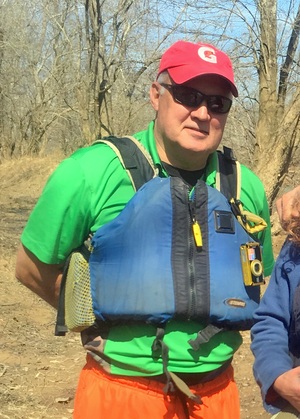 I prefer this run in cooler weather, anytime from November to March. The weather in South Georgia is still fairly mild in winter - the days are pleasant and the nights are cool. The Ocmulgee offers plenty of sand bars for camping. These sand bars provide safe areas for warm camp fires. I usually put in at Lumber City at the US23 bridge below Baxley. From here, a great trip is to paddle and camp down to the take out point on the Altamaha. However, be aware that at the point where the Ocmulgee and the Oconee merge, there can be treacherous currents. Also this river meanders, creating the occasional "cut through" where a meander is cut off and a new river route formed. These routes can be dangerous if new, due to the fast current and many strainers. This route is a great weekend trip offering three river days and two nights camping.
My favorite white water run is the Broad River near Danielsville. This route is not terribly difficult, it offers good river rapids with few short stretches of flat water. There are even a couple of outfitters that can put you on the water and help with your shuttle. I normally paddle this river in the winter when water levels are higher so that the rapids are larger. If you are skilled in 2/3 whitewater this can be a very fun winter run. In the summer when levels are lower it can still be fun and often is very crowded with college kids in tubes. If you are not sure that you are ready for a higher water run, give it try during the drier months of summer.

My all-time favorite river due to its wide-variety is the Etowah, which offers many different scenic routes. Upstream, I would not consider paddling a route above Highway 52. Below Highway 9, there are some pretty fun rapids like Chuck Shoals, and a beautiful water fall midway. While many do, I generally do not run this route. There is a fair, but steep, portage on river right. The take out for this section is Castleberry Bridge. Below Castleberry Bridge is an old mining tunnel that diverts a portion of the river. I would advise going with someone that knows this section for your first run. The Dawson Forest section, also on Highway 9, but below Dawsonville, is an easy stretch with just a couple of small rapids that are good for introducing people to river paddling. The lower section of the river coming into Canton is excellent for fishing, just like the portion below the Allatoona dam. This section has lots of prehistoric fishing weirs and the Etowah Mounds are found on River right. Also be wary of a low head dam that is a required portage. Low head dams look benign but they are called drowning machines. This dam is a few miles below the park and put in.

Try these rivers, I am sure you will love them as much as I do. If you are inexperienced then going with someone who has been before is probably ideal. However, an alternative is to get a copy of "A Canoeing & Kayaking Guide To Georgia" by Suzanne Welander. There are other guidebooks with specific river information, but this one touches on most of the rivers in the state. It is a guide and not the gospel, however, so you do have to use your own senses.
Regardless of how you plan your paddling trips, start now and enjoy Georgia's amazing rivers! Check out GRN's Water Trail Clearinghouse for maps and other resources for paddlers looking to explore Georgia's rivers!
---
Did you See Those Bears? Another Great Trip to Len Foote Hike Inn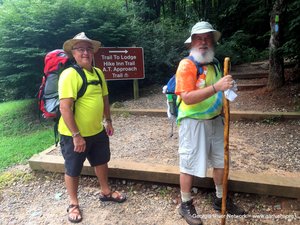 Thanks to everyone who joined us for a beautiful 2 day jaunt to Len Foote Hike Inn. We couldn't have asked for better weather and the scenery was gorgeous with lush rhododendron forests, groves of garlic smelling Galax, and mushrooms of every shape, texture, and color. We enjoyed taking a tour of the Gold LEED certified Inn, lounging in the rocking chairs overlooking the North Georgia Mountains, watching the glorious sunrise, spending time with fellow GRN members and the friendly Hike Inn staff, and eating scrumptious food! Some hikers even encountered a couple black bears!

Check out the Hike Inn photo album and see what you missed! We are already looking forward to next year's trip…
---
Sponsor Spotlight - Dalton Utilities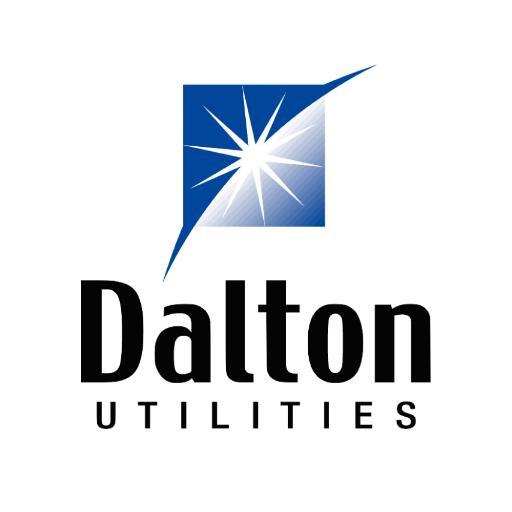 Georgia River Network would like to give a big SHOUT OUT to Dalton Utilities for sponsoring Paddle Georgia 2016! Dalton Utilities has been providing utilities to the Dalton community since 1887! From electric, natural gas, water, and wastewater to telecommunications, they make the Dalton community a great place to live! To find out more about their services, look at the Dalton Utilities website.
---
Fall Float on the Flint - Blue Holes, Magnificent Cypress & Limestone Caves - OH MY!

When: October 8 - 10, 2016
Where: Albany to Bainbridge, GA
This three-day, 56-mile journey takes in the best of the lower Flint between Albany and Bainbridge: lively shoals, blue hole springs, abundant wildlife and beautiful scenery make this a trip not to miss.
We'll tent camp at Rocky Bend Flint River Retreat for three nights, enjoy catered meals, educational programs and great camaraderie as we make our way down one of Georgia's most beautiful rivers during a beautiful time of year. Registration fees include three dinners, breakfasts and lunches with your choice of lunch sandwich as well as all transportation to and from the river each day as well as shuttles allowing you to pick up your boat a the end of the journey.
---
Lower Oconee Hidden Gem Paddle and Campout~
Family Friendly Paddle, Low Country Boil Dinner, Fun Games & More!
When: Sept 17-18, 2016
Where: Milledgeville, GA
Spend a weekend exploring the up-and-coming Lower Oconee Water Trail on the Fall Line of middle Georgia! Bring your friends and family ~ Beginners welcome ~ No paddling experience necessary!
The event will include:
Lunch * Low Country Boil dinner * Live music with Rich Martin & Friends * Yoga & Drum Circle with 'Good Karma' * Nature Trivia * Camping * Hot breakfast * Presentations along the route ranging from flora/fauna and water health, to river restoration and cultural history...

We will be paddling:
8.3 miles of flatwater * Near the sites of revolution-era forts * Through antebellum shipping routes * In the habitat of bald eagles, osprey, kingfishers, river otters, longnose gar, and blossoming Cherokee Rose....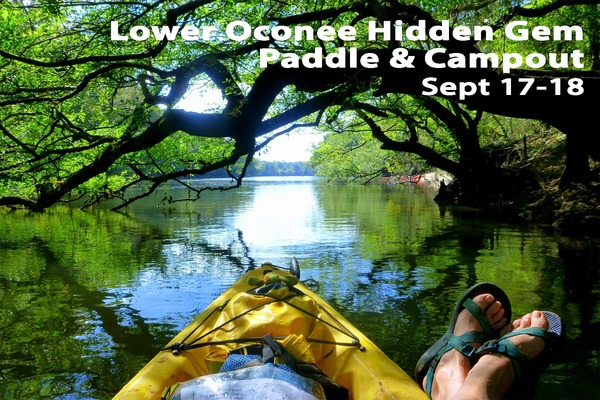 ---
Georgia River Network is accepting any vehicle - running or not - including cars, trucks, boats, RVs, ATVs, motorcycles, wave runners, and more. GRN works with their colleagues at Charitable Auto Resources to ensure that your donation delivers the highest possible revenue to Georgia River Network and that your experience is convenient and efficient. Your vehicle is towed free of charge, and the donation is eligible for a tax deduction. Contact Dana Skelton at dana@garivers.org or 706-549-4508 if you are interested in taking advantage of this opportunity or for more information about the vehicle donation program.
---
Take a Look at GRN's Wish List - Perhaps your 'Junk' Can be Our Treasure!
GRN is looking for the following new or gently used items for our office:
Picnic table or concrete outdoor patio set

Vacuum cleaner

Rolls of Forever stamps

Well-functioning laptop and tower computers

Sit on top kayaks, recreation kayaks, tandem kayaks, and canoes - in good shape

Conference table

Paper folding machine

Graphic design and

printing

services

Donated office space in Athens

Adobe Creative Suite software

Covered trailer, and canoe trailer
Email info@garivers.org or call 706-549-4508 if you would like to donate any of these items.
---
Birthday coming up? We got the Merch for You or that Special Someone!

Check out Georgia River Network's new online store to get some great Georgia River Network merchandise. The store has GRN apparel, River User's Guides, banners, and much more! Perfect gifts for Father's Day or the river lover in your life! Check out our online store.
---
DID YOU KNOW? Quick FUN FACT from the Recently Published Broad River User's Guide
Did you know that the Broad River was one of Georgia's first rivers harnessed for water power? The Broad also housed the first grist mill in North Georgia (Thompson Mill - 1790) and the first iron furnace in the state (Hillhouse Furnace - 1791) on its bank!
How cool is that?! Learn more Fun Facts about the beautiful Broad River in GRN's Broad River User's Guide by author Joe Cook!
Purchase your book and see the Chattahoochee and Etowah User Guide's too!
---
Does the Business you Work for Donate to Charities? Perhaps GRN Could be One?

Georgia River Network invites you and your business to join in the work to protect and restore our rivers from the mountains to the coast by sponsoring an event.
See our Sponsorship Packet here!
1) Be a Paddle Georgia Partner
2) Be a Weekend for Rivers Sponsor
3) Support Our Water Trails Program
4) Support Our River User's Guides
5) Ask your Company to Add an EarthShare Giving Campaign

Learn more about the above opportunities and contact Dana Skelton at Dana@garivers.org If you or your company would like to sponsor any of our programs or events ~ Thanks!
---
1% for the Planet

Georgia River Network is a 1% for the Planet non-profit partner. Over 1200 companies are giving 1% of their profits to organizations in the network that are committed to creating a healthy planet. Learn more by following the link to the 1% For The Planet website.
---
Sign up for Protect Georgia Action Alerts!

GRN members can stay up-to-date on issues affecting clean water, the health of our rivers, and Georgia's vital natural resources by signing-up for Protect Georgia action alerts.

Membership in Protect Georgia is free and allows you to easily contact your senator, representative, or other decision makers via e-mail when an important decision is pending or a vote is scheduled.

GRN, working alongside our Georgia Water Coalition partners, advocates for protection of valuable coastal and wetland buffers, the underground supply of well water which provides drinking water for many Georgians, and healthy stream flows from the mountains to the sea.

Please follow the link and sign to get access to Protect Georgia Action Alerts.
---
Georgia River Network is a Member of EarthShare

Georgia River Network is a member group of EarthShare of Georgia — a non-profit federation of over 60 Georgia non-profits, all of which work to educate, conserve, or protect our air, land, and water throughout Georgia. Through workplace giving campaigns at participating companies, EarthShare raises funds for the member group non-profit organizations in Georgia. Employers who include EarthShare as part of their annual pledge campaign empower their employees with additional ways to improve their world. EarthShare of Georgia, as part of the EarthShare national employee giving program, is part of a network representing more than 400 environmental groups working locally, nationally and internationally. There you could support Georgia River Network and other member non-profits easily through the annual campaign. If your company would like add an EarthShare giving campaign, contact Dana at dana@garivers.org. Learn more at the EarthShare website.
---
Not on Facebook? Get GRN and other Watershed Group News in Your RSS Feed
Want to see what is going on each day in the world of Georgia rivers? Go here: http://garivernews.wordpress.com. Click on the "follow" button in the bottom right corner, enter your email address, and our daily news will be delivered to your inbox.
Georgia River Network
126 South Milledge Ave.
Suite E3, Athens, GA 30605
(706) 549-4508
http://www.garivers.org
Become a Member Today - Join