Read the February Print Version of Confluence Here

Weekend for Rivers - Register Now
Capitol Conservation Day
Atlanta Area Paddlers Event at Sweetwater Brewery
Join GRN at the Banff Film Festival in Athens
Paddle Georgia 2014 Registration
2014 Hidden Gems Paddles
Paddle Georgia Fall Float on the Flint
14 in 14 Challenge
GA Water
Georgia Water Wire - Can West VA's Water Crisis Happen in GA?
Dirty Dozen Report Available Online
Group Spotlight: Ogeechee Riverkeeper Settles Lawsuit With King America Finishing
Share a GRN Valentine With Someone You Love
GRN Monthly Photo Contest
Contribute to our Weekend for Rivers Auction
Wish List
Monthly Giving
1% for the Planet
Get GRN News in our RSS Feed
---
Weekend for Rivers - Register Now!



Weekend for Rivers 2014 registration is OPEN! Check out the exciting lineup, and register today at www.garivers.org.
Join us April 5-6 at the Chattahoochee Nature Center in Roswell, GA for a weekend of inspiration, education and connections with folks who love Georgia's rivers as much as you! Weekend for Rivers is GRN's annual conference and River Celebration event that gives us all a chance to celebrate Georgia's unique, beautiful rivers through storytelling, partying and paddling.
The theme of this year's Weekend for Rivers is "The History of Georgia's Rivers." Saturday, April 5th's program will include river-lovers of all kinds painting a broad picture of the state of Georgia's rivers and the people who protect, enjoy and honor them. Three tracks will explore Georgia's rivers from different angles. Highlights will include talks by Atlanta Journal-Constitution columnist Jay Bookman and retiring Chattahoochee Riverkeeper Sally Bethea, and films by Rhett Turner and David and Michael Hanson.
In the evening, we'll have a ton of fun at our annual River Celebration Party and then we'll camp at the Chattahoochee Nature Center (indoor and outdoor camping will be available, OR you can just get a hotel room). We'll wake up on April 6th and paddle a beautiful stretch of the Chattahoochee River--Bull Sluice Lake. Naturalists, historians and ecologists will be stationed around the lake to tell us more about the cultural and natural history of the area. Visit www.garivers.org to see the full agenda of presentations and programs and to register (don't forget to register before February 28th to take advantage of the early registration discount). We can't wait to spend the Weekend with you!
Sponsors: Chattahoochee Nature Center, Chattahoochee Riverkeeper, American Rivers, GreenLaw, Southern Enviromental Law Center, Stormwater Systems, Flint Riverkeeper, Upper Oconee Watershed Network, The Rain Barrel Depot
---
Capitol Conservation Day 2014 - Join Us!

You are invited to join the Georgia Water Coalition on Wednesday, February 19, 2014 for Capitol Conservation Day. Capitol Conservation Day is an opportunity for all Georgian's to gather at the Capitol to tell our state representatives and senators that we value water for our families, economy, health, and future generations. Click here to register for this exciting event and get all the details.
---
Atlanta Area Paddlers Event at Sweetwater Brewery

Join the Atlanta Area Paddlers for an event to benefit GRN on March 2 from 4-7 at the Sweetwater Brewery in Atlanta. There will be a live DJ, food, tours of the brewery and beer. The cost is 25.00. Register now!

---
Join GRN at the Banff Film Festival in Athens

The Banff Mountain Film Festival World Tour brings Banff films to audiences around the globe. Immediately after the Festival ends, a selection of the best films go on tour, and Half Moon Outfitters is bringing these films to Athens, GA on Friday, April 4th at 7pm at the Morton Theatre. A portion of the proceeds benefit GRN. Buy tickets now. Will call ticket pickup starts at 5:30.
---
Paddle Georgia 2014 Registration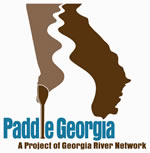 Join us as we celebrate the 10th anniversary of Paddle Georgia by returning to the Chattahoochee River where this grand adventure first began. Our rainbow-colored flotilla of canoes, kayaks and paddlers will journey 115 miles from Buford Dam to Franklin. Apply for a spot on the trip now through the Paddle Georgia lottery at http://www.garivers.org/paddle_georgia/pgregister.html from February 10-27.
Sponsors and Partners to date:
Paddle Georgia 2014 Sponsors: Georgia Power; Columbia; Captain Planet Foundation; Len Foote Hike Inn; Cary Baxter, CPA; China Clay Producers Association; Chris Shiver, PE LLC; Hennessey Land Rover; The Outside World; StreamTechs; Sweetwater Pools; New Belgium Brewing Co.; AGL Resources; The RainBarrel Depot
Paddle Georgia 2014 Partners: Georgia Canoe Association, Chattahoochee Riverkeeper, Georgia Adopt-A-Stream, Project Wet, National Park Service, Cobb County Water System
---
2014 Hidden Gems Paddles

Enjoy four different occasions to rediscover some of the hidden gems on Georgia's waterways. Each river trip will include lunch and presentations along the route, ranging from natural history and water quality testing to cultural history and river cleanups.
Ogeechee River - May 10
Secrets of South Georgia's Tea-Colored Waters & White Barking Sands

Oconee River - August 23
Bobbin through Remnants of the Oconee's Historic Timeworn Textile Mills

Chattahoochee River - September 13
From Derelict Dams to Recreational Whitewater - Adventure on a Revitalized River in Columbus

Satilla River - November 15
Giant Magnolia's and Burnt Forts - a Glimpse of the Satilla's Unique Past

Learn more at www.garivers.org!
---
Join Georgia River Network Columbus Day weekend 2014 for a voyage on the Flint River that would fill Christopher Columbus with envy. Oct. 10-13, we'll travel 70 miles on the Flint from Albany to Bainbridge taking in the best of the Flint--beautiful blue hole springs, lively rapids, rich history, abundant wildlife and more! Fashioned after our annual week-long Paddle Georgia events, we'll tent camp at Chehaw Park and on the river two nights at Rocky Bend Flint River Retreat. Like our annual summer adventure, we'll enjoy catered meals, educational programs and great camaraderie as we make our way down one of Georgia's most beautiful rivers during a beautiful time of year. Tent camping only with limited options for indoor camping. Registration for this event will begin in late March. Visit www.garivers.org/paddle_georgia/fallfloat.html for more information.
---
14 in 14 Challenge

Georgia River Network is challenging Georgians to get out and protect, restore, learn about, recreate and volunteer on Georgia's rivers by attending 14 river related events in 2014. Watershed groups throughout the state offer a variety of experiences such as family friendly paddling trips, river hikes, watershed workshops, conferences, river clean ups, water quality monitoring opportunities, and advocacy events, all of which qualify to fulfill the Challenge. The goal is to promote Georgia's growing movement in river restoration, protection, and engagement. Set your New Year's resolution to get outside, get active and get involved in river and watershed protection, restoration and engagement opportunities with friends and family. To learn more, visit http://garivers.org/news/440-grn-challenge.html
---
Georgia Water Wire Blog: Can West Virginia's Water Crisis Happen in GA?

If you asked folks from Charleston, West Virginia what the price of clean water is, they'd probably say priceless. More than 300,000 customers of the West Virginia American Water Co. were told on January 9, 2014 the only thing they could do with the water piped to their homes, restaurants, businesses and hotels was to flush it. No drinking; no bathing children; no clothes washing; no hand washing after using the bathroom - for six to ten days depending on where people lived.
Can West Virginia's water crisis happen in Georgia? While Georgians might think it can't, unfortunately, it already has on at least more than one occasion. Visit the Georgia Water Wire at gawaterwire.wordpress.com for the entire version of this story.
---
Dirty Dozen Report Available Online

In November, the Georgia Water Coalition named its "Dirty Dozen" for 2013, highlighting 12 of the worst offenses to Georgia's waters. The annual Dirty Dozen report shines a spotlight on state policies and failures that ultimately harm Georgia property owners, downstream communities, fish and wildlife, hunters and anglers, and boaters and swimmers. The Dirty Dozen report details the history of each site and provides solutions to correct these ongoing problems and eliminate the listed threats. The full report is online at: www.garivers.org/gawater/dirtydozen.htm.
---
Group Spotlight: Ogeechee Riverkeeper Settles Lawsuit With King America Finishing

You might have heard by now: Ogeechee Riverkeeper has had a busy couple of years. In May of 2011, King America Finishing Co. (KAF), a textile plant on the Ogeechee River in Screven County, caused the largest known fish kill in Georgia history. In November of 2013, ORK and KAF reached a settlement agreement. Although KAF will continue being permitted to discharge into the Ogeechee River, in settlement negotiations, ORK negotiated far better discharge permits than were held before the fish kill. KAF has also had to make upgrades to its plant, and beef up their monitoring and water testing activities. In addition, KAF has been required to pay an undisclosed sum of money to private landowners whose property downstream of the plant was damaged by the dumping activities. Under the agreement KAF is also required to pay $2.5 million to Ogeechee Riverkeeper, which will help the organization collect more data and continue monitoring the quality of the Ogeechee's waters. According to Hutton Brown of GreenLaw, one of ORK's lawyers, the deal represents "one of the largest settlement payments in Georgia history by a company for water-based environmental claims." Thanks to Riverkeeper Emily Markesteyn and the ORK board for all you do to keep the Ogeechee safe and healthy for all of us! Read the full article about Ogeechee Riverkeeper by clicking here.
---
Share a GRN Valentine With Someone You Love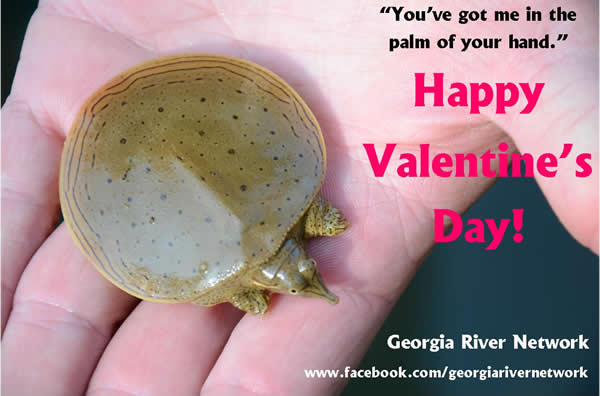 Send a GRN love note to your Valentine. You can share a valentine from our facebook page at https://www.facebook.com/#!/georgiarivernetwork



---
GRN Monthly Photo Contest

Each month we have a different theme and invite you to send us a photo that you think best represents the topic of the month. In February, the theme is "River of Love". Submit your photo to gwyneth@garivers.org. Click here to visit our homepage to view a slideshow of the entries and winner.
---
Contribute to Our Weekend for Rivers Auction

Contribute an auction item for our Weekend for Rivers fundraiser auction. Email Debra at debra@garivers.org to make arrangements.
---
Wish List

GRN is looking for the following new or gently used items for our office: a picnic table or concrete outdoor patio set and a flat screen computer monitor. Email info@garivers.org or call 706-549-4508 if you would like to donate any of these items.
---
Support GRN Year Round

Start your year off by making a positive impact on our rivers and continue it all year long by signing up for GRN's Monthly Giving Program. It is easy and convenient. Simply click here. Then choose "Monthly" under the "donation frequency" section. You can give $14 a month in 2014 and your monthly support will help us create updates to empower citizens and watershed groups. For example during the month of February, your monthly gift will allow us to monitor what is going on at the capitol and alert you to legislation that will have an impact on our rivers.
---
1% For the Planet Partner

Georgia River Network is a 1% for the Planet non-profit partner. Over 1200 companies are giving 1% of their profits to organizations in the network that are committed to creating a healthy planet. Learn more at www.onepercentfortheplanet.org.
---
Get GRN News in Our RSS Feed

Not on Facebook? Want to see what is going on each day in the world of Georgia rivers? Go here: http://garivernews.wordpress.com/. Click on the "follow" button in the bottom right corner, enter your email address, and our daily news will be delivered to your inbox.
---
Forward this message to a friend