Chattahoochee River User's Guide Now Available!
Join us for the Athens Premiere of "Who Owns Water" and Book Signing
GRN Offering 1 More Hidden Gems Paddle
April Ingle is Greenlaw's Environmental Hero for 2014
Georgia Water Wire Blog Post
Four Challengers Cross the Finish Line in the 14 in 14 Challenge
GRN Monthly Photo Contest
Wish List
1% for the Planet
Get GRN News in our RSS Feed
---
Chattahoochee River User's Guide Now Available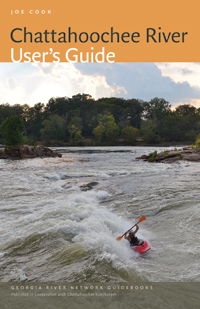 The Chattahoochee River User's Guide—the latest in a series of river guides from Georgia River Network and the University of Georgia Press, traces the 430-mile course of the Hooch from its headwaters at a spring on Coon Den Ridge near Jacks Knob in northeastern Georgia to its confluence with the Flint River, where they form the Apalachicola River. The Georgia River network guides provide many little-known facts about Georgia's rivers, bring to life these rivers' cultural and natural history, and present river issues in an immersive and engaging manner that will inspire users to help protect their local waterways. Click here to purchase and learn more.
---
Join Us for the Premiere of "Who Owns Water" and a Book Signing of the Chattahoochee River User's Guide

Join us Wednesday, Oct 22, 2014 at 6pm at Cine for the Athens premiere of " Who Owns Water", produced by David Hanson, and a book signing of Georgia River Network's Chattahoochee River User's Guide, authored by Joe Cook. The film begins at 7pm. Hors d' oeuvres by The National; cash bar
Sponsored by the UGA Environmental Ethics Certificate Program, The University of Georgia Press, and Georgia River Network
View info about the film here: http://www.whoownswater.org/
View info about the book here: http://garivers.org/news/449-chattahoochee-river-user-s-guide.html
Tickets are $7.50 and can be purchased at http://athenscine.com/intro.php or at the door. 234 W Hancock Ave, Athens, GA
---
GRN Offering 1 More Hidden Gems Paddle

Enjoy the remaining excursions to rediscover some of the hidden gems on Georgia's waterways. This one-day river trip will include lunch and presentations along the route, ranging from natural history and water quality testing to cultural history and river cleanups.

November 15 - Paddle on the Satilla River
Register and learn more at www.garivers.org!
---
April Ingle is GreenLaw's Environmental Hero for 2014

GreenLaw is naming GRN's previous Executive Director, April Ingle, as its Environmental Hero for 2014. Ingle was the Executive Director of GRN since 2003 and stepped down after nine years to enter the private consulting community. GreenLaw is hosting its annual Environmental Heroes award celebration on Tuesday, October 7, 2014. The event will be held at Nelson Mullins on the top floor with stunning views of downtown Atlanta at 201 17th Street at Atlantic Station. The Environmental Heroes event is one of the environmental community's premiere events with sustainable catering provided by Parsley's Catering, featuring White Oak Pastures and Sapelo Sea Farms fare, live music from the Tammy Allen Trio and adult libations. The event includes networking, a brief honoree award ceremony and a thank you gift. Sponsorships and tickets for the event may be purchased at www.greenlaw.org. Tickets are $250 for a couple and $150 for individuals. If you would like to include congratulations to April in the Environmental Heroes program please contact the Communication Department via e-mail at bbond@greenlaw.org.
---
Georgia Water Wire Blog Post

What's up WOTUS? The nation's rivers, lakes and other waters are generally cleaner today than they were forty years ago thanks to the Clean Water Act (1972). The Clean Water Act (CWA), after all, was designed to fix problems identified in the 1950s and 1960s like sewage treatment, point-source pollution discharges and a legacy of burning rivers. Because of the CWA, many – but not all – "waters of the United States" (a.k.a. WOTUS) are more swimmable, fishable and drinkable. Why is everyone talking about WOTUS? Right now the U.S. Environmental Protection Agency (EPA) is working on a rule making to clarify the definition of "waters of the U.S." Read this water wire post here: http://gawaterwire.wordpress.com/2014/09/25/whatup-wotus/
---
Four Challengers Cross the Finish Line of the 14 in 14 Challenge
Thus far 23 participants have stepped up to the 14 in 2014 Georgia River Challenge, and we are excited to announce that Janet Pearson, Patrick Phelps, Marie Short, and Cindy Wolfe are the first to successfully complete the Challenge....
Georgia River Network has challenged Georgians to get out and protect, restore, learn about, recreate and volunteer on Georgia's rivers with friends and family by attending 14 river related events in 2014.
In order to complete the 14 in 14 Challenge participants must attend 14 events/activities from at least 5 of the following categories:
• HIKE - River, Stream or Lakeside Hike
• ARTS - Water/River Related Visual and Performing Arts Event
• PADDLE - Paddling Events Sponsored by a River Group
• CLEANUP - River, Stream or Lake Cleanup Event
• ADVOCACY - Water/River Related Advocacy Event
• MONITORING - Georgia Adopt-A-Stream Monitoring Event
• FUNDRAISER - Water/River Related Festival/Fundraiser
• WATER TRAIL - Paddle on an established Georgia Water Trail
• CONFERENCE - Water/River Related Workshop/Conference/Symposium
• ANNUAL MEETING - Attend a River Group Annual Meeting
• Become a Member of a River Group
See all of the 14 in 2014 Challenge details here.
http://garivers.org/news/440-grn-challenge.html
---
GRN Monthly Photo Contest

Each month we have a different theme and invite you to send us a photo that you think best represents the topic of the month: Oct - River Cleanup Photo; Nov - Autumnal Magic on GA's Rivers; Dec - Funniest Paddling. Submit your photo to gwyneth@garivers.org. Click here to visit our homepage to view a slideshow of the entries and winners.
---
Wish List

GRN is looking for the following new or gently used items for our office: a picnic table or concrete outdoor patio set, a vacuum cleaner, rolls of Forever stamps, a conference table, canoes and kayaks (sit on top kayaks, receation kayaks, tandem kayaks, and canoes - in good shape), and a flat screen computer monitor. Email info@garivers.org or call 706-549-4508 if you would like to donate any of these items.
---
1% For the Planet Partner

Georgia River Network is a 1% for the Planet non-profit partner. Over 1200 companies are giving 1% of their profits to organizations in the network that are committed to creating a healthy planet. Learn more at www.onepercentfortheplanet.org.
---
Get GRN News in Our RSS Feed

Not on Facebook? Want to see what is going on each day in the world of Georgia rivers? Go here: http://garivernews.wordpress.com/. Click on the "follow" button in the bottom right corner, enter your email address, and our daily news will be delivered to your inbox.
---
Forward this message to a friend