Georgia River Network News Stream
News
Workshops/Conferences/Calendar Items
Group Spotlight
Nonprofit Resources
Funding Opportunities
************************************************************************************************
2.
GRN Policy Director Speaks Up About Un-Needed Glades Resevoir
Georgia River Network (GRN) has been tracking water supply reservoirs all over the state for years. Chris Manganiello, GRN's Policy Director, commented on Hall County's proposal to build the massive and un-needed Glades Reservoir, which will effect Flat Creek, the Chattahoochee River and Lake Lanier. This is the first major reservoir project in the state of Georgia to undergo a full environmental impact state review. Reservoirs are major projects with significant impacts on communities and the environment. GRN supports this review process and asked the Corps to consider additional reviews for all major reservoir projects in Georgia because of their individual and cumulative impacts. Additionally, we asked the Corps to re-evaluate the Glades project in light of recent population projection and water demand data and, if necessary, deny the applicant's federal construction permit application.
3. Clean Water Act Up for Triennial Review
Clean water and river partners: Georgia is kicking off another triennial review. GRN will be tracking this process and will let folks know what's happening and how to be engaged.

The triennial review is a requirement of the Clean Water Act. The last triennial review wrapped up last year and included, among other issues, the designation of the Conasauga as an Outstanding National Resource Waters (ONRW). The process also resulted in the removal of flow criteria in the Chattahoochee River at Peachtree Creek. You can read about Georgia EPD's previous reviews HERE.

A public hearing will be held in order to give the public an opportunity to comment on items to be considered in this year's Triennial Review and to serve as an official marker of the beginning of the 2016 Triennial Review process at the following time and location: Friday, February 26, 2016 (1:00 pm – 3:00 pm) in the Environmental Protection Division Training Center, located at 4244 International Parkway, Suite 116, Atlanta, Georgia 30354.

Written comments that may be incorporated into the drafting of a rule are welcomed and should be received on or before March 4, 2016. These comments may be either emailed to EPDComments@dnr.state.ga.us or sent via regular mail addressed to: Elizabeth Booth, Manager, Watershed Planning and Monitoring Program, 2 Martin Luther King, Jr. Drive, Suite 1152, Atlanta, Georgia 30334. If you choose to e-mail your comments, please include the words "Water Quality Standards Triennial Review" in the subject line to help ensure that your comments will be forwarded to the correct staff. For more information, please contact Elizabeth Booth at (404) 463-4929.

4. Brew, Boats, and BBQ for Better Rivers 2016!
When: February 28, 2016
Where: SweetWater Brewing Company, 195 Ottley Dr, Atlanta GA 30324
What: Join GRN for the 3rd Annual 'Brews, Boats and BBQ for Better Rivers 2016' on February 28, 2016. This kickoff paddle party and GRN fundraiser is a pre-season gathering of paddlers and river lovers from all over Georgia at SweetWater Brewing Company. We invite paddlers of all skill levels and disciplines, as well as those who have never paddled but are interested in this wonderful sport to come meet GRN staff members and learn about our mission and upcoming events. This is also a great opportunity to meet new paddling friends and renew old friendships!

Representatives from several paddling groups across Georgia will be there, and author Suzanne Welander will be signing copies of the newly realeased 2nd edition of Canoeing & Kayaking Georgia! There will also be silent and live auctions including a Deuter Rece X backpack, Optic Nerve Arsenal Sunglasses, Werner Bandit Canoe Paddle, Tickets to the Atlanta Botanical Garden, an Altamaha Coastal Tours Paddling Trip for Two, Jewelry, Art and much more. Plus... a chance to win 2 new Jackson recreational kayaks (2016 Cruise 10 & 2016 Tupelo)! So, be sure to stock up on on these raffle tickets!

Sponsors: Many thanks to Outside World Outfitters and Storm Water Systems Inc. for their generous support!

Tickets are $25 and include: Admission to the event, six tasting tickets, a souvenir Sweetwater Glass, a brewery tour, BBQ, and a chance to win a camping gear package valued at over $900 and door prizes, which will be drawn throughout the event. ***Kayak raffle tickets (mentioned above) will be sold separately and are NOT included in ticket price*** These special raffle tickets can be purchased either within your event registration or seperately HERE. You do not have to be present to win a kayak.

Event tickets must be purchased in advance at http://www.BBBB2016.eventbrite.com

(Please note that all attendees must be 21 years of age or older as of February 28, 2016.)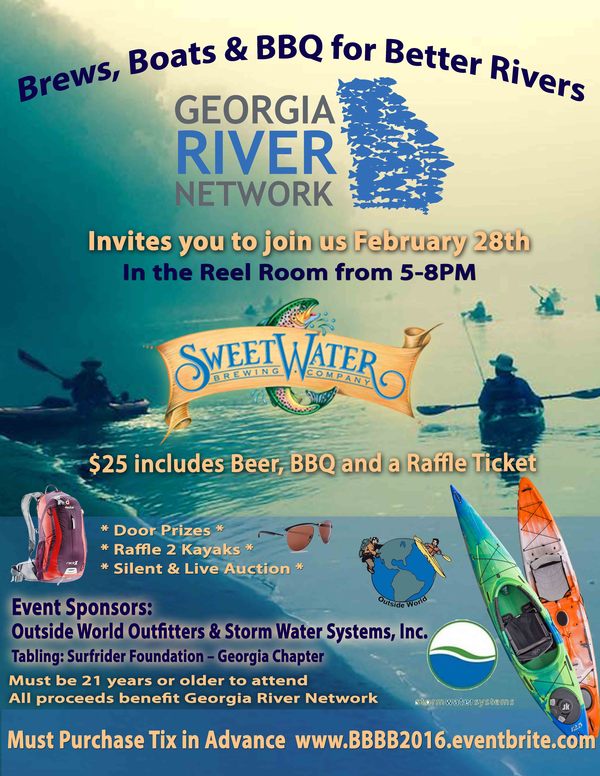 5. Spring Float on the Satilla
When: April 2-3, 2016
Where: Satilla River near Woodbine, GA
What: Spring on the Satilla is the ultimate south Georgia river adventure. In early April, while north Georgia is just emerging from the winter doldrums, the Satilla River in far southeast Georgia will be brimming with life…(and in early April, not brimming with the eternal heat of summer)! For two nights, you'll set up tent and camp atop Long Bluff at rustic Satilla Lodge overlooking the river and, over the course of two days of paddling, you'll experience 17 miles of this blackwater gem where moss-draped cypress and tupelo crowd the banks and where it seems oxbows lakes and sloughs radiate from every bend. Educational programs, catered meals, campfires and camaraderie round out a weekend of leisurely paddling and first-rate camping. Register by March 18th HERE.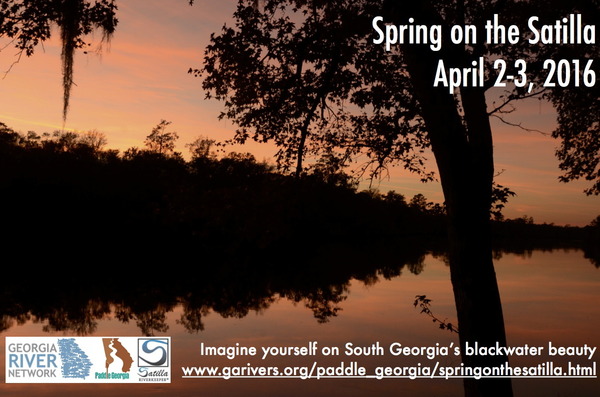 6.
Georgia Trail Summit - Save the Date & RFPs DUE TODAY!
When: April 14-16, 2016
Where: Carrollton, GA
What: Georgia Trail Summit is a new organization of concerned volunteer citizens dedicated to creating a world-class network of trails in every corner of Georgia. They provide connections, share knowledge, and further the trail projects already happening in Georgia. Now in its third year, the Georgia Trail Summit is open to everyone – especially trail builders, users, policy makers, planners, advocates, designers, nonprofits and park managers. If you would like to be a speaker or have a suggestion, please submit your ideas TODAY, January 14th, using our request for speakers form.
When: May 20-23, 2016
Where: Mobile, AL
What: River Rally, hosted annually by River Network, is a national conference that focuses on education, inspiration, and celebration within the river and watershed community. Unique in its focus on connecting peers, providing practical education, inspiring courage, and celebrating achievements, River Rally draws hundreds of people together every year from across the United States - including NGO staff, academics, agency and foundation representatives, industry innovators, and concerned citizens.

To learn more, please visit their website.
8. Oconee Rivers Water Trail
Athens' waterways have been gaining visibility in recent years. The North and Middle Oconee Rivers flow through the city, sustaining rich habitats for protected species and providing an outlet for Athens residents who need a quick getaway. GRN has been assisting communities throughout the state in the development of water trails (similar to a hiking trail but on a waterway with access points and information kiosks and signage along the route) as a way to boost economic development, bring in tourism, and increase recreational opportunities. One of such groups is the Upper Oconee Watershed Network who, along with other partnering organizations and river enthusiasts, have come together to develop the Oconee Rivers Water Trails. The North and Middle Oconee rivers have been used by paddlers for many years, and establishing an official water trail will lead to the development of user friendly maps, a website, more family friendly locations to access the river, and increased conservation, tourism and economic development.
The group is making progress on the water trail through Athens-Clarke, Oconee, and Greene counties, and there has been talk of extending it all the way to Milledgeville. Athens Clarke County has plans to build a new boat launch at Ben Burton Park in 2016 with help in part by a $4500 grant from Georgia River Network. Gwyneth Moody, Community Programs Coordinator at Georgia River Network, said, "Ultimately, Georgia River Network hopes to see the North and Middle Oconee Rivers become established water trails in Georgia– bringing economic benefits to the surrounding communities, improving quality of life by providing recreation opportunities, and ensuring a healthy and clean river." Other local groups that have supported the Oconee Rivers Water Trails include the UGA Office for Sustainability, Athens State Botanical Gardens of Georgia, UGA Odum School of Ecology, UGA River Basin Center, UGA College of Environment and Design, UGA Outdoor Recreation, Athens-Clarke County, and the Oconee River Greenway Commission. Water enthusiasts in the area have great opportunities to look forward to in the coming years. Check out their Facebook page to learn more and get involved.

9. Georgia Rural Business Development Grant
U.S. Department of Agriculture Rural Development Georgia State Director, Quinton Robinson, announced that applications are being accepted for Fiscal Year 2016 Rural Business Development Grant (RBDG) funding. The RBDG program is designed to support targeted technical assistance, training and other activities leading to the development or expansion of small and emerging private businesses in rural areas. Applications are due to Area Offices by March 11, 2016. The Georgia Rural Development Area Office directory is available online.

From the rural tourism perspective, the City of Warm Springs received a $71,204 RBDG award in Fiscal Year 2015 to construct a downtown parking lot. Parking has been limited and inconvenient for visitors and tourists. The new approximately 16,000 sq. ft. parking lot will be able to accommodate large tourist buses. The Warm Springs parking lot will assist five restaurants and nineteen businesses by allowing the possibility of increased foot traffic.
Rural public entities such as towns, state agencies, nonprofit corporations, institutions of higher education, and federally-recognized tribes are eligible to apply. For more information, click HERE.
President Obama's plan for rural America has brought about historic investment and resulted in stronger rural communities. These investments in housing, community facilities, businesses and infrastructure have empowered rural America to continue leading the way – strengthening America's economy, small towns, and rural communities.
10. How to Assess Your Organization's Effectiveness
"Donors are questioning nonprofits that appear too bureaucratic, less innovative, or unable to demonstrate measurable and sustainable impact. In order to overcome these challenges and remain the long-term partner of choice for your stakeholders, it is imperative to address these seven questions." - Sir Jose Bright, Georgia Center for Nonprofits

To view the seven questions and read the entire article, go HERE.
11. An Economic Argument for Water Trails
Water trails have the potential to diversify and benefit economies of communities connected by them. Providing amenities for tourists successfully attracts new audiences to generate economic activity in trail communities. It is shown in this report that outfitters, lodging, and food produced the top visitor expenditures and generated the greatest direct economic profit. Additionally, indirect economic impacts of developing water trails include population growth and immigration, increased tax revenues, and employment opportunities.
The water trail community studies in this report included the Northern Forest Canoe Trail Study (NFCT), Huron River Water Trail Study (HR), and Pennsylvania Water Study (PA). Throughout this report it was found that:
Over the 2010-2012 period, the number of boat users increased by 33% and boat rental revenue grew by 29% (HR).

Lodging accounted for 28% of visitor expenditures (NFCT).

Two-thirds of visitors cited that the reason for visiting as fishing, canoeing, motor boating, kayaking or paddling (PA).

$82,000 in revenue from paddle sports tourism went to state and local taxes and nearly $89,000 went to federal taxes (PA).
Click HERE to learn more about the economic benefits of implementing water trails in your community!
12. The Five Stars and Urban Waters Restoration Grant Program 2016:
The Five Star and Urban Waters Restoration Grant Program seeks to develop community capacity to sustain local natural resources for future generations by providing modest financial assistance to diverse local partnerships focused on improving water quality, watersheds, and the species and habitats they support. Projects include a variety of ecological improvements such as: wetland, riparian, forest and coastal habitat restoration; wildlife conservation; community tree canopy enhancement; and/or water quality monitoring and storm water management - along with targeted community outreach, education and stewardship.

To date, the Foundation has funded over 700 projects in 50 states, including the District of Columbia, Puerto Rico, and the U.S. Virgin Islands through this program. Over $13.3 million in grants has leveraged more than $56 million in other funds or donated services.

Proposals are due Wednesday, February 3, 2016 by 11:59PM Eastern time. The 2016 Request for Proposals can be found online.
---
Join Georgia River Network!
If you find News Stream and other information and services provided by Georgia River Network useful, we would appreciate your financial support!
Visit www.garivers.org and join today!