In This Issue
Upcoming GRN 2017 Events ~ Mark Your Calendar!
Mark your calendar for these events taking place in February 2017: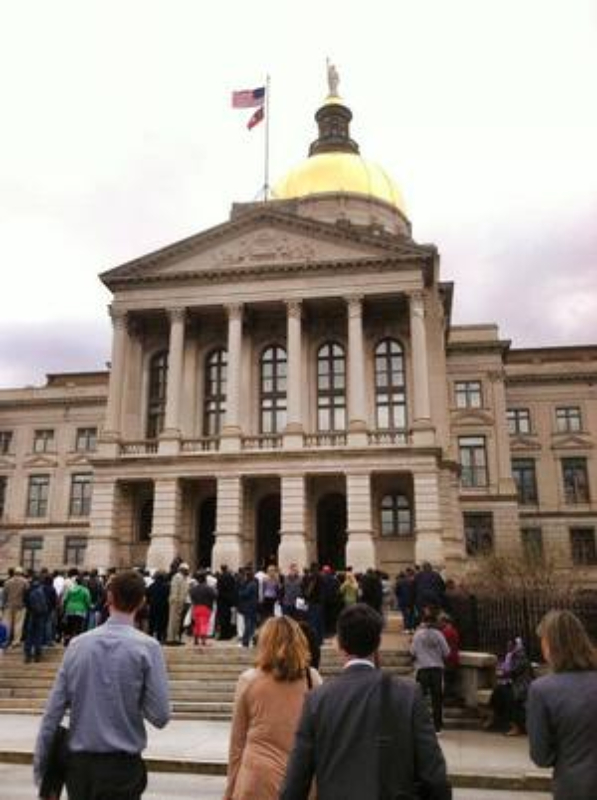 February, 2017

– Brews Boats and BBQ for Better Rivers - Our annual kickoff paddle party hosted by Sweetwater Brewery allows paddlers to mingle with one another and meet GRN staff, while enjoying delicious food, live music, and brews!

February 15, 2017

– Capital Conservation Day - Join us on our annual trip to the State Capital to advocate for conservation efforts in the state of Georgia (specifically on our waterways)!
As always, our entire event calendar is available for viewing on our website!
---
Georgia Water Coalition Announces 2016 Dirty Dozen
November 16, The Georgia Water Coalition (GWC) named its "Dirty Dozen" for 2016, highlighting 12 of the worst offenses to Georgia's waters. The annual Dirty Dozen shines a spotlight on threats to Georgia's water resources. It also highlights the polluters and state policies or failures that threaten the health and safety of Georgia's waters.
Georgia River Network is a member of the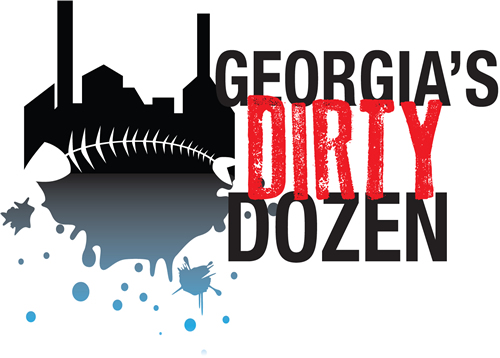 GWC and serves on the leadership team. The Coalition is a consortium of 235 conservation and environmental organizations, hunting and fishing groups, businesses, and faith-based organizations that have been working to protect Georgia's water since 2002. Collectively, these organizations represent more than 250,000 Georgians.
"This year's report highlights the real, human costs of dirty energy production in Georgia's communities," said Joe Cook, Advocacy and Communication Coordinator for Coosa River Basin Initiative. "Toxic chemicals from coal plants are showing up in groundwater wells and in our rivers while risky proposals for transporting and extracting gas and oil threaten water supplies, wildlife and property rights."
Other pollution issues and water supply problems associated with risky energy production are highlighted in the report. The remaining issues run the gamut, from chronic sewage overflows that threaten the health of DeKalb County residents to a proposed rocket launching facility in Camden County that could harm tourism on the coast's famed Cumberland Island. The issues outlined in this report represent an opportunity for Georgia's 10 million residents and its leaders to take action to ensure the state's future generations have enough clean water to grow and prosper.
Make sure to read this report and see which rivers and water bodies the dirty dozen are harming! You can take action on these issues by visiting here.
---
Fall Float on the Flint ~ A Fabulous Success
"Wow!!! Cheers to another awe-inspiring Fall Float on the Flint! 115 paddlers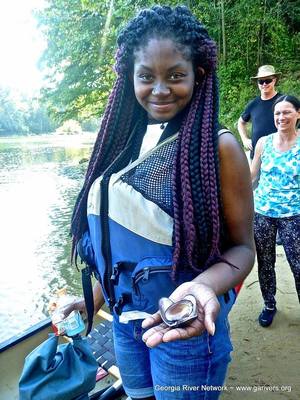 enjoyed 52 miles of the Flint over 3 days – each day the river showcased majestic landscapes, a plethora of wildlife, and great places to get out and play or lounge. This river never ceases to amaze! The cool majestic blue springs, gorgeous sand beaches, and cavernous limestone ledges covered in lush ferns felt like stepping into a Flint fairyland. Paddlers explored multiple springs along the journey bubbling up from hundreds of feet below. We peered down in the crystal clear depths with snorkels and masks feeling the pleasant chill of 68 degree water flow past our faces. Cypress trees draped in Spanish moss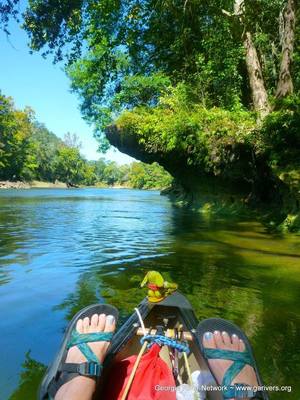 with their gnarled twisted braided tree roots conjured thoughts of Rapunzel and unicorn tails.
The Baker County High School students toughed out the 52 miles in high spirits with many memories to take home to their friends and families. Georgia River Network is currently assisting the Flint Riverkeeper and stakeholders from communities throughout the watershed in developing a Flint River Water Trail. Watch for developments on this in the future and get involved!
Fall Float generated
more than $6,000 for river protection projects!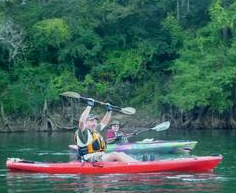 This means that GRN and Flint Riverkeeper will be able to work with legislators at the state capital in 2017 to adopt bills that keep our rivers clean, and it means that GRN can continue its work to establish water trails across the state that paddlers like you can use!
Thanks again to our partner, Flint Riverkeeper, for helping make this event such an awesome success!"
— Gwyneth Moody, Director of Programs & Outreach
---
GRN Sponsor Spotlight - Cary Baxter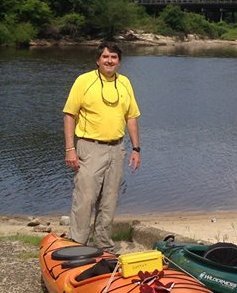 We would like to send a big thanks to long-time GRN supporter Cary Baxter. Cary has been a tremendous help to our organization, and consistently volunteers as lead paddler on our annual Paddle Georgia event. Cary got started volunteering with GRN when we became involved with the Altamaha River that he grew up fishing and paddling on. Cary is a huge supporter because, in his own words, "I just appreciate the work that GRN does." Thanks again for your years of loyal support, Cary!
---
Broad River Water Trail Ribbon Cutting
It was so exciting to see such a ground swell of community support from
sponsors and local residents at the
ribbon cutting for the new Broad River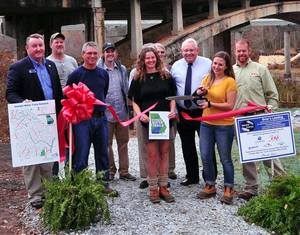 Water Trail (BRWT) launch - "Briar's Landing"! Over 90 people came out to celebrate and pay their respects to Briar Newsome who was tragically killed while starting a trip from this location in 2014.
Georgia River Network provided intensive technical assistance in 2013 for the development of the BRWT and we are sooo proud of the progress they have made!

Huge thanks to the Riverview Foundation for their 35K grant that made this launch possible and to Tom Krobot and Broad River Watershed Association for all their hard work in making this dream a reality!
---
Wild Rumpus Benefits Rivers!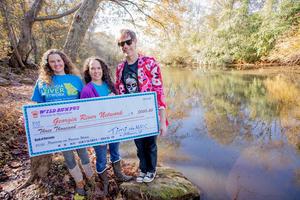 Wild Rumpus is a Halloween parade that takes place in downtown Athens each year. All ages come out in costume and follow a drum line through the streets of downtown to celebrate. GRN was the designated charity of the event which raised $3000 this year.

We appreciate the chance to join in the fun and to spread the message about clean, healthy rivers to all the participating ghouls and goblins!
---
GRN Spotlight on Dedicated Supporter Dorinda Dallmeyer
GRN wants to give a BIG Shout OUT to Dorinda Dallmeyer, who has been a dedicated GRN supporter for many years. Dorinda served on the GRN Board from 2005-2016 and actively participated in many of our paddling events, often times participating in the Paddle Georgia
'No Talent Show' demonstrating her awesome literary talents. Here is a snippet from her poem about the Ocmulgee river, "The Ocmulgee has been many things: a sacred site, a platform for commerce, a storehouse of living treasures, a place of dreams. And it will be many things, as each generation crafts its own understanding of the river. " Dorinda also won the EarthShare Georgia 20th Anniversary Photo Contest in 2012.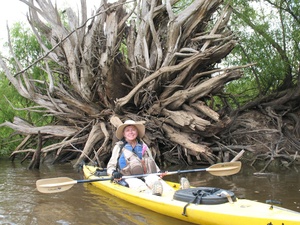 Dorinda G. Dallmeyer is director of the Environmental Ethics Certificate Program at the University of Georgia. A native of Macon, Georgia, she holds three degrees from UGA: B.S. and M.S. degrees in geology and a J.D. Her research has been supported by grants from the MacArthur Foundation, the U.S. Institute of Peace, the Ford Foundation, the Canadian Embassy, the National Science Foundation, and the Hewlett Foundation. Among other titles, Ms. Dallmeyer has edited books on civilian uses of space, globalization and environmental ethics, the negotiation of maritime boundary disputes, and marine environmental ethics. In 2005 she received the Phillip Reed Memorial Award for Outstanding Writing about the Southern Environment in recognition of her edited anthology "Elemental South." At UGA, she teaches courses in environmental dispute resolution and marine environmental ethics. A devoted natural scientist, she has lectured on expedition cruises to Alaska, Greenland, Central America, and the Caribbean in addition to more than 20 expeditions to Antarctica.
---
Get Your Christmas Gifts from GRN!
Get the perfect gift for your loved ones while supporting GRN and healthy rivers!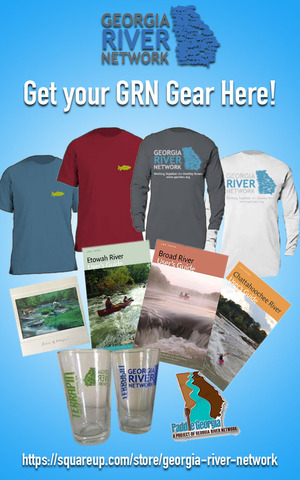 Guide Books - GRN now has guide books available for the Broad, Chattahoochee, and Etowah Rivers. These are great gifts for both experienced paddlers and amateurs who want to get out and learn their favorite river!
Pint Glasses - GRN has specially made pint glasses available for the beer (or water) lover in your life. We can't have beer without healthy water! Give this great gift and help conserve our precious natural resources.
Café Campesino Coffee - Café Campesino is a proud supporter of the Georgia River Network and is the official coffee vendor of Paddle Georgia. Try out a special blend developed just for Georgia River Network. When you purchase this special blend from Café Campesino, they will donate 10% of your coffee sale to GRN. If you want to help ensure a clean water legacy for our beautiful state and like great coffee, this robust blend of Guatemala, Sumatra, and Nicaragua Dark is for you. Product ID: 181 – GA River Network Special Blend, Full City Roast – Fair Trade, organic. Buy it now!
Nalgene H20 Bottles, Hats, T-shirts, and more...
Also, remember if you plan to shop on Amazon - be sure to use Amazon Smile when making your holiday purchases which will benefit GRN. Help us while you shop!
---
Donate to GRN and it will be Matched by a Generous Donor!
We are excited to announce that a generous donor h
as offered to match all donations made to GRN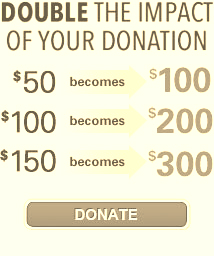 through the end of the year up to $10,000. This will double the impact of your donation and provide critical funds for GRN to protect our waters and highlight our rivers.
You are greatly appreciated!
---
Georgia River Network is a Member of EarthShare
Georgia River Network is a member group of EarthShare of Georgia — a non-profit federation of over 60 Georgia non-profits, all of which work to educate, conserve, or protect our air, land, and water throughout Georgia. Through workplace giving campaigns at participating companies, EarthShare raises funds for the member group non-profit organizations in Georgia. Employers who include EarthShare as part of their annual pledge campaign empower their employees with additional ways to improve their world. EarthShare of Georgia, as part of the EarthShare national employee giving program, is part of a network representing more than 400 environmental groups working locally, nationally and internationally. There you could support Georgia River Network and other member non-profits easily through the annual campaign. If your company would like add an EarthShare giving campaign, contact Dana at
dana@garivers.org
. Learn more at the
EarthShare website
.
---
Not on Facebook? Get GRN and other Watershed Group News in Your RSS Feed
Want to see what is going on each day in the world of Georgia rivers? Go here: http://garivernews.wordpress.com. Click on the "follow" button in the bottom right corner, enter your email address, and our daily news will be delivered to your inbox.
Georgia River Network
126 South Milledge Ave.
Suite E3, Athens, GA 30605
(706) 549-4508
http://www.garivers.org
Become a Member Today - Join