Search for Next Executive Director Underway
GRN Offering 3 More Hidden Gems Paddles
Paddle Georgia Fall Float on the Flint
Paddle Georgia Journey's End Fish Fry and Celebration
Join Us for a Civil War Program on the Chattahoochee
Join Us for a Program on the Politics of Water
Downtown Newnan Paddle Georgia Street Party and Festival
Georgia Water Wire: Save Georgia's Salt Marsh
14 in 14 Challenge
GRN Monthly Photo Contest
Wish List
Help Raise Funds for Georgia Rivers
1% for the Planet
Get GRN News in our RSS Feed
---
Search for Next Executive Director Underway

After 11 years at Georgia River Network, April Ingle will be stepping down at GRN in mid-July to start a consulting business that supports non-profits that are working to change the world for the better. GRN is now accepting applications for the position of Executive Director. Click here for the job announcement.
---
GRN Offering 3 More Hidden Gems Paddles

Enjoy four different occasions to rediscover some of the hidden gems on Georgia's waterways. Each river trip will include lunch and presentations along the route, ranging from natural history and water quality testing to cultural history and river cleanups.
Oconee River - August 23
Bobbin through Remnants of the Oconee's Historic Timeworn Textile Mills

Chattahoochee River - September 13
From Derelict Dams to Recreational Whitewater - Adventure on a Revitalized River in Columbus

Satilla River - November 15
Giant Magnolia's and Burnt Forts - a Glimpse of the Satilla's Unique Past

Register and learn more at www.garivers.org!
---
Paddle Georgia Fall Float on the Flint
Join Georgia River Network Columbus Day weekend 2014 for a voyage on the Flint River that would fill Christopher Columbus with envy. Oct. 10-13, we'll travel 70 miles on the Flint from Albany to Bainbridge taking in the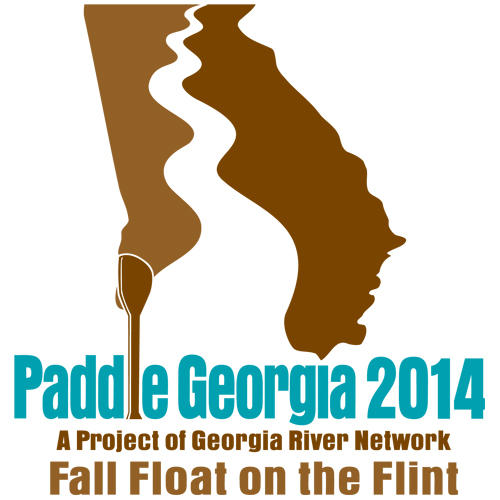 best of the Flint--beautiful blue hole springs, lively rapids, rich history, abundant wildlife and more! Fashioned after our annual week-long Paddle Georgia events, we'll tent camp at Chehaw Park and on the river two nights at Rocky Bend Flint River Retreat. Like our annual summer adventure, we'll enjoy catered meals, educational programs and great camaraderie as we make our way down one of Georgia's most beautiful rivers during a beautiful time of year. Tent camping only with limited options for indoor camping. Register Now! Visit www.garivers.org/paddle_georgia/fallfloat.html for more information.
---
Paddle Georgia Journey's End Fish Fry and Celebration

Friday, June 27 2:00-8:00 PM – Fish Fry at 6:00 PM
Riverside Park in Franklin, GA

Join 400 Paddle Georgia paddlers and help them celebrate the end of their 7-day, 110-mile journey down the Chattahoochee River. Festivities include a fish fry dinner, bluegrass music by Heather Luttrell and the Possumden, games, refreshments, awards, and celebration! Hosted by Chattahoochee Riverkeeper and Flint Riverkeeper!

If you have not already purchased a ticket for the fish fry, click here to buy your tickets. Tickets: $15
---
Join Us for a Civil War Program on the Chattahoochee

The Atlanta Campaign and the Chattahoochee: Soldiers battle one another and nature in one of the Civil War's epic struggles
A program presented by historian and Civil War expert, Clarke Otten
Monday, June 23, at 7:45 PM
Riverview Landing, Mableton, Georgia
On the banks of the Chattahoochee River in conjunction with Paddle Georgia 2014
One-hundred and fifty years ago this summer, some 160,000 Union and Confederate soldiers fought during the Atlanta Campaign of the Civil War. While most Civil War enthusiasts are familiar with the battles at Kennesaw Mountain and at Peachtree Creek, few know the story of what happened in between. Sherman's long term objective was to take Atlanta, but until he crossed the Chattahoochee River it was only that, an objective. Learn how Sherman got his armies and their equipment across the last, yet formidable natural barrier, the Chattahoochee River when there were only three bridged crossings on the entire river – and other fascinating stories about the Chattahoochee's role in the civil war. Sandy Springs historian and Civil War expert, Clarke Otten , will tell us the stories via a multi-media presentation presented along the banks of the Chattahoochee River. We'll be outdoors, please bring your lawn chairs.
---
The Politics of Water: Epic Battles and Endeavors to Protect Georgia's Water

Tuesday, June 24 at 7:00 PM
Riverview Landing, Mableton, Georgia
On the banks of the Chattahoochee River in conjunction with Paddle Georgia 2014
Join Paddle Georgia and the Georgia Water Coalition as we recognize Georgia legislators who are champions for Georgia's water and hear from Tom Baxter who will share stories and tell how Georgia's political landscape has shaped its natural landscape--from tri-state water battles over the Chattahoochee to efforts to protect it and Georgia's other natural treasures.
Baxter, a columnist and political correspondent with the online Saporta Report, has seen a lot in politics during his 40-year journalism career. He served as the national editor and chief political correspondent at the Atlanta Journal-Constitution, and later edited The Southern Political Report, an online publication, for four years. He is a 2011 fellow at the Robert J. Dole Institute of Politics at the University of Kansas and is frequently a guest analyst on CNN.
The address will be before some 400 participants in this year's Paddle Georgia, a 7-day, 110-mile canoe and kayak adventure down the Chattahoochee River sponsored by Georgia River Network. Riverview Landing, located on the Chattahoochee River in Mableton, is a former industrial site that has been reclaimed and is being converted into a sustainable mixed-use residential-retail development.
The address will follow recognition of legislators by the Georgia Water Coalition, commending them for their work to protect Georgia's water resources during the 2014 legislative session.
This event is free and open to the public with at least 400 participants in attendance.
Please join us and RSVP here. We'll be outdoors, please bring your lawn chairs.
---
Downtown Newnan Paddle Georgia Street Party and Festival

Wednesday, June 25 from 4:30-9:30 PM
Downtown Newnan at the Courthouse Square
Join Paddle Georgia, Friends of Chattahoochee Bend State Park and the City of Newnan for a downtown Street Party and Festival at the historic Coweta County Courthouse Square. The festival will feature canoe and kayak demo rides and canoe tug-o-wars in a massive portable pool to be set up on Broad Street; a Paddling Film Festival at the Newnan Carnegie Library; and a D.J., music and dancing. Paddle Georgia participants will also be dining out at local restaurants for their evening meal.
Schedule of Events:
• 4:30-6:30: Test out kayaks in Cedar Creek Outdoor Center's massive portable pool – set-up on Broad Street!
• 5:00-9:00: Dining out at local restaurants
• 6:00-9:30: Paddling Film Festival at Newnan Carnegie Library, 1 LaGrange St. The film festival will feature "Chattahoochee Unplugged," the story of how Columbus GA built the world's largest urban whitewater course; "Who Owns Water," a documentary highlighting two brothers' journey through the embattled Apalachicola-Chattahoochee-Flint River system; and "Missouri SUP," the tale of one man's epic journey down the Missouri River on a stand up paddle board.
• 6:30-9:00: Teams will battle it out in canoe tug-o-wars in Cedar Creek Outdoor Center's massive portable pool – set-up on Broad Street!
• 6:30-9:30 Music and dancing on the Court House Square
---
Georgia Water Wire: Save Georgia's Salt Marsh

Georgia's regulators and the Governor's office eliminated a key provision that protected the state's world renowned "Marshes of Glynn." They announced the policy rollback during a meeting in Savannah only miles from the salt marsh that so inspired poet Sidney Lanier. And the meeting took place on April 22 – also known as Earth Day.
What did the Environmental Protection Division (EPD) and the Governor's office do? They changed the way the state will define and delineate the buffers that are responsible for protecting state waters. Read this water wire post at
http://gawaterwire.wordpress.com/2014/05/28/save-georgias-salt-marsh/
---
14 in 14 Challenge
Georgia River Network is challenging Georgians to get out and protect, restore, learn about, recreate and volunteer on Georgia's rivers by attending 14 river related events in 2014. Watershed groups throughout the state offer a variety of experiences such as family friendly paddling trips, river hikes, watershed workshops, conferences, river clean ups, water quality monitoring opportunities, and advocacy events, all of which qualify to fulfill the Challenge. The goal is to promote Georgia's growing movement in river restoration, protection, and engagement. Get outside, get active and get involved in river and watershed protection, restoration and engagement opportunities with friends and family. To learn more, visit http://garivers.org/news/440-grn-challenge.html
---
GRN Monthly Photo Contest

Each month we have a different theme and invite you to send us a photo that you think best represents the topic of the month. In June, the theme is "RiverWildlife" and July is "Best Paddle GA 2014 Photo". Submit your photo to gwyneth@garivers.org. Click here to visit our homepage to view a slideshow of the entries and winners.
---
Wish List

GRN is looking for the following new or gently used items for our office: a picnic table or concrete outdoor patio set, a vacuum cleaner and a flat screen computer monitor. Email info@garivers.org or call 706-549-4508 if you would like to donate any of these items.
---
Help Raise Funds for GA Rivers

We have a new challenge to increase our donors on three different levels. An anonymous donor has agreed to match new givers at the $250, $500, and $1,000 levels. If we can raise $5,000 by August 1, they will match each gift dollar for dollar. For the gifts to be matched, they must be from donors who have not given at that level before. The anonymous couple wants to encourage new donors in the work of protecting Georgia's rivers. To accept this challenge, simply go to our website at www.garivers.org and click on the red "Donate Now" button or mail a check to our office at 126 South Milledge Ave., Suite E3, Athens, GA 30605. Thank you so much for your generosity.
---
1% For the Planet Partner

Georgia River Network is a 1% for the Planet non-profit partner. Over 1200 companies are giving 1% of their profits to organizations in the network that are committed to creating a healthy planet. Learn more at www.onepercentfortheplanet.org.
---
Get GRN News in Our RSS Feed

Not on Facebook? Want to see what is going on each day in the world of Georgia rivers? Go here: http://garivernews.wordpress.com/. Click on the "follow" button in the bottom right corner, enter your email address, and our daily news will be delivered to your inbox.
---
Forward this message to a friend