In This Issue
---
Weekend for Rivers & GWC Spring Partner Meeting and River Celebration Awards
Georgia River Network's Annual Weekend for Rivers Conference & River Celebration Awards Party rocked! We took a break from the big city this year and held the event at the intimate setting of Little Ocmulgee River State Park & Lodge near the Confluence of the Oconee and Ocmulgee rivers and the beginning of the mighty Altamaha!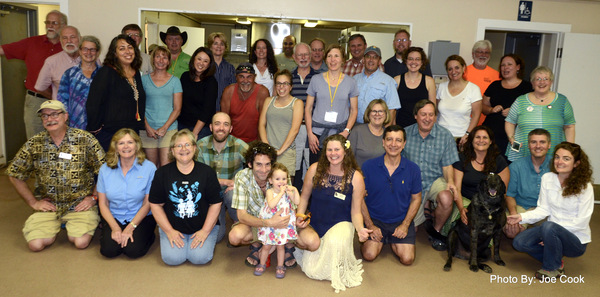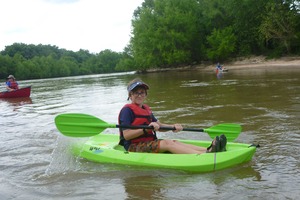 This year's event was held in conjunction with the Georgia Water Coalition's Spring Partner Meeting and provided the 75 attendees an opportunity to learn, network, & share with watershed groups & fellow water advocates.

We enjoyed delicious dinners, awesome workshops, presentations, fun silent and live auctions, and a lovely afternoon paddle on the majestic Ocmulgee river.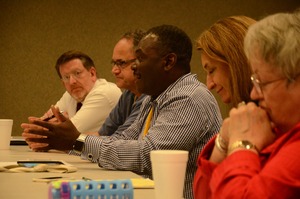 We were excited to announce this year's River Hero
Awards, which were presented at the Celebration Awards Ceremony:
Winner of the 2017 River Celebration Awards -

Watershed Group of the Year:
Withlacoochee, Willacoochee, Alapaha, Little, and Suwannee River Watershed Coalition, Valdosta, GA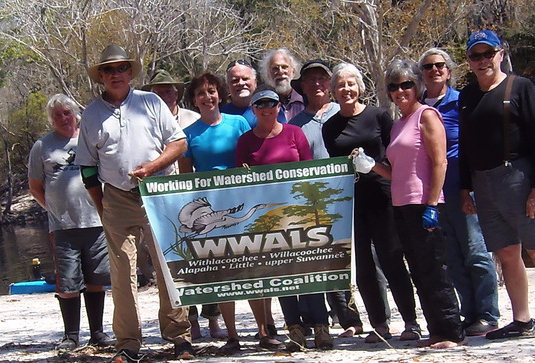 The roots of WWALS run deep in five and more counties in Georgia and Florida including Lowndes County, Tift County, Lanier County, Hamilton County and Suwannee County addressing issues such as flooding, sewage, energy issues water table, agriculture, river access issues, and pipelines, outings, WWALS was incorporated in 2012, and since then WWALS monthly outings such as the annual Big Little River Paddle have steadily cultivated new members from the northern (Coffee County, GA) to the southern (Dixie County, FL) edges of WWALS watersheds, plus farther away.

In June 2015 WWALS became a Waterkeeper Alliance (WKA) Affiliate, with the aim of raising funds to hire staff, and Gretchen Quarterman as acting Executive Director. In July 2015 WWALS added the upper Suwannee River watershed to its territory from the west half of the Okefenokee Swamp to the Withlacoochee River confluence, thus connecting the Alapaha and Withlacoochee Rivers. In December 2016 WKA approved WWALS' application to take in the lower Suwannee River basin down to the Gulf, and to become Suwannee Riverkeeper, and the WWALS board appointed John S. Quarterman as the initial paid staff member. Each expansion of WWALS territory brought in more members, as does the Suwannee Riverkeeper name.

WWALS, with its project Suwannee Riverkeeper, continues to advocate for conservation and stewardship of the Withlacoochee, Willacoochee, Alapaha, Little, and Suwannee River watersheds in south Georgia and north Florida through education, awareness, environmental monitoring, and citizen activities.
WWALS has also made significant progress with the development of the Alapaha River Water Trail and Withlacoochee and Little River Water Trail.
For their dedication to the
Withlacoochee, Willacoochee, Alapaha, Little, and Suwannee River
and for advocating for their health and the health of the communities and people that rely on these rivers, Georgia River Network recognized them with the Watershed Group of the Year award.

Winner of the 2017 River Celebration Award-

Volunteer of the Year
Vincent Payne, Winston, GA
Vincent Payne is a board member of Georgia River Network and has tirelessly organized the safety teams for Paddle Georgia for many years. Paddle Georgia is a 7 day journey down a different river each year for 400 people of all skill levels, ages 4-84. Vincent recruits safety boaters, scouts routes in advance, stations experienced boaters in places on the river where boaters may have difficulty and locates any dangerous strainers on the river before paddlers come through. These safety measures are critical to a successful event.

Vincent Payne was born in England but raised in Georgia. He lives in Douglas County on the Dog River. Vincent is a graduate of the University of West Georgia. He works for PepsiCo as a Regional TPM Manager coaching the use of continuous improvement. Vincent has paddled Georgia Rivers and lakes since the seventies and is past president of the Georgia Canoeing Association. He also coaches dragon boat teams for PepsiCo at Lake Lanier.

For his dedication to Georgia Rivers, Georgia River Network recognized him with the Georgia River Network Volunteer of the Year award.

Winner of the 2017 River Celebration Awards-

River Conservationists of the Year
Charlotte Gillis, Atlanta, GA
Charlotte's experiences with Georgia Rivers began many, many years ago when she had her first paddling lessons on Sierra Club trips in north Georgia and North Carolina.
A native of Florida, she had never been on any whitewater river trips, but by the end of her first summer she had safely negotiated Lesser Wesser on the Nantahala River in NC and came back to Georgia with new confidence and skills.
Her enjoyment of rivers grew as she continued to paddle while also supporting efforts to protect rivers and watersheds.

After graduate studies in Environmental Design and Landscape Architecture, she worked in the private sector and then joined the National Park Service (NPS). For 23 years at NPS she worked throughout the SE Region of the US on recreation and conservation projects in communities while also providing assistance to National Park units. Many projects first focused on greenways and trails but eventually the popularity of water trails increased. One reason for that was the American Heritage River (AHR) Initiative out of the Clinton/Gore White House in the mid-90's. Charlotte provided technical assistance to the AHR Rivers in the SE and saw several of the communities that were not selected decide to create their own water trails and river related non-profit groups.

In Georgia, the water trail projects created a new momentum and interest. It was soon clear that the state needed a centralized network for resources and coordination. Charlotte collaborated with state agencies and non-profits but none of them had the capacity to develop what the water trail projects needed. Then while at the GRN Annual Weekend for Rivers, she realized that GRN was the perfect organization to solve the problem. Over lunch she proposed the idea to the then Executive Director, April Ingle, GRN got to work on bringing water trails to Georgia, and today the Water Trails Clearinghouse is a hugely successful resource for water trails in the state.

For her dedication to Georgia Rivers, we recognized Charlotte with the Georgia River Network River Conservationist of the Year Award.
Congratulations to all the winners!
Huge thanks to all of the presenters, volunteers, and sponsors!
Katherine Baer (River Network), Chris Manganiello (Chattahoochee Riverkeeper), Lisa Hollingsworth-Segedy (American Rivers), Chandra Brown (Consultant), Brian Gist (Southern Environmental Law Center), Gwyneth Moody (Georgia River Network), Cheryl Delk (Newton County & Yellow River Water Trail), Don Wells (Mountain Stewards), Keith Parsons (Environmental Protection Division), Janet Cochran (GA Dept. of Economic Development), Jen Hilburn & Paige (Altamaha Riverkeeper), April Ingle (April Ingle Consulting), Kelly Jordan, Philip Hodges, Cedar Creek RV & Outdoors, Flint Riverkeeper, Joe Cook (Paddle GA Coordinator), Victor Johnson (Broad River Watershed Assoc.), Mickey Desai and (GRN Board), Dan MacIntyre (Georgia Canoeing Association), Scott Taylor (Three Rivers Outfitters).
Check out photos from the event HERE!
---
Fourth Annual Georgia Trail Summit - Water Trails Represent!
The fourth annual Georgia Trail Summit was a huge success! Over 200 people attended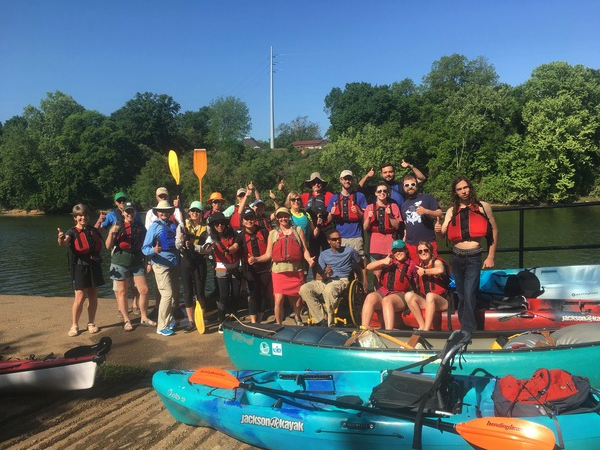 the Summit this year in Columbus, Ga learning the ins and outs of planning, developing, managing, and enjoying all types of trails including: hiking, biking, equestrian, and of course water trails!
Gwyneth Moody, Director of Programs & Outreach at Georgia River Network, presented on Building a Water Trail to Activate Your Local River. Her presentation focused on revitalization in the areas of recreation, river health and economic development. Moody, along with others, led a 3 hour paddle trip down the beautiful Chattahoochee Valley Blueway. While floating down this developing water trail paddlers were able to get a full sense of Columbus' history and diverse culture.
---
Thanks for Paddling the Satilla with Us!
Thanks for paddling with us April 1-2 during

Spring

on the

Satilla

. We hope you had as much fun as we did experiencing the

Satilla

's beautiful blackwater and snow-white sandbars...we will mention nothing of the

Satilla

's tides!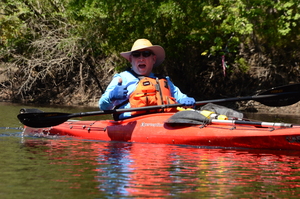 Enjoy photos from the trip, stay involved with Georgia River Network and

Satilla

Riverkeeper's river protection projects and join us for another river adventure later this year!
136 people joined Georgia River Network (GRN) and Satilla Riverkeeper (SRK) for the 3rd annual Spring on the Satilla near Woodbine, GA. The Satilla river is one of Georgia's wonders and especially during this time of year when Azaleas flank the blanks in full bloom, along with fresh tender buds and green vegetation draped in the swaying old man beards of dangling Spanish moss.
Folks rolled in on Friday throughout the day from all over Georgia and neighboring states (there was even a paddler from England!) to spend the weekend camping with fellow paddlers, meet new friends, and enjoy comradery and 2 days of paddling, while supporting a great cause!
We could not have asked for more beautiful weather with temps in the mid 80's, blue skies, and a light breeze. After enjoying a leisurely breakfast we loaded onto school buses and were shuttled to the put in located at the end of a long one lane dirt road. Volunteers were on site helping people tote their vessels to the water.

Read the full blog about our journey on the Satilla River, and check out Joe Cook and Gwyneth Moody's Photos!

---
Join us May 20-21 for the Little River Hidden Gem Paddle! What better way to kick off the summer than by paddling through Clarks Hill Wildlife Management Areas, enjoying rustic camping with family and friends, delicious meals from local businesses, and learning more about the native flora, fauna, and cultural history of the Little River? Paddlers will enjoy live music, games, activities and a bonfire. Don't miss the boat!
Registration ends soon! For more information on this trip and other upcoming Georgia River Network events please click HERE.
---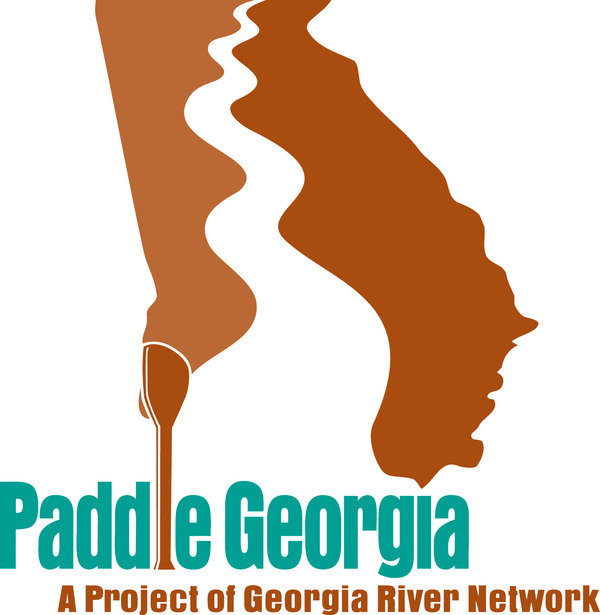 Register now for the 106 mile, 7 day adventure on the Etowah River June 17-23! This trip will include nightly camping with meals and entertainment, tours of historic sites, water monitoring opportunities, and camaraderie with hundreds of fellow paddlers, while also raising awareness for Georgia River Network, Coosa River Basin Initiative and Upper Etowah River Alliance.

The Etowah River is 163-miles long and with 76 native fish species, and is considered one of the most biologically diverse rivers of its size in the country. The river offers more than biological diversity by taking you back in time as you paddle through old Native American fish weirs, ancient Indian mounds, and civil war battle sites.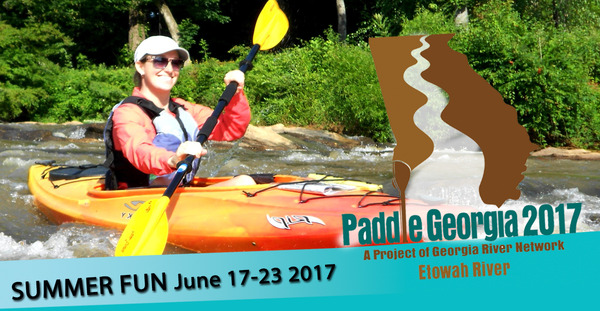 An educational adventure for the whole family, Paddle Georgia will show you Georgia as you've never seen it before.

If 7 days is too more time than you are able to commit, there is another option! Paddle Georgia offers a "Lite Paddler" option, which is an abbreviated trip held only for the first two days, June 17-18.

Registration ends May 31st, for more information and to register click HERE!
---
Paddle Georgia Youth Auction –Thank You!

Thank you to everyone who supported Paddle Georgia Youth Auction! We raised $2,040, which will directly benefit our Paddle Georgia Youth Program. Through the Paddle Georgia Youth Program we bring 10-12 underserved youth on the journey, most of whom have never been on a river or camped in a tent before. This experience introduces them to the importance of river protection, and also the joys of paddling a river!
---
Paddle Georgia Sponsorship Spotlight -
The Outside World, Dawsonville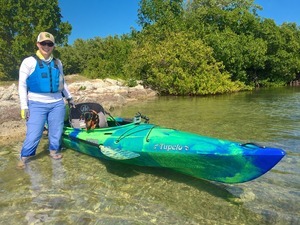 Georgia River Network would like to thank The Outside World in Dawsonville for donating a Jackson Tupelo kayak! The kayak will be this years top prize for Paddle Georgia Canoe-A-Thon, and is valued at $900.

Additional prizes will be announced as we secure them. Scroll down to learn more!
---
Paddle Georgia's Canoe-A-Thon raises critical funds that allow Georgia River Network to work for clean, healthy rivers. Each participant is asked to solicit donations on a per-mile basis. Canoe-A-thoners compete for gifts and prizes and can become eligible for priority registration for the next Paddle Georgia trip.
The Canoe-A-Thon works just like a walk-a-thon. Ask prospective donors to sponsor you at a specific amount for each of the miles you'll be paddling during Paddle Georgia 2017 or Spring on the Satilla. The money you raise goes to support Georgia River Network's efforts to...
Engage people in enjoying and protecting their rivers

Support more than 30 local river protection groups across the state with financial grants, training and professional assistance

Influence state legislators and decision makers to establish policies that protect our rivers
Funds raised will be used in part to provide grants to Satilla Riverkeeper (Spring on the Satilla) Flint Riverkeeper (Fall Float on the Flint) and Coosa River Basin Initiative and Upper Etowah River Alliance (Paddle Georgia 2017).
Paddle Georgia Canoe-A-Thon grants have been used by local river protection groups to:
Build new canoe and kayak launches

Establish water trails and install information kiosks at river access points

Conduct water monitoring to identify pollution problems

Eliminate pollution problems
More than $2000 in prizes will be awarded to those participants generating the most money, including new canoes and kayaks and other paddling-related merchandise donated by our sponsors.


The top 250 fundraisers who raise at least $300 will also be eligible for a special priority registration for Paddle Georgia 2018.

Paddle Georgia participants generating more than $850 in Canoe-A-Thon pledges and Fall Float on the Flint participants generating more than $440 in Canoe-A-Thon pledges may request to have their registration fees reimbursed. Prize winners will be announced during the week of Paddle Georgia. All prizes will be awarded based on total Canoe-A-Thon donations turned in at the Paddle Georgia registration desk by the morning of June 17—no exceptions. You do not need to be present at Paddle Georgia to win prizes.
You can begin raising funds now for the 2017 Canoe-A-Thon. See below for instructions on how to get started.
Top Canoe-A-Thon Paddlers of 2017: ​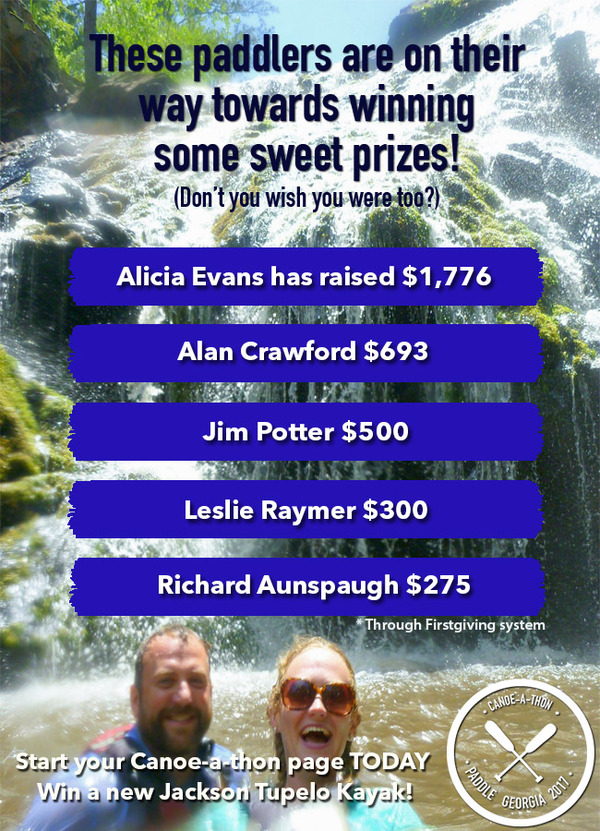 Congratulations to the top 5 Canoe-A-Thon paddlers, and great work to everyone who's donated and participating in this years Canoe-A- Thon. Already, we've raised over $4,000*, but we're shooting for more than $30,000. Get paddling folks! For more information on how to get started or how to donate, scroll down.

*Donations through first giving systems

How to Get Your Canoe-A-Thon Started
We have made it easier than ever to solicit donations from friends, family, neighbors, co-workers and, yes, even strangers by signing-up for FirstGiving, an online service for event-based fundraising. There are two options for raising money:
Option 1 - Raise Funds Online (of course, the best option)
Option 2 - Raise Funds Offline

For more information on how to raise money visit the Paddle Georgia website!

Priority Registration Rules and Policies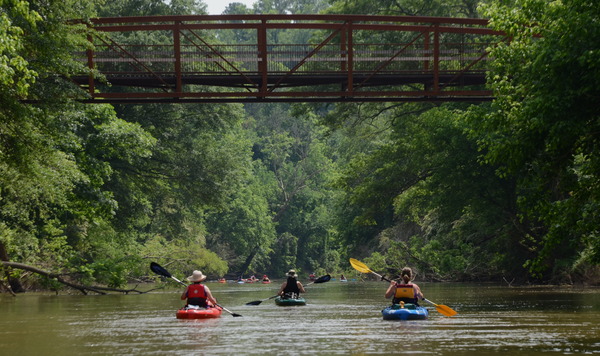 The top 250 Canoe-A-Thon fundraisers who raise at least $300 will be eligible to register for Paddle Georgia 2018 during a special priority registration period before regular open registration begins in Feb. 2018. For families, $300 must be raised per adult for priority registration.
The 2017 Canoe-A-Thon has already started and will go through July 31, 2017.

If you choose, you can contribute to your own Canoe-A-Thon.

By participating in the Canoe-A-Thon, you help us accomplish two important goals of Paddle Georgia--introducing more people to our beautiful rivers and raising more money to protect these precious resources.

Virtual Paddler Canoe-A-Thon Participants
For those of you who cannot directly participate in Paddle Georgia but still want to support the event and Georgia River Network and the local watershed group, you can still participate in Canoe-A-Thon by being a virtual paddler. Just set up your Canoe-A-Thon page the same way and tell people you will be with the other paddlers in spirit.

Paddle Georgia Canoe-A-Thon Prizes!
Help Georgia's rivers and win great prizes while you're doing it! 2017 prizes will be listed as they are secured:
Jackson Tupelo Kayak

Paddles from Bending Branches

Gear from Patagonia

An Individual Membership from Friends of Georgia State Parks
Georgia River Network would like to thank our sponsors:

Hennessy Land Rover Centres; Columbia Sportswear Company; Southern Company Gas; Cedar Creek RV and Outdoor Center; Cary Baxter, CPA; CYA Agency, Inc.; Oglethorpe Power; StreamTechs; Terry Pate, PC, CPA; China Clay Producers Association; Georgia Mining Association; Patagonia; EarthShare of Georgia; Stormwater Systems; Outside World; Troncalli Subaru; Bending Branches; RS Industrial; Friends of Georgia State Parks; Georgia Secure Shed; Murphs Surf; Euharlee Creek Outfitters
---
Saporta Report: Georgia's Nascent Water Trail Network Garners Support from State Lawmakers​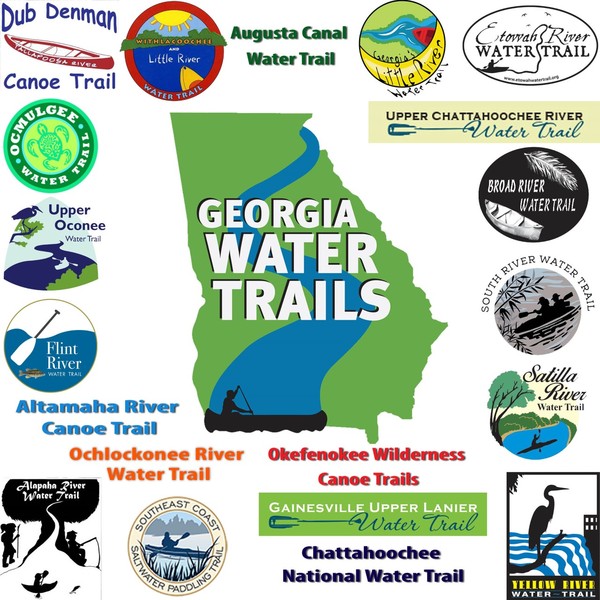 Exerpted from Saporta Report by David Pendered
At the end of a dirt path that touches the Yellow River in Newton County, one piece of the future of Georgia's network of water trails is taking shape – a network that now has the blessings of the state House of Representatives.
Like all of Georgia's water trails, this one was developed by a public/private partnership. This group includes Keep Covington/Newton Beautiful; Porterdale, a former mill town said to have been the world's largest producer of twine; Newton County; Newton's Water and Sewerage Authority; Yellow River Water Trail Partnership; Georgia Adopt-a-Stream; National Park Service; Northeast Georgia Regional Commission; and Georgia River Network.
"We try to bring in anybody and everybody," said Gwyneth Moody, director of programs and outreach for the
Georgia River Network
The House approved a resolution March 9 that endorses efforts by the Georgia River Network and its partners to create water trails. The resolution provides no funding. But in a state that doesn't provide funding for a statewide water trails program, the resolution sponsored by Rep. Spencer Frye (D-Athens) is seen as a step in the right direction.
"The members of this body recognize Georgia River Network and their water trail partners for their dedicated public service to the State of Georgia and encourage the exploration of existing water trails and the development of future water trails around the state."
Read full article here
---
Save Your Spot for Len Foote Hike Inn!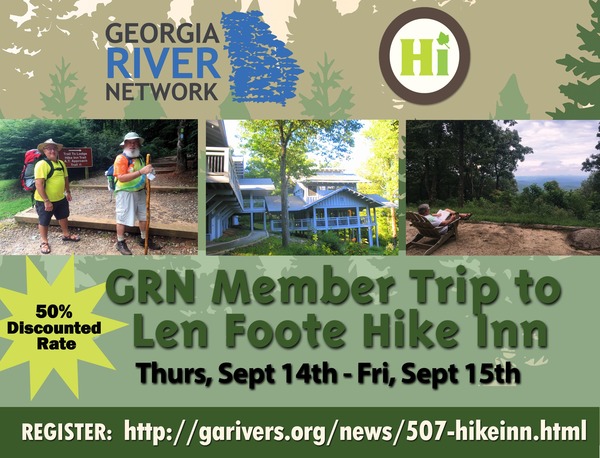 We are excited that Georgia River Network has been offered an opportunity this year to bring a group to the Hike Inn Thursday Sept 14 – Friday Sept 15th and we want YOU to come!

The Inn has room for up to 40 people, so it's first come, first served, and the people we wanted to offer this opportunity to is YOU – our supporters, volunteers, members and colleagues, and your families - to join our staff and board and our families! It will be a great time for Georgia's river friends to spend time together and have fun.
The

Hike

Inn

is generously offering 50% off rates for our group! To reserve your spot go to the reservation link on their webpage HERE and click the book now tab. It will pull up the 50% discount rate. Enter the correct dates and on the bottom of the page enter promotional/group code: river
Learn more about the Hike Inn and Claim your spot HERE!

Hope you can join us!
---
GRN Supporter Spotlight - Ed & Sylvia Kreb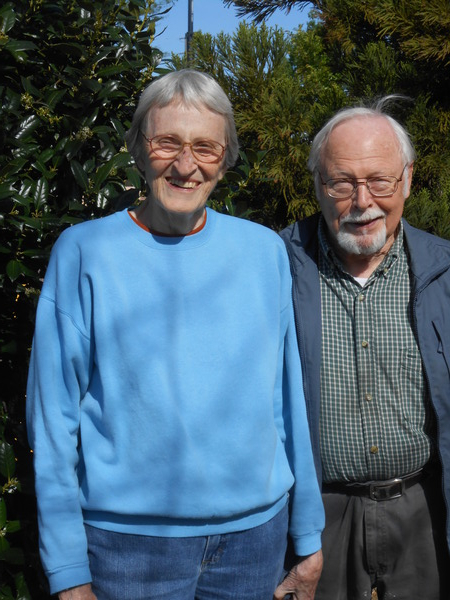 Ed and Sylvia Kreb have always had a passion for the great outdoors, whether that be abroad in China or on their first Paddle Georgia trip down the Flint River in 2008.

"Who of us doesn't love the names of our rivers! Conasauga, Coosawatee, Oostanaula, Oconee, Ogeechee, Altamaha. When Ed first came to Georgia there was a fishing report on the old WSB radio every evening at about six. These names came like poetry. The sadness to these sounds is that the native Americans who gave the rivers these names are mostly gone, along with the attitude toward rivers and great Nature shared by all native Americans. Paddling the rivers today brings that attitude to life and causes us to appreciate and work for our rivers. It's been a beautiful ride, and we're grateful for GRN and all the staff who work so hard to advance this mission. And the rest of us can contribute too, each in our own way."

Thank you both for your continuous support throughout the years!
---
GRN is looking for the following new or gently used items for our office: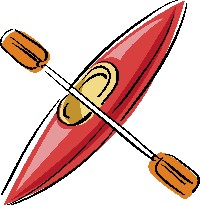 Sit on top kayaks, recreation kayaks, tandem kayaks, and canoes - in good shape

Graphic design and printing services

Rolls of Forever stamps

Donated office space in Athens

Adobe Creative Suite software

Covered trailer

Large containers of Powdered Gatorade or Poweraid for use on Paddle Georgia (2000oz powder needed)
Email info@garivers.org or call 706-549-4508 if you would like to donate any of these items.
---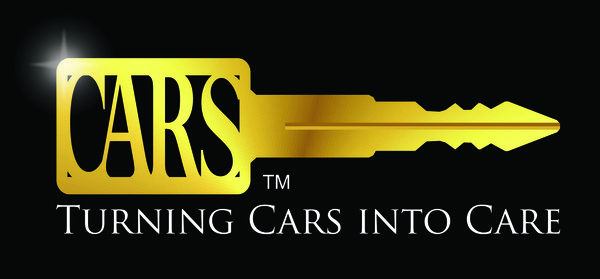 Donate a vehicle to GRN and help save our rivers! Turn your car, truck, RV, or boat into protection for Georgia's rivers.
We accept any vehicle - running or not - by working with
Charitable Auto
Resources. Your vehicle is towed free of charge and the donation is eligible for a tax deduction. Contact Dana Skelton, at dana@garivers.org or 706-549-4508 if you are interested in taking advantage of this opportunity or for more information about the vehicle donation program.
---
GRN 2017 Events - Mark your Calendar!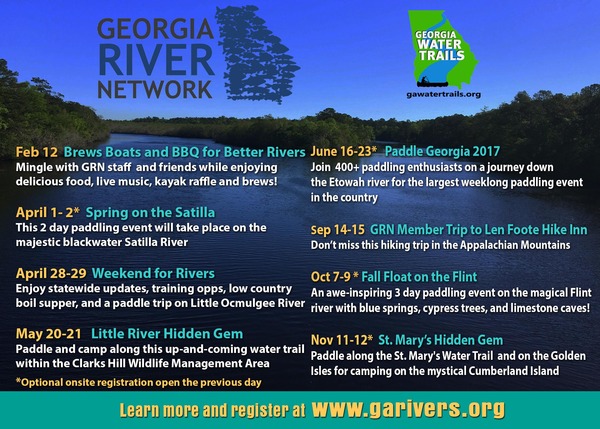 Learn more about our 2017 events HERE!
---
Georgia River Network is a Member of EarthShare
Georgia River Network is a member group of EarthShare of Georgia

— a non-profit federation of over 60 Georgia non-profits, all of which work to educate, conserve, or protect our air, land, and water throughout Georgia. Through workplace giving campaigns at participating companies, EarthShare raises funds
for the member group non-profit organizations in Georgia. Employers who include EarthShare as part of their annual pledge campaign empower their employees with additional ways to improve their world. EarthShare of Georgia, as part of the EarthShare national employee giving program, is part of a network representing more than 400 environmental groups working locally, nationally and internationally. You can support Georgia River Network easily through the annual campaign.

If your company would like add an EarthShare giving campaign, contact Dana at
dana@garivers.org
. Learn more at the
EarthShare website
.
---
Not on Facebook? Get GRN and other River News in Your RSS Feed
Want to see what is going on each day in the world of Georgia rivers? Go here: http://garivernews.wordpress.com. Click on the "follow" button in the bottom right corner, enter your email address, and our daily news will be delivered to your inbox.
Georgia River Network
126 South Milledge Ave.
Suite E3, Athens, GA 30605
(706) 549-4508


http://www.garivers.org




Become a Member Today -

Join