Paradise Found: Paddle Georgia 2011 on the Oconee River
Paddle Georgia Partners with UGA for Summer Class on the Oconee
2011 Turner Regrants Awarded
Member Trip to Hike Inn
Legislative Update: ATVs
River Hero: Chandra Brown
Grassroots Spotlight: St. Mary's Earthkeepers
Upcoming Events including Janisse Ray Book Launch
Become A River Partner
---
Paradise Found: Paddle Georgia 2011 on the Oconee River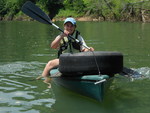 The seventh edition of Paddle Georgia is now in the books. Sleep-deprived, sun-kissed, stiff-muscled, mud-caked, we have returned home. This year our Paddle Georgia Canoe-a-thon participants raised $20,000 for river protection! Those funds will go to protect the Oconee and promote development of water trails on Georgia rivers. In seven years, Paddle Georgia has generated more than $100,000 for river protection in Georgia! Read Joe Cook's Blog Posts about Paddle Georgia 2011 and Scouting the Altamaha for 2012.

---
Paddle Georgia Works Together with UGA for Summer Class on the Oconee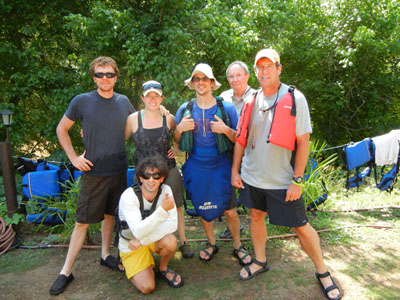 UGA's College of Environment and Design and Georgia River Network have teamed up to match the planning and design power of the college with real life projects on Georgia rivers. Conversations about how we could work together on projects such as water trails in Georgia led to the creation of an 8 week summer course designed to discover the cultural, community and recreational components of the Oconee River system and uncover its untapped potential in linking local communities and interpreting river resources. Taught by Professor Brian LaHaie, 6 students joined Paddle Georgia on the Oconee to experience the river first hand. After the trip, students completed a variety of mapping projects that covered settlement distribution, historic sites, land use and water quality correlation, and river access according to land ownership types. These maps are included in a studio report, along with photo documentation, resource lists, and an outline of plans for a Design Charrette on the Oconee River scheduled for Fall 2011. The pioneering class of the Paddle Georgia Summer Studio - besides making the adventurous trek down the Oconee River from Athens to Dublin, GA - has taken on the task of establishing the template for the program to continue working with a different river system in the state each year. Learn more at www.ced.uga.edu/index.php/services_outreach/detail/paddle_georgia_summer_studio/.

Mark you calendar for Paddle Georgia 2012 on the Altamaha River - June 16-22, 2012

---
2011 Turner Regrants Awarded

The following organizations were awarded re-grants through Georgia River Network's program funded by the Turner Foundation. Grants were awarded to projects that directly impact high priority problems causing water quality degradation, impaired instream flows and/or inefficient use of water.
Altamaha Riverkeeper - To focus legal and technical attention on unresolved issues affecting the Altamaha River, mobilize citizen concerns, and make progress on improving water quality.
Oconee River Project of the Altamaha Riverkeeper - To coordinate efforts to continue to assess toxicity in Athens' Trail Creek, provide information to the public and decision-makers and advocate for long term remediation.
Coosa River Basin Initiative - To address non-point source pollution, ill-conceived development proposals, and inefficient water use.
Savannah Riverkeeper - To form the 2011 Healthy Water Task Force to address water quality issues in four impaired waterways in Augusta: Rocky Creek, Butler Creek, Spirit Creek and Raes Creek.
Ogeechee Riverkeeper - To address and resolve the lack of authoritative response and guidance regarding the potential human health risks from the May 2011 fish kill and to demonstrate the need for tougher discharge permit regulations and better communication and response from government officials regarding emergencies.
South River Watershed Alliance - Georgia River Network will provide capacity building assistance and make implementation funds available for needs identified through this assistance.
---
Member Trip to the Hike Inn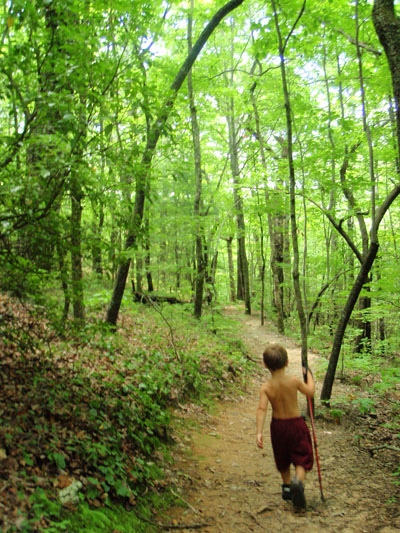 GRN members were invited to hike with us to the Len Foote Hike Inn in July for a special retreat. After making the 5 mile hike to the inn, everyone was treated to a fantastic family style dinner. Eric Graves, Hike Inn staff member, provided a slide show about his experience paddling with his daughter Kristen on Paddle Georgia 2011. Learn more about the Hike Inn at http://hike-inn.com/


---
Legislative Update: ATVs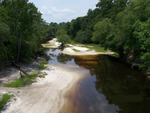 After four years of work by a committed group of people, legislation was passed last year on an issue that's as critical to fish as it is to the people who like to fish for them. HB 207 passed the General Assembly in 2010, and thanks to the efforts of a coalition of dedicated folks, the use of motorized off-road vehicles is prohibited in perennial streams and rivers throughout Georgia. "You mess with my fishing and you're messing with me," said Representative Chuck Sims of Ambrose, Georgia, the author of the bill. Sims, who lives on the Satilla River in Coffee County and who is a member of the Coffee County Fishing Club had been noticing ATVs eroding the banks of his local river for years and decided to do something about it. Photo thanks to Satilla Riverkeeper. Read the full story online.
---
River Hero: Chandra Brown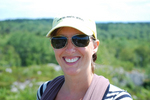 Chandra Brown was the founding Riverkeeper of the Ogeechee Riverkeeper organization and recently retired as their Executive Director and Riverkeeper. Over the past ten years, Chandra implemented programs to monitor streams, educated the public on stream preservation, and advocated for clean water in the Canoochee and Ogeechee rivers. Under her leadership, Ogeechee Riverkeeper strengthened protection of wetland forests, helped secure lower mercury emissions from coal-fired power plants, and was a leader and successful coalition partner advocating for strong state and federal river protections including preventing the injection of chemically treated sewage into Georgia's groundwater. For the full story, click here.
---
Grassroots Spotlight: St. Mary's Earthkeepers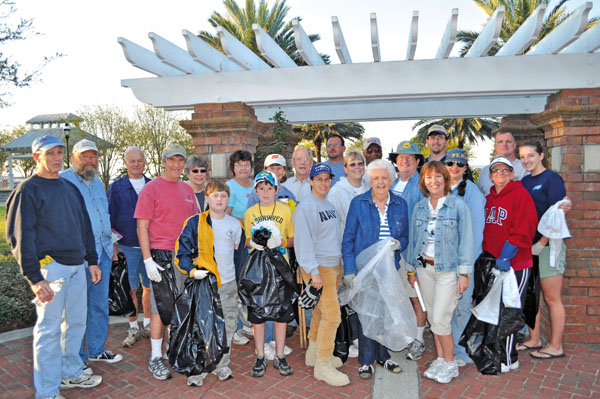 The St. Marys River in Southeast Georgia is a lovely blackwater river recently designated by the Southern Environmental Law Center as one of Georgia's "endangered places." It surfaces as a tiny stream known as "River Styx" and flows from the western edge of Trail Ridge, the primordial remnants of a barrier island system, and into the southeastern Okefenokee Swamp. From there it roams around until finally, after a journey of 125 river-miles, it delivers its unique tannic brew into the Atlantic Ocean near St. Marys, GA and Fernandina Beach, FL - just 50 miles from its birthplace. But the St. Mary's has troubles. Miocene Holdings LLC of Dallas, Texas, has applied for a surface water withdrawal permit application – a permit that is currently under consideration by the EPD. This proposal would remove about 350,000 gallons of water per day from the St. Marys River (a naturally low-flow river), extract tannins from the blackwater river (to be used as a soil additive for fertilizer) and then return the water to the river. For the full story, click here.

---
Upcoming Events Including Janisse Ray Book Launch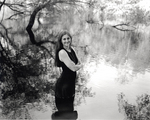 Join us for a book launch event for Janisse Ray's new book "Drifting Into Darien: A Personal and Natural History of the Altamaha River"
Tuesday, October 11 at Seney-Stovall Chapel in Athens, 7 pm.
Georgia River Network is co-sponsoring the event with University of Georgia Press, Environmental Ethics Certificate Program/Southern Nature Project, Georgia Review, Oconee River Project of Altamaha Riverkeeper, University of Georgia Libraries.

For the full Georgia River Network calendar, click here.
---
Become a Partner for Georgia's Rivers

Our Partners join together to make monthly contributions to support Georgia River Network's programs. With your monthly support we can invest more of our resources where they bring the highest returns for future generations. Start your monthly gift today.

As a Partner for Georgia's Rivers…
• You strengthen Georgia River Network with your steady, reliable support.
• You and GRN use less paper.
• You decide how much to give.
• You save time and trouble—no need to write checks.
• You receive special updates on our work.
• You have direct contact with GRN staff.
• You decide when to raise, lower or stop your gifts.


---